Tsujiya In Asakusa - Find The Perfect Pair Of Footwear For Your Kimono
Kimono experiences are a popular activity among tourists in Japan. At Asakusa, you can find a 100-year-old sandal specialty store where customers can select their favorite sandal strap and have a pair of traditional Japanese geta or zori custom made.
Traditional Footwear Made to Fit Your Kimono
Asakusa is filled with traditional places such as Sensoji Temple. An excellent way to blend into the traditional townscape of Asakusa is to put on a kimono or yukata. This way you can take stylish photographs as you stroll along the streets. 
When you put on a kimono, you should wear traditional Japanese sandals such as geta or zori. Tsujiya is a 100-year-old footwear specialty store where you can have your very own geta or zori sandals customized and made. With a wide variety of sandals to choose from, it is difficult to leave the store without a pair of your own!
Tsujiya - Preserving Tradition While Taking it to the Next Level
Tsujiya was established in Japan's Taisho Era, in 1912, by founder Tsuji Minokichi. The store faced many threats such as the 1923 Great Kanto Earthquake and World War II air-raids. Thankfully, generation after generation, the successors of Tsujiya protected the store. This allowed them to operate in Asakusa until today.
Tsujiya is currently managed by the fourth generation successor, Tomita Rie. Since the introduction of westernized clothing in Japan, there has been a decline in the demand of traditional Japanese sandals. However, Tomita Rie and her younger sister try to open new doors for Tsujiya and meet the demands of today's generation by introducing an online shop and including social media efforts.
Ms. Tomita Rie
Presently, the store comprises of veteran artisans with over 50 years experience as well as novice artisans. Ms. Tomita says, in Japan, the number of footwear specialty stores and artisans are slowly decreasing. This is why Tsujiya places a huge emphasis on preserving the existence of these artisans.
A Wide Variety of Customers
Previously, Tsujiya was mostly visited by regular customers such as Japanese tea masters and musicians who wore kimonos as work clothes as well as people who wore kimonos on a regular basis.
Today, the store is also visited by tourists and people that are interested in trying traditional Japanese sandals. Asakusa's rickshaw drivers also visit the store to purchase geta sandals.
High-Quality Work by Artisans
At Tsujiya, sandals are made with materials such as wood, husk, and bamboo that are locally produced, assuring customers with products of both quality and durability. If you are lucky, you might be able to catch a glimpse of artisans making the footwear in person.
They taught us the process behind the making of traditional Japanese sandals. Firstly, customers can choose their favorite hanao(*1) and wooden platform. Next, customers have their feet measured and the shoe size adjusted accordingly and in approximately 15 minutes, you can receive a pair of personalized geta or zori sandals.
*1: Hanao: The strap of a geta or zori sandal that goes in between one's toes.
If you watch the skilled artisans at work, you can't help but fall into deep concentration as well.
The right fit for geta or zori sandals would be one to two centimeters smaller than the actual size of your feet. Your heels are slightly protruding beyond the sandals. If they fit too big or too small it causes friction between the feet and hanao.
Most Popular Geta Sandals
The store is lined with unique products of traditional shapes. Each pair of geta sandals has its own taste and charm. It is almost like viewing works of art.
Not all of the geta sandals sole touches the ground, only one or more teeth do. These teeth have a different shape from your ordinary footwear. A unique type of wood is required to construct the wooden platform. At Tsujiya, paulownia wood, a lightweight raw material with high water absorbency, is used as the main material for the wooden platform.
Ms. Tomita's recommendation is the Senryo Geta, shown in the picture above. Touching the ground is the front portion of the teeth that is diagonally shaped as well as the heel. It is much more stable and comfortable than the traditional komageta sandals with just two sets of teeth.
Geta sandals that come with designs drawn on its wooden platform are very popular. The design might be hidden while walking but it makes a wonderful piece of decoration when left at the entrance of the house.
Dragons and ogres are traditional Japanese motifs that are used as charm against evil spirits.
Recommended Geta and Zori Sandals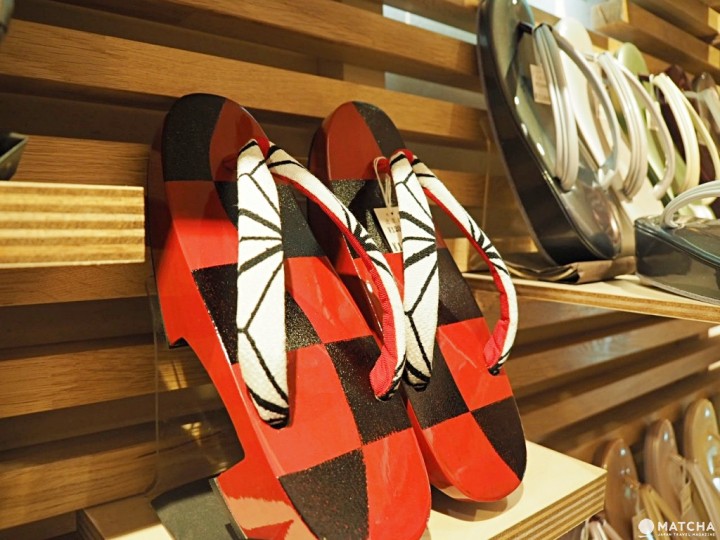 The red and black patterns stand out and make these a modern and classy pair of geta sandals.
Waterproof zori sandals are available for those who want to wear their kimono on rainy days. Not only is the sandal designed in a manner where your tabi (*2) socks will remain dry, they are also made of slip-resistant materials on the sole. They come in in muted and vibrant colors that will brighten up any rainy day!
*2: Tabi: Japanese socks that separate the big toe from the other toes. It is traditionally worn with geta and zori sandals.
Setta is a type of zori sandal with waterproof properties. A sturdy product made with horsehair and cowhide, giving it breathability.
There are many theories behind the origin of setta sandals. It is said that setta sandals began after the Sengoku Feudal Lord, Obu Nobunaga, made Japanese tea master, Senno Rikyu, wear a pair of zori sandals which sole was attached with leather. They were created to help preventing him from slipping and wetting his footwear in the cold.
Targeted at young women is the improved version of the geta sandals where the hanao is designed with colors and patterns of the four seasons. The heel is also taller, giving an added element of elegance when wearing the yukata.
Traditional Japanese Sandals
Japanese footwear is a traditional craft that has preserved its design and shape to date, proving it to be an exemplary form of footwear. It is also said that one's health is often embodiment by the feet.
A sturdy pair of footwear will give you a better posture and improving the balance of your body. Please visit Tsujiya if you would like to experience traditional Japanese footwear.
Walk This Way
In the past, footwear was made not only as an aesthetic accessory but also with the user's health in mind. During your kimono or yukata experience in Japan, a pair of well-fitted geta or zori sandals will surely raise your spirits.
Furthermore, with the clip-clop sound of the geta sandals, you will definitely feel the beauty of Japanese traditional footwear.

*This article has been translated and re-edited from the traditional Chinese version.
In cooperation with Tsujiya Main Store

The information presented in this article is based on the time it was written. Note that there may be changes in the merchandise, services, and prices that have occurred after this article was published. Please contact the facility or facilities in this article directly before visiting.