5 Savvy Tools For Aspiring Cooks! High-Quality Kitchenware In Kappabashi
The Kappabashi district in Tokyo is kitchenware heaven! We visited a cooking supply store trusted by culinary professionals and the public. Some of the innovative products here are created by the owner himself. He introduces five unique tools that will revolutionize your time in the kitchen.
Iida-ya: Kappabashi's Popular Kitchen Supply Shop
Questions you'll only hear at a kitchen supply shop:
"Is there a frying pan specially made for cooking meat?"
A customer may ask for "a grater that can finely grate yams."
"Does this come in a smaller size?"
The shop that will answer all of your kitchenware needs is located in Asakusa's Kappabashi district. This street is famously known as Japan's kitchen town.
Iida-ya is a specialized store selling kitchen supplies from all across Japan and the world. It is trusted by professional chefs and amatuer cooks who can find their ideal kitchenware when coming here!
Japan's Top Kitchenware Enthusiast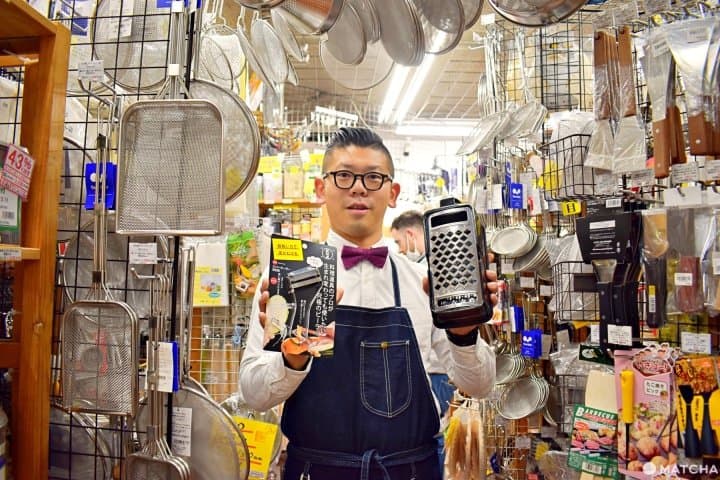 Mr. Yuta Iida, the store's president, is such a kitchenware enthusiast and is known so around the country for his expertise and passion. What's more, Mr. Iida isn't just knowledgeable about these items.
"I was involved in the development of these products." Mr. Iida designed and created some of the items sold in his shop! For example, there's a peeler that moves effortlessly and a knife that smoothly cuts through any type of bread. These unique, but handy products are made with quality and fastidious care.
Jam-packed with merchandise, the inside of the shop resembles a jungle of kitchenware.
We tested out Iida-ya's original items for ourselves. This article introduces five items handpicked by Mr. Iida out of the 8,500 total items sold in the store. Let's wander into the surprising world of kitchen supplies!
1. The Ever Peeler: Effortless Slices With Surprising Comfort!
Currently, the Ever Peeler is the product that Mr. Iida recommends the most. He designed and created this product himself.
The idea behind its design came from a client's comment. "A customer with rheumatoid arthritis came looking for a peeler that could be used with a weak grip. I had him try a variety of products, but some required strength to use, while others were too heavy. None of those products fit his needs."
Soon after, Mr. Iida compared and tested 200 different types of peelers sold on the market. None of them, however, appeared to meet the customer's requirements.
The Details Are in the Blade Angle
The left photo shows how a typical peeler is used. The right photo is the Ever Peeler. By changing the way you hold the vegetable, there is no chance of injuring your hands.
"Well, I'll just make it myself," Mr. Iida determinedly told himself.
He approached several manufacturers with the peeler idea but was always rejected. "It was then that a manufacturer told me, 'You'll end up cutting your finger if it cuts too well.'"
A peeler is normally used from a top-downwards direction. However, there is the fear of accidentally cutting your finger if the tool is too sharp. After hearing this advice, Mr. Iida thought, "Wouldn't it be okay if we change the way the peeler itself is used?"
"By changing the position the vegetable is held and adding a slant to the peeler's blades, wouldn't you be able to smoothly peel the vegetable without injuring your hands?"
Prototype peelers. All peelers have a difference of one degree angle in their blades.
He went into joint development with SUNCRAFT, a manufacturer from Gifu Prefecture that endorsed his idea, and created 17 different peelers to test. Each prototype model had a one-degree angle difference in their blades for easy peeling. "We decided, 'This is it!' when we created the 30-degree angle model."
Get Fresh Slices with a Hard Blade
The cut carrot looks fresh and shiny after using the Ever Peeler
The product was finally made without any issues and is currently sold in the store. We had to give the Ever Peeler a try.
The first thing we noticed was how light it was when holding it.
Next was the peeling, which was so smooth it was a wonderful surprise! You almost requires no strength at all. The cut vegetable looks dewy as if water was poured onto it.
It also cleanly cuts through hard-skinned vegetables like squash
This dewiness is credited with the hardness of the blade. Mr. Iida told us, "The Ever Peeler's blade has the same level of hardness as a scalpel typically used for surgery. Achieving this hard edge is crucial for the blade."
The right side was cut with a typical peeler. The slice appears white and rough. The left is the Ever Peeler.
When a blade is flexible, it may gradually wear down and become difficult to peel. The Ever Peeler's blade, however, is long-lasting because it's tough and solid. It also peels vegetables without damaging the cellular properties, which creates a soft and dewy cut. A normal peeler would damage the cells and cause a rough cut.
A Long-Lasting Peeler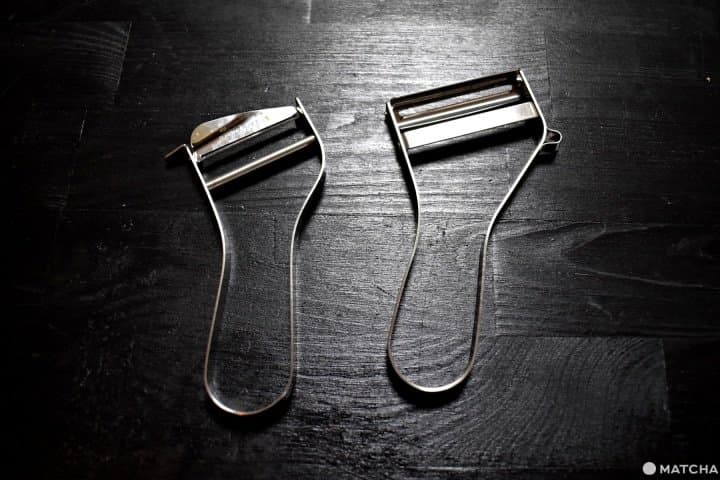 To the left is the final prototype. The blade was ultimately made larger to cut cabbage and other large vegetables, resulting in the shape to the right.
The Ever Peeler is one of Iida-ya's best-selling products. Blades for the peeler are also sold separately. Even if the blade wears down, you can continue to use the same peeler without ever having to buy a replacement.
"We become familiar with kitchen supplies the more we use them. It'd be a waste to buy a new utensil after taking all that time to get used to your previous one. You only need to replace the blade, so customers can use this peeler for a long time."
This is an excellent product that materializes Mr. Iida's desire and meticulous care in every part of its design. The Ever Peeler (SUNCRAFT) costs 2,200 yen with tax.
2. Bread Knife: A Knife for All Types of Bread
This is the Seseragi bread knife. Mr. Iida contributed to the development of this product also.
Do you know what makes this knife different from typical bread knives?
There are actually two types of blades on this one knife. The front blade has large serrated edges. The blade from the middle to end of the knife has even smaller, finer serrated edges.
Great for Slicing Both Hard and Soft Breads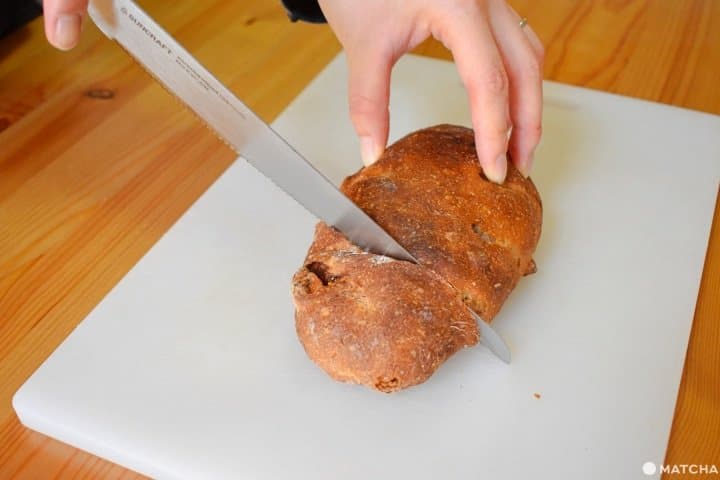 The different blades allow you to cut breads according to their hardness. The front is ideal for slicing harder breads.
When we tried it ourselves, the knife quickly cut through even the hardest of breads. There were almost no bread crumbs, which tackles another concern some customers have.
The center of the knife is best for soft breads like sandwich loaves. We tested the knife on fresh, soft bread and was able to cut it without having to apply much pressure.
Slice All Types of Bread With One Knife
The special bread knife corner in the shop
Mr. Iida had doubts about conventional bread knives. "Bread is available in a variety of hardness, from tough German bread to softer varieties like white sandwich loaves. Despite this fact, isn't it strange that you're cutting these varieties with a single bread knife?"
Thus, he was inspired to create a knife that could handle all types of bread. Regardless of what type of loaf you purchase, you won't have to worry about slicing it with this single knife. The Seseragi bread knife (SUNCRAFT) is 5,500 yen with tax.
3. Bun-Bun Chopper: Make Cooking Dramatically Easier!
Now, we'll step away from Iida-ya's original cooking tools and introduce other popular products that are available for purchase.
Mr. Iida revealed, "My wife says this product is the most convenient out of everything in our shop." He then showed us the Bun-Bun Chopper as pictured above.
Simply Pull the Cord to Mince
What a convenient item this is! All you have to do is pull the cord to mince your vegetables.
Mr. Iida said, "This type of product has existed before, but in a smaller size. The Bun-Bun Chopper is bigger, which makes it possible to mince larger vegetables."
We tested it out with carrots.
We pulled the cord multiple times.
These hard, raw carrots transformed into finely minced bits! This product is either the first or second best-selling product at Iida-ya. While visiting the shop, we even witnessed a customer purchasing this topnotch tool. The Bun-Bun Chopper (K&A) is 2,420 yen with tax.
4. Wire Grill Net: Perfect for Toasting Sandwich Bread
The metal wires on this grill net were hand-knit by a Kyoto craftsperson. "I want you to try toasting sandwich bread on this net," Mr. Iida enthuthiastically said.
This particular stovetop grill has a two-layered net structure. As a result, you can toast bread in as little as five minutes while maintaining the ideal distance from the heat.
The outside is crispy, while the inside stays nice and moist. There's no need to spend thousands of yen on an electrical appliance when you can eat the finest toast with this one product.
Mr. Iida was so impressed that he visited the Kyoto craftspeople who create this quality grill. "By visiting the actual workshop, I witnessed how they put their heart into these pieces." After showing his enthusiasm to these artisans, Mr. Iida was able to get his hands on a small quantity of these products.
The Wire Grill Net (Tsujiwa) is 3,300 yen with tax.
5. A Life-Changing Grater
The Easy Grater ("Raku Raku Oroshite Mimasennka")
Mr. Iida exclaimed, "This is a product I call the Mercedes-Benz of the grating world." He then pulled out the Easy Grater ("Raku Raku Oroshite Mimasennka",: a daikon radish grater with a large and thick design.
We tested the product with a daikon radish. The fine, sharp blades firmly caught the vegetable, grating it in an instant. The sharpness of the blade is thrilling!
This is a memorable product for Mr. Iida since he first came across it during his early years at the shop. "At that time, a customer asked me, 'Are there any graters that will make daikon radish soft?' However, I couldn't answer the question because I had never used any of the products before. After ordering and testing a variety of products, this grater was completely different from the rest."
When radish is grated with this product, it has a nice, fluffy texture. It's also sweet.
Mr. Iida explained to us: "Daikon radish releases a pungent component when its cellular properties are destroyed. However, this grater has nice, sharp blades that won't destroy the cells. This curbs the pungency, in turn making it taste sweeter."
"The customer [who initially asked me the question] purchased this grater, too. I can't sell a product in our shop without trying and testing it first. This product changed my life by helping me come to this realization."
The Easy Grater ("Raku Raku Oroshite Mimasennka" by Arnest) costs 5,500 yen with tax.
All Tools Don't Serve the Same Purpose
Currently, Mr. Iida is a self-proclaimed kitchenware enthusiast. Surprisingly, he told us that he originally wasn't interested in cooking at all.l.
"You could probably tell from my story on radish graters that I was neither an enthusiast nor knowledgeable in the beginning. I even once thought that all tools were the same."
He began working at the family business, Iida-ya, in his twenties. At that time, Mr. Iida barely had any interest in the trade and continued to work without putting effort into his job.
One day, a customer, who appeared to be a businessman, came looking for a cake mold.
Mr. Iida showed him several products. He was then asked, "Is this stainless steel? What percentage of nickel and chromium does it contain?"
Mr. Iida couldn't understand or answer these technical questions. The customer then explained, "My child suffers from a severe metal allergy, so I can't use any commercial cake molds that contain this material. I also don't want my child to grow up without knowing the taste of cake, so I need to find a cake mold that isn't made with metal."
Ultimately, that customer was unable to find a product that suited his needs and left without purchasing anything. Mr. Iida was shocked by this incident.
"It's terrible to visit a specialty store where the staff doesn't have any technical knowledge or sells the product you're looking for. From that moment, I decided to test all the products myself and gain knowledge. Talking to customers based on my experience and knowledge leads to customers feeling satisfied with their purchased products."
A simple tool can change a person's life. Although Mr. Iida has since realized that this field his calling, the customer that came looking for the cake mold has not set foot in the store again.
"I've placed plastic products in all corners of the shop just in case that customer visits again."
Changing Food Culture with Kitchen Tools
Mr. Iida states, "Our duty as a supply store is to continue evolving these tools and supplies. The evolution of cooking began from tools, just like how the term 'simmer' and 'fry' originated from stews and frying pans, respectively.
While the peeler is a small utensil, it may cause ripples of change in our future food culture now that vegetables are slightly easier to peel. I'm in this field because I want to take part in this evolution."
Visit in Person and Shop for Products
"I hope you visit our shop and check out the kitchenware with your own hands," Mr. Iida warmly advised.
"It's common for a product you bought online to not be what you thought it was. That's why when you come to our shop, I'd like you to make your purchase only after seeing and holding the actual product yourself."
Signs made by the staff decorate every corner of the shop
Mr. Iida's motto is: "No kitchenware is universally easy for everyone to use. However, there will always be a tool that's perfect for you, just around the corner."
New supplies and tools are created from encounters with customers. Mr. Iida is currently working on new products as he continues to investigate the most suitable kitchenware for each client.
Visit Iida-ya in Asakusa's Kappabashi district to find kitchenware that will fit your cooking needs!
In cooperation with Iida-ya
The information presented in this article is based on the time it was written. Note that there may be changes in the merchandise, services, and prices that have occurred after this article was published. Please contact the facility or facilities in this article directly before visiting.