4 Recommended Kyoto Accessories And Souvenirs To Take Home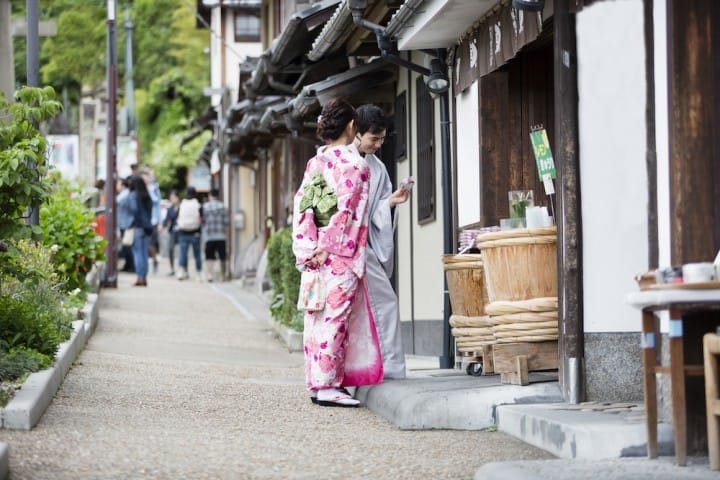 Kyoto has many gifts and souvenir stores with traditional, Japanese accessories, cosmetics, and items great for gifts. This article introduces the top four items in Kyoto to take home from high-quality Japanese brands. Their small size and inexpensive prices make these goods ideal for all.
Four Japanese Souvenirs from Kyoto You'll Want to Take Home
With UNESCO-designated Buddhist temples and elegant, traditional townscapes, Kyoto is an ancient city overflowing with Japanese culture. There are also many souvenir shops to visit, which may leave you wondering where to shop and which item to buy.
Keeping that in mind, this article introduces four items great for mementos and presents that can be purchased in Kyoto. These adorable and high-quality goods are reasonably priced and ideal for gifts for friends or even for yourself!
1. Original and Stylish Japanese Handkerchiefs from SOU SOU
SOU・SOU (SOU SOU) is a Kyoto textile brand inspired by old and new Japanese culture. Their nine shops in the Kyoto area sell tabi socks (*1), samue (*2), and tenugui (cloths that can be used as towels and handkerchiefs), made from these special textiles.
SOU SOU goods have a modern design popular with young consumers as well. The best place to find the ideal souvenir is SOU SOU Isemomen, a shop specializing in tenugui.
Their products are designed with Japanese characters, including the language syllabaries of Hiragana and Katakana. The shop is lined with tenugui showcasing an assortment of different fabric patterns, including ones adorned with cute designs of Gozan Okuribi (*3), an annual Kyoto summer festival.
(*1) tabi: special split-toed socks worn when a kimono is put on.
(*2) samue: a garment worn by Buddhist monks daily
(*3) Gozan Okuribi: an important annual event held in Kyoto on August 16, in which bonfires are lit on five different mountains surrounding Kyoto, including Mt. Daimonji.
Himetake is a somewhat smaller version of the classic tenugui that makes the perfect souvenir due to its compact size. It is thin and light, making it easy to pack away in luggage.
Our recommendation is one of SOU SOU's representative designs called "SO-SU-U." It features a cute numerical pattern that is sure to please people of all ages.
SOU SOU Isemomen is located right beside Takashimaya department store (Kyoto location). It's also close to Shijo Kawaramachi, one of Kyoto's main shopping areas, so how about dropping in for a visit during your walk around the city.
Product Information
Product name: Ise Cotton Tenugui (Himetake), SO-SU-U (comes in various colors)
Price: 702 yen, tax included
2. SOU SOU Decorative Tape Made from Japanese Washi Paper
Colorful and decorative masking tape is a unique and adorable souvenir to get in Kyoto.
SOU SOU carries a large inventory of tape decorated with cute Japanese-style patterns. For example, there's SO-SU-U with its pop art-style colorful numeric design, Kikuzukushi which features the chrysanthemum, the Imperial Family flower, and Hohoemi, a design with a characteristically soft touch to it.
Not only does the masking tape offer sophisticated designs, but it's also made with gently textured Japanese washi paper.
The masking tape has a wide variety of uses, including on notepaper and letters. It also acts as an adorable accent for labeling jars, bottles, and other containers. The pop art-like designs will add spice to your everyday routine.
This masking tape is available at SOU SOU Tabi, which is located right next to SOU SOU Isemomen. Visit yourself to see the store's wide selection of designs in addition to the ones mentioned above.
Product Information
Product name: SO-SU-U masking tape (2.5 cm in width), Chrysanthemum (1.5 cm in width), Hohoemi (1.5 cm in width)
Price: 2.5 cm width- 432 yen including tax, 1.5 cm width- 324 yen including tax
3. Yojiya Blotting Paper - An Indispensible Addition for Your Cosmetics Bag
Japanese facial blotting paper is known internationally for its quality and how nice it feels on the skin. It is considered a must-buy item with many travelers.
In Japan also there's a famous facial paper shop located in Kyoto. The shop is called Yojiya. This long-standing establishment boasts a history of more than 100 years, since first opening for business in 1904.
The blotting paper at Yojiya first went on sale in 1920. It gained a following from Kyoto's maiko and geiko and members of the theatrical and movie industry, as the papers could get rid of excess oil without disrupting facial makeup. Word spread, resulting in Yojiya becoming more popularity.
The smooth texture of the paper feels great. Just softly press the paper to your face to prevent shiny, oily-looking skin. This blotting paper is a must-add to your cosmetics bag.
In addition to Yojiya's main store in Shijo Kawaramachi, this facial paper can be purchased at other shop locations, like in Kyoto Station and Gion.
The shop's symbol mark is is an illustration of the reflection of a woman's face in a hand mirror, which is also found on the cover of the facial paper gift set.
Product Information
Product name: Facial Paper (one set contains 2 packs)
Price: 788 yen including tax
4. ROCCA & FRIENDS PAPIER KYOTO Stationery - Popular Postcards and Letter Sets
ROCCA & FRIENDS PAPIER KYOTO specializes in stylish stationery and paper goods.
The illustrations that decorate the products are based on the designer's view of Kyoto scenery. With eye-catching colors and designs, these products are very popular with young customers.
The store has shugibukuro (*4) and postcards as well, but our recommendation is the letter set.
The stationery set consists of six sheets of letter writing paper, three semi-transparent envelopes, and three stickers for sealing up the envelope. Your finished letter will look very elegant with the cute patterns are visible.
If you send this stationery set to family or friends as a Christmas gift or birthday present, you'll undoubtedly be asked where you bought it.
The shop is located seven minutes on foot from Karasuma Station, along a stone-paved alley on the second floor of a traditional Kyoto townhouse (machiya). The first floor is occupied by an exquisite cafe that serves fruit sandwiches and smoothies, making this the ideal place for taking a relaxing break.
(*4) shugibukuro: an envelope containing money given during celebratory events, especially weddings.
Product Information
Product name: Letter Stationery Set - red flower pattern, violet-blue flower pattern
Price: 734 yen including tax
Pick Up These Stylish Japanese Gifts
Japanese-style accessory shops line the streets of Kyoto, making it one of the best places for shopping for gifts in Japan. Stores carry goods with a traditional yet unique design that will certainly get your attention.

The items introduced in today's article are all reasonably priced at under 1,000 yen. They're light and easy to carry so you can purchase as much as you want.

Be sure to bookmark and read this article again when you are looking for souvenirs in Kyoto.

Main image by Pixta

The information presented in this article is based on the time it was written. Note that there may be changes in the merchandise, services, and prices that have occurred after this article was published. Please contact the facility or facilities in this article directly before visiting.