Shinkansen or Bus? How to Travel From Osaka to Hiroshima
This service includes sponsored advertisements.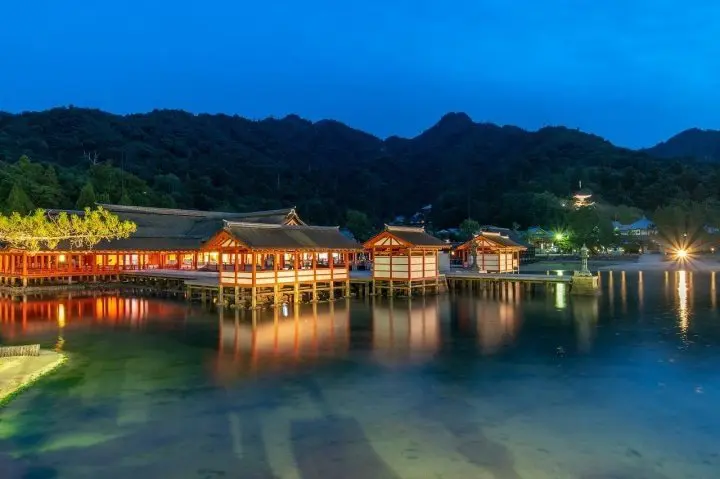 Hiroshima boasts two World Heritage sites: the Hiroshima Peace Memorial, also known as the Genbaku Dome, and Itsukushima Shrine. Both are easy to reach from Hiroshima City, where you can go via shinkansen, train or bus from Osaka.
Hiroshima
Photo by Pixta
Hiroshima is a major city in the Chugoku area of Japan, visited yearly by many domestic and international tourists.
It is best known for its two World Heritage Sites: the Hiroshima Peace Memorial (Genbaku Dome) and Itsukushima Shrine. Itsukushima Shrine is known as one of the Three Views of Japan.
The city also offers delicious local cuisine made using fresh seafood from the nearby sea, as well as Hiroshima-style okonomiyaki . Hiroshima is approximately 330 kilometers from Osaka (straight line distance), and you can easily get there by shinkansen, train, or bus.
Travel From Osaka To Hiroshima By Shinkansen
Photo by Pixta
We recommend traveling by shinkansen. You will be able to reach Hiroshima in just one and a half hours, so you can even visit the city on a day trip. If you're traveling from Shin-Osaka station, you can choose from the Nozomi, Hikari, and Kodama trains, as well as the JR West-exclusive Sakura and Mizuho trains.
The fare will be several thousand yen regardless of which train you choose. The charge for a reserved seat is also several thousand yen, for a total of around 10,000 yen, although this may vary. If you're lucky, you might have the chance to ride the Evangelion Shinkansen that runs for one round trip a day until March of 2017. The Evangelion Shinkansen departs Shin-Osaka at 11:32 AM, and all seats are unreserved.

Travel from Osaka to Hiroshima by Standard Train Lines
Photo by Pixta
If you travel to Hiroshima on normal trains other than the shinkansen, it will take you about 6 to 6.5 hours, and you will also have to transfer trains many times, as shown below.
Depart from Shin-Osaka station (JR Central Japan, Sanyo Main Line, for Himeji) → Himeji (Sanyo Main Line, for Niimi) → Okayama (Sanyo Main Line, for Mihara) → Arrive at Hiroshima
The appeal of this route is its cheapness. The above route will cost you 5620 yen. If you have a one-day unlimited ride ticket, the ride will become even cheaper. The "Seishun 18 Ticket" that can be purchased in the spring, summer, and winter, is a pack of five unlimited-ride tickets for a price of 11,850 yen. You will have access to unlimited rides of the JR conventional lines for a price of 2370 yen per ticket. The ticket allows you unlimited rides for one day from the first train in the morning until 11:59 PM that evening.
Tickets can be shared with fellow travelers (one per person). So if you're a group of five, you can reach Hiroshima for just 2370 yen. You can also use tickets on different days during the valid period.
However, these tickets are only available during certain seasons, so you should make sure to check the details beforehand.
Travel from Osaka to Hiroshima by Bus
There are express buses available from Osaka to Hiroshima. True to their name, they run full speed along the expressways. The ride will take you about 5 to 8.5 hours. The fare is about half that of the shinkansen at 3850 yen to 5850 yen per person.


The price will change depending on whether the seats are rows of 3 or 4, so you should choose the one best for your budget and needs. There are buses running during the daytime and during the night, but more buses are available during the day. If you're used to traveling by bus, you might choose a night bus and sleep there to save time. Night bus travel will allow you to start your sightseeing day upon arrival early in the morning.

You might be able to save one night's worth of accommodation money, but if you're not used to spending the night in a car, you might find yourself even more tired than before. Daytime buses will allow you to enjoy views from the highways, as well as shopping for souvenirs and local cuisine at the service areas along the way.

Hiroshima is actually not too far from Osaka, so if you travel by shinkansen, you can even go back and forth on a day trip. If you want to save time, we highly recommend the shinkansen. If you have time on your hands but want to save money, you can use the train. And in between the shinkansen and the train is the bus. Whether you travel by shinkansen, train, or bus, each has its own merits, making each a special traveling experience. So if you want to make the most of your trip, you might even want to consider different means of travel on the way there and back.

Written by

The information presented in this article is based on the time it was written. Note that there may be changes in the merchandise, services, and prices that have occurred after this article was published. Please contact the facility or facilities in this article directly before visiting. Some of our articles contain affiliate links. We kindly ask our readers to exercise careful judgement when making a purchase or booking a service online.