Inari-zushi - Japanese Encyclopedia
Inari-zushi is a type of sushi with sweet and spicy taste, that has been loved by the Japanese people for a long time. This article explains what Inari-zushi is, and also mentions several stores in Japan where it can be found.
As you might know, sushi, one of Japan's representative foods, has various types. We will introduce here the inari-zushi, a type of sushi that is not made with fish.
If you would like to know more about sushi, please refer to this comprehensive article: Enjoy Sushi! Tips on Eating, Sushi Types, Restaurants, and More!.
What Is Inari-zushi?
Inari-zushi is abura-age (thin deep-fried tofu) cooked in a sweet sauce, with a filling of vinegar flavored rice. The rice filling can be as it is, or mixed with other ingredients such as sesame, carrots, shiitake mushrooms and others. Although Isari-zushi is a type of sushi, you will probably not find it at high-class sushi restaurants. It is normally sold at small local stores or specialized take-out stores. One of the charms of inari-zushi is that it can be easily eaten with one hand.
The Origin of Inari-zushi
In Japan there are Inari shrines in every region. These shrines are dedicated to Inari, the deity protecting the crops. At Inari shrines we usually bring offerings of deep-fried tofu or Inari-zushi and place them before the fox statues on the shrine grounds. It is said that foxes are the messengers of the god Inari. It is believed about foxes that they like deep fried mice, however killing mice is a taboo. Instead of mice, people have started offering deep-fried tofu to the Inari messengers. Tofu is made from beans.
Gradually, newly harvested rice began to be added as a filling to the fried tofu, as a sign of gratitude for good crops towards the god Inari. This dish is now called Inari-zushi, Oinari-san, or kitsune-zushi (with "kitsune" meaning "fox"), and it has been loved by the Japanese for a long time.
The Inari-zushi in Kanto and Kansai Are Different!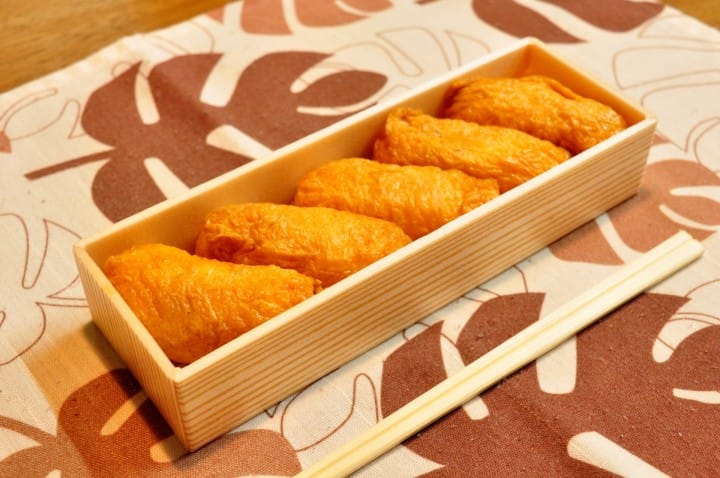 Even within Japan, the Inari-zushi in the Kanto region and the ones from the Kansai region are different in shape. In Kanto, you will find straw bag shaped Inari-zushi, with the vinegar flavored rice wrapped in deep-fried tofu. On the other hand, the Inari-zushi in Kansai has a triangle shape and the stuffed vinegar rice is visible at the bottom. This shape reminds one of a fox ear, as well as of Mount Inari in Kyoto, where the Fushimi Inari Shrine is located.
In addition, the Inari-zushi in Kanto has just vinegar flavored rice inside. On the other hand, in Kansai the filling is usually mixed with various other ingredients.
Try Inari-zushi at Traditional Stores!
Sushi made with high quality fish is of course delicious, but how about trying also the Inari-zushi, a dish loved by the people? It is really good to grab an Inari-zushi when you are hungry. Is is also a good choice when you feel just a little hungry. Please do try the traditional taste of Inari-zushi at old, long-established stores.

・Kanda-shinoda Sushi in Tokyo

Kanda-shinoda Sushi was opened in 1902, and is a famous store among Inari-zushi lovers. Here you can get to enjoy the taste of Edo (the old name of Tokyo)! Famous department stores found in Tokyo also have stands of Kanda-shinoda Sushi selling the same products as the main store.

Address: Tokyo, Chiyoda ward, Kanda Awajicho 2-2
Official Website: http://www.kanda-shinodasushi.co.jp/frame.htm (Japanese Only)

・Otsuna-sushi in Tokyo

Otsuna-sushi was opened in 1875. Their own style of Inari-zushi is well known all over Japan. The charm of their Inari-zushi is the taste of the deep-fried tofu. The fried tofu is turned inside out and flavored with yuzu (a citrus fruit). The refreshing flavor of the yuzu will spread in your mouth when you have a bite, leaving a great aftertaste.

Address: Tokyo, Minato ward, Roppongi 7-14-16
Official Website: http://www.otsuna-sushi.com/ (Japanese Only)

・Nezameya in Kyoto

Nezameya was opened in 1540, and is one of the oldest stores in Japan! Its greatest charm is the location: it is found at the end of a path behind Fushimi Inari Shrine. Toyotomi Hideyoshi, who unified Japan by military power in the sixteenth century, liked this store and he was the one who named it. Their Inari-zushi contains hemp seeds and has a very unique texture.

Address: Kyoto, Kyoto city, Fushimi ward, Fukakusa Inarionmaecho 82
Official Website: http://nezameya.com/eng/index.html

・Otowa in Kyoto

Otowa was opened in the middle of the Meiji era (Around 1900). Their Inari-zushi is lightly seasoned with a typical seasoning of the Kansai region. It is also smaller in size, making it easy to eat. Carrots, burdock root, as well as sesame seeds are mixed in the vinegar flavored rice, creating the specific delicious taste the Kansai region is famous for.

Address: Kyoto, Nakagyo ward, Shinkyogoku street, Nakanomachi 565
Official Website: http://kyoto-sushi.jp/member/otowa.html

Speaking of sushi, nigiri-zushi (fish on top of rice) is the best-known outside Japan. We highly recommend you also try Inari-zushi, which will let you experience one of the tastes loved by common Japanese people.

The information presented in this article is based on the time it was written. Note that there may be changes in the merchandise, services, and prices that have occurred after this article was published. Please contact the facility or facilities in this article directly before visiting.