Chachanoma: Rediscover The Richness Of A Cup Of Japanese Tea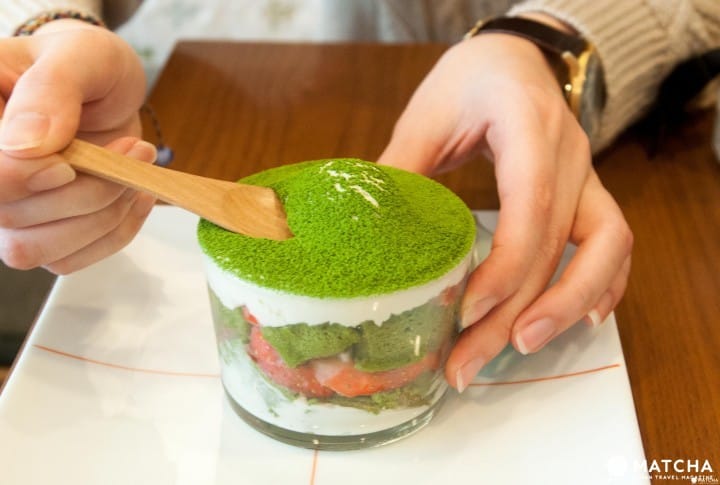 A Japanese tea specialty shop has opened in Tokyo's Omotesando, where you can enjoy delicious matcha flavored desserts with a cup of Japanese tea.
You can drink oolong tea, black tea, or coffee anywhere you go, but what about Japanese tea? Surprisingly, there aren't many places in Japan where you can enjoy these delicious teas.
Chachanoma, a specialty shop that offers carefully selected Japanese tea, just opened in Tokyo's Omotesando area. Here they serve not only tea, but matcha desserts as well. If you stop by and enjoy a cup of tea with sweets here, your image of coffee and desserts going together might just crumble.
Chachanoma's Store Owner and the Relationship with Tea
The store owner Mr. Watada had a habit of drinking tea at home, but he used to drink rather black tea or Chinese tea instead of Japanese tea.
During his college years, he had several opportunities to drink delicious Japanese tea and began to feel embarrassed that even though he was Japanese, he didn't know anything about Japan's own tea culture. This became the reason behind his quest to gain certification as a Japanese tea instructor, and for his present goal of spreading Japanese tea culture to others.
Tea Varieties and Preferences
In Japan, it's become common for Japanese tea to be a blend of tea leaves from various farms, or to include different types of Japanese tea leaves. Chachanoma, on the other hand, uses only one tea farm and one type of Japanese tea.
Because of this you can enjoy the tea's original aroma and taste and feel the flavors of nature.
Inside the store you will find 30 different flavors of tea coming mainly from Shizuoka prefecture, which is famous in Japan for its tea production, though limited edition tea leaves are sometimes sold here as well.
All of the teas here have a name that matches their image, so even those who have very little knowledge about Japanese tea can imagine what kind it is from its name.
We ordered the sakura, or cherry blossom-scented tea. You will surely smell the aroma of the sakura as soon as you bring the yunomi (tea cup) up to your nose. It seems it goes well with Japanese snacks. There isn't much bitterness in the tea itself and the strong scent lingers more than expected in the after taste.
When you order tea at the counter they pour it neatly in the cup. You're sure to sense the technique and beauty to the preparation of tea in how they pour it.
Visual Appeal - Matcha Desserts
Lunch and dessert sets offered at Chachanoma which feature handmade matcha desserts are especially popular.
This chacha parfait has warabi mochi (bracken-starch rice cakes), adzuki beans, shiratama (white dumplings), roasted tea, and agar that is topped with a plentiful amount of matcha ice cream. Tea leaves are sprinkled on top of the ice cream too.
When you put the ice cream into your mouth, you'll be surprised at how rich the matcha tastes. Eating the ice cream together with the dumplings or agar lets you enjoy various food textures, which is another one of the appealing points of this parfait. The chachama and daily tea set is 1500 yen (plus tax).
This matcha tiramisu is limited to the winter time and is sold until the end of March, so that it coincides with the strawberry season.
It uses a spongecake made with high quality and strongly scented matcha from Aichi prefecture's Nishio area and is covered with specially made tiramisu cream. This heavenly matcha tiramisu and the daily tea set is 1400 yen (plus tax).
Let's Pour Tea at Home! Recommended Souvenirs
The uniquely shaped kyūsu (tea pots) that you can buy from this store were designed by the store owner and handmade by workers. The bottom of the tea pot is shallow, so that it breaks down the heat of the hot water evenly. It's said to make your Japanese tea even more delicious.
Within the store are several convenient tea packs that you can use at the office, use for yourself, or give as the perfect souvenir to your friends.
As stated above, there are 30 types of tea leaves to choose from here. You can purchase them at the store, where they are neatly wrapped and ready to give as gifts. On the cards placed before the tea, the various characteristics and production sites of the teas, as well as how they were cultivated, and flavor comparisons between them are written.
In Closing
In Japan, you can easily drink tea from cans or plastic bottles bought at convenience stores or vending machines. On the other hand, you might find that you cease caring about the quality of the tea and the history behind it as a result.
Mr. Watada says that he'll be happy if as many people as possible enjoy a fun time drinking a cup of tea and get to understand the appeals of Japanese tea from his work. If you come to Tokyo, please come to Chachanoma in Omotesando and experience the deliciousness of Japanese tea.
This article was translated and adapted from Traditional Chinese.


The information presented in this article is based on the time it was written. Note that there may be changes in the merchandise, services, and prices that have occurred after this article was published. Please contact the facility or facilities in this article directly before visiting.