5 Superb Sakura Spots In The Hokuriku Area: Ishikawa, Toyama And Fukui
The Hokuriku region of Japan can be easily reached from Tokyo by shinkansen, and is full of amazing cherry blossoms spots that you simply have to see to believe.
The Hokuriku region is composed of three prefectures: Ishikawa, Toyama and Fukui. It is located on the north side of Honshu, the main island of Japan, and faces the Sea of Japan. In the past, transportation to this area from Tokyo was limited, but once the Hokuriku shinkansen opened it became much easier to travel to this region and it has now become a very popular tourist spot.
Wouldn't you like to enjoy a landscape dyed pink with cherry blossoms like the Hokuriku region this spring?
The 2017 Cherry Blossom Forecast
The flowering prediction for the Hokuriku area this year is as follows.
Kanazawa: Flowering from April 5th, Full Bloom April 10th
Fukui: Flowering from April 4th, Full Bloom April 9th
Toyama: Flowering from April 6th, Full Bloom April 11th
*These dates are dependent on the weather conditions of the time.
Ishikawa Prefecture's Famous Sakura Spots
Ishikawa Prefecture, the most famous of the three Hokuriku prefectures, is also known as 'Little Kyoto' and has cherry blossom spots where you can really feel the history of this region.
Kanazawa Castle
Photo by HIDE & JELLY
Kaga (the former name of the southern part of Ishikawa prefecture) is where you will find Kanazawa Castle which was built by the former ruler of the province, Maeda Toshiie, and is one of the 100 daimyo castles that still remain in Japan.
Photo by HIDE & JELLY
Maeda Toshiie, who is one of the most famous historical figures from this area, was a forward thinker during theSengoku era and built the foundation of what was to become the modern Kanazawa area's economy, culture and education.
Photo by HIDE & JELLY
Fans of the NHK TV series known as 'taiga dramas', the 2002 series "Toshiie and Matsu", tells the romantic tale of Maeda Toshiie and his wife Matsu. Not only did this show win acclaim among viewers, but it also made Kanazawa as a whole far more popular as a travel destination.
Photo by HIDE & JELLY
Now only a few buildings remain at Kanazawa Castle, as all of the main buildings including the castle tower burned down over the years. However, you can still enjoy the beautiful sight of pink cherry blossoms against the remaining pure white castle walls.
Photo by HIDE & JELLY
One spot of particular note is Ishikawa Gate. When the cherry blossoms on both sides of the castle wall are in full bloom, they stand out exceptionally well by the Ishikawa gate, and when the pink petals fall, you will find many people stopping here to enjoy the pink snow.
View Information
Kenrokuen Garden
Photo by HIDE & JELLY
Photo by HIDE & JELLY
Kenrokuen is counted along with Kairakuen in Mito, and Korakuen in Okayama as one of Japan's Three Famous Gardens. This daimyo garden was maintained by successive lords of the area, and is located next to Kanazawa Castle - in fact, crossing the Ishikawa bridge which is right outside the Ishikawa Gate will bring you to the garden in just five minutes.
Photo by HIDE & JELLY
Photo by HIDE & JELLY
Kenrokuen is a vast garden with a central pond in it, ideal for strolling about in. In addition to the many plum and cherry trees in the garden, there are numerous other types of flowering trees and plants here that make this garden a stunning place to visit all year round.
Photo by HIDE & JELLY
The colorful and elegant culture of the Kaga clan that dominated this region is best represented by Kenrokuen garden, while Kanazawa Castle and the city of Kanazawa itself are brilliant sightseeing spots themselves.
Photo by HIDE & JELLY
Various kinds of cherry blossoms are planted on the way between Kenrokuen and Kanazawa Castle. After visiting these two remaining historical spots, take some time to enjoy hot tea and dumplings under the beautiful full cherry blossoms as you think of the Kaga clan that built this region.
Toyama Prefecture
Toyama prefecture is located in the eastern part of Ishikawa prefecture. Popular attractions such as the Tateyama Kurobe Alpine Route , also known as the walls of snow and fairytale-like Gokayama Gashozukiri, houses built with steep thatched roofs, are well-known, but here you can also enjoy sakura spots that are impossibly beautiful as well!
Matsukawa Park
Matsukawa, is an important river located in Toyama city next to Toyama Castle. Toyama Castle's outer moat, the Gosho river, was also once an important channel for trade in this region as well.
Photo by HIDE & JELLY
More than 500 cherry trees are planted on both sides of Matsukawa. Thanks to the narrow path of the river, the branches of the cherry trees on both sides seem to touch and interconnect with one another, creating a gorgeous tunnel of cherry blossoms over the water. This spot is so beautiful in fact that it has been selected as one of the Top 100 Sakura Spots in Japan.
Photo by HIDE & JELLY
Photo by HIDE & JELLY
If you are going to see the cherry blossoms in Matsukawa, we recommend taking a pleasure boat cruise along the river. You will feel like you're in paradise when you look up from the boat and see the amazing pink ceiling of petals overhead.
Photo by HIDE & JELLY
Photo by HIDE & JELLY
In the larger sections of the river there are seven bridges spanning it, and one of the other fun points of taking the cruise is waving to the crowds of people that cross these bridges as you pass under them.
Photo by HIDE & JELLY
Photo by HIDE & JELLY
While waking up early to enjoy these pink flowers against the clear blue sky is highly recommended, visitors should also take in the exceptional sight of the illuminated sakura against Toyama Castle at night. Both views will give you very different impressions of spring in Japan.
View Information
Fukui Prefecture
Fukui prefecture, although known as the "Japanese Dinosaur Kingdom", also has many fantastic cherry blossom spots that aren't very well-known just yet.
Asuwagawa Sakura Tunnel
Photo by HIDE & JELLY
More than 600 cherry blossoms are planted along the riverbed of Asuwagawa, which turn into an impeccable cherry blossom tunnel when the blossoms are in full bloom. It is called "the most beautiful cherry tree walkway in Japan" and has also been included in the Top 100 Sakura Spots in Japan.
Photo by HIDE & JELLY
This cherry tree tunnel along the Asuwagawa River is 2.2 km long, and one of the best loved spring walks to take in Fukui prefecture.
Photo by HIDE & JELLY
Photo by HIDE & JELLY
Nothing but cherry blossoms as far as the eye can see. You might find yourself tempted to lie down and just relax, enjoying the contrast of the pink cherry blossoms and the other flowers that grow along this riverside.
Photo by HIDE & JELLY
When the sun moves to the west and the landscape begins to get dark, the lanterns begin to shine. This illuminated sakura along the riverside creates a very mysterious sight for those viewing it from a distance.
Photo by HIDE & JELLY
There are not many people out and about during the nights in Fukui city in cherry blossom season, so you will be able to enjoy a relatively peaceful night viewing of the sakura here.
Photo by HIDE & JELLY
Photo by HIDE & JELLY
Besides this, the locally famous Asuwa Shrine has a shidare-zakura, or weeping cherry tree that is over 370 years old, which is also incredible when viewed both day and night. The beauty of a sole weeping cherry tree or that of numerous trees together - which do you prefer?
Maruoka Castle
Photo by HIDE & JELLY
Maruoka Castle, also known as Kasumigajo, is also part of the Top 100 Sakura Spots in Japan along with Asuwagawa river. Furthermore, this is one of the only twelve existing castle towers left in Japan, and one of Japan's 100 Most Beautiful Castles. It is famously known for its stunning night sakura views.
Photo by HIDE & JELLY
Photo by HIDE & JELLY
Maruoka Castle is located at the top of a small hill, which means there is somewhat of a walk involved in seeing it, but as there are cherry blossoms planted on both sides of this road, you are sure to find yourself in a fanciful, romantic view as you walk.
Photo by HIDE & JELLY
Photo by HIDE & JELLY
The sight of the sun as its sets over the cherry blossoms gives this area a striking golden hue to the castle and road that you might just find yourself stopped in your tracks by its beauty. This is the kind of landscape that you want to imprint on your mind forever.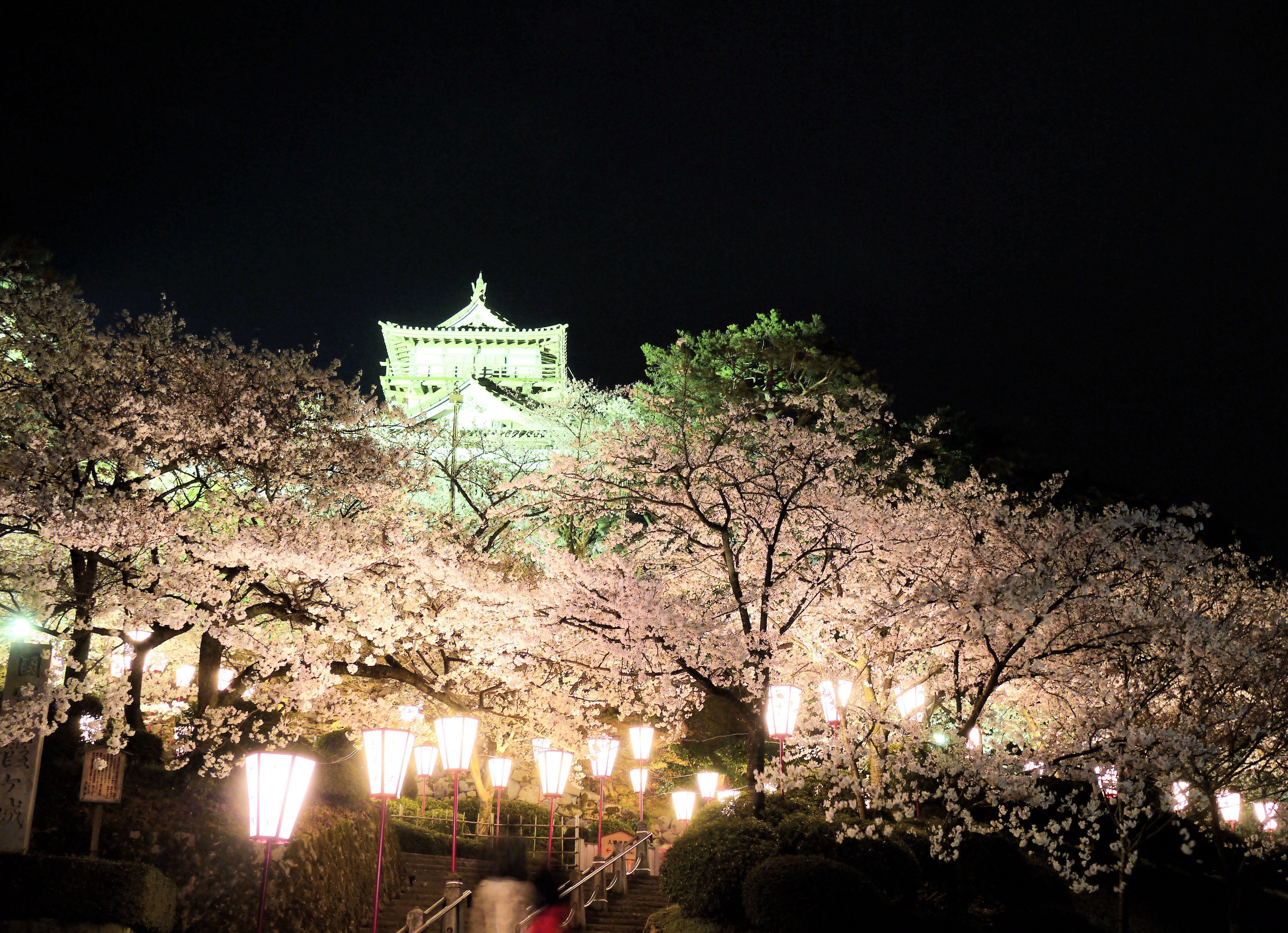 Photo by HIDE & JELLY
Right after sunset, the night cherry blossom festival of Maruoka Castle begins and you can enjoy another side of the charming castle.
In Conclusion
Have you been inspired to visit the cherry blossom spots in the Hokuriku region after reading this article? Both the Kanto and Kansai areas have greater population densities than that of the Hokuriku region, which means you can really relax and enjoy the sight of these cherry blossoms in peace here. This spring, why not take a walk while enjoying the cherry blossoms in Hokuriku?