4 Top Cherry Blossom Spots In Kanazawa - View Sakura In A Castle Town!
Kanazawa in Ishikawa prefecture is a castle town and sightseeing spot known for its three major Japanese gardens. This is a fantastic place to visit when the cherry blossoms are in bloom.
Cherry Blossom Season in Kanazawa
Ishikawa Prefecture's Kanazawa City is known as a castle town with its traditional Kenrokuen Garden, one of the top three gardens in Japan. The charming townscape has a remaining Edo era atmosphere. In the spring, you can enjoy the sight of the castle, the town and the cherry blossoms.
Kanazawa's Cherry Blossom Season in 2019
Approximated dates for when the cherry blossoms start to bloom in Kanazawa and when they are in peak bloom, are listed below. In general, they last from early to mid-April. Compared to flowers in Tokyo, which are best seen from late March to early April, these bloom a little later.
| | |
| --- | --- |
| Start Date in 2019 | March 29 |
| Full Bloom Date in 2019 | April 1 |
In this article, we'll introduce four spots to see the cherry blossoms in Kanazawa!
1. Kenrokuen Garden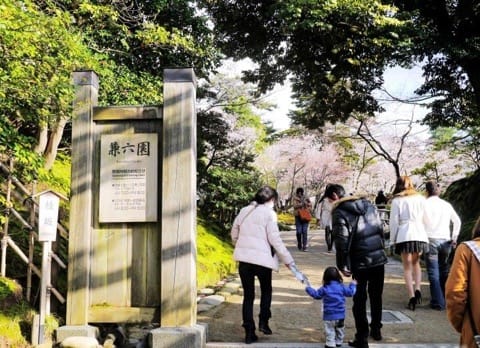 Picture from 5 Superb Cherry Blossom Spots In Ishikawa, Toyama And Fukui
The vast Kenrokuen Garden is included in Japan's top three gardens, along with Korakuen in Okayama City, Okayama Prefecture, and Kairakuen in Mito City, Ibaraki Prefecture. It is very famous. Kenrokuen Garden boasts is one of the most popular cherry blossom viewing locations in Ishikawa, with 420 cherry trees in 20 varieties that bloom in the springtime. The rare Sphaerantha cherry blossoms are a must-see, with a unique shape and color that change as the season goes on.
Kenrokuen Garden's Sphaerantha cherry blossoms
During early April, Kanazawa Castle and Kenrokuen Garden are lit up and entry to the garden is free. Be aware that the duration when the lights are on varies from year to year, and that Kenrokuen Garden does not have areas where you can lay out tarps for picnics. Enjoy a leisurely stroll amidst the trees.
2. Kanazawa Castle
While towering keeps are symbols of Japanese castles, the iconic Kanazawa Castle is known for not having one. At this famous tourist destination, you can not only enjoy nature but also experience the history and culture of Kanazawa. Places like the Ishikawa Gate and the castle park offer different ways to have fun at the castle.
The castle site is home to over 400 trees. Similar to Kenrokuen Garden, it is also lit up from early to mid-April. You can see a totally different and beautiful side of the flowers at night.
*Be aware that the duration when the lights are on varies from year to year.

3. Saigawa River Terrace
Known as "the manly river" for its vigorous current, the Saigawa River is 30 minutes from Kanazawa Station by car. Its banks are lined with cherry blossom trees, making the Saigawa River the perfect place to view the flowers in springtime. While the flowers are blooming, the area of trees near Saigawa Bridge may be lit up.
Saigawa Bridge, registered as a Japanese tangible cultural property site, is also worth seeing.
Saigawa Bridge
Address: Ishikawa, Kanazawa City, Katamachi Google Map
Access: 15 minutes on foot from Nomachi Station (Hokuriku Railroad, Ishikawa Line)
4. Mt. Okuutatsu Park
Picture courtesy of Mt. Okuutatsu Park
At Mt. Okuutatsu Park, you can have barbecues, play park golf, and enjoy the beauty of nature at spots like the rose garden. In spring, check out the blossoms that hang over the pond. The flowers are reflected in the water's surface, turning the surrounding area completely pink! The park also has double-flowered cherry trees and Yoshino cherry trees, which are must-sees.
Mt. Oku-Utatsu Park
Address: Ishikawa, Kanazawa City, Wakamatsu 32 Google Maps
Access: From JR Kanazawa Station, take the Kita-Tetsu bus bound for Mt. Utatsu/Senjukaku (35 minutes, 310 yen) and get off at the Suzumidai 4-chome stop, then walk for 16 minutes
Homepage: Okuutatsu
What to Wear During Cherry Blossom Viewing Season, and Kanazawa Weather
Kanazawa's flowers bloom from early to mid-April. In general, the temperature will range from 11 to 14℃, so you will need a jacket or sweater. It gets colder as the day goes on, so if you want to see the flowers at night, you should bring a coat.
Cherry Blossom Viewing Etiquette
The flowers will bloom all at once and fall from the trees before long, so many people will visit cherry blossom viewing spots. The important thing is to be polite. Here is some basic etiquette when going to see the flowers.
1. Clean Up After Yourself and Take Your Trash Home
Make sure to clean up any trash from bento boxes, snacks, and drinks, and take it with you when you leave.
2. Don't Shout!
It's fun to chat as you look at the flowers, and it's not a rule that you have to be quiet, but don't bother other people. One cause of noise problems is alcohol. You may see other groups getting too drunk and causing a fuss, but don't forget that they're bothering people who are trying to enjoy themselves. Be considerate of those around you.
3. Only Reserve the Necessary Space for Your Group
Finding the Perfect Spot for Cherry Blossom Viewing, source
When you're going to see cherry blossoms, you'll have to find a spot to view them from. However, don't try to reserve more space than your group needs. Remember to compromise with others.
4. Do Not Touch the Trees!
Avoid plucking flower petals or climbing on the branches. Many cherry blossom viewing spots have fencing around the trees, and it is forbidden to enter these enclosures. Be considerate and respectful when you go to see the cherry blossoms.

*This is a rewrite of an article originally published on July 13th, 2016.
Original writer: Sawada Tomomi

The information presented in this article is based on the time it was written. Note that there may be changes in the merchandise, services, and prices that have occurred after this article was published. Please contact the facility or facilities in this article directly before visiting.