Handmade Chocolate - A Super Food?! Emblem Hostel Nishiarai's Raw Chocolate Workshop
If you want to give someone you like handmade chocolates, or thank someone that's helped you out, why not make them some raw chocolates that will not only cheer up your mind but your body as well? Learn more at Emblem Hostel Nishiarai!
In Japan there is a tradition of making chocolates to give to your friends and loved ones on Valentines' Day. A great number of Japanese women take on the challenge of crafting the perfect chocolates for their loved ones at this time of year.
In Japan, handmade chocolate kits are available at supermarkets, so even those who are traveling can easily make stylish chocolate. But for people who want to really get into the art of chocolates, you should consider taking part in a chocolate making workshop held in Japan. By participating in a workshop like this, you can also make some new Japanese friends!
Today, let's take a look at the Japanese and international guest chocolate making workshop held at Emblem Hostel Nishiarai. This event took place on February 13th, and participants learned how to make their very own delicious and healthy raw chocolates.
Our lecturer was Rica, a staff member at Emblem Hostel Nishiarai, who is trained in preparing raw foods.
What's Raw Chocolate?
Raw chocolate is chocolate that has been made without overheating the components (the temperature remains under 48 degrees Celsius). Unlike in traditional chocolate recipes, raw, unroasted cocoa beans are used as is when preparing raw chocolate.
When prepared at a high heat, the naturally occuring 'happy ingredients' in chocolate (namely anandamide and phenylethylamine) are broken down and dissipate, but when cooked at a low temperature, these components remain - making raw chocolate a health food that helps to cheer both the body and mind.
Making Chocolates Without Heat?! Learning to Make Raw Chocolates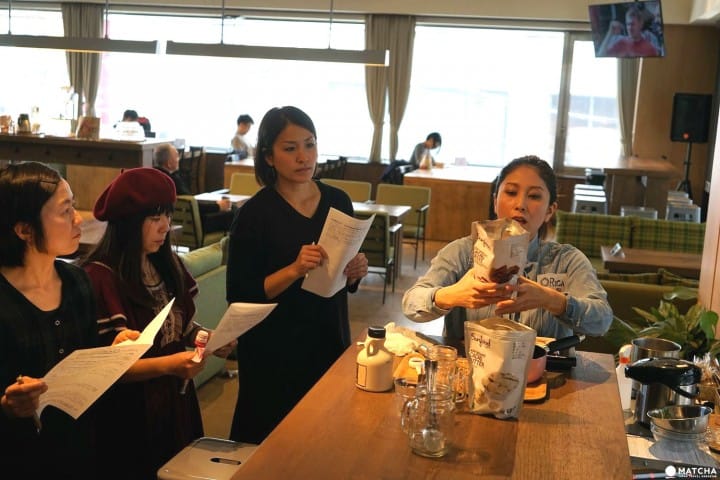 The two main ingredients to raw chocolates are raw cacao butter and raw cacao paste, available at most organic food stores. Other than those two ingredients, you will need something to sweeten your chocolate with, such as maple syrup.
For starters, the raw cacao butter is slowly melted over a low heat, and the raw cacao paste is added to it.
Next, the melting bowl is placed in a second bowl full of ice, and stirred while it cools down and begins to harden. After it has hardened, the melting bowl is put back on the low temperature heat, and melted once again.
This process of repeatedly heating and cooling the mixture is known as tempering, and as a result, the ingredients will become well-blended with one another, and a smooth quality chocolate will be created.
Everyone Practicing Tempering!
The participants in the workshop took turns heating up and cooling the chocolates, stirring all the while. Temperature control is very important in this process, and the participants had to be very careful to not allow the mixture to go over 40 degrees Celsius at any point while tempering.
When the chocolate has reached a smooth, oil-like consistency, it is time to pour it into the molds, or paper cups and allow it to cool.
Until the chocolates had hardened, everyone chatted together and Rica gave a short lecture and answered some questions about raw foods that the participants had. When participants from other countries join the workshop, everyone can have fun chatting to one another about how Valentine's Day is celebrated in their home countries.
Sampling Time! How Does Raw Chocolate Taste?
After cooling for about twenty minutes in the refrigerator, the chocolates have a smooth and shiny surface, and look really delicious! Sampling the chocolates, everyone was impressed by how deep and rich the cacao taste was, and how luxurious they seemed.
The leftover chocolates were wrapped up in cute little parcels to be taken home - meaning that they were the perfect presents!
In Conclusion
Raw chocolate has gained recognition in recent years as a health food thanks to its natural, nutrient-rich cacao base. This workshop was a lot of fun, not only for the detailed and clear explanations of what raw food is, but also for the conversations and cultural exchanges that took place between the participants while learning how to make raw chocolates for themselves. With Valentine's Day falling the next day, this was also the perfect way to learn about chocolates and an interesting way to spend time while sightseeing in Japan.
If you are going to be traveling in Japan during the month of February, then by all means, please take part in this fun and exciting workshop!
View Information
Emblem Hostel Nishiarai
| | | |
| --- | --- | --- |
| | Address | Tōkyō, Adachi, Umejima 3-33-6 |
| | Business Time | Open 24 hours a day |
| | WiFi | Available |
| | Accepted Credit Cards | Not Available |
| | Languages | Japanese, English, Chinese |
| | Menu/Pamphlets in Other Languages | Japanese, English, Chinese |
| | Nearest station | Nishiarai Station on the Tobu Skytree Line |
| | Access | 1 minute walk from Nishiarai Station, East Exit |
| | Price | from 3000 yen |
| | Telephone number | 03-5845-3490 |
| | Website | Emblem Hostel Nishiarai |