Ninja Museum Of Igaryu, Mie - A Great Time At The Home Of Ninjutsu!
Introducing the Ninja Museum of Igaryu, a fantastic place where you can learn about ninjas as well as have a number of great experiences. The museum is located in Iga, Mie prefecture, the birthplace of ninjas.
In Iga, Mie prefecture, also known as the birthplace of ninja, you can learn about ninja as well as have a number of great experiences at the Ninja Museum of Igaryu.
We urge you to experience the secrets of this popular museum, which gets close to 200,000 guests per year, 15% of which are international visitors.
Check out Enjoy The Full Impact Of The Ninja Shows At The Ninja Museum Of Igaryu to learn more.
By The Way, What Exactly Are Ninja?
From Shadowy Spies And Where To Find Them – A Modern Ninja Village
The word 'ninja' is the general term for those who, long ago, used special martial arts called ninjutsu to spy on enemies and retrieve information.
In Japan, the most famous ninja groups were based in Mie prefecture's Iga city and Shiga prefecture's Koga city. From the Sengoku period throughout the Edo period (1603 - 1868), ninjas played an active role but at that time, they were better known as shinobi, kanja (spies), or onmitsu (secret detectives). They were all well trained in special arts (sword-fighting, using gunpowder, etc.) and academia (pharmaceutics, astronomy, etc.)
** There are various theories as to the origin of ninja.
First, Buying a Ticket!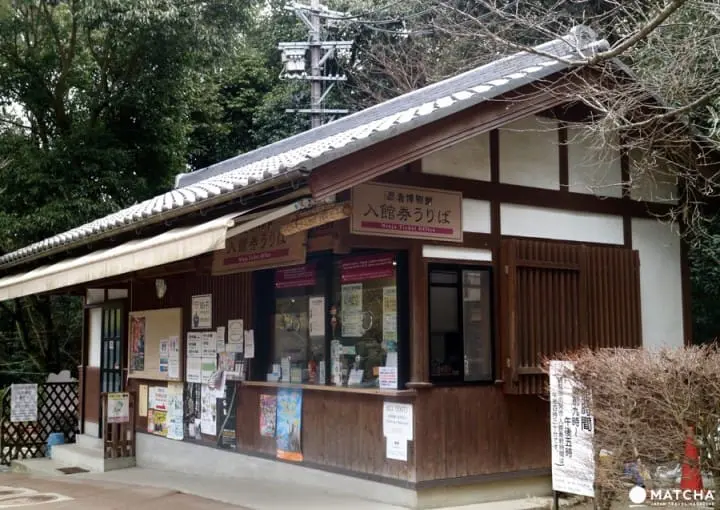 Let's buy a museum admission ticket from the ticket window. The price for adults (high school and up) is 700 yen plus tax and the price for children (ages 4 through middle school) is 400 plus tax. Groups of 20 or more will receive a discount. For more information, please click here. Furthermore, the ninjutsu performance costs 400 yen, including tax. Please pay at the entrance of the venue.
Let's Go on a Sightseeing Tour of a Real Ninja House!
This authentic ninja house was dismantled from land in the valley of Iga and reconstructed here. From the outside it looks just like a normal farmhouse in a Japanese mountain village but what kind of devices could be inside...?
On the sightseeing tour, guided by ninja and/or kunoichi (female ninja), let's experience some of these tricks and contrivances. There are also tours conducted in both English and Chinese. Please feel free to ask the staff for more details, including times of tours. Please be advised that on certain days the tour is only conducted in English or Chinese.
The start of the next tour is displayed next to the gate. If the wait is long, feel free to experience some of the other facilities first.
Now, let's take a look at some of the devices found inside the estate.
Here we have what is known as a Dongengaeshi, a trick door. What looks like a normal wooden wall is actually a hidden door.
If you lift up the floorboards, you will discover hidden jars. The jars contain important information written on scrolls, such as recipes for gunpowder or medicines. Secret stairways, trap doors used to escape enemies, hidden swords/knives, are among the other deeply interesting contrivances found in these buildings.
See Authentic Ninja Tools at the Ninja Experience Hall!
We can move to the Ninja Experience Hall by using a stairway from the Ninja House. Please be careful since the hall and stairway are dark. Nevertheless, there's a clear ambiance here that can only be found in a ninja country.
At the Ninja Experience Hall, there are displays of authentic tools used by ninja, as well as replicas of other items too. Almost all displays come with English translations and explanations about the tools are written on the glass in English, Chinese and Korean so even non-Japanese or English speakers can enjoy them.
Here we have shurikens, the famous attack weapons used by ninja. They are not all star-shaped; some of them are shaped like long and narrow cylinders. There are a number of different throwing techniques required to use this weapons.
On to the Ninja Tradition Hall!
After learning about different kinds of tools at the Ninja Experience Hall, let's head to the Ninja Tradition Hall to learn about how ninja lived and their history.
Typically, many ninja engaged in the agricultural arts. Not only did they research and cultivate herbs in order to make medicines, but also in order to make poisons to take down their enemies. The wisdom and lifestyles of these ninja have been thoroughly introduced here in this hall.
In one corner of the Ninja Tradition Hall lies the Museum Shop where you can buy original ninja goods. So how about buying some ninja goods you can't find anywhere else? Let's take a look at some of the more popular items available here.
An earpick shaped like a Japanese katana. Price: 486 yen with tax.
On the left we have a Ninja Cap (baseball cap) priced at 2160 yen with tax and on the right, a towel handkerchief which costs 432 yen with tax. There are a number of other ninja-related souvenirs, including T-shirts, rubber shurikens and hand towels, for sale here too.
Finally, Let's Enjoy the Ninja Show!
In front of the Ninja Tradition Hall is the venue for the Ninja Show. You must pay an additional 400 yen at the entrance but this fantastic show is worth it. For more information about the show, please take a look at Enjoy The Full Impact Of The Ninja Shows At The Ninja Museum Of Igaryu.
Museum Access
The museum is about a 10 minute walk from Uenoshi Station on the Iga Railway line. Iga-Ueno Castle is also located in Ueno Park so there are many things noteworthy places to see during your visit to Iga. For more detailed information on how to reach Iga from cities across Japan, please visit the museum's home page.
Ueno Park's Information Signpost
Head towards Shiroyamainari Shrine. When you see the red archways, the museum is right ahead of you.
In Conclusion
If you're a fan of ninja, please take the time to visit the Ninja Museum of Igaryu. According to Mr. Sachida, who was nice enough to let us interview him for this article: "People have their own image of ninja but I'd like to show their true nature and form through authentic houses, shows and the tools that they used. By all means, come and experience the world of ninja."

Ninja share common characteristics with the ones you see in movies or animation but they also differ in many ways. Come and visit the Ninja Museum of Igaryu to see the real lives of ninja for yourself!




The information presented in this article is based on the time it was written. Note that there may be changes in the merchandise, services, and prices that have occurred after this article was published. Please contact the facility or facilities in this article directly before visiting.