Enjoy A Super Satisfying Ninja Show At The Iga Ninja Museum!
Enjoy a ninja performance featuring real weaponry at the Iga-ryu Ninja Museum in Mie Prefecture. After the show, try flinging some shuriken for yourself!
At the Iga-Ryu Ninja Museum in Iga City, Mie, in addition to visiting ninja houses and ninja tool displays, you can enjoy a ninjutsu show by the Iga ninja troupe Ashura, a humorous performance that packs a real punch. When you come to the museum, by all means, check it out.
For more about the Iga Ninja Museum, check out our article about it.
There is a sign posted near the Ninja Museum entrance that introduces the subject matter and schedule of the show. To see the performance, be aware that you need to pay 400 yen in addition to the admission fee. You can confirm details about the show schedule on this page.
The show venue is in a corner of the museum grounds. Pay at the entrance. You will also see a few guests clad in ninja gear, scattered here and there, as well as cute ninja children.
At Last, Let's Head to the Venue
The audience seating area is here, and can hold 180 people per performance. Note that taking photos and videos is prohibited.
Also, because the performers use real weapons, take care not to move during the show, and keep your phone in manner mode. On the other hand, it's important to get excited along with the MC, to clap, and to cheer.
Real Blades Before Your Eyes!
The content of the show varies daily, and on the day we went, it started with a performance featuring real swords. The cast talked about the blades and used them in the show.
Apparently, a straw bundle soaked in water overnight develops the same rigidity as a human neck. That solid bundle was easily sliced apart right before our eyes.
The cast will approach the seats and explain the traits of Japanese blades from close up.
The sword on the left is known as a ninjato. It is characteristically straight like a spear, unlike the curved sword of a samurai. It is more of a stabbing weapon than a slicing weapon, and ninjas would also thrust it into the ground to serve as a foothold when clambering up walls.
The Archery Show Scores a Bullseye!
With the bow in the hands of an expert archer, the gunpowder Daikoku fire arrows, as they are known, blasted through the air for a distance of 150 to 200 meters. The booming sound will make you involuntarily cover your ears, so keep this in mind if you are accompanied by small children.
What is the Secret Behind Ninja Blowguns?
After the performance is over, there is a section where ninjas recruit guests who are interested in trying to fire an actual blowgun. The blowgun is said to have been a lethal weapon, with darts that would cause various ill effects. By steeping their blowgun darts in horse manure for several days, ninjas could afflict their targets with tetanus, which is a little creepy.
Even Cords Become Weapons!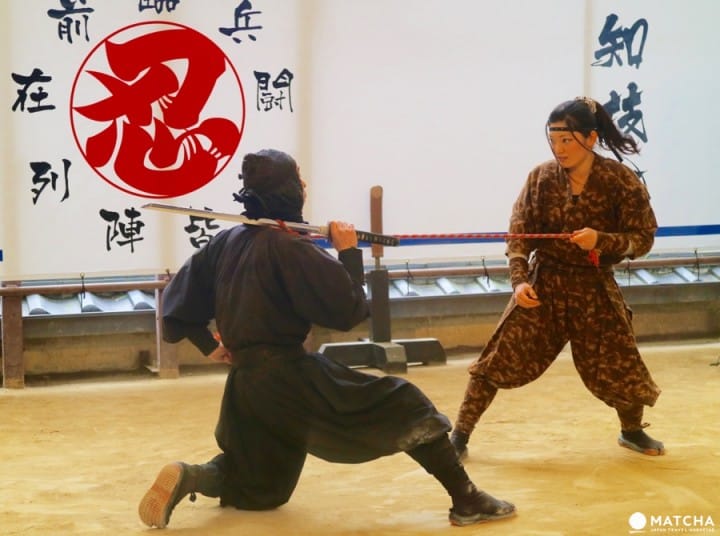 Iga-Ueno is famous for its traditional kumihimo craft, a cord made of braided silk and cotton. While you might not be able to see it as a weapon, they can become one of the strongest implements for battle in the hands of a ninja. First, they seize the enemy's sword with the cord.
After wrapping their enemy up in the cord, they deliver the killing blow with the blade they stole. The crowd went wild with applause.
Try Out a Shuriken Toss to Commemorate Your Trip!
While shuriken appear small and light, one shuriken actually weighs 200 grams, and they were not carried in large quantities, as seen in historical dramas. Also, by dipping their shuriken in toxic aconite, ninjas could inflict deadly wounds just by grazing their foes.
Shurikens come in all shapes and sizes, and can be flung one or two at a time.
After the show, you can pay an additional 200 yen to toss five shuriken. Test your ninja skills with shuriken that are lighter than the real thing! Just then, a cute boy in ninja attire was trying it out for himself.
Here are some shuriken that went wide off the target. You can earn special prizes depending on your score, so why not give it your best shot?
Take Commemorative Photos with the Ninjas!
You can also take pictures with the ninjas, and receive a complimentary Iga-ryu original gift, so how about memorializing your ninja trip? 300 yen with tax.
Adopting this "seal-binding" ninja pose, with index fingers pointed up, is said to calm the spirit and focus mental energies. Try striking a pose together.

There are not many facilities where you can enjoy ninja shows on a regular basis. During the Ise-Shima Summit, Ashura also tailored their performances for media consumption, so enjoy the show.

The information presented in this article is based on the time it was written. Note that there may be changes in the merchandise, services, and prices that have occurred after this article was published. Please contact the facility or facilities in this article directly before visiting.