Cherry Blossom Viewing At Two Castles In Fukushima
Away from the typical cherry blossom viewing spots that one gets from a travel brochure, Tsuruga Castle and Kasumiga Castle Park in Fukushima prefecture are places where you can witness sakura trees elegantly showing off their blossoms.
There's nothing quite like the sensation of witnessing castles and cherry blossoms in one place standing majestically and letting visitors relive the past lives of samurai, even for one brief moment.
As it is colder in the Tohoku Region, northern Japan, the sakura (cherry tree) blossoms go in bloom two to three weeks later than the Tokyo area. If you've never experienced cherry blossom viewing (hanami) in Tohoku, then this weekend is your last chance so be sure to include Fukushima in your itinerary! For more information about sakura, please refer to our Sakura Viewing Guide.
Kasumiga Castle Park
Located in Nihonmatsu city, Fukushima prefecture, Kasumiga Castle was built in 1643 by the first feudal lord of this area, Mitsushige Niwa. Along with Tsuruga Castle, it was a strategic point of the Tokugawa Shogunate.
On July 28th, 1996, the sculptor Kentaro Hashimoto, an honorary citizen of Nihonmatsu, created the iconic statues of boys in battle during the Boshin War (1868), a period when the Edo Shogunate was in its final years of rule.
For one month starting in early April, there is a cherry blossom festival when most Japanese catch up with friends and family.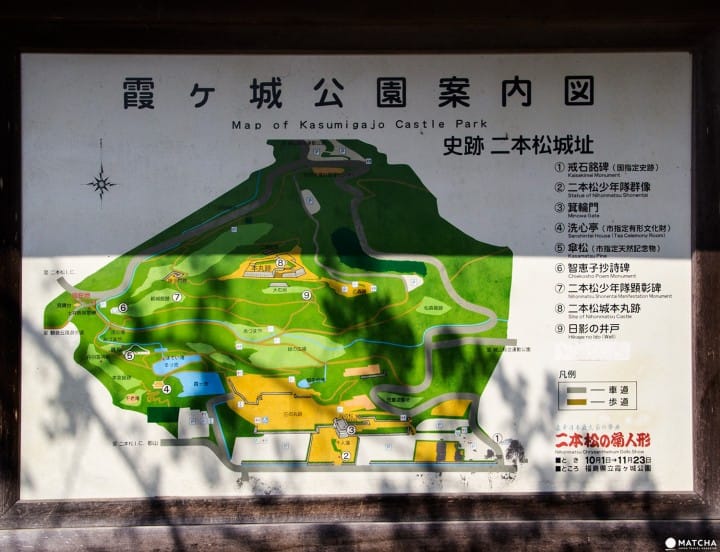 The park is open 24 hours, so depending on your time and taste, you can spend the entire day here.
One of the first things you'll notice when you go to Nihonmatsu during spring is that the sakura trees are in abundance. They will simply fill your vision! Their pink and white cotton-like petals resemble clouds.
As you sit here and gaze at Kasumiga Castle, which is also known as Nihonmatsu Castle, let your heart smile.
About 2500 cherry blossoms await you. There are eleven wild species of sakura trees such as Yamazakura and Oshimazakura and when these species are combined, over 400 varieties are created. In Japan, 80% of the cherry blossoms are of the Somei Yoshino cherry tree species.
What is so special about the cherry blossoms around castles? They create a tranquil place to have a picnic with loved ones - a time to rekindle friendships and to strengthen family relations.
All senses are magnified and time seems to slow down. When you hike up to the top, take your time and enjoy the sakura - one of nature's majestic blossoms.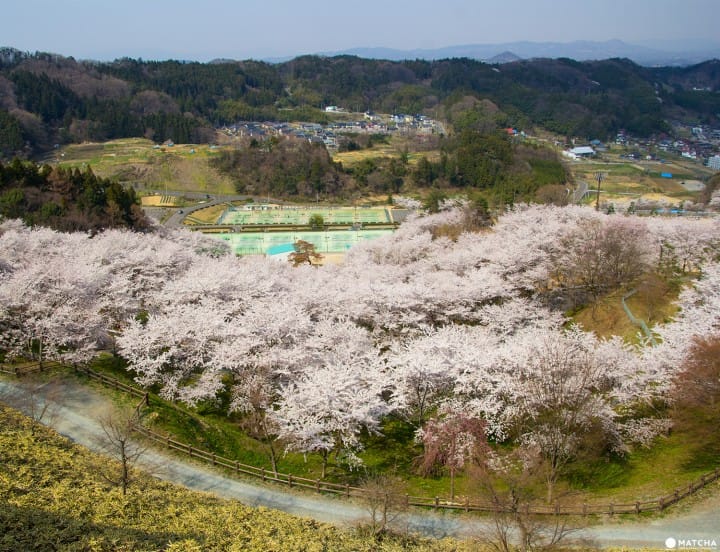 Hard work usually pays off so when you finally reach the top of the stone walls, your eyes will be rewarded. However, don't let the scene take your breath away for too long or your life will feel short like that of the cherry blossoms!
April in Tohoku is still fresh from winter so on a clear afternoon, you can still see the last traces of snow. The death of winter welcomes the new life of spring.
Kasumiga Castle Park at Night
When the sun sets, why head home when you can continue to enjoy the spirit of hanami at night? The park is lit up (6 PM - 10 PM) revealing a different side of the cherry blossoms.
Night photography can be a tricky task and a simple search online will reveal tons of tips. Here are a few things to keep in mind: use a tripod or find a flat surface to steady your camera; use longer exposure time with wide-angle lenses, a lens hood to minimize flares and finally, your imagination.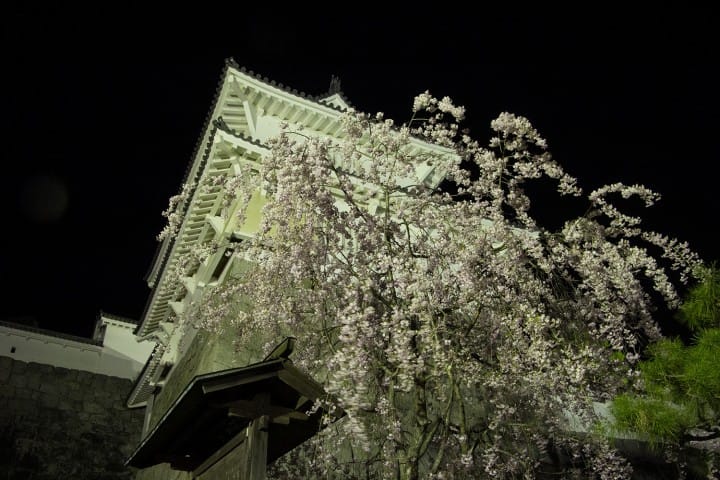 The monument in front of the castle is dedicated to the youth who died in the Boshin War in 1868. The Nihonmatsu Boy Corp (Nihonmatsu Shonentai) consisted of boys with ages between 12 and 17 while the Aizu Clan's White Tiger Brigade (Byakkotai) was a squadron of more than 300 male warriors (16 to 17 years old).
Both adolescent groups were ordered to fight in the Boshin War. About 20 boys from Byakkotai survived from one battle in Tonokuchihara and escaped to Iimoriyama. Fire broke out in the nearby town and amidst the battle and confusion, they thought that Tsuruga Castle had fallen so they committed ritual suicide.
Access
By Car
From Tokyo, take the Urawa Interchange and get off at Nihonmatsu Interchange, which will take about 3 hours. From Sendai Interchange, it will take about 1 hour.
By Train
There are many ways to get there if you're coming from Tokyo but the easiest way is to come from Ueno or Tokyo Station via shinkansen (bullet train). Once you get out of Nihonmatsu Station, there will be a Tourist Information Office to your right.
By Highway Bus
This is probably the cheapest way to reach Nihonmatsu but it takes the longest. From Shinjuku, it takes around 4.5 hours while from Osaka - 12 hours.
View Information
Kasumiga Castle Park
| | | |
| --- | --- | --- |
| | Address | Fukushima, Nihonmatsu, Kakunai 4-Chome |
| | WiFi | Not Available |
| | Accepted Credit Cards | Not Available |
| | Nearest station | Nihonmatsu Station |
| | Access | 8 minutes by car, 30 minutes on foot from Nihonmatsu Station. |
| | Telephone number | 0243-23-1111 |
Tsuruga Castle
During the Warring States Period, Aizu was the strategic location in Eastern Japan where many famous feudal lords (daimyo) throughout Japan came and ruled. 600 years ago, the powerful family clan Ashina built the prototype of the castle. In 1591, the Lord Ujisato Gamō built a seven-storey tower and named it "Tsuruga-jō" but an earthquake in 1611 damaged it, making it tilt. In 1627, Yoshiaki Katō became the new ruler and repaired it to be only five stories high.
Towards the end of the Edo Period in the 1860s, Aizu became a fierce battleground where one tragic story about the White Tiger Brigade (Byakkotai) rose and has been immortalized with the help of the museum inside the castle.
When political power was transferred from the Edo Shogunate to the Meiji Government, any remnants that symbolized the samurai were ordered to be demolished including the castle tower. The five-storey tower that survives today was reconstructed in 1965 based on photographs - reported to be taken by a Frenchman - and old documentation.
Territorial war is over and the only conflict in the castle is... the battle for the best picnic spot.
When the 1000 sakura trees are in full bloom, they adorn the area around the castle. The sight is sheer poetry!
Whoever said that heaven is unreachable was probably lying on the ground drunk off the hanami sake! Heaven is reachable after all.
Bring the usual items for a hanami party; tarpaulin, food, friends, drinks, camera, smile and most importantly, your spirit.
Access
By Car
Take the Tohoku Expressway and exit at Koriyama Junction then take the Banbetsu Expressway for Aizu. It'll take about 3.5 hours.
By Train
From Tokyo Station, catch the Tohoku Shinkansen (90 minutes) then transfer at Koriyama Station for Aizuwakamatsu Station (60 minutes).
By Bus
From Shinjuku Bus Terminal, it costs 2,500 - 4,800 yen for one way. Round trip is about 7,400 yen.
View Information
Tsuruga Castle
| | | |
| --- | --- | --- |
| | Address | Fukushima, Aizuwakamatsu, Otemachi 1-1 |
| | Business Time | 8:30 AM - 5 PM |
| | WiFi | Not Available |
| | Accepted Credit Cards | Not Available |
| | Nearest station | Nishi-Wakamatsu Station |
| | Access | 11 minutes by car or 23 minutes on foot from Nishi-Wakamatsu Station |
| | Religion | Adults 410 yen, children 150 yen |
| | Telephone number | 0242-27-4005 |
Haruka: A New Type of Cherry Tree
On April 8th, 2017, a new breed of cherry tree called "Haruka" was made available to the public. Developed by the Forestry Research Institute to continue efforts of revitalizing Fukushima Prefecture and its public relations activities, Haruka is a symbol of "reconstruction". The name is in honor of actress Haruka Ayase who played the protagonist in 2013 NHK TV series Yae no Sakura, which was filmed in Fukushima. The Haruka is a double petal cherry blossom with overlapping pale pink petals. The tree grows to about 7 m, which is shorter than average. For more information, please visit the Fukushima Sakura Project.
Enjoy a Fascinating Trip to Fukushima!
As Fukushima is the third largest prefecture and boasts more than 108 castles, there are many things to do, see, eat and explore. Rich in samurai culture, hot springs and famous for Kitakata Ramen and the Wild Horse Chase events, there is sure to be something for each and every adventurer in us to enjoy in Fukushima.
For more travel information on Fukushima, please visit Tourism Information of Fukushima Prefecture. The life of the cherry blossoms is brief but beautiful. I wish that your trip to Fukushima is just as beautiful but not brief.