Isuien Garden In Nara - Enjoy Two Historical Gardens In One Place!
The Isuien Garden in Nara was designated a place of scenic beauty. The main garden was constructed in the Edo period while the back garden was constructed in the Meiji period.
What is Isuien Garden?
©︎JNTO
Isuien Garden is a Japanese-style garden located in Nara city and was designated an Important Cultural property of Japan. The garden has a rare structure made up of two gardens; the front garden which was constructed in the Edo period, and the back garden which was constructed in the Meiji period.
The front garden was constructed in 1673 for the sarashi (*1) craftsman Dosei Kiyosumi. The Sanshutei Tea House is the symbol of the garden. This garden is, when compared to the back garden, very compact and cozy.
©︎JNTO
The back garden was constructed in the Meiji period for the businessman Jiro Kando. In comparison to the front garden, it's characterized by its spacious size. A pond is situated in the center and within the ponds are tsumayama (artificially made hills) created by a method called "chisen kaiyushiki" (a garden with a path created around a pond).
Mount Wakakusa and the Great South Gate of Todai-ji are shakkei (*2) to the garden so that visitors can enjoy a truly dynamic scenery.
*1 Sarashi: an item made from bleached thread or the process of bleaching fabric.
*2 Shakkei: a landscape gardening technique to make it appear as if the surrounding scenery is a part of the garden.
How to Get to Isuien Garden
©︎JNTO
You can travel to the garden from Nara Station by either walking or taking the bus.
If you are taking the bus, then take the Nara Kotsu Bus Line 2 (Nara City Loop Line, Clockwise) bound for JR Nara Station and exit at the east Prefectural Office. It will be a ten minute ride and cost 210 yen. Isuien Garden is a five minute walk from the bus stop.
If you are walking to Isui Garden from Nara Station, then it will be a fifteen minute walk.
For details on how to access Nara from Tokyo or Osaka, then please read "Nara Travel Guide – Get To Know Japan's Ancient Capital".
Recommended Spots in Isuien Garden
Sanshutei Tea House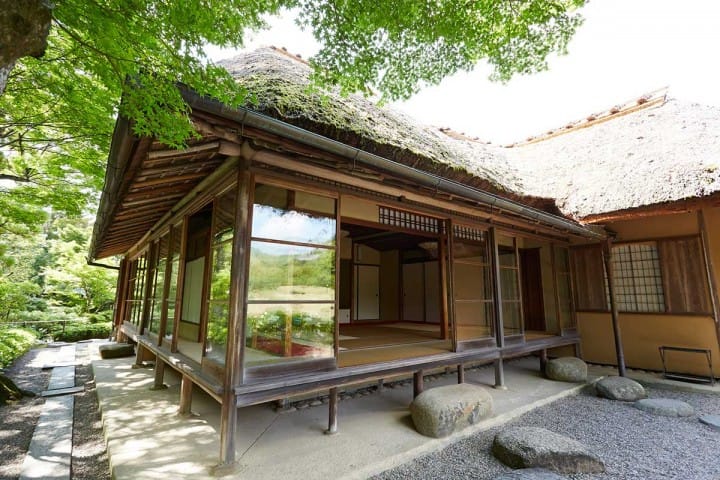 ©︎JNTO
You can enjoy your meal or tea while gazing at the garden at Sanshutei Tea House, a Japanese-style building located in the front garden. Mugitoro (*3) (1850 yen plus tax) is a popular menu item.
*3 Mugitoro: a meal made from barley-mixed white rice topped with grated Japanese yam.
Neiraku Art Museum
Near the back garden is the Neiraku Art Museum, which houses works of art from ancient China and the Joseon Dynasty. The museum is closed on Tuesdays (but is open during April, May, October, and November). The entrance fee for the Neiraku Art Museum is included in the admission for the garden.