Tonkatsu Maisen In Omotesando - Japan's Famous Pork Cutlet Restaurant
Tonkatsu (Japanese style pork cutlet) is one of the most popular comfort foods in Japan. In this article, we introduce the famous MAISEN, a tonkatsu restaurant whose main store is located in Omotesando.
Tonkatsu is a popular comfort food in Japan. It is a Japanese style, deep fried pork cutlet enjoyed by people of all ages.
In this article, we will be introducing the famous tonkatsu restaurant Maisen, whose main store is located in Omotesando. They have different types of branded pork cutlet you can try. Even though it is a Tonkatsu restaurant, they also offer other Japanese dishes such as Soba noodles, Sushi and Curry rice as well.
Maisen - A Famous and Tradition-rich Tonkatsu Restaurant
Tonkatsu Maisen Aoyama Honten, the main store of Maisen, located in the back alleys of Omotesando, is a Tonkatsu restaurant that first opened in 1965. They have about 11 eat-in stores in Japan, and 17 stores overseas in countries like Thailand, Philippines and Taiwan.
Maisen goes by the motto of "providing Tonkatsu that is so tender you could cut it with your chopsticks". They are also committed to making Tonkatsu that tastes good even after it cools down.
Enjoy Various Types of Branded Pork at Maisen
At the restaurant, they offer five different types of branded pork cutlet. Two unique, must-try kinds are "Amai Yuwaku" and "Kurobuta".
"Amai Yuwaku" is a type of pork only offered at Maisen. It is their original branded pork. Because this is a Maisen-limited pork, they only offer it in small amounts at the store. So if be sure to try out the Tonkatsu dishes that use this type of pork while they're still available.
Kurobuta is another famous brand of pork in Japan. It is considered one of the best, and is ranked highest. Kurobuta is well known for its juicy and flavorful taste.
How To Enjoy Maisen's Tonkatsu Dishes
At Maisen, a typical Tonkatsu set comes with a bowl of rice, the Tonkatsu pork cutlet, cabbage salad, pickles and miso soup. On your table, there are two types of Tonkatsu sauces. The pot with the word "甘口" (amakuchi) contains a sauce with sweet, mild taste while the pot marked with "辛口" (karakuchi) has a sauce with spicy flavor.
Once you chose the type of sauce you would like, pour it onto your Tonkatsu using the wooden spoon placed inside the pots.
On one side of the plate, there is a big pile of cabbage. You can either pour the Tonkatsu sauces on your cabbage too, or you can just sprinkle some salt-based seasoning on it.
As a great fan of this restaurant, there is one important piece of information I'd like to share with you - namely, that you can ask for refills of rice and cabbage for free! Yes, you heard that right. Simply ask the waitresses for more cabbage and rice if you would like seconds, thirds or even fourths.
For those of you who are still unsure about how to eat the Tonkatsu dishes, take a look at the English guide on how to eat Tonkatsu available at the restaurant. The restaurant offers their menu in English, Korean and Chinese. They also have English speaking and Chinese speaking staff members who can help you.
Maisen's Katsu-sando - A Delicious Tonkatsu Sandwich
One of the most popular and well-known dishes of the Maisen brand is their Tonkatsu sandwich. This is a small sandwich with a delicious piece of pork cutlet and Tonkatsu sauce inside. Because it comes in a compact and easy-to-carry package, many people enjoy it on the go.
At the restaurant, you can try the crispy, juicy and freshly made sandwiches. This is a dish you just have to try when you come to this restaurant!
Even though Maisen is a Tonkatsu restaurant, they have skilled sushi and soba chefs that make these dishes in-house. Thus, at the restaurant, you can also taste various types of Japanese foods that are not necessarily Tonkatsu but go very well with it.
Enjoy the Retro-Toned Interior of the Store
Although Maisen is located in Omotesando, a fashion-forward, avant-garde area of Tokyo full of young people, the restaurant has a retro, warm atmosphere.
The original Omotesando store is almost 30 years old. Before they expanded the area of the store, a part of the restaurant used to be a Sento, a Japanese public bath.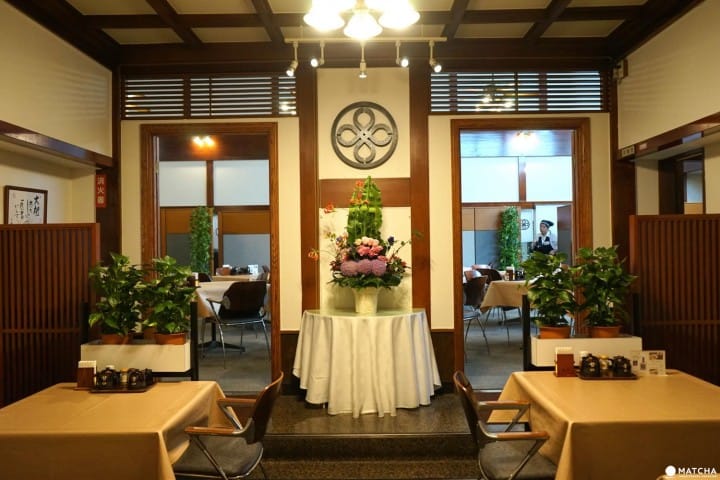 If you look carefully, you can still see the traces of the Sento. For example, the entrance to the western style area has two entrances. One used to be the entrance to the bath for men, and the other one to the women's bath.
On the second floor of the restaurant, they have a tatami area (traditional Japanese mattress) that is widely used by families with children. It is a great space to hold parties or gatherings with a group of people as well.
If You Are On The Go, Visit their Outside Store
Outside the Maisen restaurant, there is a small store selling sandwiches, Tonkatsu Bentos (packed meals you can enjoy on the way) and other fried foods for people who are on the go. This shop is popular among busy businessmen, as well as with families who want to eat Tonkatsu outside or at home.
In Conclusion
Tonkatsu Maisen in Omotesando is a great place to visit if you want to try authentic Japanese pork cutlet. Be sure to take in the welcoming and warm retro atmosphere of the restaurant while you enjoy your juicy, tender and freshly fried Tonkatsu!

The information presented in this article is based on the time it was written. Note that there may be changes in the merchandise, services, and prices that have occurred after this article was published. Please contact the facility or facilities in this article directly before visiting.