Onitsuka Tiger's Creative MONTE Sneakers At Special Prices In Japan
Onitsuka Tiger's Creative MONTE Sneakers At Special Prices In Japan
Onitsuka Tiger has released a new design series - the MONTE Z and MONTE CREACE sneakers - whose main trait is their ever-changing design! Use the laces to play around with your fashion creativity, and check out their discount prices too!
Are you often at a loss when it comes to choosing the right shoes to bring on a trip?
You don't want to make your luggage even heavier by bringing more than one pair, but you're not that happy about the fact that every fashion combination must include that same pair of shoes each day. It would be much more interesting and thrilling to be able to choose your foot wear just as you can change your hair style, or arrange your clothing combinations, wouldn't it?
Luckily for you, Onitsuka Tiger is willing to lend the hand of salvation for your outfit-related worries, with their new MONTE sneakers series!
Sneakers You Can Style Yourself?
MONTE Z 13,000 yen before tax *Discount price available only in Japan!
Size: 4-6H, 7-10H, 11-12H, 14 US inch Unisex
MONTE CREACE 12,000 yen before tax *Discount price available only in Japan!
Size: 4-6H, 7-10H, 11-12H, 14 US inch Unisex
What makes the MONTE series so unique and new is their design-customization, made possible by using the sneakers' laces. You can choose between two brand new models – MONTE Z (13,000 yen before tax), with which you can express your creativity through arranging the sneakers' laces your style, and MONTE CREACE (12,000 yen before tax), also with countless possible lace-tie combinations sure to make for original outfits each day.
With these sneakers, you can aim for a different fashion look every day of the week, with them reflecting your fashion sense or the mood of that particular day. It will feel like you are wearing a different pair of sneakers without bothering to do so (or to bring excess shoes on your trip).
They'll fit perfectly with your everyday work or school fashion style, and they'll come in handy while traveling around, too. Not only will you find them at even more reasonable price in Japan, but they'll prove to be useful and more than sufficient for various events and occasions during and after your trip.
Creative Laces! Check Out the Video to Learn How to Arrange Them
The main idea behind the MONTE Z model's exceptional look lies in the numerous holes on the front part of the sneakers – you can play around with your laces to form the shape you'd like by pushing the laces through the holes. There are many patterns you can try out depending on your preference and mood – watch the video to see how to create this lovely shape of a star!
As for the MONTE CREACE model, you can show off your designing skills and good taste by experimenting with various lace-tying and knot patterns.
You can even step up your laces game and choose a different pattern for each of the sneakers, or change the colors of the laces to make your amazing sneakers stand out even more. The possibilities are infinite, so all you have to do is let your imagination loose.
Onitsuka Tiger has created a campaign on Instagram where you can check out other people's creative rearrangements and even boast about your own, by sharing some #designlace pictures!
MONTE Z Model for Those Who Love Creativity Challenges!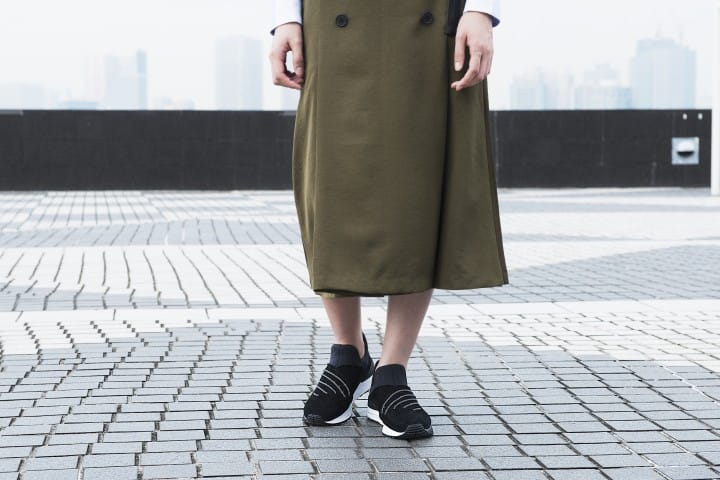 The holes on the upper (front) part of the sneakers is what makes the MONTE Z model magical, there is no doubt about it, especially when you think about all those patterns and shapes that would add some cute flavor to your fashion style. But, this model has another feature to knock you off your feet (or keep you comfortably standing). Yes, you guessed it right – they are amazingly comfortable, as well. Since they are a slip-on type of sneakers, which don't need laces to keep them firmly in place, they are also quite easy to put on at any time.
Designed in a layered style, it gives off a true Japanese feel so reminiscent of the traditional kimono garment – which is said to be the inspiration behind it. With this unique model, Onitsuka Tiger does live up to the name of a representative Japanese sneakers brand, daring to include the very essence of the Japanese fashion sense into their shoe models. Should you decide to buy a pair during your stay in Japan, they will become the perfect souvenir to remind you of both old and modern Japan, brought together in an extraordinary and fascinating pair of sneakers.
MONTE CREACE Model for Those with a Relaxed Styling Sense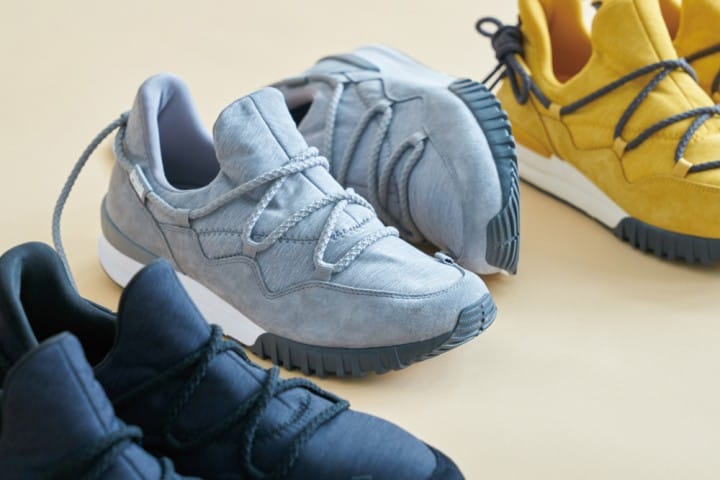 The greatest charm of the MONTE CREACE model lies in the loops on the side of the sneakers, which allow you to adjust your sneakers' look by tying the laces in many different patterns. There is plenty of room for proving your originality. Tie them up in a flashy, front-showing knot, or hide it on the back side of the sneaker for a more "moderate" look – now's the time to bring forth that imagination!
To keep your feet snug as a bug in a rug (only in this case, inside of the sneakers), you just need to tighten the lace in the back and you're good to go – they, too, are exceptionally cozy and enjoyable to wear.
With all the walking, sightseeing, and shopping you plan to indulge in while in Japan, it would be no wonder if your feet were to start protesting and ignoring your enthusiasm in a rather painful way. To prevent such a thing from happening, entrust your biggest supporters, your feet, to Onitsuka Tiger's sneakers – they are bound to sit comfortably and snugly while you actively enjoy Japan to the fullest. The sneakers will compliment your everyday, casual look, by giving it a unique and a charming tone. Who knows? You might love them so much you won't be able to resist the urge to walk them around every day.
Finally, as they are available in three lovable colors, why not combine the colors, or pair the looks with your loved ones, family or friends, and head out to conquer those streets with style?

▶▶▶More Than 10% Off! Smart Shopping At Onitsuka Tiger In Japan

Onitsuka Tiger Official Website: https://www.onitsukatigermagazine.com/

* This article introduces duty-free items and discount prices for visitors to Japan. Please mind that the discount prices are not available for Japanese customers or for permanent residents in Japan.

Product photos courtesy of ASICS Corporation.
Sponsored by ASICS corporation.

The information presented in this article is based on the time it was written. Note that there may be changes in the merchandise, services, and prices that have occurred after this article was published. Please contact the facility or facilities in this article directly before visiting.