Hasedera Temple, Nara - Climb The 399 Steps To The Main Temple
Hasedera Temple, Nara is known for both its historic buildings and beautiful seasonal flowers - so much so that it's also known as the Flower Temple. Why not come and feel the relaxing atmosphere of this temple wash over you?
The Path to the Main Hall
In order to reach the main temple hall, you will need to climb up 399 stairs . Here we will give a give introduction to the route.
First, please head through the entrance reception area and pass under the Niomon gate. This is the entrance to Hasedera Temple.
After passing Niomon Gate, you will head towards the Noboro (climbing path). It is said that this route was constructed by Nakatomi Nobukiyo, the architect behind Nara's Kasuga Grand Shrine, in 1039.
It seems that Nakatomi Nobukiyo's son was stricken with a serious illness, and Nakatomi Nobukiyo came to Hasedera Temple to pray for his health, and he made a complete recovery. In order to give his thanks for this miracle, the Noboro was built.
The Noboro is divided into three sections (upper, middle, and lower), and the Shimonoro (descending path), and Nakaroka (central path), were reconstructed in 1894.
This is the central path. The stairs are quite easy to climb, so this section makes for a comfortable climb.
The Kaminoro (ascending path). The main hall is just a short distance from here.
You've reached the main hall. Let's take a closer look at this temple building.
The Main Temple Hall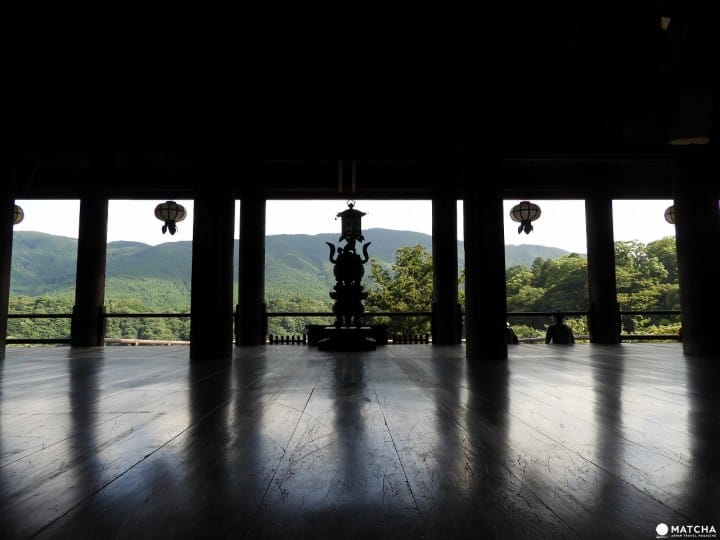 The current main hall was built by Tokugawa shogunate (*2) during the Edo Period. The architecture of this hall s simply beautiful, and the hall itself has been designated a National Treasure of Japan.
The main hall consists of the Shodo, where the statue of Jyuichimen Kannon Bosatsu is enshrined, and the Raido (ceremony hall), which are connected via a passage-way like ishijiki no doma (*3). From the doma, you can enjoy the sight of the natural landscape in such a way that it almost appears to be a picture in a frame.
*2 Shogunate: the ruling family/government of the time.
*3 Doma: the dirt floor entrance way in a traditional Japanese home. In this case, it has also a stone paving element.
The stage built on the cliff side is similar to that of Kyoto's Kiyomizudera Temple; this uses a technique known as kakezukuri, where long pillars and other elements attach the temple to the rock face. The view from here is magnificent.
Other Noteworthy Highlights
Here you will also find the first five storied pagoda built in Japan after World War Two, and the Kaisando a temple hall built to commemorate Tokudo Shonin, as well as many other fascinating spots.
Hasedera Temple is also famous for its peonies and other beautiful seasonal flowers. Because of this, it is also called Mitara in Japanese, or the Flower Temple.
Why not immerse yourself in history and savor the beauty of the seasons here?
Basic Information about Hasedera Temple
Hasedera Temple is open from April to November from 8:30-17:00, in October, November and March from 9:00-17:00, and from December to February from 9:00-16:30.
Admission is 500 yen for junior high ages and over, and 250 yen for elementary school students.
Seasonal Events at Hasedera Temple
Dadaoshi
This is the fire-based rival event of the O-mizutori held at the Nigatsu-do at Todaiji Temple, in Nara. Every February 14th, the participants carry otaimatsu (large pine branches) and run about the main temple building, banishing red, blue, and green ogres, in order to pray for good health.
Kannon Mandoe
On the evening of December 31st, lanterns are set at the entrance to the temple. Here you can welcome the New Year in a fantastic yet solemn atmosphere.
How to Reach Hasedera Temple
It is a fifteen minute walk from Hasedera Station to Hasedera Temple. Here are two of the best routes to take to reach Hasedera Station.
From Osaka Umeda Station
Use Osaka's Umeda Station. Take the Osaka Loop Line bound for Kyobashi to Tsuruhashi Station, then change to the Kintetsu Osaka Line train bound for either Nabari, Aoyamacho, Ujiyamada, or Isuzugawa.
At Yamatoyagi Station, take a local train on the same line bound for Haibara or Nabari, and get off at Hasedera Station.
It will take an hour and ten minutes, and cost 870 yen.
Access from Kyoto
From Kyoto, hop on the Kintetsu Kyoto Line express bound for Kashihara Jinguumae, and get off at Yamatoyagi Station. From there, take a local train on the same line bound for Haibara or Nabari, and get off at Hasedera Station.
It will take an hour and twenty minutes, and cost 1010 yen.
Interesting Sights Nearby
Two stations away from Hasedera Station is Muroji Temple, which is a Nyonin Koya, or temple that has permitted the worship of women since ancient days. In the past, men and women were not always permitted to worship at the same temple or shrine in Japan. This is an excellent place to visit along with Hasedera Station.

In Nara, there is the Nara Yamatoshiji Jyunrei, a pilgrimage to Hasedera Temple, Muroji Temple, Abe Monjuin Temple, and Okadera Temple, which is highly recommended. A bus tour that travels to these four temples is available; for more details on this tour, please see their official website.

Also in Sakurai, you will find Omiwa Shrine, one of the Miwayama that appears in the ancient myths of Nara, so please come and appreciate the ancient romance of this region.

In Cooperation with: Hasedera Temple
** The information regarding travel times and transportation expenses in this article is based on information provided by the official websites of each facility. This information is accurate as of August 2017 but may be subject to change.

 

The information presented in this article is based on the time it was written. Note that there may be changes in the merchandise, services, and prices that have occurred after this article was published. Please contact the facility or facilities in this article directly before visiting.