Hiroshima's Dreamination - A Fairytale Illumination At The Peace Boulevard
What to do in Hiroshima this winter? Dreamination will light up your stay in this beautiful city. Learn everything about this fairytale inspired illumination in this article.
This year will be Hiroshima's 21st anniversary of the Dreamination.
The Hiroshima Dreamination is an illumination event that the city organizes every winter from mid-November to early January. It is mostly displayed along Heiwa Odori, known as the Peace Boulevard. The Peace Boulevard is next to the Peace Memorial Park, which is famous for the Atomic Bomb Dome.
As the name hints, the recurring theme of the Dreamination is fairytales. However, the event is suitable for all ages as it features various styles of gorgeous light installations. Let us show you why it is so popular among locals and visitors.
Forget Your Winter Blues
The winter season in Hiroshima is cold but you will forget all about it as you walk down the Peace Boulevard admiring the variety of fantastical displays of light.
Do not be surprised if you see an Easter Bunny, Santa Claus, a Pheonix Bird or Cinderella's carriage all within a short walk from each other.
This illumination certainly won't leave you cold.
Who thought you could find a ship made of neon lights in the middle of Hiroshima?
You can walk right into this ship. As you can do with all of the artworks on display if you feel like exploring them more closely.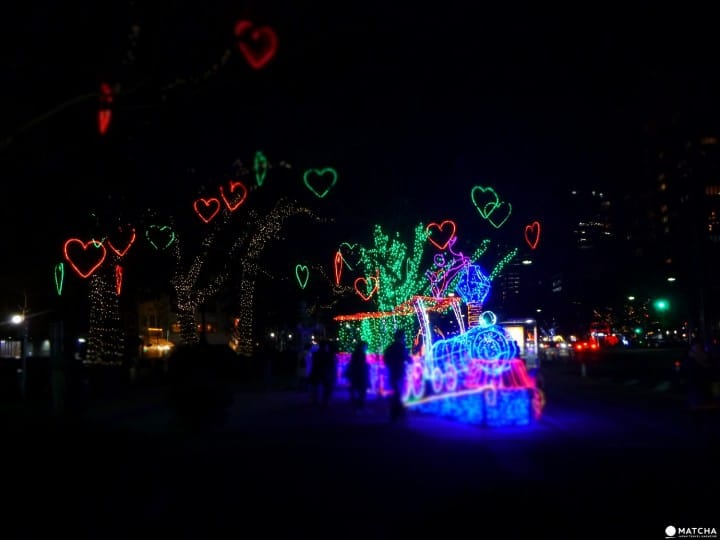 Fantasy ships don't tickle your fancy? How about stepping in the driver's seat of this train made of pure light and surrounded by hearts hanging from the trees?
Ever wondered how Jonah felt when the great whale swallowed him whole? Well, luckily, you will not find it out first hand, but you can walk inside a whale's mouth.
This whale will not swallow you whole. Be brave, step right in its mouth. Take a selfie to tell the tale.
An abundance of fairytale-inspired artwork is on display at the Dreamination. Princesses, dinosaurs, witches, gardens and many other delights.
The best part is that you can step right into this world and have a great experience exploring these fantastical creations.
Fantasy, Romance and Messages of Peace
For couples looking for a bit of romance, there are some adorable photo opportunities: "Love Seats" surrounded by fairy lights hanging from the tree tops and big heart-shaped frames of brilliant red light.
But even if you come alone, these beautiful lights are so magical they will warm your heart for sure.
The bursts of colors are everywhere around the Peace Boulevard and even trees are transformed by simple, yet stunning, lights.
However, in Hiroshima, an event would not be complete without a message of peace. You can sense a feeling of harmony and the message of world peace through the brilliantly lit figures.
We are all linked together. Our hearts beat as one.
In Hiroshima, the message of peace is forever present. The city wishes for everyone visiting Hiroshima to take that message with them and spread it around the world.
Illumination at the Memorial Peace Park
Most of the Dreamination artwork is displayed along the Peace Boulevard but you can find some illuminations all around the city.
The Peace Memorial Park is illuminated as well. You can walk around exploring it in a whole new light. The A-Bomb Dome with a single tree beaming blue has an atmosphere to it that's both soothing and sad. The river reflects the blue hues beautifully and solemnly.
The river that runs along the Peace Memorial Park can be seen in a whole new light. Hundreds of fairy lights illuminate the trees and reflect in the water. It truly turns into an otherworldly experience after dark.
When To Go and How To Get There
The Dreamination is on display every year from November 17th to January 3rd. It is illuminated every evening from 5.30 pm to 10.30 pm.
The illumination at the Peace Boulevard starts from the Peace Memorial Park in the west. It stretches all the way to the Fukuromachi streetcar station in East.
Enjoy the Winter Lights at Dreamination
As this is one of the rare outdoor events in Hiroshima that are not only easily accessible but also free of charge, it is a must-see. Walk around in awe of the magical illumination and forget the winter blues.

Afterwards, perhaps a nice hot cup of sake or cocoa to warm you up? This would be the cherry on top of this experience.

The information presented in this article is based on the time it was written. Note that there may be changes in the merchandise, services, and prices that have occurred after this article was published. Please contact the facility or facilities in this article directly before visiting.