Strengthen Your Spirit! Waterfall Meditation At Izurusan Manganji In Tochigi
If you're looking for a unique experience, how about trying waterfall meditation in Japan? This article introduces the basics of this ancient practice rooted in Buddhism and a temple in Tochigi where visitors can try it.
Izurusan Manganji is a Buddhist temple in Tochigi Prefecture that offers waterfall meditation training, also known as takigyo.
Takigyo is an ascetic practice whose purpose is to purify and strengthen one's mind, body, and soul.
We introduced the waterfall meditation at Izurusan Manganji briefly as part of our article A Fun-Filled Day Trip To Tochigi. In this article, we would like to focus on the waterfall meditation itself.
Izurusan Manganji - A History Rich Temple in Tochigi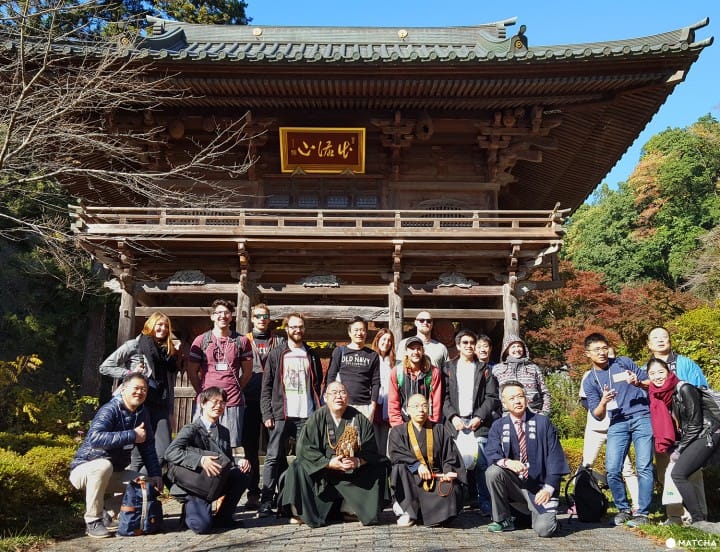 Izurusan Manganji is a temple belonging to the Shingon sect of Buddhism, boasting over 1200 years of history.
This temple has been drawing attention in recent years for offering Zazen and waterfall meditation workshops towards visitors who would like to experience these types of practices during their trip to Japan.
Before mentioning the features of the waterfall meditation experience available at Izurusan Manganji, let us introduce to you some of the features of the temple complex itself.
The Izurusan Nio Gate was built in 1735. The interesting thing about this gate is that it has been constructed like a jigsaw puzzle without using nails.
Before walking through the gate, look closely at the mouths of the two muscular guardian statues (Nio). The one with the mouth open is vocalizing an "A" which means "beginning," and the other with the mouth closed symbolizes "UM" which means "end."
On the ceiling of the gate is a wood carving of the judgment day according to Buddhist scriptures. This scene depicts how it is decided in the underworld whether a person should go to heaven or hell.
Nestled in nature with towering trees and fresh crisp air, the main temple, Omido, was built in 1368 and was reconstructed in 1764 after the great fire of 1740.
It takes 100 steps on the stone stairway before reaching the mysterious stalactite formation of an eleven-headed Kannon (Goddess of Mercy).
Waterfall Meditation at Izurusan Manganji
In order to take part in the waterfall meditation experience, all participants are requested to complete the necessary procedures at the reception. All participants doing the waterfall meditation must sign a waiver form.
After a quick briefing, pick up a bag with your correct size. The bag contains the white robe (shiroshozoku) you will use for the meditation.
Monk Takayama walks up to the main temple carrying an amulet on a short staff (shakujo). This is used while chanting mantras to ward off evil spirits.
There are changing rooms for men and women where participants can put on the shiroshozoku. After getting changed, it's advised you stretch a little. Afterwards, you will be led by the monks to the waterfall where the meditation will take place.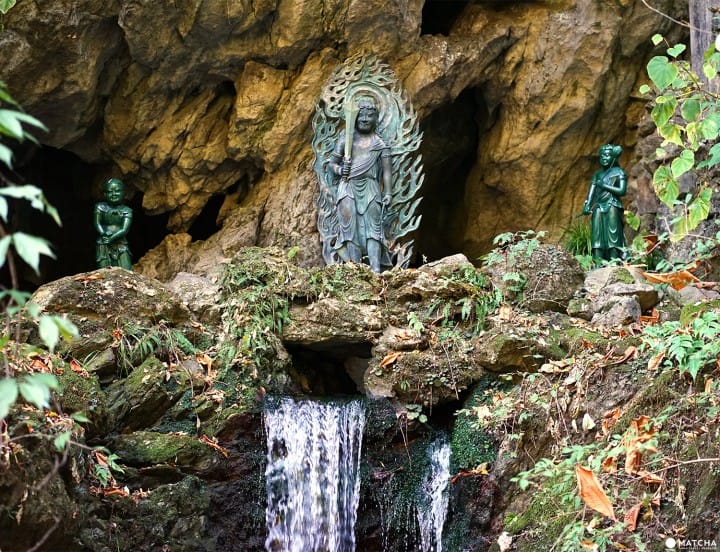 The methods of waterfall meditation vary from place to place but here is how it is performed at Izurusan Mangan Temple.
1. Bow with your hands together and touch your chest before entering the red handrails. This signifies the entrance to the sacred area.
2. Follow the monk to the basin and kneel just before the waterfall. Scoop up water to wet your shoulders and say your name.
3. Stand up, put your hands together as if to say a prayer then bow to the center, right and left statues.
4. Turn your back to the waterfall and wet your right shoulder first, because it's the farthest from the heart, then the left one.
5. Step back so your whole body is under the waterfall and hunch your shoulders so the water hits your neck and shoulders only. Be careful not to get the top of your head hit since it's an "acupuncture point." There is also a risk of fainting from the gushing water.
6. While under the waterfall, the monks chant a mantra known as Hannya Shingyo (The Heart Sutra). For men, the mantra is chanted seven times, and three times for women.
7. The monks keep track by carrying prayer beads (juzu), 108 in total, around their wrist. The number 108 is significant in some Eastern Religions, including Hinduism and Buddhism. It is believed that there are 108 human defilements which should all be purged by the end of each year, including greed, cravings, and selfishness.
8. Try to make a wish and focus on your breathing.
9. Once the monk signals you to get out, turn to each of the three statues and bow.
10. Wait for your friends to give you a hi-five.
Waterfall Meditation Report - Thoughts of Young Travelers who Tried It
We had the chance to join a group of young travelers who tried waterfall meditation at Izurusan Manganji in the fall of 2017. You can find a detailed report on their Tochigi trip here.
First, monks Ayabe and Takayama invited the group to go in the freezing knee-deep water basin.
Thomas from Brazil, Julie from France and Mai from Saitama were relieved they were not the first to go under the waterfall.
Next, monk Takayama demonstrated the ancient ritual of takigyo, while monk Ayabe protected him from harm by chanting a mantra.
After one minute under the waterfall, Masaaki, who was the first to volunteer, emerged triumphantly! The benefit of going with a large group is that you can cheer each other on.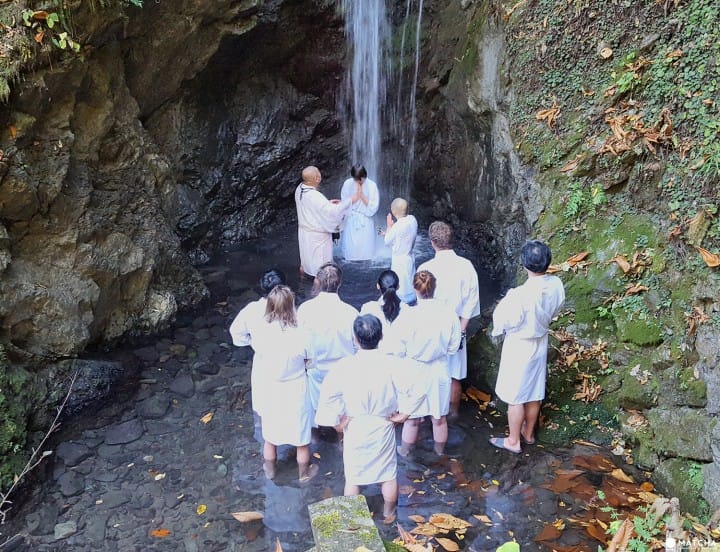 The 8-meter high waterfall remains 7°C all year round.
Mai, who had wanted to try it for a long time, said she felt that she got power from the waterfall. She described the feeling when she first went under the waterfall as extremely cold.
In the first 20 seconds, Mai felt pain and the force of the rushing water was strong, but afterwards, her mind became clear and she didn't think about anything at all. She'd try Takigyo again because she thinks it's relaxing and refreshing.
When Julie from France set foot in the water, she said it hurt like fire. But after this she didn't feel cold, on the contrary, she felt hot. However, she said she wouldn't do it again.
As the water fell upon Mie, she couldn't make a wish, as instructed. She could barely focus on her breathing. The only thing she heard were the chants. Somehow she felt safe but she couldn't feel her body.
After stepping out, she said she felt clean and her mind was clear. She reported that when she is troubled she would like to do it again. She would recommend everybody to try takigyo at least once.
Fabian from Germany was actually surprised how strong the water was. But after stepping out he felt refreshed. He said he'd do it again but until then, he can watch and reminisce about his first experience on his smartphone.
Most people in the group found it hard to make a wish, unlike Thomas from Brazil. He pictured himself in the future he wanted, and focused on his breathing. He focused on visualization and his mind went blank.
After that, his mind gradually started coming back to his body. It was only after returning to the changing room that he felt the cold.
Jason had experience swimming in waterfalls in his hometown in Canada, but had never tried takigyo. He was the last of the few to try, and had been standing in the cold basin for at least 20 minutes. He got a stomach ache after takigyo, but it seems that this could have been from the lack of sleep the night before.
Monk Ayabe said five minutes of meditation is too short. Each month, he does it for one hour. He meditates even during winter in January up to four times.
On the way back to the main temple, monk Takayama said that after doing takigyo, you'll feel good within three days. After a week, you'll even have a feeling of calm and peace.
One might think a cold shower and takigyo are similar, but he contends that the concentration in waterfall meditation should be stronger. He also mentioned that when he thinks about the past, it tends to be about negative thoughts so instead he thinks about nothing.
How to Prepare for Waterfall Meditation
Here are some recommendations on what to do the night before the waterfall meditation from a wise man who's been a monk for 26 years.
1. Prepare mentally. Believe you can do it.
2. Eat pasta for dinner for stamina.
3. Do strength training which involves the abdominal muscle and stretching.
4. Sleep longer than usual.
5. Prepare a towel, change of clothes and swimwear.
On the day of the practice, it's not advisable to do takigyo if you suffer from neck, shoulder or back pain or are feeling physically and mentally unwell. You should also not partake in the experience if you had a lack of sleep, are under the influence of alcohol or have a heart or brain disease.
An Unforgettable Experience
There is growing interest in waterfall meditation from locals and tourists alike, and many places throughout Japan offer such experiences.

Doing waterfall meditation is more than just an adrenaline rush, though. It's a voluntary practice of self-discipline so one can reach a higher state of being. However, even if you're not into spiritual development, it still makes for a unique experience.

Waterfall meditation workshops at Izurusan Manganji are held every day at 9:00 and 14:00. However, reservation in advance is required so please consult their official page. If you don't understand Japanese, it is strongly advised to go accompanied by a Japanese speaking friend or acquaintance.

The information presented in this article is based on the time it was written. Note that there may be changes in the merchandise, services, and prices that have occurred after this article was published. Please contact the facility or facilities in this article directly before visiting.