An Amazing Day Trip To Tochigi - Recommended By The Locals!
Tochigi is a charming city located close to Tokyo where you can enjoy an exciting day experiencing waterfall meditation, making soba noodles, or a river cruise. We introduce a tour recommended by Tochigi City!
Tochigi City and the other major cities in Tochigi prefecture, such as Utsunomiya, Nasu or Mashiko, are very close to Tokyo and are easily accessible by train or bus. While you can choose to visit these areas privately, traveling here in an organized tour with the assistance of local guides is a very rewarding way to get to know the best places and the attractions that the locals are most proud of.
This time we will introduce a one day tour of Tochigi that was organized by the Tourism Department of Tochigi City in collaboration with EMBLEM Hostel Nishiarai, a popular hostel located in Tokyo. The first edition of this tour took place in November 2017 and the participants were guests of EMBLEM Hostel. We also accompanied the group in order to give you a detailed report on the tour.
This day trip covers a visit to a Buddhist temple to try the ancient ritual of waterfall meditation (takigyo). Then, we'll head over to a buckwheat workshop to learn how to make soba noodles and eat them too! Afterward, we'll take a tour of Kuranomachi, Tochigi's traditional town, and explore the well-preserved historical buildings and streets. Lastly, we'll complete the day tour after going on a 20-minute boat ride on the Uzuma river. Let's go!
7:08 - 8:28 -- Nishiarai Station to Tochigi Station
If you catch the 7:08 train from Tokyo's Nishiarai Station, it takes about 90 minutes directly to Tochigi Station on the Tobu Line with a quick platform transfer at Minami Kurihashi Station.
8:50 -- Bus for Izuru Kannon
If you've missed breakfast then there's enough time to grab it at the convenience store inside the station.
To the right of the station is the toilet and a smoking area to puff away but leave some room in the lungs for the waterfall training.
10:00 -- Izurusan Mangan Temple
Twenty kilometers northeast of Tochigi city is Manganji, a Buddhist temple which offers training in waterfall meditation (takigyo). This is an ascetic practice for people who want to purify and strengthen their mind, body and soul so they can smile at the hardships of life: stress, fatigue, depression or bad relationships. It's also for those who simply want to stretch their limits.
Tochigi City's cultural asset, Izurusan Niōmon, the Buddhist gates built in 1735 during the Tokugawa Period, was constructed like a "jigsaw puzzle" without using nails. It is an impressive piece of architecture.
Preparing for the Waterfall Meditation
As part of the tour, you can try the ancient ritual waterfall meditation (takigyo) practiced by yamabushi, mountain monks. Please be aware that this practice is not recommended for persons who easily get cold feet.
First, at the reception, you will be asked to read and sign a liability waiver, to make sure that you acknowledge the risks involved by this practice. Then, you pick up a bag with a white robe (shiroshozoku) in your size.
Nestled in nature, surrounded by towering trees, the main temple Omido, which was built in 1368 and rebuilt in 1764 after a great fire, attracts worshipers who pray for prosperity.
From here, you will turn right to begin a 15-minute gentle hike up to the woods with a few mini bridges to cross and, if you're lucky, you might even see the resident monkeys!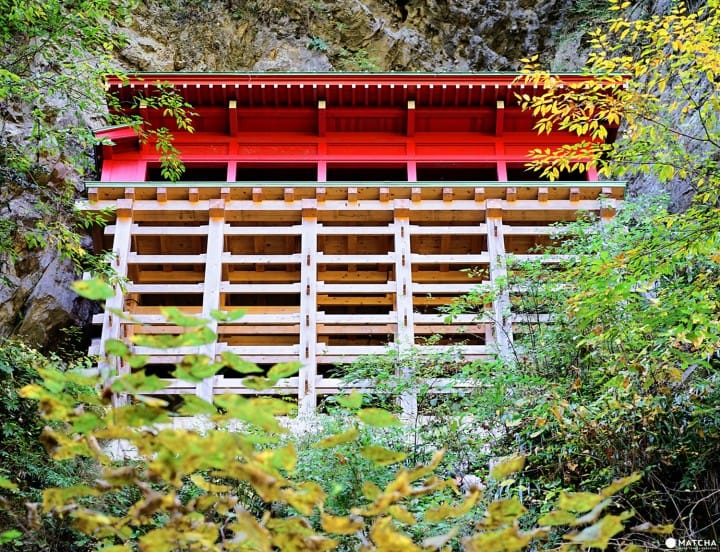 It takes 100 steps on the stone stairway before reaching the entrance to the Okunoin halls which lead to the limestone cave where a mysterious stalactite formation of an eleven-headed Kannon (Goddess of Mercy) lies.
11:00 -- Challenge Yourself to Waterfall Training
This is the moment when excitement and anxiety mix but don't let this give you cold feet. Change into the ritual white robe in the changing room provided then stretch and try to relax by breathing normally.
First, the participants usually bow to three resident deities, whose statues are above the waterfall, for protection before going under the cold cascading water which flows from the cave nearby.
The photo above shows monks Ayabe and Takayama inviting the rest of the group to enter the sacred place and go in the chilly knee-deep basin to begin the training.
Everyone gathers in anticipation as the first person goes under the 8 m high waterfall which is 7°C all year round. When it's finally time to go, try to make a wish and/or focus on the movement of the air in your lungs - not an easy task when the constant cold water crashes on your shoulders and neck.
The monks will chant a mantra known as Hannya Shingyo (The Heart Sutra) while shaking a shakujo, an amulet, to protect the participants from any harm.
Doing takigyo is more than just an experience you cross off your bucket list. It's a form of Buddhist asceticism – a voluntary practice of self-discipline so one can reach a higher state of existence. But even if you're not spiritual, it still makes for a cool and unique experience you can post on your SNS.
After changing into warm clothing, hike back down towards the entrance where a bus will be waiting to take everyone to the next part of the trip.
12:30 -- Make Soba Noodles From Scratch
It's time for lunch and we get the chance to actually cook for ourselves a Japanese dish! Soba is a type of buckwheat noodles and is a speciality of Tochigi because of the favorable climate.
Julie from France is learning what the in-house instructors call the most important step to making delicious Hachi-wari Soba, which consist of 80% buckwheat flour and 20% wheat flour. Hachi-wari means 80% in Japanese. The texture is likened to al dente pasta.
Before flipping the soba dough, you need to knead it well with the bottom part of your palms to give it strength and elasticity.
Mirko from Croatia, who has worked with fish back home, rolls the dough evenly with a rolling pin, impressing the instructors.
After folding the dough into layers of thin even sheets, use a cutting guide board (komaita) to make even slices.
While waiting for your handmade soba to be boiled and prepared, feel free to take a stroll outside the workshop, to see the incredible countryside foliage in the area.
After one minute of boiling, the soba noodles are drained and served cool on a bamboo strainer (zaru). You eat it by dipping it into a small bowl of light soup (tsuyu) to which you can add chopped leek and wasabi. As the saying goes, do as the locals do - slurp!
The soba cooking lesson is offered in English. The restaurant is located inside Izuru Fureai no Mori, a spacious forest park filled with family-friendly facilities and activities such as barbecue, cottages, slides and campsites. The restaurant itself is open daily between 8:30 and 17:00 except Tuesdays.
13:40 -- Bus for Tochigi
Once recharged, it's time to catch a 45-minute bus ride to the former storehouse town in Tochigi city so sit back and enjoy the picturesque countryside view.
14:50 -- Touring the Kuranomachi Townscape
Step back into a time when Kuranomachi, a city of wholesale dealers, was a major trading spot during the Edo period (1600-1867) in northern Kanto. It also served as a passage town for the lords coming from Western Japan into Nikko. For another river city that prospered in the Edo period, check out our article on Sawara located in Chiba prefecture.
Japan's popular kawaii culture has made its way to most commercial aspects of life including Tochigi prefecture's adorable mascot, Tochisuke, who will be waiting for you outside the tourist information center where the tour will begin.
Two hundred years have not stopped these former earthen-walled warehouses from operating. The area has been renovated into the Tochigi Kuranomachi Museum of Art which now mainly showcases local artists. Open daily from 9:00 to 17:00 except on Mondays. Admission is 500 yen for high school students and older.
Uzuma River once gave life to the former merchant town and made it the center of politics, economy and culture in Tochigi as it connected it to the heart of Edo (the old name of Tokyo).
If you're tempted to pat the horde of carp (koi) on the head, then it's safe to do so because they're toothless.
15:15 -- Yokoyama Cultural Hall
Fifteen minutes on foot from Tochigi Station is a former wholesale hemp store that was run by the wealthy merchant Yokoyama family during the Meiji era (1868 - 1912). The hemp was mainly used to make the thongs of geta (wooden clogs) and was shipped to Edo (Tokyo) to be sold. Beside the store is a carefully restored bank built in 1900, the first in Tochigi.
The building is now the Yokoyama Cultural Hall, a facility where visitors can experience Japanese culture such as walking through a traditional garden or wearing a kimono. For details on Yokoyama Cultural Hall, please refer to this article: A Day In Tochigi - Stroll Around The Old Town Wearing A Kimono
The garden is really beautiful in every season. You can enjoy watching it from inside as you sip on some tea or take a walk in it.
In the past, men used to occupy this tea room while the women in the family used the smaller adjacent room.
Times may have changed but the classic combination of wagashi (Japanese sweets) and tea is a timeless afternoon treat which you can savor here at Yokoyama Cultural Hall.
At the back of the garden, you may notice a small Christian statue. The Christian faith had been "illegal" in the Edo period, but even in the more liberal times of the Meiji era, it was kept rather discrete.
Host Tomomi Yamamoto bids the group goodbye with typical Japanese omotenashi (hospitality). Yokoyama Local Culture Hall is open daily from 9:00 to 17:00 except Mondays. Admission is 300 yen for high school students and older.
15:40 -- Enjoying a Pleasure Boat Ride on the Uzuma River
On the banks of the former house of famous Edo ukiyoe artist Kitagawa Utamaro, you can go on a 20-minute boat ride along the Uzuma River with a boatman (sendo) who will sing and tell you stories of old in Japanese. The boat rides are held daily from 10:00 to 16:00 (Tickets: adults 700 yen, children 500 yen, pets 100 yen).
Boatman Fujinuma-san uses a traditional long pole (misao) made of bamboo to push the boat along the 60 cm deep canal.
White and gray ducks (onagagamo), brown ducks (hidorigamo) and geese from Siberia share the river with the carp but when food is thrown, it's every animal for itself.
An afternoon cruise with the symphony of ducks, birds and carp under the autumn sun could be a form of meditation in itself.
Fujinuma-san enchants the group with a lovely folk song (minyo) about the nostalgic river. Even if you don't understand Japanese, his personality will surely amuse you. Get into the action too by being his backup vocals and respond "Ha-a-Yoisa Korasho."
Other Things To Enjoy in Tochigi City
Sightseeing buses for 200 yen give you unlimited rides around the city. To tour on bike, it's 300 yen for 3 hours and 500 yen for one day to hire. For a free guide and more info, visit the official website Tochigi Kuranomachi.
16:34 - 17:53 -- Going Back from Tochigi Station to Nishiarai Station
I hope you've enjoyed our report on the journey with the group. Now it's your turn to make your own memories of Tochigi!
A Highly Recommended Exciting Day Tour of Tochigi!
Tochigi prefecture is full of exciting places to see and things to do but if you're a tourist who's more into historical architecture, wants to experience traditional life or wants to stop over on the way to Nikko or Ashikaga in the north, then this type of day trip that let's you experience Japanese culture firsthand might be just the thing for you.

The information presented in this article is based on the time it was written. Note that there may be changes in the merchandise, services, and prices that have occurred after this article was published. Please contact the facility or facilities in this article directly before visiting.