SANRIO Expo 2018 - Enter The Cute World Of Hello Kitty And Friends!
Follow MATCHA to the SANRIO Expo 2018 to explore the Japanese Kawaii Culture with Hello Kitty, Gudetama, Little Twin Stars, Aggretsuko and Sanrio Danshi! You will also get to know their newest character, Marumofubiyori, the cute bear in a blanket.
Everybody knows Hello Kitty. (But did you know that she is not actually a cat? She is just a girl who looks like a cat!)
She is only one of the famous characters from SANRIO CO., LTD.SANRIO is the leading company introducing the Japanese "Kawaii Culture" (Cute Culture) to the world!
Today I would like to introduce you to everything new at Sanrio with a walk through the SANRIO Expo. Which is a special event held every year to showcase the present and future of SANRIO and their characters.
This event is not open to the public, but I managed to attend the event in cooperation with the CoFesta Ambassador program.
Let's Dive into the World of Kawaii-ness Together!
At the entrance, you were greeted by many of the SANRIO characters.
If you're a fan of SANRIO or Japanese pop culture, you might even know all of them. You can see the famous Hello Kitty, Little Twin Stars, Pompompurin, the newbies Aggretsuko and anime SHOW BY ROCK!! as well as Sanrio Danshi's characters.
Before I entered I got a bottle of Gudetama water! Look how cute they are! It is hard to decide which one to get.
Another highlight at the entrance was the Happy Birthday booth for the newest character, Marumofubiyori.
Marumofubiyori is the story of "Moppu" a chubby white bear who loves to cover himself with his blanket all the time. "Moppu" is his nickname and means mop because he looks like a mop when he lays on the floor under his blanket!
A lot of merchandise was displayed around him. So if you like this new character you can look forward to the release of many goods related to him.
Cute Goods of Many Beloved Characters
The hallway and two separate rooms exhibited most of SANRIO's lovely characters. They had photo spots as well as a variety of adorable merchandise. It was a mix of old favorites as well as new releases.
Favor some bread fresh out of the oven? You can't eat these but they are definitely warm and soft.
Let's start with SANRIO's heroine, Hello Kitty.
As one of the biggest stars of SANRIO, she had two booths. One was a booth with new products located near the entrance. The other one showed a variety of old and new goods and was located further inside the exhibition space.
Near the entrance, there was a My Melody booth decorated with flowers. Her booth features a variety of bags, mirrors, pouches and other goods in her signature light pink color.
When I went a little further inside, I found a fluffy white dog, Cinnamoroll! His display mainly showcased handbags and wallets held in blue and white. Classy yet cute!
Of course, the lazy egg Gudetama, had his own booth as well. He was all decked out as a grande ballerina for his  new theme "Chicken Lake". A Gudetama version of the popular ballet "Swan Lake"!
Another interesting booth was the one of SANRIO's newcomer, Aggretsuko. A lovely red panda girl working hard in Tokyo and trying her best to not lose her temper. Don't we all sometimes want to sing a heavy metal song of stress?
SANRIO's New Target - The Anime Industry
In the last few years, SANRIO also has made an effort to conquer the anime industry, after they started an anime mainly aimed at children, SHOW BY ROCK!!.
Just this January, the anime "Sanrio Danshi" started broadcasting in Japan, after launching a mobile game application and twitter account.
Cute SANRIO characters alongside good-looking high-school boys prove to be a good combination. Their animes and goods gained popularity quickly in Japan.
However, SANRIO doesn't stop at their original work. They have collaboration merchandise with some popular manga/anime/game characters such as Fullmetal Alchemist and Fate Grand Order.
Look how cute Fullmetal Alchemist's characters can be when they get a SANRIO makeover!
The cute pink My Melody also had a collaboration with an anime character. She worked together with Sailor Moon last year. And they will continue to unite their power of cuteness during this year as well!
Not an anime character but fitting in with the theme of handsome man, the famous male voice actor Aoi Shouta collaborate with Little Twin Stars.
They became the trio Little Triplet Stars!
Do You Know These Hello Kitty Collaborations?
Among the lovely merchandise showed at the event, I just realized that Kitty-chan has done so many different collaborations!
For example, these Japan limited groceries. You can buy delicious vegetables, fruits, wagyu beef, salmon or eel with Hello Kitty on them in some places in Japan.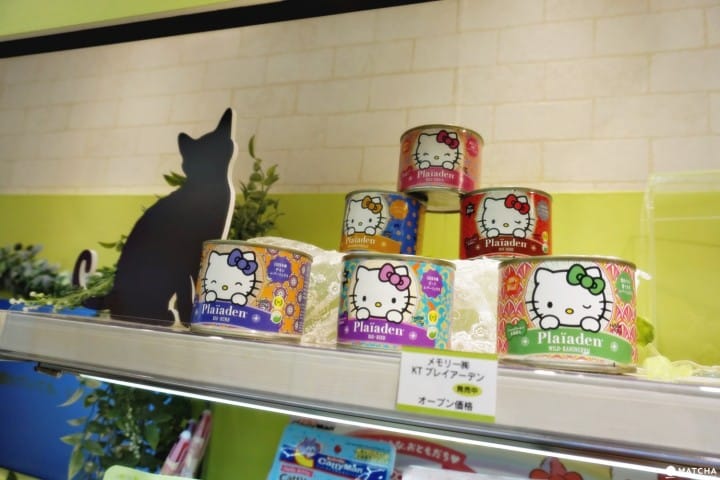 Even though Hello Kitty is not a cat, she's printed on a cat food can!
Hello Kitty also appeared in tourist information pamphlets, cash cards for the Takashimaya Department store and the ICOCA IC Card. She was also an ambassador for JNTO to promote Japanese tourism!
Wow, our Kitty is such a popular girl!
SANRIO Expo Limited Souvenir
At the event, they offered very special souvenirs such as a photo shoot with Hello Kitty!
Everybody queued up to take a photo with their beloved Kitty on the stage. There are not many opportunities like this, especially if you don't live in Japan.
Another wonderful special souvenir was the Hello Kitty postcard. We could customize it with an original text or name.
You were able to choose your favorite Hello Kitty pose and one of three phrases, "Hello", "Thank you" and "I love you". Then you could enter any words or names within the limit of eight characters.
I made an original Hello Kitty card for MATCHA. I hope MATCHA and Hello Kitty can collaborate one day!
Fall in Love With SANRIO's Unique Characters
After wandering in the cute world of SANRIO, I fell in love once again with their cute characters and lovely merchandise. As an anime fan, I am interested to see how SANRIO will develop their business in the anime market as well.

As long as SANRIO delivers their cute characters to Japan and the rest of the world, I am sure people will never stop talking about "Kawaii Japan".

All SANRIO characters and merchandise belong to SANRIO CO., Ltd.
Special thanks to CoFesta Ambassador Program.

The information presented in this article is based on the time it was written. Note that there may be changes in the merchandise, services, and prices that have occurred after this article was published. Please contact the facility or facilities in this article directly before visiting.