LUNATIC FEST. 2018 - Join An Exciting Celebration of Japanese Music!
LUNA SEA, one of Japan's most famous rock bands, and the many musicians they have influenced over time will be featuring in LUNATIC FEST. 2018, an exciting music event which will be held on June 23rd - 24th in Tokyo! Don't miss out!
Japanese music might not be the first thing that comes to mind when thinking of the land of the geisha and samurai but for many people, it is one of the reasons why they fall in love with Japan. And the love for Japanese music is not just limited to Japan. Famous Japanese bands such as X Japan are performing at large venues overseas such as the Madison Square Garden and at events like Coachella.
Most Japanese vocals just sing in Japanese but this doesn't stop fans from all over the world loving their music. In fact, it is the reason why some of these fans even start learning Japanese to understand the lyrics of their favorite bands.
In this article, I would like to introduce you to the phenomenon that is Japanese music through one of Japans most famous rock bands LUNA SEA and the second installment of their LUNATIC FEST. which will be held on June 23rd and 24th, 2018.
LUNA SEA - Rock at its Best!
Left to right: Shinya (drums), J (bass), RYUICHI (vocal), INORAN (guitar), SUGIZO (lead guitar) ©LUNA SEA
LUNA SEA is a Japanese rock band formed in 1989 under the original name LUNACY. This means they are looking back on nearly 30 years of history as a band. Resulting from the different music preferences of the members, their music is a mixture of melodic hard rock and pop.
Left to right: INORAN, J, RYUICHI and SUGIZO ©LUNA SEA
LUNA SEA is known as one of the most successful Japanese 90s rock bands alongside X Japan. In 2000 the members went their separate ways but have been officially reunited since 2010.
LUNA SEA's lead guitarist SUGIZO ©LUNA SEA
LUNA SEA's vocal Ryuichi is often called "the Voice" due to his amazing vocal range while lead guitarist SUGIZO is one of the best guitarists in Japan. SUGIZO is collaborating with many other famous artists inside and outside of Japan such as Juno Reactor, a band which provided music for the Matrix trilogy. He is also a master of the violin which he showcases in LUNA SEA as well as in his solo projects.
LUNATIC FEST. - What Is It All About?
From left to right: Yoshiki (X Japan), ToshI (X Japan), RYUICHI (LUNA SEA) and Morrie (Dead End) ©LUNATIC FEST.
LUNATIC FEST. will be held for two days on June 23rd and 24th 2018 at the Makuhari Messe in Tokyo. While most of the performing bands have a long history, the festival itself is rather new. It was created in 2015 and this is just the second time it will be held.
LUNATIC FEST. area map ©LUNATIC FEST.
The first installment saw three stages in the same hall, all named after famous LUNA SEA songs: Moon (main stage), Shine (substage) and Fate (small stage). The stages were used in rotation, not all at the same time. The 2018 edition will have two main stages on the opposite ends of the hall, Moon and Mother. Mother is the name of LUNA SEA's breakthrough album released in 1994. The multiple stages are used to avoid waiting time between bands.
From left to right: Teru (GLAY), RYUICHI (LUNA SEA), Takuro (GLAY) and INORAN (LUNA SEA) ©LUNATIC FEST.
LUNATIC FEST.'s main goal is to showcase the power of music and the connections created through music. Every band performing is connected to LUNA SEA in some way. They are either senpai (teacher) or kohai (student) of LUNA SEA or individual band members have supported them at a point in their career.
The Booths - An Exhibition Within the Festival
ESP booth in Eden ©LUNATIC FEST.
Most bands wouldn't be the same without fashion, make-up artists and high-quality instruments and music equipment. For this reason, LUNATIC FEST. also hosts an exhibition where you can experience and purchase from a variety of brands connected to LUNA SEA. The exhibition space is named after their other breakthrough album Eden (1993).
Hair and make-up booth in Eden ©LUNATIC FEST.
If you are not in the mood to get up early and style yourself for the festival, there is even a booth that can take care of your hair, make-up, and nails, just like a band's make-up artist.
Food booths in Eden ©LUNATIC FEST.
You will also be able to find a lot of delicious festival food in Eden. Some of the food is even connected to the LUNA SEA members themselves. Drummer Shinya owns a ramen shop in Tokyo and the ramen created by his store is also available for purchase in the exhibition area. Being a ramen-lover himself, he is very careful about the quality of his ramen. I highly recommend trying it.
LUNATIC FEST. 2018 Line-up - Rock Through the Generations
Opening Act on Both Days - LUNACY
LUNACY ©LUNATIC FEST.
As mentioned before, LUNACY was LUNA SEA's original band name in the very beginning. The opening act version of the band is an homage to where it all began. Dark make-up, extravagant hair, leather trousers and black clothes will be accompanied by the gothic-rock sounds of their original albums "Luna Sea" and "Image". Welcome to the 90s!
Closing Act on Both Days - LUNA SEA
LUNA SEA ©LUNATIC FEST.
How much the band has evolved since their beginnings is made very clear if you see them as LUNA SEA at the end of each day. Even though their music would be overall best described as rock music, it is very versatile. There is no main composer as every member has composed a multitude of songs for LUNA SEA throughout their career. This has resulted in the five outstanding musicians creating a whole rather than each member fighting for the spotlight.
LUNATIC FEST. 2018 Day 1
ACE OF SPADES
Left to right: Motokatsu Miyagami (drum), Hisashi (guitar), Takahiro (vocal) and Tokie (bass) ©ACE OF SPADES
ACE OF SPADES was originally created by members of the famous bands GLAY and Exile when they toured together in 2012. GLAY's guitarist Hisashi and Exile's vocal Takahiro decided to continue their pop-rock band beyond the joined tour.
back number
Left to right: Kazuya Kojima (bass), Iyori Shimizu (guitar and vocal) and Hisashi Kurihara (drums) ©back number
Back number is a popular Japanese rock band formed in 2004 around guitar vocal Iyori Shimizu. Their best album released in December 2016 titled "encore" sold 700,000 copies and their music has been used in numerous commercials and TV shows.
coldrain
Left to right: RxYxO (bass), Sugi (guitar), Masato (vocals), Katsuma (drums) and Y.K.C. (lead guitar) ©coldrain
Coldrain is a Japanese alternative rock band. Vocal Masato is Japanese-American and native speaker of English as well as Japanse so they write and perform all their songs in English which is very rare for a Japanese band.
DIR EN GREY
Left to right: Toshiya (bass), Kaoru (guitar), Kyo (vocal), Shinya (drum) and Die (guitar) ©Dir En Grey
DIR EN GREY is one of the most famous visual kei bands worldwide. Visual kei is a Japanese music style characterized by heavy make-up and outstanding stage costumes. Nowadays DIR EN GREY's music is very influenced by death metal. Particularly the look and actions of vocal Kyo can border on the disturbing. However, it is undeniable that they are very unique.
GLAY
Left to right: Jiro (bass), Hisashi (lead guitar), Teru (vocal) and Takuro (guitar) ©LUNATIC FEST.
GLAY will be celebrating their 30th anniversary next year as well. They are from the same generation as LUNA SEA and X Japan but their music leans more towards pop with rock influences. Their recipe for success is incredibly catchy songs that will get stuck in your head in no time.
GLIM SPANKY
Left to right: Remi Matsuo (vocal) and Hiroki Kamemoto (guitar) ©Glim Spanky
GLIM SPANKY is a duo known for vocal Remi's unmistakable and unique voice. They are heavily influenced by The Beatles and other British musicians such as The Who and Oasis.
女王蜂 (Ziyoou Vachi)
Left to right: Yashi (bass), Ayu (vocal), Ruri (drums) and Hibari (guitar) ©女王蜂
Ziyoou Vachi, translates to "queen bee" in English. The band is known for gender-bending and vocal Ayu can sing in a male voice as well as in a female voice. They became famous in the fashion and music industry by performing for the Japanese fashion brand Hysteric Glamour in 2017.
シド (SID)
Left to right: Yuuya (drum), Aki (bass), Mao (vocal) and Shinji (guitar) ©シド
SID, pronounced "shido" in Japanese, is famous worldwide for providing numerous of their pop-rock songs to famous Japanese anime series such as "Black Butler" and "Fullmetal Alchemist".
The BONEZ
Left to right: NAKA (guitar), ZAX (drums), JESSE (vocal and guitar) and T$UYO$HI (bass) ©The BONEZ
The BONEZ is a formation of famous rock musicians including the former bassist and drummer of the worldwide renowned rock band Pay Money To My Pain. Their music is a mix of powerful and agressive alternative rock.
LUNATIC FEST. 2018 Day 2
AA=
Takeshi Ueda ©AA=
AA= means "all animals are equal". The band was founded by Takeshi Ueda - the bassist, programmer, additional vocalist and songwriter from The Mad Capsule Markets which is a highly respected band in the Japanese music industry. 
AA= works closely with the Japanese artist Shichigoro. Shichigoro is famous for designing kowaii (creepy-cute) artwork for various Japanese artists as well as for the famous Australian clothes brand Black Milk.
BRAHMAN
From left to right: Makoto (guitar), Toshi-Low (vocals), Ronzi (drums) and Kohki (guitar) ©Brahman
BRAHMAN in Sanskrit means "the supreme reality". The band has been active for over 20 years and their music combines Asian ethnic music with Western punk-rock. Their sound is heavy and aggressive yet poetic and melodic at the same time. 
lynch.
Left to right: Asanao (drums), Akinori (bass until 2016), Hazuki (vocal), Reo (lead guitar) and Yusuke (guitar) ©lynch.
Lynch. is a Japanese visual kei metalcore band uniting metal, punk and melodic elements in their music, creating their own unique style.T
LOUDNESS
Left to right: Masayoshi Yamashita (bass), Minoru Niihara (vocal), Masayuki Suzuki (drums), Akira Takasaki (guitar)©LOUDNESS.
LOUDNESS was formed in 1981 and is the first Japanese Heavy Metal band ever signing with a major record label in the United States. They are known by metal fans all over the world as an important band in the 80s and 90s rock movement.
MUCC
Left to right: Miya (guitar), Yukke (bass), Tatsuro (vocal) and Satochi (drums) ©MUCC
MUCC started as a visual kei band but they made a name for themselves as an alternative rock band. They have grown a steady fan base over the last 20 years in and outside Japan through their ever-changing music.
大黒摩季 (Ohguro Maki)
Maki Ohguro ©大黒摩季
Maki Ohguro is a Japanese pop singer and songwriter active since 1989. She has also written a variety of songs as well as lyrics for other Japanese artists and looks back on a very successful music career herself.
OLDCODEX
From left to right: YORKE. (backing vocals and painting) and Ta_2 (vocal) ©Oldcodex
OLDCODEX is mainly known for providing their alternative rock songs as opening and ending themes for Japanese anime series. Backing vocalist YORKE. is famous for actually painting in the background of their music videos as well as on stage during their performances.
THE ORAL CIGARETTES
Left to right: Akira Akirakani (bass), Shigenobu Suzuki (guitar), Takuya Yamanaka (vocal) and Masaya Nakanishi (drums) ©The Oral Cigarettes
THE ORAL CIGARETTES is a progressive rock band formed in Nara. Their unique mixture of hard guitar sound and electronic alternation provides them with an ever-growing fanbase in Japan.
YOSHIKI
Hayashi Yoshiki ©YOSHIKI
YOSHIKI is known as drummer and bandleader of the famous Japanese band X Japan. YOSHIKI's solo work concentrates on his classical education as a pianist. He even composed and performed a song on the piano at the request of the Japanese government for the tenth anniversary of Emperor Akihito's enthronement in 1999. However, don't expect a typical quiet piano concert as he is still a rockstar through and through with or without X Japan.
If you want to know more about the performing bands as well as when they perform, please take a look at the LUNATIC FEST. 2018 artist line-up and the LUNATIC FEST. 2018 timetable!
How to Buy Tickets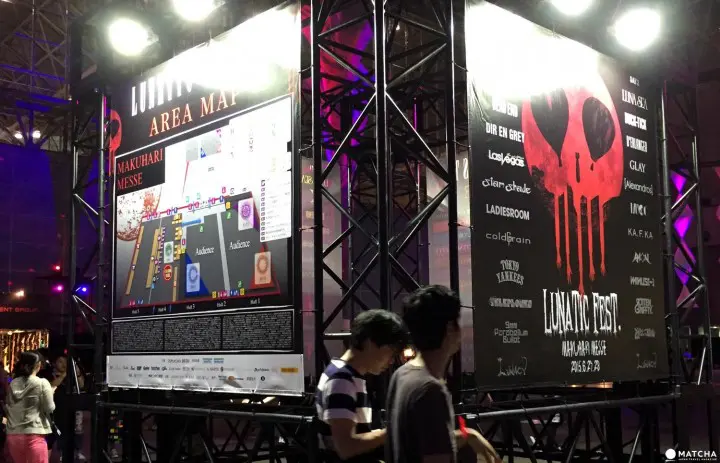 LUNATIC FEST. 2015 area map and line-up ©LUNATIC FEST.
Tickets are available for day one and two separately. If you want to participate in both days, please purchase a ticket for each day.
If you live overseas you can purchase your ticket in English via e+
If you live in Japan, you can purchase your ticket via pia, Rakuten, e+, Lawson, cn, Yahoo and at the loppy machine at your local convenience store. Unfortunately, these options are only available in Japanese. Please refer to the LUNATIC FEST. website for further information on tickets.
LUNATIC FEST. - More Than Just Rock Music!

LUNA SEA - Hold You Down (from the album LUV) ©LUNA SEA
LUNA SEA is one of the most famous Japanese rock bands worldwide but this festival is so much more than just a rock festival. It is history, present, and future of Japanese music. It is also fashion, style and a place to meet new people and write your own history.
If you truly want to experience why Japanese music is so special to many people, join us at LUNATIC FEST. 2018!
In cooperation with LUNATIC FEST. 2018
LUNATIC FEST. 2018 at Makuhari Messe

View Map
| | | |
| --- | --- | --- |
| | Address | Makuhari Messe, Chiba, Mihama ward, Nakase 2-1 |
| | Business Time | June 23th and 24th, 2018, 11 am -8 pm |
| | Required Time | all day |
| | WiFi | Not Available |
| | Accepted Credit Cards | Not Available |
| | Languages | Japanese |
| | Menu/Pamphlets in Other Languages | English |
| | Access | Kaihim Makuhari Station |
| | Access | 5 minutes walk from Kaihim Makuhari Station |
| | Price | 15500 yen per day |
| | Telephone number | 081-43-296-0001 |
| | Website | http://lunaticfest.com/ |
The information presented in this article is based on the time it was written. Note that there may be changes in the merchandise, services, and prices that have occurred after this article was published. Please contact the facility or facilities in this article directly before visiting.