NHK's Songs Of Tokyo - Introducing Japanese Music To The World
NHK WORLD will broadcast their event "Songs of Tokyo" on January 1st and 2nd, 2018. If you're interested in the contemporary Japanese music scene, read on to find out the artist lineup and a few reasons why you shouldn't miss out this broadcast!
NHK took it upon themselves to introduce Japanese artists to the world with their recent event "Songs Of Tokyo". The event will be broadcasted on NHK WORLD on January 1st and 2nd 2018.
But why should you watch it? Well, let us introduce you to the magic that is Japanese music.
Japanese Music is as Unique as Japan Itself!
Kyary Pamyu Pamyu ©NHK
There are various reasons why people come to Japan. Some might like the culture, some anime, others love Japanese history and traditions. But did you know that you can find all these aspects reflected in Japanese music?
Anime and Japanese Music
T.M.Revolution ©NHK
Let's start with anime as this might be the best-known aspect of Japanese culture that is intertwined with music. Many Japanese artists have written and performed music for famous anime.
T. M. Revolution, who is known for his Gundam songs, Aqours, who are basically anime figures come to life, or Joe Hisaishi, who has been composing music for Studio Ghibli movies for over 20 years, are just some of them.
So next time you watch your favorite anime, how about checking out who wrote the music you love so much?
Music and Japanese Tradition
MIYAVI ©NHK
The inspiration for many of the glamours Japanese stage costumes is taken from traditional Japanese arts such as Kabuki and Noh theater. The broad shoulders and the sparkling textiles used in costumes are a nod to these traditional Japanese art forms.
If you venture into the Japanese Visual Kei* scene, you can see these resemblances even more. The dark, strong makeup, as well as the big hairstyles, are inspired by Kabuki and Noh.
Besides Kabuki and Noh elements, at a closer look, you can also notice variations of traditional Japanese kimonos revamped as stage clothes. Even though the style has involved over the years into something very modern, the heritage can still be seen.
But it's not only the visual aspect connecting Japanese traditions with contemporary music. Some Japanese musicians are known for playing their instruments at extremely high-speed without losing control. It's not difficult to link this controlled speed with the samurai and ninja heritage.
MIYAVI, for example, is known around the world as the "Samurai Guitarist" because of his aggressive, high-speed guitar style.
*Visual Kei - A music genre unique to Japan with a strong focus on the visual appearance of the performers. The term describes the look rather than the music.
Music and Japanese Culture
X JAPAN ©NHK
If you give Japanese music a chance, you will understand very quickly that it's not comparable to music from other countries. One reason for this is that you'll encounter unique music arrangements with traditional Japanese music mixed in.
Another reason would be the appearance of Vocaloids*, which are synthesized voices with a hologram body. They hold live concerts even though they technically don't exist.
Moreover, most Japanese people also learn to play a classical instrument from their childhood. Musicians often introduce classical instruments into their works even if its the heaviest of rock music, such as is the case of X Japan.
You may find all this mixed with an odd couple of English words because it is "cool". It is a distinctive feature of Japanese culture to evolve but honor traditions at the same time, and Japanese music is no different.
*Vocaloid- a singing voice synthesizer
Songs of Tokyo - The Artist Line-up
You might be wondering who are the artists you can see if you decide to give "Songs of Tokyo" a chance. Let us introduce them to you!
X JAPAN
X JAPAN ©NHK
If you speak of Japanese music you can't get past X Japan. They are the original founders of the Visual Kei genre with over 30 years of band history.
They are also one of two Japanese bands who has played the Madison Square Garden in the United States. X JAPAN is an important presence of the contemporary Japanese music scene which you shouldn't miss!
T.M.Revolution
T.M.Revolution ©NHK
Takanori Nishikawa (T.M.Revolution) has been in the music scene for over 20 years. Besides his own music as T.M.Revolution, he has been working also on other projects such as his band abingdon boys school.
The name of his solo project, T.M.Revolution, means Takanori Makes Revolution. Outside of Japan, he is famous for creating the soundtrack for the Gundam anime series.
SEKAI NO OWARI
SEKAI NO OWARI ©NHK
The first thing you'll notice about SEKAI NO OWARI is that they have a clown as DJ. Aside from this, they are known for their outstanding stage shows.
The vocal has a unique high-pitched voice and he often uses distortion to make his voice sound otherworldly. This band doesn't just play music; they create an entirely unique experience.
Perfume
Perfume ©NHK
Founded in 2003, this female trio Perfume started to receive major attention in Japan after one of their songs was used for a recycle campaign by NHK.
Their musical style is "techno-pop" and they were influential for many artists of the same genre. Their stage shows are known for being at the crosspoint of music, art, and technology.
NEWS
If you talk about boy bands in Japan, you can't omit the groups managed by Johnny & Associates, a major Japanese talent agency.
NEWS is one of Johnny's most famous music groups, having performed on huge stages such as the Tokyo Dome several times during their career.
MIYAVI
MIYAVI ©NHK
Originally part of the Visual Kei scene, MIYAVI has ventured far since his original band disbanded. As a solo artist, he is one of the most acclaimed and unique guitar vocals in Japan.
He is also known for acting in films such as "Kong: Skull Island" or the critically acclaimed "Unbroken".
MAN WITH A MISSION
MAN WITH A MISSION ©NHK
Ever thought you'd be able to see a pack of wolves performing on stage? MAN WITH A MISSION have a unique "New Rock" style and a whole lot of humor.
Their guitarist, Jean-Ken Johnny, has been living in the USA when he was younger, so many of their lyrics are written in English.
The pack ventures all over the world. Next up they will tour the UK! Use this chance to check them out!
Kyary Pamyu Pamyu
Kyary Pamyu Pamyu ©NHK
True to her background as a "Harajuku Girl", Kyary Pamyu Pamyu combines the spirit of Harajuku fashion and catchy music to create a unique type of performance.
She is not only an artist here in Japan, she is a brand! There is nothing Kyary can't turn into fashion, from teddy bears to plastic balls. The stage is her catwalk.
KANJANI EIGHT
KANJANI EIGHT is another of the representative bands managed by Johnny & Associates. Originally from Osaka, this band is known for their high-spirited and humorous performances, as well as for their cheerful, energetic songs.
Kana Nishino
Kana Nishino ©NHK
Kana Nishino debuted as a Shibuya girl with an angelic voice. In 2008, one of her songs replaced Takanori Nishikawa's (T.M.Revolution) Abingdon Boys School song for the ending of the anime "Soul Eater". She has been a steady name in the Japanese music charts ever since.
Joe Hisaishi
Joe Hisaishi ©NHK
Do you love the movies made by Studio Ghibli? Then you definitely have heard Joe Hisaishi's music. He has been a composer for all of the movies directed by Hayao Miyazaki since 1984. His music set the tone for famous movies such as "My Neighbour Totoro", "Spirited Away" and "Princess Mononoke".
Joe Hisaishi's performance with a big orchestra is one of the highlights of this NHK event!
LiSA
LiSA ©NHK
LiSA is very popular among anime lovers in Japan. She became famous singing songs for the anime television series "Angel Beats!". She also lent her voice to one of two vocalists of the fictional band Girls Dead Monster. LiSA's songs have been featured in many anime series ever since.
Linked Horizon
Linked Horizon ©NHK
Linked Horizon is an alias used by the project Sound Horizon under their leader, Revo. The word "linked" refers to the link between his music and other genres such as anime, game, and manga. Revo exists in a manga version himself and has composed songs for various anime and games.
Cornelius
Cornelius ©NHK
Cornelius is an influential artist who has been attracting much attention lately. His experimental style is breaking new musical grounds, so it's most probably unlike anything you've heard before.
Cornelius will be on a world tour next year, so he's definitely worth checking out!
Aqours
Aqours ©NHK
Aqours is one of those bands that are unique to Japan. They exist entirely as anime characters and their real-life version only appears on stage.
Their catchy anime-like songs and cheerful image attract many fans all over Japan. Use this chance to see both their anime and their real-life version!
AKB48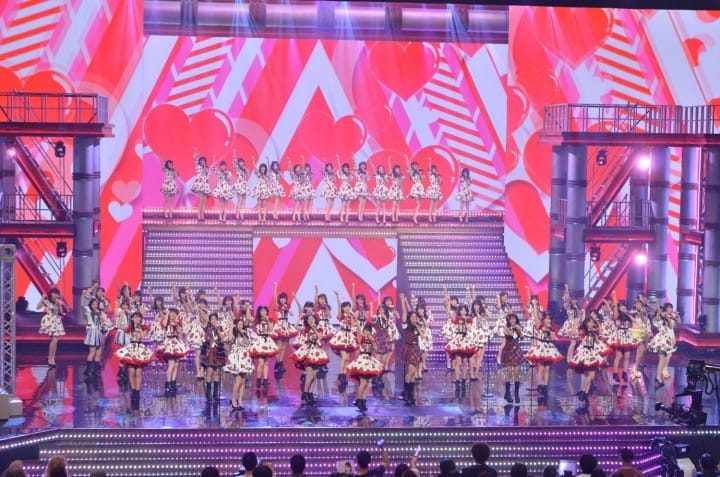 AKB48 ©NHK
AKB48 is probably the most famous Japanese girl group project. The group consists of 48 members and they have various teams with different stages, music, and films.
The music and appearance of AKB48 is representative of Japan's kawaii idol culture which is part of the so-called Otaku* culture. The heart of Otaku culture in Tokyo is Akihabara, hence the name AKB48 (short for AKIHABARA 48).
If you love anime, manga, games and kawaii (cute) girls, check them out!
*Otaku: A term for the members of the anime and manga fandom. The epitome of this culture is the Akihabara area in Tokyo
"Songs of Tokyo" in the Words of the Artists
Photo courtesy of NHK WORLD
We had the pleasure to talk to Kyary Pamyu Pamyu and Takanori Nishikawa (T.M. Revolution) and listen to them explain in their own words why you should give Japanese music a try.
Kyary Pamyu Pamyu
Kyary Pamyu Pamyu ©NHK
Kyary explained to us that it is very important to her to be able to deliver Japanese music and fashion to the world. She originally stems from the Harajuku scene in Tokyo which is known for their truly original fashion. Kyary believes that there is so much beauty to be found in the unique Japanese style.
With her appearance at Songs of Tokyo, she would like to introduce you to her world through her fashion and her music.
Takanori Nishikawa (T.M.Revolution)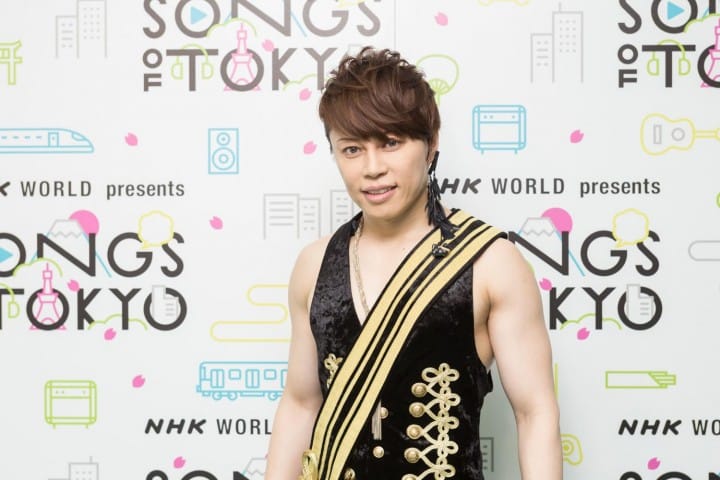 T.M.Revolution ©NHK
To the question "Who is T.M.Revolution?", Takanori Nishikawa simply answered that he is a musician, nothing else. This perfectly illustrates his dedication to his work. He told us that, although he experimented a lot with collaborations and anime songs, at heart, he is a musician and music is his one and only purpose.
He believes that it's not necessary to understand every word someone sings. Music can touch and connect in a unique way. If you listen to music with your heart, language doesn't matter.
Experience Japan Through Music!
Japanese music is unique in its style, being deeply connected to other aspects that Japanese culture is famous for.
If you love Japan, you will most surely enjoy Songs of Tokyo, which introduces you to so many different artists at one time - from rock and anime soundtrack music to cool or cute styles, and even singing wolves!
How about giving "Songs of Tokyo" a try? You might just find your new favorite Japanese artists among these performers!
For more information on broadcasting dates, please check the NHK WORLD Songs of Tokyo official website.
In cooperation with NHK WORLD

The information presented in this article is based on the time it was written. Note that there may be changes in the merchandise, services, and prices that have occurred after this article was published. Please contact the facility or facilities in this article directly before visiting.