It's All About Passion! The Otaku's Travel Guide To Japan
Whether it's for manga, anime, or videogames, fans of these subcultures all dream of visiting Japan! Our Thai editor, a self-professed otaku, introduces activities that any otaku should enjoy in Japan aside from shopping for merchandise, such as anime location tours and visiting butler cafes.
A Paradise for Fans of Japanese Subculture
The products of Japanese pop culture and subcultures, from manga, anime, and videogames to idol groups and to J-Pop, are beloved worldwide. Of course, any fan dreams of visiting Japan to purchase merchandise related to their favorite anime series. People who exhibit such hardcore enthusiasm are called otaku.
After becoming fascinated by Japanese subculture, our Thai writer turned into a self-professed otaku who now lives in Japan.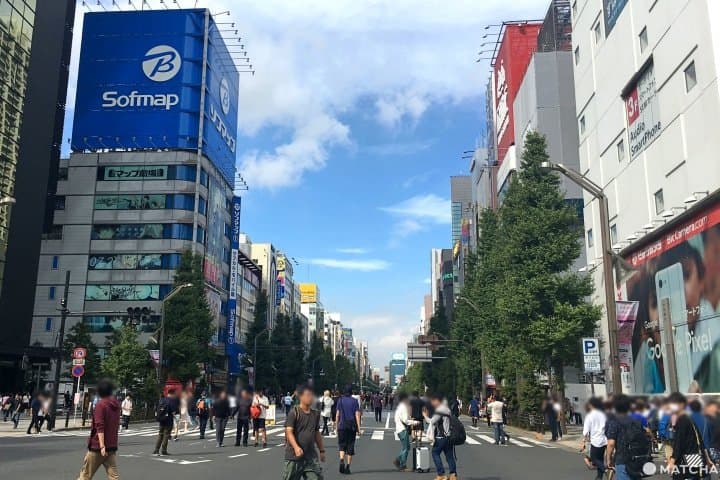 The goal for many otakus visiting Japan is to purchase books, figurines, and other merchandise. Visitors heading to Akihabara and Ikebukuro in Tokyo, or Nipponbashi in Osaka can shop until their money runs out.
But there are other ways to enjoy your trip to Japan as an otaku aside from shopping. This article introduces how to have fun traveling in Japan through the eyes of an otaku.
Go on an Anime Location Tour
Those who want to dive into the world of their beloved anime characters should go on a pilgrimage and visit actual sites where the stories are based. You can enjoy confections and coffee at the same shop featured in your favorite series as many works are set in Japan.
From Explore The World Of "Your Name." With Street View! (Shinjuku Area)
Many movie, TV drama, and book enthusiasts enjoy touring the locations featured in their favorite stories, thus retracing the footsteps of their favorite characters.
The 2016 blockbuster animated film "Your Name" triggered a sudden increase of the so-called seichi junrei tours, a social phenomenon of people touring locations featured in anime. This resulted in a boost of "anime tourism," which became a buzzword in 2016. The anime is set in Tokyo's Shinjuku and Gifu Prefecture, and fans can visit the actual scenes that appear in this smash hit.
The anime location tour boom is said to have kicked-off in 2007 when the anime "Lucky Star" became popular. The anime is set in Saitama and fans flock to visit Washinomiya Shrine (rendered as Takanomiya Shrine in the series) and sketch their favorite character on an ema (shrine prayer plaque).
*Website of the 2016 U-Can New Words and Buzzwords Awards (Japanese link): https://www.jiyu.co.jp/singo/index.php?eid=00033
Taking a trip with your favorite character is as otaku as it can get—in addition to making traveling more fun! It's common to see anime and manga fans from all over the world travel with their beloved figurines. Of course, Japanese otakus partake in the same activities, snapping photographs at various locations to make "moe" (*1) memories.
*1 Moe: A slang expressing the strong emotional attachment that an otaku feels towards their favorite characters.
Take a Break at Unique Themed Cafes
Cafes in Japan offer a chance to enjoy confections in a stylish atmosphere. If you're embarking on an otaku trip, why not visit a themed cafe?
In major cities such as Tokyo and Osaka, there are cafes where the interior design, menu, and services are based on a certain theme. The most famous among these subculture cafes is the maid cafe, where women dressed in French maid costumes serve and entertain guests.
From 【池袋】當一次大小姐!執事喫茶Swallowtail一窺從漫畫走出來的紳士 (article in traditional Chinese)
On the other hand, butler cafes, where men in black suits courteously serve patrons, are very popular among female tourists. Alice's Fantasy Restaurant, an otherworldly cafe based on the fantasy novel "Alice in Wonderland," is also a fan favorite and has four branch locations in Tokyo and Osaka.
Manga fans should head to the Gundam Cafe in Akihabara. A must-visit spot for videogame fans is the Square Enix Cafe, which can also be found in Akihabara.
There is also the Milkyway Cafe in Ikebukuro, which serves star-themed parfaits based on thirteen constellations, and the Bunbogu Cafe in Omotesando, where guests can try 5,000 types of stationery.
The cafes mentioned above are just the tip of the iceberg. Definitely pay a visit to a cafe that sparks your interest.
Some establishments such as the Animate Cafe, operated by the anime-related goods retailer Animate, handle manga-related items. Sweets Paradise, a buffet-style restaurant with branches across Japan, serves limited-time menus related to a particular manga or videogame.
Tower Records Cafe also serves exclusive dishes in collaboration with artists and anime.
Some of these menus may require a reservation a few months before your visit to Japan. If you have decided on your travel itinerary, please check the store information in advance.
Visiting Special Museums
To gain a deeper understanding of the manga and anime works you love, it's important to learn about the backstory and the author's ideas.
From Enter The World Of Doraemon! The Fujiko F. Fujio Museum
There are various museums where visitors can appreciate how a celebrated work was created or learn about the artist.
Gosho Aoyama Manga Factory, a museum about Gosho Aoyama, the author of the manga series "Case Closed" (Detective Conan), is located in Tottori, in the author's hometown. Fans of Studio Ghibli should visit the Ghibli Museum in Tokyo.
If you love the robotic cat Doraemon, go to the Fujiko F. Fujio Museum in Kawasaki while "Astro Boy" fans should head to the Osamu Tezuka Manga Museum in Hyogo.
From Experience The Old Capital! A Complete Guide To The Edo-Tokyo Museum
If historical mangas are your fix, visit museums that display artifacts related to that era and ancient people. Many manga works are set in the Edo Period, so stopping by the Edo-Tokyo Museum might be a good idea.
The Tokyo National Museum located in Ueno Park exhibits Japanese swords and armors designated as National Treasures. Those interested in samurai culture or katana swords should also pay a visit to the Japanese Sword Museum.
From See, Touch, Experience! Fun Learning At The Kyoto Railway Museum
Railroad enthusiasts should head to Yokohama's Hara Model Railway Museum, Tokyo Metro Museum, or the Kyoto Railway Museum.
Take Part in Doujinshi and Cosplay Events
Otakus not only enjoy the works of professional artists but also the creative world of amateur doujinshi (self-published works) and cosplay events.
A doujinshi is a self-published manga publication by a group of otakus. While some stories are original, most of them are parodies of existing manga works, games, and animes. They vary in style, which allows fans to let their imaginations run wild.
Cosplay, on the other end, refers to dressing up as a character from your favorite manga, anime, game, novel, or movie. Both doujinshi and cosplay events are often held at the same venue. If you're looking for cosplayer-only or doujinshi-only meetups, they are held on a near-weekly basis.
From Comic Market Complete Guide - Enjoy Manga, Cosplay, And Pop Culture At Comiket
Another popular event is the Comic Market, also known as Comiket, held twice a year in Tokyo during the winter and summer.
The major otaku events in the Kansai Region are Comic City and Comic Treasure, which are both held in Osaka. Those who plan to attend should follow their favorite author's social networking sites in order to gather information and be able to purchase merchandise without fail.
From Nippombashi Street Fiesta 2015 Report
Although cosplay events are usually held alongside doujinshi markets, including Comiket, it's advised to check before attending as some prohibit cosplaying.
Check out the website World Cosplay Summit, an organization that manages cosplay contests, if wish to participate in an upcoming event.
Taking photographs of cosplayers may require permission, so be sure to make an inquiry beforehand. It may be better to take photos at cosplay events and photo sessions held at studios.
The Otaku's Guide to Traveling in Japan
There are many sightseeing spots, activities, and events that appeal to the otakus visiting Japan. Shopping for your favorite anime, manga, or gaming goods is just one activity in a sea of possibilities when it comes to Japanese subcultures.
If you have the chance, why not participate in amateur events held by otaku groups? Although some tourists may not identify as hardcore fanboys or fangirls, you'll still enjoy otaku travel tips if you like Japanese pop culture and subculture!
The information presented in this article is based on the time it was written. Note that there may be changes in the merchandise, services, and prices that have occurred after this article was published. Please contact the facility or facilities in this article directly before visiting.