Morning To Night In Akihabara - Get Your Anime, Manga, And Gaming Fix!
Akihabara, the haven for anime, manga, video games and otaku of all kinds. If you're coming to Japan looking for your geeky fix, then why not spend the day in Akihabara? Here are seven of the must-do activities in this electric town!
If you like anime, manga, video games, board games, computers, gadgets, Japanese idol pop groups, comic books, or anything that falls in those categories, then you will love Akihabara.
Akihabara can easily be reached from almost anywhere in Tokyo, too, so it's a great place for fans of Japan's various subcultures to spend the day. For more about how to reach Akihabara, take a look at Access Akihabara From Four Major Stations In Tokyo.
From: Akihabara Otaku Fashion - Rock Your Plaids And Bandanas In Akiba!
Akihabara is Kanto's otaku paradise. What's an otaku? An otaku is essentially a geek, or serious fan of any of the aforementioned things. There used to be even an entire fashion aesthetic to being a true Japanese otaku: character shirts, plaids, bandanas, and faded jeans. So, if you're all ready, let's head out to Akihabara.
From 10:00 Onward - Check Out the Various Shops!
From: Otaku Culture And Electronics: 10 Amazing Shops In Akihabara!
You'll certainly want to do a lot of shopping when you visit Akihabara, so please keep in mind that most of the shops here won't be open until about ten in the morning. There are stores that specialize in anime goods, video games, and of course, electronics.
If you're looking for certain Japanese brands, then visiting a major electronics retailer like Yodobashi Camera or Bic Camera is your best option, and there are shops all through Akihabara that are sure to carry exactly what you're after.
From: Visit Junk Street For A Deeper Akihabara Experience
But, if you are looking for specialty parts, limited edition or custom parts, then visiting Junk Street, a quieter backstreet in Akihabara where you'll find everything from old computer parts (sometimes even parts for original Mac and DOS systems), and plenty of unique gaming gear and parts like custom keyboards and monitors.
From: Akihabara Gamers Store: A Treasure Trove Of Anime And Voice Actor Goods
Fans of anime and manga of course have plenty of options to choose from here as well - stores like Mandarake Complex, Kotobukiya, Gamers, and more all carry extensive lines of anime and manga related items - from the books themselves to figurines, key chains, T-shirts, puzzles, and other goods featuring your favorite characters. Gamers even carries goods for specific voice actors.
If you're looking for more classic goods, then Mandarake Complex is your best option - they have, or can get a hold of, almost anything there, and it is an incredibly popular shop for fans of older, potentially out of print manga and goods. People after limited edition dojinshi (fan written comics) should check out Toranoana, and ladies should visit Animate to find goods and limited edition events featuring their favorite animated men.
Midday - See a Free Display at the Tamashii Nations Akiba Showroom
From: Tamashii Nations Akiba Showroom - A Figure Museum With No Entrance Fee!
When exiting Akihabara Station through the Electric Town Exit, on your left, you'll immediately see the east west passageway that connects to the Tsukuba Express Line. This is where you'll find the Tamashii Nations Akiba Showroom, a free showroom with displays featuring new or upcoming otaku goods mainly produced by Bandai. This free museum opens from noon on weekdays and from 10:00 on weekends though, so plan accordingly if you want to see these exhibits.
Feeling Hungry? Head to a Maid, Butler, Idol or Cosplay Cafe!
From: An Icon Of Akihabara's Otaku Culture: What's A Maid Cafe?
After shopping your heart out, you may be feeling quite hungry. Why not head to a cafe for lunch? You could of course visit any of the regular restaurants that line the streets of Akihabara, but since you're in otaku paradise, going to one of the area's specialty cafes just makes more sense.
There are of course maid cafes, where girls in maid costumes wait on you, but there are also butler cafes (with male or cross-dressed butlers), idol cafes (themed around an idol group), cosplay (cafes with staff in anime/manga related costumes), and of course anime cafes (like the Gundam cafe) to choose from.
Inspired by Lunch - Trying Cosplay in Akihabara!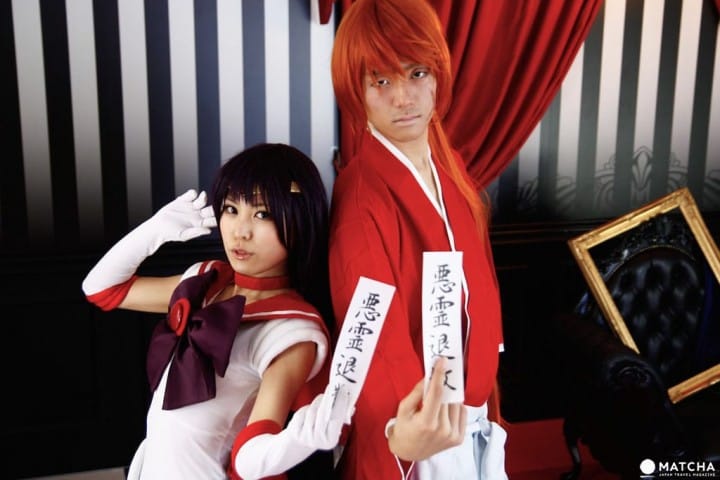 From: Cosplay Photo Shoot Experience In Akihabara's Studio Crown!
If you enjoyed lunch at a themed cafe, you may find yourself wanting to cosplay a bit too. Of course you can try that in Akihabara too!
Studio Crown, a six minute walk from the Electric Town Exit, has cosplay photography courses where, for different fees, you can be dressed in a variety of different costumes and take photos as your favorite anime, manga or even video game character. The length of time required and the fees vary, so please take a look at Cosplay Photo Shoot Experience In Akihabara's Studio Crown! for more details.
Indulge Yourself and Test Your Skills at a Game Center
From: Let's Go! 7 Akihabara Game Centers
What a busy day! It's time to take another break, but if you aren't feeling hungry, another option is to visit a game center. These arcades can be found all over Akihabara and offer numerous different gaming experiences.
You can visit Club Sega for example, to play crane games and SEGA favorites, Taito Station with its distinctive Space Invaders logo, for seasonal crane games and the latest in arcade games, or, if you're feeling nostalgic, Super Potato Akihabara, where you can play classic arcade games on original machines, and even find some ultra rare parts for older gaming systems too.
A Change of Pace - Appreciating Japanese Culture in Akihabara
From: The Creators' Community: 2k540 AKI-OKA ARTISAN
Akihabara isn't just about otaku culture though - you'll also find traditional Japanese culture there as well, such as at 2k540 AKI-OKA ARTISAN, an open concept style shopping center that features works produced by Japanese artisans from across the country. If you are looking for the perfect, handcrafted souvenir for yourself or a loved one, then this is the place to go.
From: Kanda Myojin - A Famous Shrine Near Akihabara
Or, you can head a short distance from Akihabara to Kanda, and visit Kanda Myojin, the 1300 year old shrine where the guardian deity of Tokyo is enshrined, which often collaborates with Akihabara and popular anime/manga series too.
From: For All The Star Wars Fans Out There! The Sci-fi Bar Kanda Flux
If you do visit Kanda Myojin, in the station area you'll also find Kanda Flux, a sci-fi bar that has an amazing interior based on characters and design from across the genre, as well as a drink menu that takes inspiration from classic and the latest in Hollywood sci-fi, comic book and space related hits.
A Geeky, Full Day in Akihabara
The perfect, otaku-rich day in Akihabara! With a route like this, you can cover a little bit of everything that the city has to offer, without worrying that you'll miss out on something important. If you keep these spots in mind when you visit, you're sure to have a blast in Akihabara!

The information presented in this article is based on the time it was written. Note that there may be changes in the merchandise, services, and prices that have occurred after this article was published. Please contact the facility or facilities in this article directly before visiting.