Comic Market Complete Guide - Enjoy Manga, Cosplay, And Pop Culture At Comiket
Comic Market, or Comiket, is Japan's largest event for fans of manga, anime, video games, and pop culture. This article presents an in-depth guide to this comic-related convention and how to best enjoy these semi-annual events, from when and where to arrive and how to attend.
Japan's Largest Comic Market - Manga, Anime, Cosplay, and Pop Culture
Are you someone who loves manga, Japanese anime, and video games? Comic Market, or Comiket—Japan's biggest convention and gathering of fans—is a must visit at least once in your life. This large-scale event draws thousands of visitors every summer and winter, and it is known to get very crowded, with people lining up for the event hours in advance.
The lines and crowds can make this event hard to understand to those who have never been before. This article addresses what Comiket is, how you can attend, and what you need to prepare.
When is Comic Market? What Kind of Event Is It?
Comiket is a huge market-like event, where participants sell magazines known as doujinshi (self-published works) that they've produced depicting manga and anime. This massive comic marketplace is held twice a year. The summer version, known as "NatsuComi," is in August, and the winter "FuyuComi" is at the end of the year. Both fairs are held at Tokyo Big Sight, an international exhibition center near Odaiba.
| | |
| --- | --- |
| 2019 Schedule | Event Dates |
| NatsuComi (Comic Market 96) | August 9 - 12 |
| FuyuComi (Comic Market 97) | December 28 - 31 |
During the event, anime and game companies, merchandise manufacturers, and companies owning copyrights exhibit their works and sell merchandise. There are also exclusive Comiket goods for sale, which makes them popular with attendees during each fair.
There is also an area for circles (individuals or groups that produce and sell independent comics, art, or fan books called "doujinshi") to put their works and merchandise on display. Circles and corporate booths are usually separated into different halls.
Participating circles rotate every day in the circle space, so please be sure to check the program in advance if there's a specific circle you're looking for.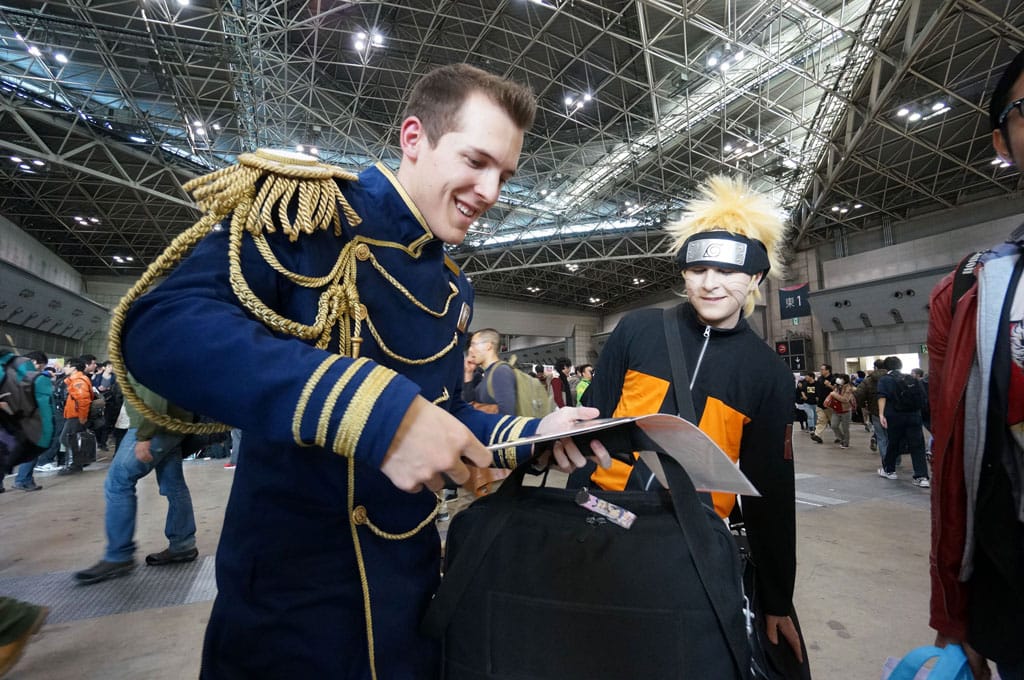 Picture from What's the Difference Between Comiket and Events Abroad? An Interview With Otakus
Comiket is also well known for its spectacular costume play (cosplay). Cosplayers who attend the event, adding a special flair to the event and drawing many photographers. Those cosplaying get ready in dressing rooms specifically for changing into cosplay outfits at the Comiket venue. They are not allowed to be in cosplay outside of the venue; those interested in cosplaying at Comiket must purchase a cosplay registration card in front of the dressing rooms (1,000 yen per day).
Changes to Comiket During the Tokyo Olympics (Summer 2019 – 2020)
As of summer 2019, Comiket in Tokyo Big Sight had the following changes made due to the Tokyo Olympic Organizing Committee is presently using part of the venue.
1. Venue Change
The venue changed locations from two halls in the East and West Halls to three halls in the West, South, and Aomi Exhibition Hall.
The South Hall is located behind the West Hall. The Aomi Exhibition Hall is a station away from Tokyo Big Sight (the nearest station is Tokyo Teleport Station via the Rinkai Line or Aomi Station via the Yurikamome Line.
While circles will be in the West and South Hall, corporate booths will be situated in the Aomi Exhibition Hall.
2. Additional Dates
As the halls are smaller, the fair increased to last four days from its original three days.
3. Paid General Admission
Comiket used to be free of charge, but admission started being paid from summer 2019. Attendees must purchase a wristband to enter the venue.
Wristbands have different colors on different days and can be purchased at Comiket the day of the event or beforehand at manga and anime shops (Animate (Japanese), Comic Toranoana, and Melonbooks (Japanese)). Although the advance pass is set at a higher price, it will be extremely congested during the event, so we recommend buying your passes ahead of time.
| | | |
| --- | --- | --- |
| | Advance Purchase | Same-Day Purchase |
| Individual Day Pass | 540 yen | 500 yen |
| Four-Day Wristband Attendee Pass with Catalog Booklet | 2,500 yen | 2,000 yen |
*The DVD-ROM catalog does not come with the wristband attendee pass.
4. Time Change
Circle and corporate booths are open 10:00 – 16:00. The cosplay dressing rooms are open until 17:00 (open only until 15:45 on the last day).
Get the Catalog with an Advance Pass
The catalog, sold either as a booklet or DVD-ROM, is a requisite to smoothly enjoying the event. Printed in the booklet is a floor map and a list of participating circles and companies. The convention venue is ver large, so you will likely become lost if you don't have a map or are unfamiliar with the event.
We recommend checking the booth area in advance when it comes to reviewing what to buy there! For each event, the cover of the catalog is done by a famous illustrator so many participants will likely purchase it for their collection.
The catalog is sold at manga and anime shops (Animate (Japanese), Comic Toranoana, and Melonbooks (Japanese)) every year at around 2,500 yen while the DVD-ROM version is even cheaper. It's also sold for a cheaper price at the venue than advance purchases, but you may have trouble just buying the catalog due to the extreme congestion.
Various stage events are held at corporate booths, where viewing is permitted by either numbered tickets distributed beforehand or require advance registration. These details cannot be found in the catalog. If you have an event you're aiming to attend, please check the information released by the companies ahead of time.
What Time Should You Head to the Venue?
You can see photos of huge crowds sitting and waiting in front of the venue from 4:00 or see Internet videos of people getting off the first train in the morning to rush out of the station for the event. Some people might also think, "Do people attending Comiket have to go so early in the morning?"
There are no rules, but if there's a specific or popular product that you want to shop for, arrive early. Some items will sell out within one to two hours from opening depending on what is exhibited. In particular, rarer doujinshi that are printed in small quantities will immediately sell out.
Average waiting times as displayed on the official website are shown below.
Arrival Time
Estimated Entry Time
Waiting Time
Disadvantages (*)
First train
(arrival at the venue before 6:00)
10:00 – 10:30
Approx. 5 hours
You must wake up early. Waiting time is long.
Around 10:00
11:00 – 11:30
Approx. 1 hour
Products will begin to sell out. There will be lines at each booth.
Around 12:00
Possibility of immediate entry
None
Most displayed products will be sold out.
*Disadvantages are the writer's personal opinion.
It is prohibited to camp out in front of the venue the night before. If you're not a morning person, stay in a hotel near Odaiba.
Access to Comiket (Tokyo Big Sight)
The station with the most foot traffic will be Kokusai-tenjijo Station via the Rinkai Line. You will arrive at the venue from the station in about five minutes on foot.
Despite having fewer passenger carriages than the Rinkai Line, you can also use Tokyo Big Sight Station via the Yurikamome Line if you prefer to walk less from the station.
Pay Attention to Lines for Each Hall
For those lining up early in the morning, lines are separated for each hall. Guide staff holding signs will be at the plaza in front of the venue.
It can be hard to understand, so don't hesitate to ask a staff member for assistance; once you end up going the wrong way, you will have to travel to your preferred destination while pushing through the crowd. You'll end up losing quite a lot of time this way.
For those arriving slightly before the event opens, it will be fine to line up at the end of any of these lines heading to the venue. However, long lines stretching from the plaza won't be separated into different halls and will be crowded with people.
*Comikets held between July 2019 – July 2020 have a change in venue location. Please refer to the changes written above.
Prepare in Advance for the Train Home
Picture from How To Charge Your Suica
Areas near the return stations and trains will also be considerably congested on the way home. It's best to charge enough money onto your IC card beforehand or, if you're using tickets instead, to buy your departure ticket when you arrive.
For more details on getting to the venue, please continue reading below!
Opening and Closing Tips
When it's time for Comiket to open or close for the day, it is customary for everyone at the venue to clap their hands at the same time as the announcement. If you will be there when it ends, join the group applause and experience a sense of camaraderie with other attendees!
Many attendees will gradually begin to head home at around 13:00 once they finish their shopping. For the circle area, tables will often begin to be dismantled at around 13:00 – 14:00. As a result, the station is crowded with people waiting for their train home around 15:00.
Once the event commences, authorized personnel, cosplayers, and photographers will begin to head home. This time frame will also be very congested so you may need to be prepared. If you wish to avoid the rush, take a break at a nearby shop for about one hour and wait for the crowd to lessen.
n
Additionally, restaurants will be crowded near the venue during lunchtime. If you dislike waiting in line, head to a different station for your meal.
Learning about these precautions may form a harsh image in your mind, but this is a must-visit event for anyone with an interest in Japanese pop culture. You're sure to have a one-of-a-kind and fun experience at Comiket.
If you're not an enthusiastic fan or are slightly on the guarded side, how about stopping by in the afternoon? You might open the door to something new!
Information on Comiket
Event Period (2019): August 9 – 12, December 28 – 31
*For details, please check the program schedule listed on the official website.
Time:
Circle Booths 10:00 – 16:00
Corporate Booths 10:00 – 16:00
Cosplay Dressing Room 10:00 – 17:00 (15:45 on the last day)
Address: Tokyo Big Sight Google Map
Nearest Station: Tokyo Big Sight Station via the Yurikamome Line or Kokusai-tenjijo Station via the Rinkai Line
Official Website: https://www.comiket.co.jp/info-a/TAFO/C96TAFO/cmkfor_eng.html
*Comikets held between July 2019 – July 2020 are different from previous years. Please check read above for the changes that have been made.
Original Author: Akihito Usui
*This article is a rewritten version of an article originally published on August 2, 2014.

The information presented in this article is based on the time it was written. Note that there may be changes in the merchandise, services, and prices that have occurred after this article was published. Please contact the facility or facilities in this article directly before visiting.