What's the Difference Between Comiket and Events Abroad? An Interview With Otakus
Japanese pop-culture gave birth to the term "otaku", which is now used world-wide. With countless people attracted to this unique sub-culture visiting Japan year, it's no exaggeration to say that "Otaku" actively contribute to Japanese society, and are an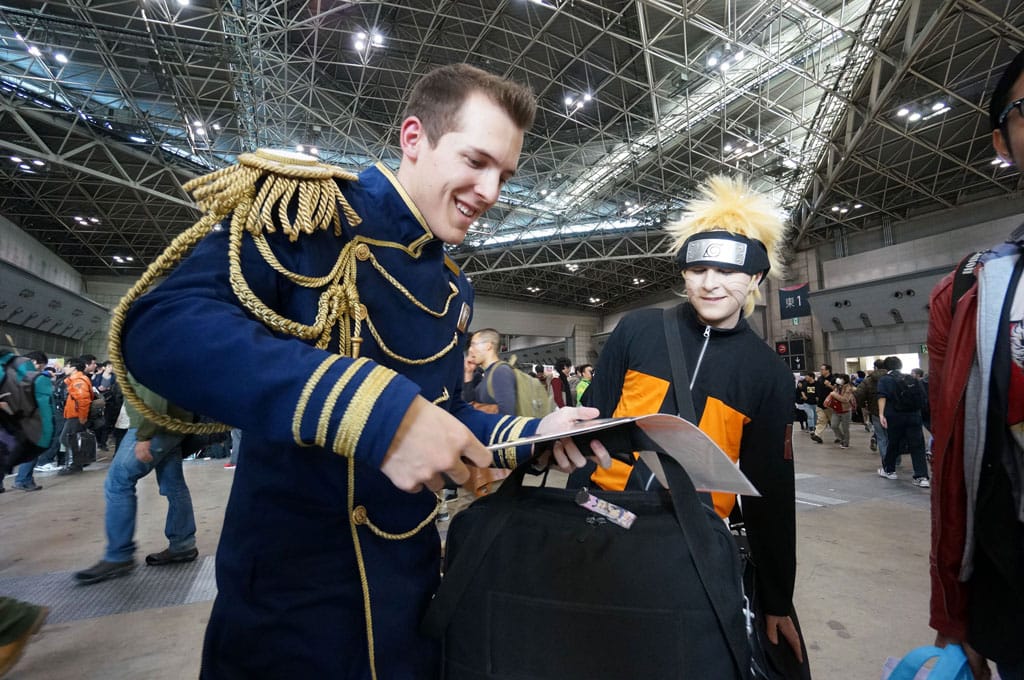 Japanese pop-culture gave birth to the term "otaku", which is now used world-wide. With countless people attracted to this unique sub-culture visiting Japan year, it's no exaggeration to say that "Otaku" actively contribute to Japanese society, and are an important part of its culture. It goes without saying that Japan's largest pop-culture event, "Comiket" is invaluable as well.
As the globalization of the culture continues, one wonders how those who come from abroad to visit Comiket feel about the event. In this article, we'll explore how a pair of international students (German and Malaysian) feel about Comiket and the culture that surrounds it.
Their First Trip to Comiket
── Thanks for agreeing to the interview! Before we start, I'd like to get you to introduce yourselves for those reading MATCHA.
Tristan:
Nice to meet you. I'm Tristan Junker, from Düsseldorf in Germany. I'm an international student at a Japanese university. I also have my own company called Amazing Japan, where I conduct business closely between Japan and Europe. I was with MATCHA when we did the article "Kyary Pamyu Pamuseum".
■Sweet Strange Costume Forest! "Kyary Pamyu Pamyuseum 2
Nabil:
I'm Nabil Akram, from Malaysia. I'm also an international student. I've been studying Web Design a vocational college for two years. This year I'm going to be moving on to university. This is my first time at Comiket.
Tristan:
I went to the summer event as well, so this will be my second time.
Nabil wearing his「Culture Japan」T-shirt
── Since both of you are relatively new to Comiket, we just had a walk around the area. What do you guys think about it?
Nabil:
I already know "Genshiken" and "My Little Sister Can't Be This Cute", so I recognized some of the scenery, but it was really interesting. The style of the hall and long lines aren't something you get to see every day, so it was a really new experience.
Tristan:
There are a lot of anime posters with bishoujo and drawings people made themselves all over the place, so there's a lot of value in just seeing it. This is a lot of fun.
Is Comiket "kind" to visitors from abroad?
Everyone comes and goes, in search of their own treasure.
── Over the past few years, I feel like I see a lot more people coming here from abroad. Some of the more experienced participants prepare their own maps, but among them are some who don't know anything about the event. You guys say it's fun here, but do you think the event is very accessible?
Tristan:
I think if it's your first time in this kind of crowd, you're going to have a tough time, even if you're Japanese. The hall is huge, and because everyone's always moving, you're going to get lost if you don't adapt yourself to their movements.
── What do you think about most of the signs and information being posted in Japanese?
Nabil:
I can understand the ones with pictures on them, but from every now and then I see one I don't understand.
Tristan:
I also think there are a lot of circles here that don't understand English, so people might have trouble buying things from some of the booths. Sometimes you can't really tell what books or items are being sold there, so maybe some English signs would help for those who can't speak any Japanese.
There's an international help desk, but it's not enough to help everyone.
── What do you think about the privately managed booths?
Nabil:
In some places where there are really long lines, staff will hold up signs or wave their hands to move people around. That system can be kind of hard to understand.
── I see. You mean the "Wall" circles. (Popular booths are along the walls to facilitate long lines.)
Nabil:
Also, when the lines at the booths right in the center get long, they all get jumbled together.
── Comiket does have quite a few places that get long lines out of nowhere, doesn't it...
It can be hard to get your hands on what you want amidst the maze of lines.
The differences when compared to events overseas
── Overseas events like these seem to attract a lot of people who appreciate Japanese culture. While Comiket is similar in a lot of ways, it also has some key differences. What do you think about these differences?
Nabil:
Despite there being so many people here, it's really quiet. It's a lot different from the laughing and excitement you see at a lot of overseas events. The people who come to Comiket are polite, and they don't always seem to be having a lot of fun (laughs).
Tristan:
Overseas events are always abuzz with activity, but I don't think Comiket would be able to function like that. It seems to me like it has pretty tough rules. And even though there are a lot of participants, the individual is most important. It's very unusual.
MATCHA has reported on overseas otaku events in the past.
■Otaku as Missionaries of Japanese Culture? What We Saw at Sakura-Con"
Tirstan answers in his "Kantai Collection" Akagi T-shirt.
── Comiket has some basic style difference from other events, but what would you say it doesn't have enough of when compared to events from your own country?
Tristan:
This kind of goes beyond it's definition as a Doujinshi Fair, but I think it would be awesome if they had stage events and figures. I also think that 10am to 4pm is kind of short.
Nabil:
Yes! I want to see a stage. My country has a "Comic Fiesta", where they invite guests onto the stage. It doesn't feel right without one.
── Overseas events with stages are sort of like Japan's Anime Song and Seiyuu events. It's almost like they synthesize everything into one event.
Everything that happens is "common" here in Japan
── Despite being as large as it is, Comiket does have a limited capacity. Because of this, there are a lot of people who come on the first train, or break the "No All-Nighter" rule, and line up starting the night before to buy their item of choice. What do you think about this?
Tristan:
Basically they come early. I think it's amazing there's something they want to buy here so badly.
Comiket has the longest lines from morning until noon.
── Those types of people generally spend about 200,000 yen here. What do you think about that amount?
Nabil:
It's amazing. But it's not that surprising. There are people who spend up to 100,000 yen in maid cafes, after all.
── You're not surprised! By the way, the ATM in this building has been completely emptied before (laughs).
Tristan:
That's so interesting! Overseas we says stuff like "Japan's not normal", so I'm sort of used to Japan's unique quirks... You could say I'm not too surprised.
Japanese culture and their religion
── Nabil, you're from Malaysia and are Muslim. What do you think about the contents of the things distributed here at Comiket?
Nabil:
I think it's all very Japanese. It's true that in Islamic societies we don't have many of these types of books, and those that do read them tend to be punished harshly.
── Even so, and you'll have to forgive me for being rude, do you feel that it's okay because you're in Japan?
Nabil:
I suppose. When I'm taking part in the culture of another country I don't stop to think about my own religion. I like all Japanese culture, including those types of expressions. There are probably quite a few people that feel the same way.
It's more of a personal problem than a religious one.
Tristan:
Comiket has a really strong image of being just about anime and manga, but what I found interesting was that there's actually a whole lot of other stuff as well.
── Of course. There are a lot of doujin produced by railroad fans, and people from every type of field. Comiket is a place where anyone can express themselves, and I think this is what has given it so much popularity.
Tristan:
I that has a lot to do with Japan's artisan-like nature when it comes to hobbies, and probably also has a lot to do with doujin culture itself. When you look at it from that viewpoint, it's likely that it's still only otaku that know about the event, so it would be cool to see the interesting aspects of it brought out in a PR campaign.
About Cosplay
── So, we talked about expression, and I'd like to know what you guys think about cosplay as a form of self expression. What do people overseas think about Japanese people who do cosplay?
Tristan:
Japan's cosplayers are really high quality!
── Among the characters being cosplayed, there are also many taken from Western culture. From a Japanese perspective, people abroad often seem like they would make better cosplayers, so your answer surprises me a little.
Tristan:
Japanese people are good with makeup, and they pay attention to the finer details of the outfit, and have a really professional outlook. That's why the outcome is often really high quality.
Nabil:
A lot of places abroad already have a culture of dressing up, so I think there's a lot of cosplayers that are fine dressing up more casually.
Japanese cosplayers have a high level of quality.
── We have a custom where we line up when we take photos of cosplayers, and I believe that this is different from what happens at other events. Did you come without any prior knowledge of these types of customs?
Tristan:
Yes. The fact that they have to change into their costumes after coming was also new to me.
Nabil:
The way to line up and general rules seem to have sort of naturally occurred as people increased, but for us it's all a little hard to grasp. It would be nice if some of the how-to was more easily available. Also, those thick catalogs are almost entirely Japanese. It would be nice if the way to read them was shown in English as well.
── I think that's an important point. Thanks for letting us interview you!
Around the end of March this year, "Comiket Special 6 ~OTAKU Summit~ 2015" will be held, with participants from all over the globe. I think Comiket is a fun event even for people not quite used to it, but as we've seen in this interview there are some points that could make it much more accessible.
Comiket could be a place to meet not only Japanese people, but people from places all over the world. If you see someone having trouble, call out to them. You never know what they might need a hand with, and even if they don't, it's always nice to make new friends!
Information
Comiket (Comic Market)

Held On: Mid-August, and towards the end of December, for three days each.
Time: Circles 10am to 4pm, Corporate Booths 10am to 5pm (until 4pm on the final day), Cosplay 10am to 4pm (until 3pm on the final day)
Place: Tokyo International Exhibition Center (Tokyo Big Site)
Address:Ariaki 3-11-1, Koto-ku, Tokyo
Station: Yurikamome "Tokyo International Exhibition Center Station" (国際展示場正門駅), Rinkai-sen "Tokyo International Exhibition Center Station" (国際展示場駅)
Access: 3 minutes from Yurikamome's "Tokyo International Exhibition Center Station", 7 minutes from Rinkai-sen "Tokyo International Exhibition Center Station"
Site:http://www.comiket.co.jp/

The information presented in this article is based on the time it was written. Note that there may be changes in the merchandise, services, and prices that have occurred after this article was published. Please contact the facility or facilities in this article directly before visiting.