MANGEKYO - Japanese Entertainment At Its Finest! This Autumn In Tokyo
MANGEKYO is a breathtaking stage performance created by the taiko drum masters of DRUM TAO in collaboration with teamLab's digital projection artists. This show is a great choice for a memorable evening out in Tokyo.
Quality Entertainment for a Wonderful Night Out in Tokyo
How would you like to end a day of sightseeing in Tokyo? Unwinding in a bar or in a restaurant with a great night view is one option, but how about getting a taste of the amazing entertainment that this city has to offer?
A show we warmly recommend to visitors who want to enjoy authentic Japanese entertainment is MANGEKYO, an exciting performance of traditional taiko drums combined with breathtaking digital projection art.
MANGEKYO - An Impressive Fusion of Japanese Arts

MANGEKYO is a stage production created by the Japanese drum performer unit DRUM TAO in collaboration with the digital projection artists of teamLab.
Combining the exciting rhythm of traditional instruments with the finest projection-mapping technology, the show fascinates audiences through its powerful, dreamlike images of Japanese culture.
What's more, MANGEKYO is performed on the stage of two large theaters located in the heart of Tokyo, providing the audiences with a comfortable viewing experience.
Let us introduce below some of the features that make MANGEKYO a particularly appealing performance.
1. Performed by DRUM TAO, the Masters of Traditional Japanese Drumming
DRUM TAO is a taiko drum performing unit that ever since its founding in 2004 has been touring worldwide, receiving high acclaim for their amazing stage performances.
They combine their drum performance with the music of other traditional instruments such as flutes and the koto (also known as the Japanese harp), as well as with dance.
While traditional drum performances can often be seen at festivals and Japanese cultural events, watching a performance by professional taiko artists is a rare occasion.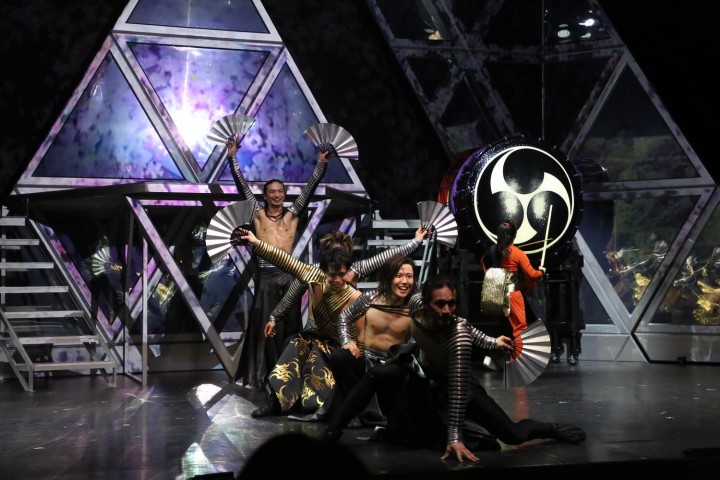 Rooted in traditional Japanese culture but created with a strong contemporary vision, MANGEKYO is a captivating performance that shows the true power of quality Japanese entertainment. The show also includes martial art elements and even some comedy.
2. It Is a Show That Can Be Enjoyed by Everyone
MANGEKYO is a nonverbal show that communicates through music, energetic choreography and the amazing images projected on stage. In other words, it doesn't require knowledge of Japanese language.
Moreover, it is a show that can be enjoyed by viewers of any age.
3. The Show Venues Are in the Heart of Tokyo
The upcoming performances of MANGEKYO will be hosted by venues located in two of Tokyo's most popular sightseeing and shopping destinations, Ginza and Shinjuku.
Ginza can be reached directly from Asakusa in a few minutes using the Tokyo Metro Ginza Line. After a day of sightseeing at famous places such as Sensoji Temple, how about enjoying a Japanese stage performance in Ginza?
The Special Features of Wadaiko, the Japanese Drums
Wadaiko, the traditional Japanese drums that are often simply called "taiko" around the world, are the traditional big wooden drums covered with cowhide on both sides. Depending on the manufacturer, it can take years to manufacture a single wadaiko.
Traditionally, these drums are used during festivals and shrine rituals. In feudal Japan, the rhythm of the wadaiko was used to motivate the military troops and lift up their spirits. These instruments are now also used in kabuki performances and other traditional arts.
The wadaiko drum is played with thick wooden sticks, resulting in a deep echoing, rhythmical sound. If you are close to a waidako drum that's being played, you'll feel the vibrations through your whole body.
Playing the wadaiko for an extended period of time takes a lot of energy and power. That's why we recommend experiencing the rhythm of wadaiko played by professionals such as DRUM TAO.
Performance Details - Venues, Schedules and Tickets
MANGEKYO will be performed in Tokyo for three months, from the beginning of September until the end of November. Each performance is scheduled to be 70 minutes long so it will fit perfectly into any busy sightseeing schedule.
Ticket Types and Prices
| | | |
| --- | --- | --- |
| Ticket Type | Price | Observations |
| SS seats and wheelchair seats | 9,500 yen (with tax) | If you need a wheelchair seat, please mention it when doing your reservation. |
| S seats | 8,500 yen (with tax) | |
| A seats | 7,500 yen (with tax) | |
| Ticket Set | 85,000 yen (with tax) | The price covers the tickets for 10 performances while the 11th is offered as a present. |
| Performance and Dining Set (*available for Ginza venue only) | 17,500 yen (with tax) | For details, please refer to this page (Japanese only) |
Ginza Venue: Alternative Theatre
Picture from Walk Around Fashionable Ginza - 7 Shopping Spots
MANGEKYO will be performed in at the Alternative Theatre which is located in front of JR Yurakucho Station, five minutes away on foot from Ginza, from September 1st through September 30th, 2018. Depending on the day, there will be two or three performance held at different times of the day, as follows:
● Matinee Performance (Starting at 13:30) / ▲ Late Afternoon Performance (Starting at 17:00) / ★ Evening Performance (Starting at 20:30)
Alternative Theatre - Audience Seats
Alternative Theatre
Address: Tokyo, Chiyoda, Yurakucho 2-5-1, 7th floor of Yurakucho Marion Annex
Google Maps
Shinjuku Venue: Lumine 0
Picture from 7 Exciting Things To Do In Shinjuku From Morning To Night
In Shinjuku, MANGEKYO will be performed at Lumine 0 from October 4th through November 20th, 2018. You can enjoy the performance at three different times of the day.
(*On some days, tickets might not be available due to private performances so please check the schedule on the official page before making your reservation.
● Matinee Performance (Starting at 13:30) / ▲ Late Afternoon Performance (Starting at 17:00) / ★ Evening Performance (Starting at 20:30)
Lumine 0 - Audience Seats
Lumine 0

Address: Tokyo, Shinjuku, Sendagaya 5-24-55, NEWoMan Shinjuku 5F
Google Maps
MANGEKYO Ticket Reservations
JAPANiCAN
KLOOK
MANGEKYO Official Website
You can also reserve tickets by phone at the Sunrise Tour call center: 03-6743-1597 (7:00 - 21:00 throughout the year)
Tickets can be purchased also at most JTB branches overseas and their partner stores.
Things to Do in Tokyo Before or After MANGEKYO
Ginza is well-known as a trendy shopping district but it is famous for its beautiful galleries. If you love fashion and art, Ginza is the perfect place to spend your day before the performance.
Shinjuku, on the other hand, is known as one of Tokyo's major entertainment districts. This area of the city is always bustling with people, lights and music, not to mention that it's the perfect place to shop for souvenirs or unique gadgets.
If you prefer a more quiet approach, how about visiting Shinjuku Gyoen National Garden or Hanazono Shrine, two iconic places steeped in Shinjuku's history?
Would you love to explore a more traditional part of Tokyo? Then you could visit Asakusa before the show and then head to the Ginza venue of the performance.
If you are not ready to go back to your hotel after the performance, how about enjoying a drink or a delicious meal in one of the cozy bars and restaurants located in Shinjuku and Ginza?
Conclude your Day with MANGEKYO, a Japanese Stage Art Extravaganza!
MANGEKYO is a unique way of enjoying Japanese culture while taking a break from sightseeing or after a day of exploring Tokyo. In addition to being highly entertaining, quality stage entertainment, it is a nonverbal performance that can be enjoyed without worries concerning language barriers.

The convenient location of the two venues and the fact that it's just 70 minutes long make this show perfect for travelers with a tight schedule as well. You will even be able to enjoy Shinjuku or Ginza, two of Tokyo's most popular areas, before and after watching the show as the venues are located right in the heart of the city.

Don't miss out on one of Japan's best stage performances when visiting Tokyo this autumn!

MANGEKYO Official Website: https://mangekyo-tokyo.com/en/

Reserve your tickets for MANGEKYO

Written by Chiara Mischke
Sponsored by JTB Communication Design




The information presented in this article is based on the time it was written. Note that there may be changes in the merchandise, services, and prices that have occurred after this article was published. Please contact the facility or facilities in this article directly before visiting.