By Airport Shuttle Bus To Osaka: A Pleasant 3-Day Sightseeing Route
Visiting Osaka for sightseeing? How about staying at karaksa hotels, a facility with great access to Osaka's popular areas? This article introduces a three-day model itinerary that makes use of the comfortable shuttle bus service to and from KIX Airport.
Want to leave your heavy luggage at your hotel and enjoy Osaka sightseeing after arriving at Kansai International Airport? There's a way to travel around Osaka, an area with many things to see, that will grant that wish!
If you want to enjoy everything in Osaka, then we recommend staying at karaksa hotels and utilize their shuttle bus that travels between the airport and hotel. We'll introduce a three-day travel plan that you can use to fully enjoy the city of Osaka from the day you land by using the guest shuttle bus!
Please check the end of this article for details on how to use the shuttle bus.
Day One: Travel to Osaka City by a Free Shuttle Bus!
karaksa hotels are popular with visitors from overseas because they offer foreign language support and interpretation services. They also have connecting rooms, giving them a reputation for providing rooms that easily allow families and friends to stay together as a group.
The exterior of the karaksa hotel's Osaka Namba location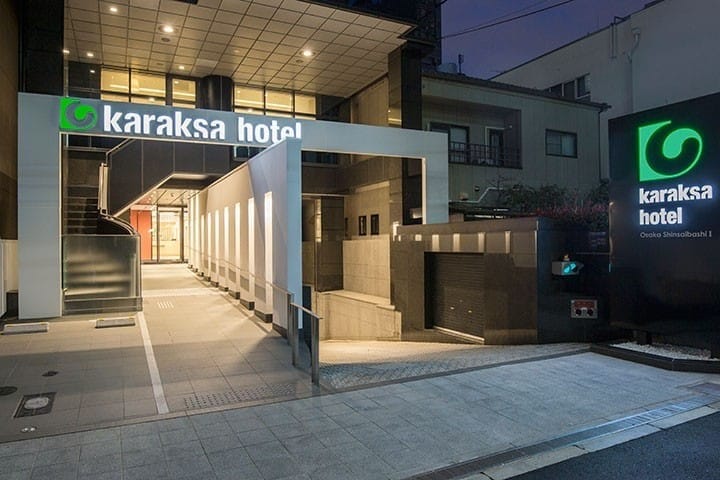 The exterior of the karaksa hotel's Osaka Shinsaibashi I location
There are currently three karaksa hotels in Osaka. karaksa hotel Osaka Namba and karaksa hotel Osaka Shinsaibashi I are convenient for sightseeing within Osaka. karaksa Spring hotel Kansai Air Gate is great for sightseeing around the Rinku Premium Outlets or Universal Studio Japan™️.
For details on karaksa hotels, please check their official website.
** In this article, we introduce a plan for enjoying Osaka while staying at either karaksa hotel Osaka Namba or Osaka Shinsaibashi I.
A Guide to Using karaksa hotel's Shuttle Bus Service
Day One Afternoon: Eat Okonomiyaki at a Popular Spot
Once you've landed at Kansai International Airport, head to the hotel by shuttle bus and leave your luggage at the hotel. If you take the first afternoon bus from Kansai Airport, then you'll be able to enjoy a late lunch in the city.
What we recommend in Osaka is none other than okonomiyaki, a savory dish made with vegetables, meat and other ingredients. Fukutaro Namba Dining Maison is popular even with local food connoisseurs and is one restaurant you should visit while in Osaka.
Top recommendations include the Mix Tama (pictured bottom left), an okonomiyaki with pork, shrimp, and squid, the Suji Negiyaki (pictured bottom right), with is made with beef and green onions added between the batter then fried on the griddle, and the Omusoba (pictured top right), an egg-wrapped yakisoba.
The thin, light texture of the okonomiyaki batter is definitely something you won't forget once you've tasted it. The rich sauce in the Omusoba is also irresistible. Please take your time enjoying your meal at this sophisticated restaurant.
Day One Evening: Enjoy Historical Spots and Food!
To Osaka Castle, Keitakuen Garden, and Shinsekai
Once you've finished your meal, head to Osaka Castle, the center of Osaka sightseeing, in the evening. Osaka Castle is considered one of Japan's Three Great Castles that possesses outstanding castle towers and stone walls. You'll most surely be moved by its magnificence.
We also recommend taking a short break at Keitakuen Garden, a nearby Japanese-style garden. There are to 200 types of trees in this garden. It's a place where you can experience nature views that are unique to Japan. Gazing past the trees to admire the large, towering Abeno Harukas building is also another tasteful part of the garden.
Day One Night: Grilled Kobe Beef for Dinner
One of the advantages to karaksa hotel Osaka Namba and Osaka Shinsaibashi I's locations is the proximity to two of Osaka's best shopping districts: Shinsaibashi and Dotonbori. This means you'll be able to enjoy as much shopping and food as you want near the hotel!
It's now time for dinner. The Steak Sakura Namba Flagship Restaurant (Japanese), where you'll be able to enjoy Kobe beef, is located near both hotels and is perfect for ending the day in happy spirits. The restaurant utilizes carefully selected ingredients. You also can't miss out on their performance as they grill your food in an enthralling way right before your eyes on the griddle.
After eating, we recommend strolling through the shopping districts. The two districts are constantly bustling with energy even throughout the night. The sight of the streets shining in neon lights is a must-see.
A guest room at karaksa hotel Osaka Namba
Once you've returned to the hotel, how about comfortably relaxing in your room (Osaka Namba), which is provided with comfortable beds and a shower with a rain function? 
You can take your time and think about your plan for the next day. It would also be a great idea to use the free Wi-Fi provided by the hotel to gather information for your trip.
A guest room at karaksa hotel Osaka Namba
The rooms are installed with universal electrical outlets, making it unnecessary for you to bring a Japan plug adapter. Convenient USB ports are also located near your bedside.
For details on karaksa hotel's guest rooms, please check out their pages for Osaka Namba and Osaka Shinsaibashi I.
Various services are offered at karaksa hotels for guests. Free drinks can be enjoyed at Osaka Namba's hotel restaurant between 14:00 to 21:00.
A spacious leisure space with tables and chairs is also found inside Osaka Shinsaibashi I for you to use as a place of relaxation. The hotel also sometimes holds seasonal events, making your stay even more fun!
Day Two: Enjoy Shopping and Food in the City!
Kyoto and Kobe Sightseeing
Osaka Namba breakfast
On the morning of your second day, enjoy the hotel's breakfast (Osaka Namba) which includes local bread and coffee in a buffet. When you think of Osaka, shopping at Shinsaibashi and Namba come to mind, so we can't leave that out! These areas are within walking distance from the hotels.
For details on breakfast at karaksa hotels, please check out their pages on Osaka Namba and Osaka Shinsaibashi I.
Picture from Osaka Travel Guide: Sightseeing Tips, Dining, Shopping And More!
Let's head to Shinsaibashi-suji Shopping Street, a shopping arcade with 180 stores lined up next to each other, in Shinsaibashi. You're sure to find what you want here with both fashion stores and large duty-free shops lining the arcade.
In the Namba area, about a 15 minute walk from Shinsaibashi, you'll find buildings such as Namba CITY and Namba Marui with popular fashion stores and general goods shops. You can also collect everything you want in one visit here from the latest fashion from stores such as UNIQLO to general souvenirs.
View Information
Shinsaibashi
| | | |
| --- | --- | --- |
| | Address | Osaka, Osaka, Chuo-ku, Shinasibashi-Suji |
| | WiFi | Not Available |
| | Accepted Credit Cards | Not Available |
| | Nearest station | Shinsaibashi Station (Osaka Subway Midosuji and Nagahori Tsurumi-ryokuchi Line) |
| | Website | Shinsaibashi |
Food lovers, how about enjoying an eating tour in Shinsekai?
The area sells kushikatsu (skewered fried meats and vegetables) and takoyaki (octopus balls) for reasonable prices beginning at 500 yen, so come to fill your appetite. Eating while surrounded by the energetic calls of shop staff and flashy billboards will no doubt become a great memory of your trip!
If you have time to spare, then travel a little further to visit Kyoto or Kobe! Kyoto and Kobe are both about one hour from Osaka. On the night of your second day, comfortably spend your time at the hotel and recover from your travel fatigue.
Day Three: Travel Comfortably to the Airport After Checkout
After two fun days of sightseeing in Osaka, it's time to head to a new destination. Once you've finished breakfast, it's time to head to Kansai International Airport.
You can comfortably travel to the airport by using karaksa hotel's shuttle bus service! Wouldn't it be great to be able to travel to the airport without worrying about your fatigue or your heavy luggage?
Flights for New Chitose Airport and Kushiro Airport in Hokkaido, Narita Airport, and Naha Airport in Okinawa fly out from Kansai International Airport. You can even enjoy an economical trip around Japan after your Osaka travels.
How to Use the Shuttle Bus
The way to use the shuttle bus will differ when boarding from the airport and when boarding from the hotel.
When Boarding from the Airport
Reservations are not required to board the bus from the airport to the hotel location that you'll be staying. The bus can be used on a first-come-first-serve basis. Hotel guests are able to ride the bus for free.
Staff will be waiting for you 20 minutes before departure near the 1F[A] exit of the airport, so you won't have to worry about getting lost after landing.
When Boarding from the Hotel
When boarding the bus from the hotel, make a reservation at the front desk after check-in.
Each person must pay 1,000 yen (including tax) if you wish to upgrade your accommodation to a plan that includes the shuttle bus service. However, those who make a room reservation through karaksa hotel's official website will be able to board the bus from the hotel for free.
It is sure worth it to make a reservation through the official website!
You will be presented with a reservation confirmation and an original badge when making reservations for the bus. Please carry the badge with you in place of a ticket when boarding.
For details on the shuttle bus timetable, please check karaksa hotel's official website.
Enjoy Your Time at karaksa hotels - Ideal for Long Stays too!
Those traveling to Osaka should stay at karaksa hotel Osaka Namba or Osaka Shinsaibashi I, which have become even more convenient with the introduction of their shuttle bus service.
The hotel offers facilities and services that provide support for the guests to fully enjoy their stay. As such, we also recommend staying at the hotel for longer periods, such as one week, to enjoy sightseeing in the Kansai region!
A Guide to Using karaksa hotel's Shuttle Bus Service

photo by Pixta
Sponsored by KARAKSA HOTELS
Written by Asuka Yoshida

The information presented in this article is based on the time it was written. Note that there may be changes in the merchandise, services, and prices that have occurred after this article was published. Please contact the facility or facilities in this article directly before visiting.