Roppongi Kingyo: Take In Tokyo Nightlife With Dinner And A Show
Roppongi Kingyo is a theater restaurant with magnificent night shows in Roppongi, Tokyo. Learn more about one of the best night entertainment options in Tokyo, how to reserve tickets for shows, prices, and how to reach the venue.
Roppongi Kingyo: A Must-Visit Nightlife Spot in Roppongi, Tokyo
One thing Roppongi is particularly known for is its nightlife, with its many bars and night clubs, and neon lights shining onto the town until late at night. In fact, many consider Roppongi to be the best place for nightlife in Tokyo.
This lively neighborhood is also home to a popular theater restaurant called Roppongi Kingyo.
Today, we will introduce Roppongi Kingyo, with its incredible stage with special rain and snow effects, dancers wearing dazzling costumes, and delicious adult beverages, which will keep guests enchanted all night!
About Roppongi Kingyo
Roppongi Kingyo is an entertainment restaurant with dances, usually featuring drag queen performances. It boasts a 15-year long tradition in Roppongi and is a well-established business.
Drag queen performances can be watched outside of Japan, but the high dance quality and extravagant acting makes Roppongi Kingyo truly special.
There is no doubt that this performance will pull you into this fantastic art world after only one visit! It is surely a must-try experience during your next Japan trip.
Picture courtesy of Roppongi Kingyo
Another perk of visiting Roppongi Kingyo is delicious food and drinks you can savor while enjoying the show.
You can choose from a variety of dishes, like Western-style food such as salads, pizza, and pasta. If you're in the mood for some Japanese cuisine, you can try the traditional dishes in oju (*1). On the drink menu, you can choose in beer, wine, cocktails, soda, and many other types of beverage.
*1 Oju: a box packed with special dishes served for the special occasions, such as New Year's.
About the Shows at Roppongi Kingyo
Continue reading to learn about MATCHA's impressions of the Roppongi Kingyo's show!
1. Magnificent Dance Performances
During a show at Roppongi Kingyo, the performers dance to the music of various genres, such as pop and jazz. It is a special treat to watch artists present their grandiose performance.
The dance theme and the artists' costumes change with each song. Don't be surprised should your eyes feel as if they're glued to the show! The 50-minute performance will end before you know it.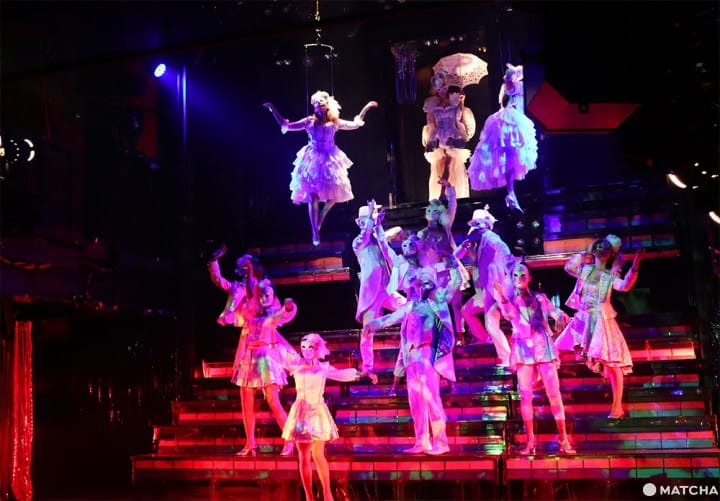 Pictured above is a performance of a European masked ball-themed dance, which featured 20 dancers spinning and flying all over the stage, accompanied by mysterious-sounding music. The spectacular dance using suspension wires took everyone's breaths away.
The second dance began at almost the same moment as the first one had finished. The different dancing performances are mesmerizing.
Around 10 dances were performed during MATCHA's visit, including ones to famous pop artists' songs, and even a performance inspired by Okinawan traditional dance.
2. An Eye-Catching and Dynamic Performance with Rain!
At Roppongi Kingyo, guests can enjoy not only the dances but the stage settings as well. The exciting sets add even more to the performance. The stage could turn to two stories, or massive stairs could appear, changing in perfect accordance with the music.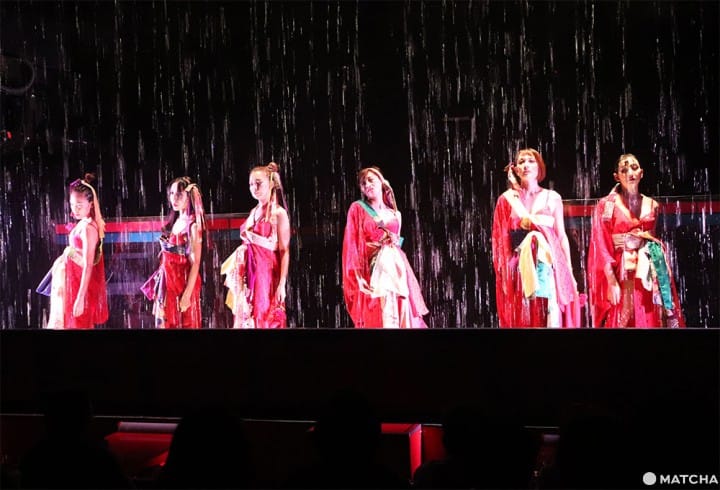 During the dance about Japanese sex workers, artificial rain poured down on the stage, making the spectators cheer in awe!
3. Don't Speak Japanese? No Problem – You'll Still Enjoy the Show!
Roppongi Kingyo adjusts the performances and songs to help the international visitors enjoy it, too.
You can read about the performance in English before it starts. Performances feature not only popular Japanese music but also songs popular overseas, pop music from Europe and America, and K-Pop. This allows audience members who don't understand Japanese to have even more fun watching.
Also, some of the staff present during the show speak English and Chinese. Feel free to ask them about the show if you have any questions.
The Price, Schedule, Reservations, and Access
Listed below is some basic information on Roppongi Kingyo. Don't forget to check the shows' schedule, admission fees, and reservation information beforehand.
Prices
The admission fee for a show at Roppongi Kingyo is 4,000 yen per person. You are required to order one drink and some food, as well (tax and the service fee is not included).
Drinks cost 800 yen and up, and food costs 780 yen and up. To the drink and food price you should also add the tax (8%; the information is as of March 2019), and the service fee (15%).
Overall, it is best to prepare around 7,000 yen, as this is an estimated amount that should cover for the show fee, drink and food, the tax, and the service fee. You can also pay with credit card.
The Schedule
There are two shows per day at Roppongi Kingyo.
The first show starts at 19:30 and lasts for 50 minutes. You can enter the restaurant starting at 18:00.
The second show runs from 22:00 and also lasts for 50 minutes. The restaurant opens at 21:00.
The Reservation
You can make a reservation for the show from the official website in Japanese, English, or Chinese. For instructions on making reservations in English and Chinese, please refer to the links below.
Reservation in English: https://www.kingyo.co.jp/en/
Reservation in Chinese: https://www.kingyo.co.jp/cn/
You can reserve a seat for a show up to 3 months in advance. Keep in mind that the seats for the weekend shows very popular and sell out quickly, so we recommend making your reservations early.
Access
The closest station to Roppongi Kingyo is Roppongi Station on the Tokyo Metro Hibiya Line and Toei Subway Oedo Line. If you intend to come via Toei Subway Oedo Line, use exit no. 5. For the Hibiya Line, use exit no. 3.
It is around a 5-minute walk from the exits and is easy to find with its bright red door (as shown in the picture above).
Make the Best of the Night at Roppongi Kingyo!
The spectacular dance performed by professionals and the marvelous acting at Roppongi Kingyo is a must-see experience. The performances are intended for all audiences, so invite your friends or come with your family members to enjoy it.
The next time you visit Tokyo, don't miss out on the opportunity to watch a magnificent show at Roppongi Kingyo!

In cooperation with Roppongi Kingyo

The information presented in this article is based on the time it was written. Note that there may be changes in the merchandise, services, and prices that have occurred after this article was published. Please contact the facility or facilities in this article directly before visiting.