Hotel New Otani – Spend The Tokyo Summer At A Resort Night Pool!
Looking to make the best of Japan's summer? Head to Hotel New Otani Tokyo, a resort hotel famous for its garden pool, evening pool, and delicious food. Take in the summer with Japanese shave ice and cool off in luxury! Read more about what you can do at this must-experience lodging to beat the heat.
A Stay at Hotel New Otani Tokyo
Hotel New Otani Tokyo (New Otani) is a lodging constructed to receive international tourists during the 1964 Tokyo Olympics. The hotel provides English assistance and receives many guests from around the world.
New Otani is very spacious, containing around 1,500 guestrooms and 37 restaurants and bars. There is also a 400-year-old Japanese garden, a rose garden with 30,000 roses that bloom semi-annually, used for wedding ceremonies, a garden pool, and many other facilities.
GARDEN POOL – Cool Off in Summer
Picture courtesy of Hotel New Otani
The GARDEN POOL at the hotel is very popular each summer. It considered one of the best outdoor pools at a hotel in Tokyo since it opened in 1966.
The surrounding skyscrapers and tall buildings aren't visible from the pool surrounded by a Japanese garden. You can enjoy your self with swimming and drinking cocktails in this calming, luxurious resort-like space.
A Magical Resort in the Evening - Dip into the Night Pool
Picture courtesy of Hotel New Otani
The NIGHT POOL, open from 18:00 – 22:00 is another must-experience.
The NIGHT POOL has operated as a night pool since 1999 at New Otani and is a very popular part of the hotel.
The pool isn't as crowded as facilities at other hotels, so it is very comfortable. They also have a full food and cocktail menu (mentioned below).
The pool is so popular that many people will only go to New Otani's pool in the evening. The elegance and relaxed environment of the area is something you should try at least once.
Picture courtesy of Hotel New Otani
You can also try delicious food as you enjoy the night pool. OUTRIGGER, a poolside dining area that can be used in your swimsuit, operates on the second-floor terrace deck of the pool.
Inside, you'll find a twelve meter-long bar counter with an unobstructed view of the entire pool. You can also enjoy a variety of drinks including champagne and fruit-filled smoothies.
Picture courtesy of Hotel New Otani
At SATSUKI, a popular hotel restaurant, you can order sandwiches and other appetizers off of their menu. Many guests frequent the restaurant when they go to the pool.
Picture courtesy of Hotel New Otani
You can even savor soft-serve ice cream made in collaboration with PIERRE HERMÉ PARIS.
Take the opportunity to taste high-quality cuisine while relaxing at the pool. This will undeniably be an extravagant night!
If you wish to spend your summer night stylishly and luxuriously, please make your way to the NIGHT POOL at New Otani Tokyo.
GARDEN POOL NIGHT POOL
Business Hours: July 12 – September 7, 2019, 8:00 – 22:00 (final entry at 21:00)
*NIGHT POOL is closed every Sunday
*Those that enter before 18:00 can continuously use the pool.
Fee: Adults 10,000 yen / Hotel guests 2,000 yen
*On Saturdays, Sundays, and national holidays it costs 12,000 yen per adult
A Fun Day Pool in an Elegant Space
The pool operates as a day pool between 9:00 to 19:00 with no time limit. This allows guests to enjoy the lush Japanese garden and the water.
The luxury space of the day pool is very popular.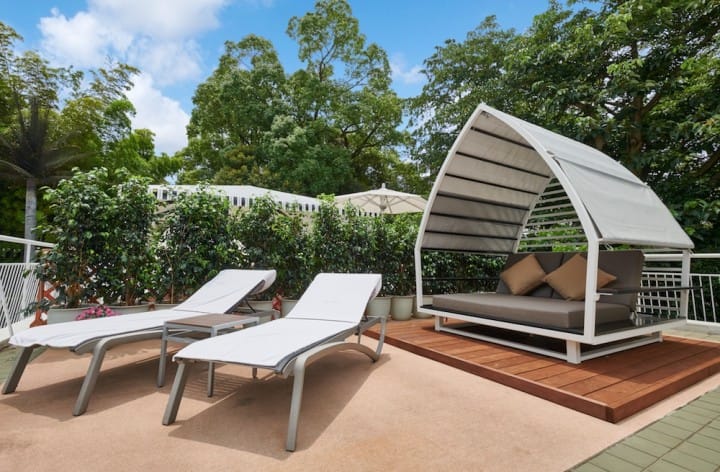 Walea. Picture courtesy of Hotel New Otani
In 2019, you can choose the Super Cabana (120,000 yen for the entire structure), a luxury private cottage that houses up to five people, the Luana (20,000 yen per seat), a private one-person seat, and the new Walea (70,000 yen per seat), prime seats for two people.
Super Cabana. Picture courtesy of Hotel New Otani
The Super Cabana, a private cottage that was renovated and reopened in 2019, is in high demand and sells out very quickly after reservations open. This is in spite of its 120,000 yen price (per use).
Spend your time however you want, whether it be chatting with good friends while gazing at the pool or reading as you drink champagne.
Come experience a day pool and luxurious space for an extravagant time in the summer.
GARDEN POOL Day Pool Information
Business Hours: July 6 – September 8, 2019, 9:00 – 19:00 (final entry at 18:00)
*Monday to Saturday between July 8 – September 7, the pool will be open until 22:00
Fee: Adults 20,000 yen / Hotel guests 2,000 yen
Luxury spaces requires a separate fee.
*Saturdays, Sundays, and national holidays cost 25,000 yen per adult
Satsuki Shave Ice – Made with Exquisite Ingredients
We hope you try the Satsuki Kakigori (1,800 – 2,000 yen before tax and service charge), delicious Japanese shave ice offered at KATO'S DINING & BAR. Try it before or after playing in the pool. It is available for a limited time until September 30, 2019.
Picture courtesy of Hotel New Otani
Five flavors are available: matcha (powdered green tea), wasanbon (a type of sugar produced in Japan), melon, strawberry, and, the newest flavor, blancmange (a French gelatin dessert).
This shaved ice has a fluffy cotton candy-like texture, made with natural ice frozen not with a freezer, but with cold from nature, and its syrups made with handpicked ingredients.
A lavish amount of Japanese ingredients are used for the syrup and toppings, like fruit pulp, jelly, shiratama (rice flour dumplings), and yokan (a jelly-like dessert). As you eat this shaved ice dessert, you'll be surprised at how many ingredients are inside.
Any flavor and topping combination will be sure to satisfy your sweet tooth and cool you down from the summer heat.
KATO'S DINING & BAR
Location: Hotel New Otani on the garden court lobby floor
Business Hours: 11:30 – 22:00 (Tea time from 14:00 – 17:00 with last orders at 16:30)
*Shave ice is available during tea time from 14:00 – 17:00.
Enjoy the Pool at a Value
By joining the New Otani Club (NOC), a membership with Hotel New Otani, you can enjoy using the garden pool and save money.
You can receive benefits such as priority reservations for accommodations and discount services at restaurants. Admission into the garden is free by becoming a member and staying at the hotel.
Overseas travelers can immediately join the club just by presenting your name and card. This system appears to be structured so that more people know about New Otani abroad.
For details, please check the their official website.
Access to Hotel New Otani
Hotel New Otani Tokyo is located three minutes by foot from Tokyo Metro Akasaka-mitsuke Station. Go out Exit D (Kioicho Entrance), cross the bridge on the left, and New Otani will be immediately straight ahead.
There are also signs that will lead you to New Otani in Akasaka-mitsuke Station.
The hotel's convenient location makes it easy to go to major stations in Tokyo. Shinjuku Station, Shibuya Station, and Tokyo Station are all fifteen minutes away.
Make sure to stop by the hotel to make the best out of Tokyo in the summer.
Official Hotel New Otani Tokyo Pool Website: https://www.newotani.co.jp/en/group/pools/tokyo/
In cooperation with Hotel New Otani

The information presented in this article is based on the time it was written. Note that there may be changes in the merchandise, services, and prices that have occurred after this article was published. Please contact the facility or facilities in this article directly before visiting.