HOTEL TAVINOS Hamamatsucho - A Budget-Friendly, Pop Art Inspired Hotel
HOTEL TAVINOS Hamamatsucho - A Budget-Friendly, Pop Art Inspired Hotel
HOTEL TAVINOS is a budget-friendly, pop art comic-inspired hotel located in Hamamatsucho, Tokyo. The unique design of the rooms and the excellent services make this place a one-of-a-kind and fun place to stay.
Japan is home to many unique hotels. If you like a certain type of movie, manga or another type of art, you will probably find a place to stay that has a matching theme.
In this article, we introduce HOTEL TAVINOS Hamamatsucho, a place that combines the energetic and unique style of pop art comics with the affordable services of a backpacker-style hotel.
HOTEL TAVINOS Hamamatsucho - Step Into a Colorful Comic World
HOTEL TAVINOS recently opened in Hamamatsucho(Tokyo Bay area), Tokyo. Pictures of its unique style have already made it famous even before opening.
Simple things included in everyone's traveling routine such as taking the airplane and rolling your suitcase through the corridor is replicated on walls, carpets, tables, and even the ceiling in colorful comics.
Even for someone living in Japan, it is rather unusual to see this comic style with Japanese writing. These designs will surely put a smile on your face when wandering through the hotel.
The name TAVINOS comes from the Japanese "tabi no su", or "travel nest". The hotel's creators say they want you to have a comfortable nest (su in Japanese) during your travel (tabi in Japanese).
Breakfast Inspired Rooms
If you reserve a room online on the Japanese website, it is possible to select your room number. Each room will have either of these three breakfast inspired designs.
The rooms are on the smaller side but has enough space for two people and come with a small shower and toilet unit, a television and foldable tables and chairs. The luggage can comfortably be stored under the bed to save space.
As for interior design, even the power sockets have comic strips on them.
1. The Egg Room
The egg room gained most attention at the hotel pre-viewing. The blinds show an egg with a hand holding before it gets cracked on the blanket.
The pan on the rug gets the egg breakfast ready.
Every room offers this kind of three-part comic strip image tying together the three main items in the room. Even when the blinds are up, the lower two comics will still make sense together.
2. The Coffee Room
You can almost feel the smell of coffee when you enter the coffee room. An old school coffee grinder grinds the beans on the blinds.
The coffee then slowly drips into the cup ending up in a freshly made, steaming cup of coffee on the rug. A perfect room for every coffee lover.
3. The Bread Room
The bread room pays omage to everyones favorite carb. There is nothing better than a fresh slice of bread, toasted to perfection and served with butter, jam or cheese.
Self-Service to Keep Costs Low
Picture courtesy of HOTEL TAVINOS
HOTEL TAVINOS has staff to assist guests but it is mostly self-service including the highest technology to make it as budget-friendly and smooth as possible. The check-in and check-out counter is located on the second floor where guests can check-in by simply scanning the QR code they receive after booking their room online.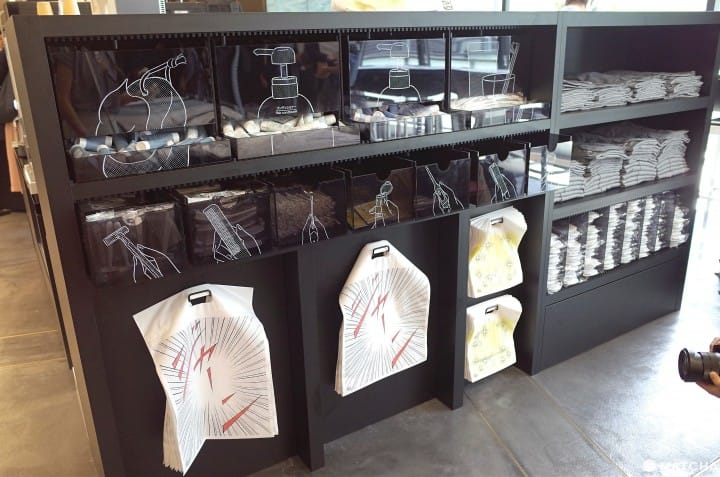 Bodycare items and pajamas are free. They are also self-service items. You find them right in front of the check-in area.
There are even comic designed bags to put your items in and take them to your room with. These bags also make nice keepsakes from your stay.
The "TAVINOSHIORI" The " is an AI (Artificial Intelligence) concierge which provides an overview of the area including real-time trains circling in the map. It is touch and voice activated and can operate in Japanese, English or Chinese. It will help you to find restaurants and sightseeing spots in the hotel area.
You can help yourself to free coffee, tea, and water as well as small bread snacks in the morning in the lounge. There is even a small toaster to heat up the bread.
You are welcome to relax and work in the lobby-lounge. There are power outlets alongside the windows as well.
Make sure to enjoy the terrace on days with good weather. From here you can even see Tokyo Skytree in the distance.
Keep your Luggage at the Hotel after Check-Out
Guests ca keep their luggage at the hotel before checking in or even after checking out.
Again, everything is automatic. You will need an IC card to activate the chains and lockers. Just touch your card on the scanner to select a free locker or chain. To retrieve your language you use the same IC card.
There are small lockers for valuables like jewelry, phones or even money. They require a self-given code besides the IC card to make them extra secure.
Don't worry, even though this area requires an IC card for verification, no money will be charged to your card. This service is free.
Enjoy a Fun and Budget-Friendly Stay at HOTEL TAVINOS Hamamatsucho
HOTEL TAVINOS is a unique hotel that is not only photogenic and fun but also budget-friendly. Even though it is a hotel, it has the atmosphere of a hostel as well.
You can decide for yourself if you want privacy in your room or if you prefer joining other guests in the lobby and exchange some stories or tips about traveling in Japan.
If you prefer a busier area of Tokyo to stay in, from May 2020, TAVINOS will open a second location in Asakusa as well.

In cooperation with Hotel TAVINOS
The information presented in this article is based on the time it was written. Note that there may be changes in the merchandise, services, and prices that have occurred after this article was published. Please contact the facility or facilities in this article directly before visiting.