STAR ISLAND Japan - Experience A New Dimension Of Firework Shows
STAR ISLAND is a new style of firework show held in Tokyo. It merges breathtaking performances and light shows with perfectly timed fireworks. Other than most summer festivals, the atmosphere is surprisingly relaxing and reminiscent of a music festival.
Hanabi, or Japanese fireworks, are a quintessential way to celebrate summer in Japan. Fireworks have a long tradition in Japan dating back over 300 years.
Classic firework displays are loved all over the country but government funding is limited and the scale and number of the firework festivals are reduced every year. This also leads to the fact that the few free firework festivals that are still left get even more crowded than before.
If you don't want to drown in the regular firework festival crowds, you might want to consider a hanabi event with an enrance fee to be able to enjoy a great view as well as a fun and relaxed evening. STAR ISLAND 2019 in Toyosu is such an event.
What Is STAR ISLAND?
Picture courtesy of STAR ISLAND
STAR ISLAND is a firework event created by one of Japan's leading entertainment companies, Avex Entertainment Inc.. The event honors the traditional firework displays, elevating them to another level with breathtaking performances.
In 2019, the event was held for the first time in Toyosu, offering the beautiful backdrop of the famous Rainbow Bridge. Ten different areas provide you with a different viewing experience depending on your choice while DJs and food and drink booths set the festival tone.
Picture courtesy of STAR ISLAND Singapore 2018. 
2019 has been the third year in a row for STAR ISLAND to be held in Japan. STAR ISLAND even organizes the STAR ISLAND SINGAPORE COUNTDOWN EDITION outside Japan.
STAR ISLAND - A Surprisingly Relaxing Experience
STAR ISLAND 2019 was completely sold out but since the tickets are sold depending on the area and everyone had a guaranteed seat, people weren't rushing. Everyone was calmly strolling, checking out the food and drink stalls or already enjoying their seats.
Some of the seats do come with food and drinks, so many people didn't even have to get in line at the stalls.
At some events, you get the feeling that the tickets have been oversold and it is very crowded. STAR ISLAND is not like that. Everyone can move at their own pace, take photos at any place of the venue without holding off any people and just enjoy themselves.
Picture courtesy of STAR ISLAND
If you are aware of the usual pushing and pulling just to find a seat at a normal hanabi event, you will surely be positively surprised at how calm the hanabi experience at STAR ISLAND is.
An Unusual Hanabi Atmosphere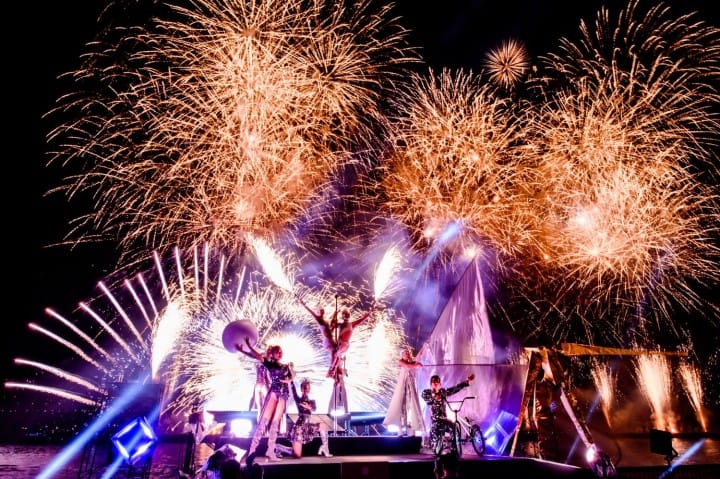 Picture courtesy of STAR ISLAND
The atmosphere of STAR ISLAND is probably best described as something between a firework festival and a music event. The stalls and booths all are reminiscent of a music event while the seat set-up is completely focused on the hanabi.
Picture courtesy of STAR ISLAND
There are dining areas, picnic areas, barbeque areas, benches and even an area that is reminiscent of an outdoor club. The dress code is also not fixed. People were eearing anything from casual to yukata or even fancier summer festival clothes.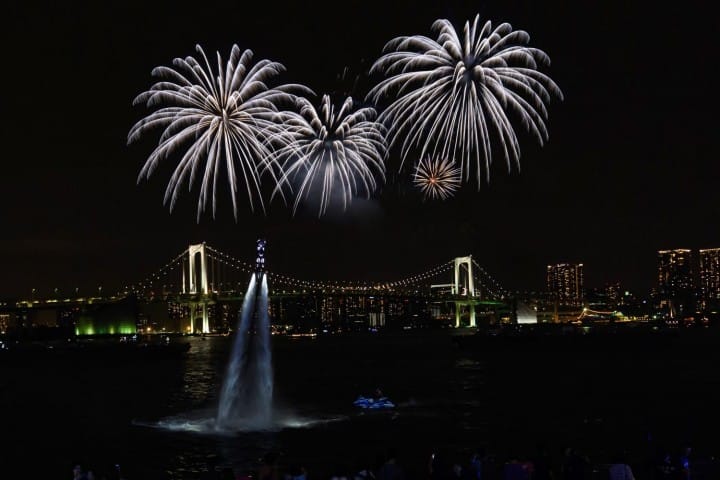 Picture courtesy of STAR ISLAND
Some of the stages for the performances are floating on water, which is a quite unusual setting. The whole show mainly takes part on water, including the fireworks and the performances. Water and fire performers, as well as acrobats and dancers enchant the audience with their skill.
STAR ISLAND - The Firework Show
Picture courtesy of STAR ISLAND
The main event of STAR ISLAND is the firework show. Dancers, acrobats, fire and water performer tie in with the breathtaking firework display. If you sometimes get bored during regular firework displays, rest assured that this won't happen here.
It is hard to concentrate on all of the things the show has to offer so your eyes will constantly wander so you'll be watching several parts of the show at the same time. However, if you only come here for the fireworks, feel free to only concentrate on them.
Odaiba has another official hanabi event as well but it is truly difficult to get such an amazing view of the Rainbow Bridge surrounded by fireworks with the sparkling city in the background. It's a truly picture-perfect sight.
Not only is the overall view beautiful, but the firework display is also perfectly timed and utterly impressive. It doesn't have only one climax but several.
A Firework Festival that's Different from Anything Else
Picture courtesy of STAR ISLAND
STAR ISLAND offers a great firework show alongside the high-quality entertainment that avex is known for. The Rainbow Bridge backdrop is stunning and the atmosphere is surprising relaxing.
If you want to avoid the typical crowds and stress of a Japanese hanabi event, why not consider going to STAR ISLAND instead?
Check out their official website for more information: http://www.star-island.jp/
In cooperation with STAR ISLAND

The information presented in this article is based on the time it was written. Note that there may be changes in the merchandise, services, and prices that have occurred after this article was published. Please contact the facility or facilities in this article directly before visiting.