3 Hotels For Sightseeing In Kyushu's Historic Mojiko Port Area
Kitakyushu's Mojiko, or Moji Port area, is a major port with international history in southern Japan. Drawing 2 million visitors annually, this travel attraction includes the restored Mojiko Station. Today, we'll feature three hotels convenient for sightseeing in Mojiko and nearby.
Mojiko - Travel to a Retro Port in Kitakyushu
Kitakyushu's Mojiko (Moji Port) is an area that flourished as an international trading center in the early 20th century and is selected as one of Japan's top three seaports (others include Kobe and Yokohama).
A large number of the elegant and refined buildings that were constructed in Mojiko during the Meiji Period (1868-1912) to the Taisho Period (1912-1926) still remain today.
Under the slogan "Mojiko Retro," the local streetscapes have become one of Kyushu's top sightseeing destinations—annually visited by 2 million people.
Historical Mojiko Station Restoration Resembles Building from 100 Years Ago!
Among the historical buildings, the JR Mojiko Station, which was recently restored to its original Taisho period glory, has been getting a lot of attention.
It was designated as a National Important Cultural Property in 1988—a first for a railway station building in Japan. As a result, it has become a vital sightseeing spot that's garnered popularity as part of the area's focus on "Mojiko Retro."
The restoration efforts began in 2012. This was a large project that involved laying down natural slate tiles onto the roof, applying mortar plastering with a stone pitching style to the structure's exterior, and removing eaves that had been previously installed on the front of the building.
It finally reopened to the public for the first time in six and a half years in March 2019.
Comfortable Hotels Ideal for Mojiko Sightseeing
In addition to admiring the local architecture, you can enjoy sightseeing in a myriad of ways while using the Mojiko area as your transportation base.
We recommend taking a ferry that connects Kyushu with Honshu, the main island, and then traveling to Shimonoseki's Karato area to enjoy the delicious seafood.
Also, if you board a bus in front of JR Mojiko Station, it's only 20 minutes to Shiranoe Botanical Garden where the fall foliage reaches its peak in November and December.
In today's article, we've selected three hotels that are convenient for enjoying Mojiko's many attractive sightseeing options.
This accommodation lineup is suitable for both solo travelers and large groups. Pick the lodging that best fits your travel plan.
ARK BLUE Hostel: Reasonably Priced and Comfortable
Picture courtesy of ARK BLUE Hostel
For budget-conscious travelers who want to enjoy the Mojiko (Moji Port) area, we highly recommend the ARK BLUE Hostel.
The closest station is JR Kokura Station, three stops away from JR Mojiko Station. It's a 15-minute walk from Kokura Station to the hotel, but it conveniently allows for sightseeing in both the Mojiko and Kokura areas.
The hostel offers both coed and women-only dormitory accommodations starting at 2,500 yen per night, with semi-double size bunk beds. The drop-down blinds—that open and close easily—offer privacy for each bed.
With a full range of services, including a cafe and a large public bath on the first floor, guests can stay here in total comfort.
Click down below for details on ARK BLUE Hostel!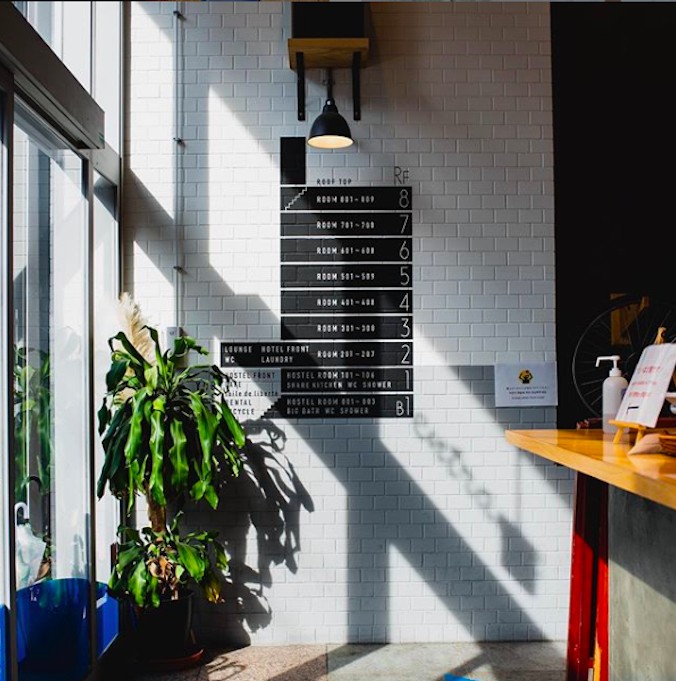 Picture courtesy of ARK BLUE Hostel
FUKUOKA MOJIKO STAY: Apartment-Like Hotel for Groups of up to 8 People
Picture courtesy of FUKUOKA MOJIKO STAY
FUKUOKA MOJIKO STAY is a three-story apartment hotel that's five minutes on foot from JR Mojiko Station.
This facility only offers accommodation, so meals are not included. This allows the rooms to be reasonably priced.
The size and interior of each room are unique. There are rooms painted in a crisp and refreshing blue color scheme to spacious ones that accommodate groups of up to eight people, including up to two children.
All eight rooms come equipped with a simple kitchen and microwave oven. For your convenience, there's also a supermarket and drugstore within walking distance from the hotel.
If you stay here, it'll feel just like you're living in Mojiko—making a one-night stay seem too short.
At the hotel's front counter, a tablet provides translation services in multiple languages.
Click down below for details on FUKUOKA MOJIKO STAY!
Picture courtesy of FUKUOKA MOJIKO STAY
Premier Hotel Mojiko: A Shimonoseki-Bound Ferry Just 2 Minutes Away!
Photo by Pixta
Premier Hotel Mojiko has a symbolic presence in Mojiko. Featuring an eye-catching red brick exterior, it was designed by the late Italian architect Aldo Rossi.
Though the hotel's design is undeniably attractive, more importantly, its convenient location allows for a variety of sightseeing.
It's just two minutes on foot from JR Mojiko Station. Since the hotel is surrounded by many of Mojiko's sightseeing spots, you can quickly return back to your room for a rest break.
Also, it's only two minutes to the boat terminal where you can board a ferry to Shimonoseki. How about going a little further to the Karato Market where you can savor some fresh seafood delicacies?
At Mojiko Port, board a ferry, and a short five minutes later, you'll have arrived in Shimonoseki!
Click down below for details on Premier Hotel Mojiko!
Photo by Pixta


Main image by Pixta

The information presented in this article is based on the time it was written. Note that there may be changes in the merchandise, services, and prices that have occurred after this article was published. Please contact the facility or facilities in this article directly before visiting.