Okinawa Road Trip: Enjoy Senagajima, Beachside Cafes, And Local Soba
Okinawa, consisting of Japan's southernmost islands, is famous for its beautiful beach resorts and is visited by 7 million domestic travelers annually. It's also known as the "Hawaii of Japan." Head on a road trip in southern Okinawa to stunningly scenic sightseeing spots.
Okinawa: An Island Oasis for the Body and Mind
From exciting marine activities to cafes with scenic ocean views, Okinawa has many attractive spots ideal for travel.
Okinawa's main island is divided into the north, south, and central regions—all blessed with an abundance of nature. There are many places to enjoy relaxation and the great outdoors here. It's no wonder that many Japanese call the resort region an oasis for the heart.
You'll want to take your time looking at the sights at this breathtaking place. But if you only have a day or two to spend, we recommend traveling by car.
From Naha Airport, the southern region (Nanjo, Itoman, and Tomigusuku City) is the closest. In addition to the blue ocean and sky, you can enjoy delicious Okinawa cuisine!
Let's head out for a one-day road trip around the southern region of Okinawa's main island.
9:00 - Nanjo City (Cape Chinen Park)
Cape Chinen Park is on Cape Chinen, which juts out from the southern part of Okinawa's main island. Within the park you'll find a walking trail and a gazebo with a red tile roof.
This spot offers magnificent views and is located at the tip of the park, just 10 minutes on foot from the parking lot. When you look down below, there's a stunning view of the horizon where the Pacific Ocean and the sky meet.
Cape Chinen Park is also famous for its beautiful sunrise. Venture out to see this spectacular morning sight if you can. Entry to the park is free of charge.
10:30 - Nanjo City (Sefa-Utaki)
Photo by Pixta
After enjoying the ocean breeze at Cape Chinen Park, let's head to Sefa-Utaki, a World Cultural Heritage Site.
Legend has it that this place was built by goddess Amamikyu, who created the Ryukyu Kingdom (*1). During the Ryukyu reign, this sacred place was where many of the country's religious rituals and ceremonies were held.
*1 Ryukyu Kingdom: an independent kingdom that ruled most of the Okinawa islands for 450 years from 1429 to 1879.
Photo by Pixta
There are a several slopes and rocky trails inside the Sefa-Utaki. We recommend wearing a good pair of walking shoes. Admission is 300 yen for adults and 150 yen for junior high school students and younger.
12:00 - Itoman City (Makabe China)
Makabe China is an Okinawa soba restaurant that has operated for over 100 years inside a renovated private home. Well-known among locals, the eatery sits quietly in one of Itoman City's residential areas.
When you pass through the gates to the shop, the narrow road is wide enough for only one vehicle. Nearby, there are two parking lots that can accommodate up to ten cars. You won't have to worry about finding a parking spot.
The most popular menu item is the Okinawa Soba Set Meal (1,080 yen including tax) consisting of soba, a side of rice, and Japanese tsukemono pickles.
Customers have a choice between takikomi rice (rice cooked in a broth with various ingredients) or rice filled with purple-colored vegetables.
Okinawa soba is thicker than standard noodles, and has a distinctively firm texture that easily absorbs the richly-flavored soup.
Let's dig in to a bowl of authentic Okinawa soba. Enjoy the chewy texture of the noodles, the soup's full-bodied aroma and the sweetness of the pork. You'll also notice the subtle fragrance of wheat from the noodles.
14:00 - Nanjo City (Hamabe no Chaya)
The relaxing Hamabe no Chaya is a place that'll have you feeling like you're floating in the middle of the ocean. This well-established cafe offering scenic sea views has been in business for more than 20 years.
The unique feature here is the three different kinds of seating. Guests can choose from roof terrace seats, interior window seats, and beach terrace seats. Relax and enjoy the pleasant feeling of being near the ocean after picking where you sit.
The cafe owner previously worked in construction. With a friend, he not only made the interior chairs and tables, but also built the eatery's exterior.
The warmth and care put into making Hamabe no Chaya are truly impressive.
Cheesecake made with local ingredients: 440 yen including tax; with coffee 550 yen including tax.
The cheesecake here is also homemade. It uses locally-grown ingredients, including Okinawa purple potatoes and pumpkins mixed with fresh cream and cheese, before being baked to perfection. This dessert has a firm texture and the right amount of sweetness.
The black coffee is brewed with a blend of four bean varieties (Columbian, Brazilian, Mandheling, and Guatemalan). It's a popular beverage that perfectly pairs with the cheesecake.
Your coffee is brewed with freshly ground beans after you finish your dessert or meal, so you can enjoy a mellow but aromatic cup of joe.
16:00 - Tomigusuku City and Senagajima (Umikaji Terrace)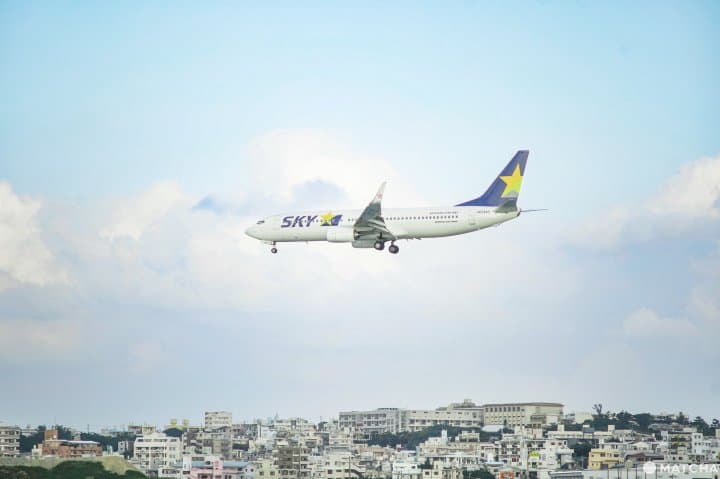 Next, let's head to Senagajima (Umikaji Terrace), considered to be the Mediterranean Sea Resort of Okinawa. It's conveniently located 15 minutes by car from Naha Airport. Built in 2015, it is a popular destination for many travelers.
This is the best place to get close-up views of the planes taking off and landing at the nearby airport.
With magnificent views in every direction, Umikaji Terrace is a bustling area with more than 40 shops and restaurants.
Whether your aim is shopping or sampling local cuisine like Okinawa soba and taco rice, you're bound to find something you're looking for.
Photo by Pixta
Senagajima Island is a famous sunset viewing spot. As the sun sets beyond a large bridge in the west, this beautiful sight at dusk will take your breath away!
We experienced such magnificent scenery for the first time here.
Go on a Road Trip to Discover Your Personal Oasis
Going for a drive in an unfamiliar place can be a bit tiring. But in Okinawa, you can enjoy unforgettable scenery while experiencing the island's laid-back atmosphere.
Find your oasis by visiting sightseeing spots in the southern part of Okinawa's main island!
The information presented in this article is based on the time it was written. Note that there may be changes in the merchandise, services, and prices that have occurred after this article was published. Please contact the facility or facilities in this article directly before visiting.