Tokyo In 2020! Tour The New Landmarks Of The City
Tokyo has undergone great changes in preparation for the Olympic Games Tokyo 2020. The city is dotted with new landmarks such as SHIBUYA SCRAMBLE SQUARE and the New National Stadium. This itinerary includes some of the best new places to visit in Tokyo in 2020 and beyond.
Amazing New Landmarks! Tokyo in 2020
Tokyo is getting ready for the 2020 Olympics! From the New National Statdium to shopping and amusement complex buildings like SHIBUYA SCRAMBLE SQUARE, many exciting facilities have recently opened in the city. Visitors to Tokyo in 2020 will enjoy completely new sights and entertainment.
This day tour itinerary includes the new landmarks that define Tokyo's urban landscape in 2020. If you want to experience the best of Tokyo, don't miss out on these spots!
9:30 - 10:10 -- Start from Tokyo Station
Tokyo Station and the underground area of the Marunouchi business district located in front of it have undergone renewal works recently. At present, there is a new pedestrian plaza right in front of the station that allows a great view of the station building and its surroundings.
Tokyo Station was first opened in 1914, designed by architect Kingo Tatsuno. The station building is one of Tokyo's representative pieces of architecture, bearing witness to the city's history for the past hundred years. If your time allows it, drop by the Tokyo Station Gallery, located within the building near the Marunouchi North Exit, to learn details about its construction and view curated art exhibitions.
10:18 - 10:44 -- Travel from Tokyo Station to Shibuya Station
Take the JR Yamanote Line to go to Shibuya Station, our next destination. While it is possible to take an underground train line, which is fast but requires changing trains, we suggest taking an above-ground train to view the city on the way. One of the stops on the JR Yamanote Line on the way to Shibuya is the newly built Takanawa Gateway Station (JY26), which opens in March 2020. The ride costs 200 yen.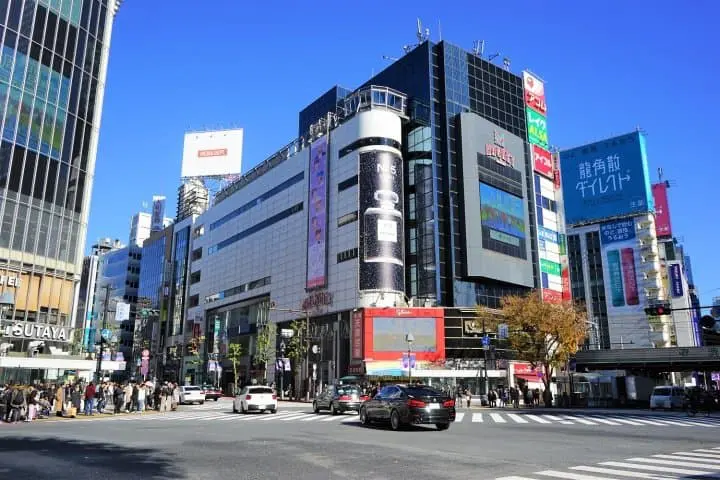 Once you reach Shibuya, take the Hachiko Exit to reach the famous Shibuya Scramble Crossing. The intersection might not look very spectacular from the ground in the first hours of the morning, but let us recommend a great viewing spot.
11:00 -11:45 -- The Rooftop of MAGNET by SHIBUYA 109
MAGNET by SHIBUYA 109 is a shopping and entertainment facility that is iconic of Shibuya's youth culture. The rooftop, called MAG's PARK, has an observatory that offers a great view of the Shibuya Scramble Crossing (entrance fee: 600 yen).
On the same floor there is the Asiato Doodle Observatory, an indoor space with a great view of the city and walls that visitors can draw on! For drawing, please use the magic markers available at the observatory.
If you wish to have a fabulous picture of yourself taken from above with the Shibuya intersection in the background, use the service called Crossing Photo (1,000 yen).
Window seats in Shibuya Parlor (MAGNET by SHIBUYA 109, 7F)
The seventh floor of MAGNET has several dining places that offer a wide variety of dishes, from hamburgers and gyoza to tapioca drinks and delicious fruit parfaits. How about stopping for a short rest and recharging with some tasty treats?
12:00 - 13:00 -- SHIBUYA SCRAMBLE SQUARE - A Breathtaking View of Tokyo!
SHIBUYA SCRAMBLE SQUARE is a 230-meter tower overlooking Shibuya Scramble Crossing. The building opened in November 2019 and was designed to embody the future of Shibuya as a dynamic, international, and ever-changing city.
SHIBUYA SKY, the rooftop observatory, offers a breathtaking 360-degree panorama of Tokyo, along with interactive exhibitions that stimulate one's curiosity and imagination.
On the northern side, you can see all the way to Shinjuku and beyond. The Yoyogi National Gymnasium and the New National Stadium stand out.
To the east lies the central part of the city with its business districts. Tokyo Tower and TOKYO SKYTREE® are visible in the distance.
The 46th floor of the facility is an indoor observatory with interactive exhibitions and a lounge space. How about resting here for a few minutes while taking in the city view? You can pick up some drinks and snacks at the lounge bar.
Before leaving SHIBUYA SKY, you might want to drop by the souvenir shop. They have a great selection of Shibuya-themed items, from T-shirts and mugs to SHIBUYA SKY original sweets and Hachiko toys. These humorous, stylish items will remind you at any time of you trip to Tokyo.
13:30 - 14:45 -- Lunch at Tokyu Plaza Shibuya
Tokyu Plaza Shibuya opened in early December 2019 as a commercial facility targetted at a mature clientele. The facility includes fashion and accessory shops, refined dining places, beauty salons, souvenir shops, and many other types of stores.
If you are looking for a good lunch spot, how about dropping by one of the excellent restaurants or cafes on the sixth and seventh floors of Tokyu Plaza Shibuya? From sushi, ramen, and yakitori, to refined regional cuisine from Osaka or Kagoshima, there is a wide variety of options available.
We especially recommend Pepper PARLOR, a cafe where visitors can experience a future where humans and robots coexist happily. Pepper, the cute robot provided by SoftBank Robotics, will take your order. Pepper will even scan your face and recommend a waffle dish based on your expression, age, and gender.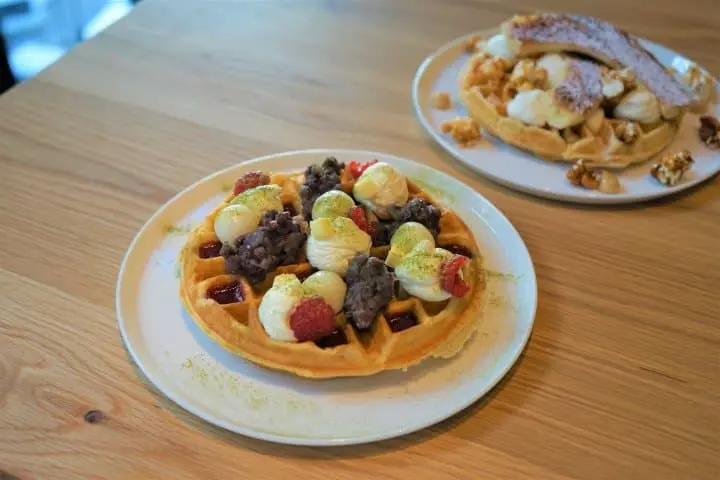 The menu at Pepper PARLOR consists of sweet, gourmet waffles. If you're really hungry, we suggest picking one of the savory gourmet options: Tasmanian salmon with cream cheese, green shrimp curry, Wagyu roast beef with crispy onions, or something else.
Pictured above is the Japanese-style waffle with rice cake balls, raspberries, and sweet bean puree-butter (1,480 yen), the dish recommended to us by the friendly Pepper. This exquisite waffle dish is an excellent dessert for anyone who needs an energy boost!
Diners can choose between five varieties of waffles. The menu includes light side dishes, various types of juice and shakes, as well as coffee, tea, and alcoholic beverages. A special menu for children is also available.
Small humanoid robots NAO are on display in the cafe. At certain times of the day, they perform a dance! A visit to Pepper PARLOR will definitely bring a smile on your face.
14:45 - 15:10 -- Walk from Shibuya to Yoyogi Park
In order to reach the following two facilities during daylight, we suggest heading to Yoyogi Park at around 14:45. Yoyogi can be accessed from Shibuya on foot on a 10 to 15-minute walk.
From Tokyu Plaza Shibuya, head toward the statue of loyal dog Hachiko, cross the Shibuya intersection and head toward Tower Records. At the first large intersection go to the left past a Disney store, then by Shibuya PARCO, and up the hill toward the NHK Hall. You'll reach Yoyogi Park before you know it.
15:10 - 15:30 -- View the Yoyogi National Gymnasium
The Yoyogi National Gymnasium, designed by architect Kenzo Tange, was constructed as a venue for the Olympic Games Tokyo 1964. You'll recognize the structure by its distinctive suspension roof. The stadium is presently used for sports events and concerts.
Yoyogi National Gymnasium will be used during the Olympic Games Tokyo 2020 as the venue for handball competitions, and during the Tokyo 2020 Paralympic Games, for badminton and wheelchair rugby matches.
If you visit Tokyo for the Olympic Games in 2020, taking a look at this icon that represents the previous Olympic Games held in Tokyo might be an interesting experience.
15:45 - 15:55 -- Head to the New National Stadium
In order to reach the New National Stadium from Yoyogi, head first to Harajuku Station, which is nearby. Take the JR Yamanote Line and change trains to the Sobu Chuo Line at Yoyogi Station. You'll reach Sendagaya Station in about 10 minutes. Get off here and follow the street signs showing the way to the New National Stadium.
16:00 - 16:50 -- Take a Glance at the New National Stadium
The New National Stadium is a large scale structure newly built to serve as the main venue for the Olympic Games Tokyo 2020. Constructions began in 2016, employing a design by architect Kengo Kuma. The building opened to the public in late December 2019.
The New National Stadium will be the venue of the opening and closing ceremonies of the Olympic and Paralympic Games Tokyo 2020, as well as for competitions in athletics and football. Even if you look at it just from the outside, this amazing structure won't fail to impress!
After 17:00 -- See Shibuya Scramble Crossing at Night
The area around the New National Stadium neighbors the vibrant districts of Aoyama and Omotesando, which have plenty of dining places and bars that are excellent as dinner spots.
If you would like to explore some more, how about viewing the Shibuya Scramble Crossing in the evening? At no other time of the day is this intersection more crowded and more impressive than in the evening hours.
From the New National Stadium, head to Gaiemmae Station and take the Tokyo Metro Ginza Line back to Shibuya. Use the Hachiko Exit and you'll have the crossing before your eyes. Visit in the evening, and you'll see with your own eyes what made this intersection popular worldwide.
See the New Face of Tokyo
Tokyo underwent great changes in preparation for the Olympic Games Tokyo 2020. Many new structures opened in the city offering sights and entertainment options that cannot be found anywhere else.

It's an exciting time to visit Tokyo and see a city that strives to always be a step ahead of the times.

To learn about other great places to visit in Tokyo in 2020, please check this website: http://www.gotokyo.org/en/index.html

Route summary
Tokyo Station → Shibuya Station → MAGNET by SHIBUYA 109 → SHIBUYA SCRAMBLE SQUARE → Lunch at Pepper PARLOR in Tokyu Plaza Shibuya → Yoyogi National Gymnasium → New National Stadium → Gaienmae Station → Shibuya Station → Shibuya Scramble Crossing

Expenses
Transportation: 510 yen
MAGNET by SHIBUYA 109 rooftop observatory: 600 yen
SHIBUYA SCRAMBLE SQUARE "SHIBUYA SKY": 2,000 yen
Lunch: around 2,500 yen

The writer visited these facilities on December 10, 2019.

Supported by Tokyo Convention&Visitors Bureau

The information presented in this article is based on the time it was written. Note that there may be changes in the merchandise, services, and prices that have occurred after this article was published. Please contact the facility or facilities in this article directly before visiting.