Ready For Japan! Vol. 7 – De-stress At Home With Japan's Radio Calisthenics
Japanese radio calisthenics may be the answer for maintaining a healthy body and attitude even during tough times. These exercises have been in Japan for more than 90 years and can be done at home and by people of all ages and physical levels. Read to learn the routines and try it for yourself.
Japanese Radio Calisthenics: An Exercise for Everyone
Those who are teleworking or those who have to stay at home may not have the time or means to work out. Prolonged periods without exercise can lead to built-up stress that can negatively affect all aspects of daily life.
Radio calisthenics, or "rajio taiso" in Japanese, is a series of exercises broadcasted nationally via radio and television. It was created more than 90 years ago to keep Japanese citizens healthy. This time-tested routine may help us all feel less stressed and keep us in-shape during uncertain times.

Rajio taiso is a series of light aerobic exercises that can be completed in about three minutes, designed so that they can be done anytime, anywhere, and by anyone. The thirteen types of movement in the routines work on all body parts. People in Japan sometimes gather at parks and plazas in the morning to participate. Even the writer of this article did these exercises as an elementary school student, during summer vacation with classmates and teachers.
If you can fully extend your arms, you have enough room to practice Japanese radio calisthenics. Done correctly, the exercises are said to relax stiff muscles and raise your basal metabolic rate.
MATCHA visited the Radio Exercise Federation office to learn about how to do these exercises properly for maximum benefits.
Read Also
Special Feature: Ready For Japan!
How to Do Japanese Radio Calisthenics Correctly
Naomi Fujimoto (left) and Toshihiko Aoyama (right)
Our teachers are Mr. Toshihiko Aoyama, the current chief director of Radio Exercise Federation, who worked as an instructor on NHK Television for 28 years, and Ms. Naomi Fujimoto, a member of the direction committee. Under the guidance of Mr. Aoyama, with Ms. Fujimoto as the model, we learned the most effective ways of exercising.
Mr. Aoyama began by moving the tables in the office, making space to move around.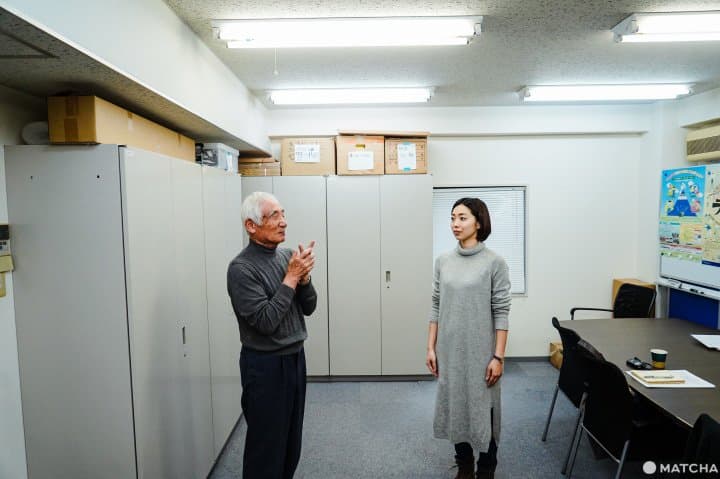 This became our lecture room. There is no need to go to a gym or a studio, and you can practice in street clothes. These exercises can be done anytime, anywhere, and by anyone.
So, let's start!
1. The Basics: Warm Up Your Back and Lower Body
The first movement is for warming up. Stand up straight, and extend your arms upward.
Most people, while using the computer, during cooking or cleaning, tend to curve their backs. This posture can be hazardous for your overall health. Mr. Aoyama says, "Your back is the framework for the body. Put your hands up, and stretch your spine."
This is an exercise to reset the spine.
After the spine, the next step is flexing your legs, with emphasis on the calves.
"About sixty to seventy percent of the muscle is located in the lower body. By activating your calves, the blood flows better, and any stiff muscles will also relax."
When bending the knees, raise your heels to put stress on the calves. Your blood flow will improve and your body will start to feel warmer.
Your Hands Matter, Too!
During the exercise, Ms. Fujimoto was keeping her hands and fingers rounded.
"I'm bending my fingers when I should be relaxed. When you stretch out your hands, you need to concentrate on making a straight line all the way to your fingertips," she explains.
Some motions need to be done with your hands and fingers outstretched, and others require a more relaxed position. While they may look alike, the resulting exercise and effects are different.
2. Breathe Freely and Move Smoothly
During the chest-opening move, the writer instinctively arched her back. Mr. Aoyama says this isn't necessary.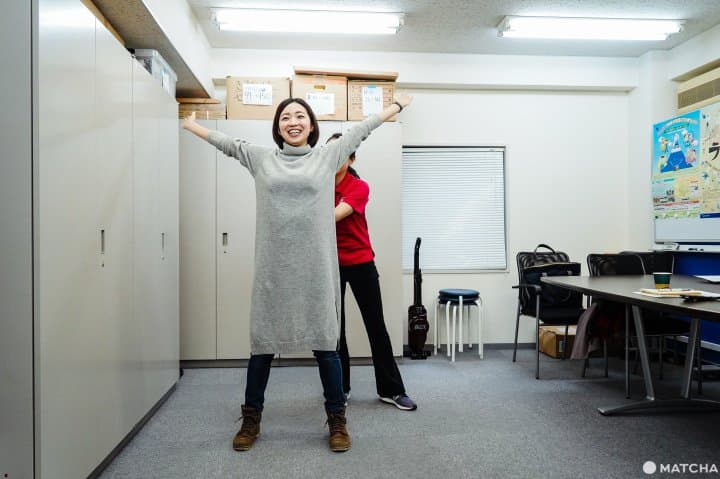 The aim is to open up your chest area. Stretch your arms diagonally above and slightly behind you, as if you are trying to rub your shoulder blades together. For those with stiff shoulders, this move may be difficult.
While going through these motions, Mr. Aoyama also advises, "Don't hold your breath. Continue to breathe deeply."
These are aerobic exercises, so breathing is important.
Next comes stretching sideways. The aim is to relax the muscles under the armpit.
"Raijo taiso is designed to develop limberness in the body, so try to keep moving," advises Mr. Aoyama. This move is repeated twice, to fully stretch the muscles.
3. Enhance Your Reflexes
This move is done in the middle of the routine. Participants will touch their shoulders, stretch their arms straight up, towards the ceiling, then return them back to the shoulders, and then point downwards. These movements are conducted quickly to strengthen the reflexes.
"The body tends to move slower as you age. This move will heighten your reflexes so that you'll be able to respond in-time if you're about to stumble," Mr. Aoyama explains.
The rhythmic moves also feel good. By standing on tiptoe when you stretch your arms upwards, you can turn this into a full-body exercise.
4. Rotate Your Body
The last move is the rotation of the upper body. Contrary to the chest-opening move mentioned above, you will need to arch your back to rotate properly. This is also a full-body exercise, and you will be able to feel your muscles flexing.
As always, don't hold your breath while you're exercising. Keep breathing steadily.
5. Breathe Deeply
After all the moves are completed, take a deep breath.
Mr. Aoyama says, "While extending and rotating your arms to draw a large circle, stay relaxed. To steady your breathing, imagine drawing in the air trapped inside the circle."
This brings us to the end of a typical rajio taiso routine.
An Interview with Mr. Aoyama
Radio Exercise, which started in 1928, was originally named National Health Exercise. It was designed to maintain the health and longevity of Japanese citizens. The version used today was made in 1951.
Mr. Aoyama became involved with the exercise in 1971, at the age of 35. He has continued working out for about fifty years.
Health Stabilizing Benefits from Radio Calisthenics
In 1959, he graduated from Nippon Sport Science University and studied at a Danish gymnastics school in 1960. Mr. Aoyama became a professor at his alma mater afterwards and was associated with physical education before becoming an instructor with Radio Exercise. At the time, he was not aware of the effect that these routines had.
Looking back, however, Mr. Aoyama thinks that there were positive health effects.
"My figure hasn't changed much since I started practicing these exercises. My weight normally fluctuates by about two kilograms. Some people say that their pants don't fit because they've put on weight. My figure is stable, making this very economical for me––I can still wear my clothes from the old days," Mr. Aoyama says with a smile.
His diet is a little unbalanced. He doesn't eat many vegetables, has a sweet tooth, and likes drinking cola. One contributing factor to Mr. Aoyama's stable health may be his dedication to these exercise routines.
The Appeals of Japan's Rajio Taiso
Although Mr. Aoyama started as a substitute for the former instructor, he has now been involved in Radio Exercise for nearly fifty years. MATCHA asked the reason behind his dedication.
"It's because these exercises can be done with your friends. When I was an instructor, the television program was only ten minutes long, but the audience participating in the exercise seemed to enjoy it. Radio calisthenics are fun and feel good."
Try Japan's Radio Calisthenics Anytime, Anywhere!
If you feel like you're lacking exercise or need a pick-me-up, try Japan's radio calisthenics. For even more fun, try with them with a nearby family member, roommate, or friend.
Photographs by Chu
In cooperation with Radio Exercise Federation

The information presented in this article is based on the time it was written. Note that there may be changes in the merchandise, services, and prices that have occurred after this article was published. Please contact the facility or facilities in this article directly before visiting.