Tokyo Day & Night - The City That Never Sleeps
Tokyo is overflowing with people. However, there is a time frame when the bustling streets are nearly empty. Is there any difference between the city scenery at day and at night? A MATCHA editor went to investigate.
Is There an Empty Street in Tokyo?
Areas in Tokyo like Asakusa, Ueno, Shinjuku, and Shibuya are usually filled with pedestrians. Most people imagine the crowded sidewalks and streets, bustling with travelers and locals.
This article is about the empty streets in Tokyo. Although those who dislike crowds would prefer to avoid the jam-packed areas mentioned above, there are perhaps quiet spots somewhere, in the early in the morning or late at night.
Join us on an expedition of Tokyo from day to night.
Asakusa: The Red Lantern of Sensoji Temple
Asakusa is a major sightseeing spot. Some people will say you haven't visited Tokyo until you've been here.
Asakusa is famous for its gigantic red lantern hanging in front of Sensoji Temple's Kaminarimon ("Thunder Gate"). This is a staple sightseeing spot you can't miss.
Those hoping to take a photograph without tourists will have to try at nighttime if you have difficulty visiting in the morning.
There are not only one, but three big lanterns at the end of Nakamise-dori Street. The photograph above shows the Hozomon Gate with the five-story pagoda to the left.
Denboin-dori Street intersects with Nakamise-dori Street. With a row of restaurants, it is always bustling with tourists in the daytime. After sunset, the signs light up and add a unique atmosphere to the retro townscape.
Yakatabune are pleasure boats docked along the Sumida River. At nighttime, these festive boats become filled with passengers as they head for a party on the river.
Ueno: An Expansive Park in the Middle of the City
Ueno is packed with all kinds of stores, museums, and hotels. As various trains run through the area, many travelers choose Ueno to stay at for sightseeing and exploring in the city.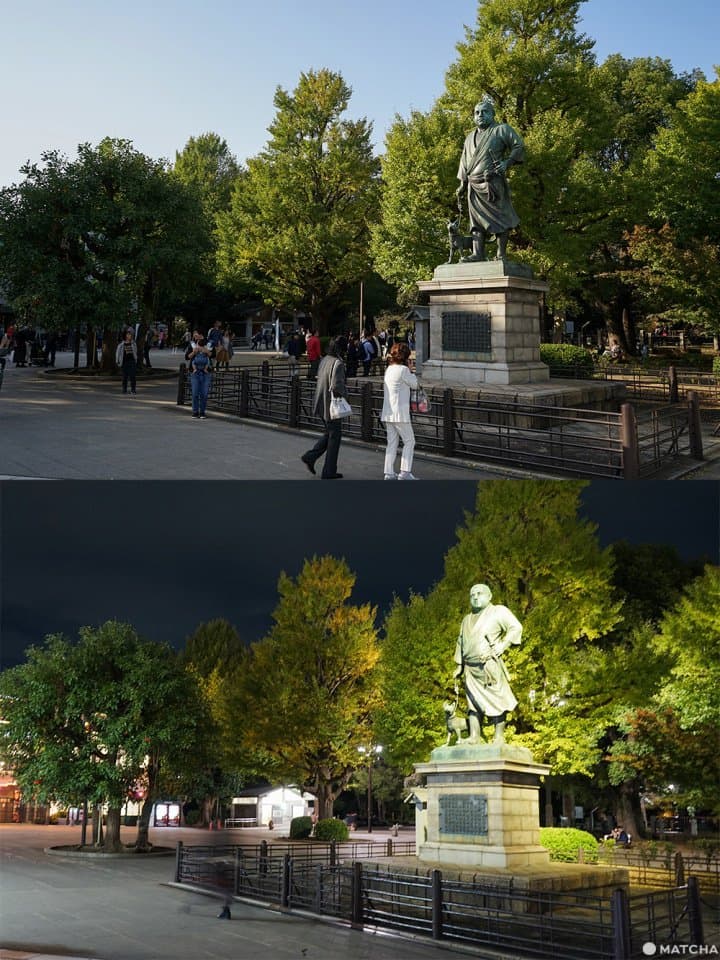 Ueno Park is a popular spot to view the cherry blossoms. The striking statue of Saigo Takamori, who played a pivotal role in the Meiji Restoration, is lit up at night—making it appear more solemn.
Open-air stalls are lined up along the approach to Shinobazu-no-ike Bentendo. In contrast to the streets omitting tempting aromas in the daytime, it becomes quiet at night.
Similarly, the always-bustling JR Ueno Station sees a decrease in the number of passengers at night.
Visitors to Ueno should also drop by Ameya Yokocho, or "Ameyoko." At night, the shutters are all drawn, and the streets are silent without vendors calling out to passers-by.
Shimbashi: Where the Office Workers Roam
Shimbashi is a famous business district where you will likely encounter tipsy white-collar workers.
One of the central business districts in Tokyo, Shimbashi is usually where TV reporters interview office employees who are walking by Shimbashi Station. This is another area where pedestrians become far and few in between during the late hours.
Visitors might also see slightly drunk office workers rushing to the station before the last train departs.
Odaiba: A New, Futuristic Town
Odaiba boasts an area of shopping malls, theme parks, technology, and a Gundam statue.
The Rainbow Bridge, which shines brightly against the backdrop of buildings, used to be the symbol of Odaiba. A nighttime cruise is also a popular activity in this area.
Since 2012, a full-scale statue of Gundam placed in front of DiverCity Tokyo has become the symbol of this area. A large number of fans surround the statue all day.
Shinjuku: Shopping and Entertainment
Shinjuku has large department stores near Shinjuku stations, a terminal for express buses heading to various cities, a multi-story Kinokuniya bookstore, and a neon-filled entertainment district.
The head of Godzilla can be seen peeking out from between the buildings. There's also a Don Quijote store nearby (this writer always ends up buying something when visiting the area).
In the daytime, the view of Kabukicho simply consists of a row of restaurants. At night, however, the neon signs are turned on, revealing the entertainment district's true nature.
Shinjuku's Golden Gai, a small area teeming with bars, is located next to Kabukicho. It is filled with the sound of laughter spilling out from the eateries.
Shibuya: A Town for the Young Generation
Shibuya is an area where the latest trends and young people are. You will also find the iconic Hachiko statue and other famous Tokyo attractions here.
At Shibuya's scramble crossing, it's said that the number of pedestrians crossing the street during a green light—lasting for about two minutes—can reach up to 3,000.
The statue of Hachiko, a legendary canine known for his loyalty, is an ideal meeting spot. Unfortunately, it's always crowded, and you may have difficulties finding your friend.
In this case, if you make an appointment to meet at 7:00 in the morning, you'll encounter no difficulties.
The Empty Streets of Tokyo
With so many pedestrians in Tokyo, the existence of an empty street may seem farfetched. On the other hand, some might think that these bustling streets become deserted in the early mornings. However, a drunk office worker who missed the last train may be asleep nearby, so watch your step!
The information presented in this article is based on the time it was written. Note that there may be changes in the merchandise, services, and prices that have occurred after this article was published. Please contact the facility or facilities in this article directly before visiting.