Soba Noodles And Japanese Fruit! Order Nagano's Best Foods With Miyagetto
Tasting local food is one of the perks of traveling. This article features tasty snacks from Nagano Prefecture that can be ordered online to be delivered to your door, from soba to fruit jams. Start planning your next trip to Nagano while sampling local cuisine, in the cozy confines of your home!
Nagano: A Treasure Trove of Gourmet Food to Take Home
Picture from Kamikochi Guide – Scenic Spots, Hiking Routes, Lodgings, And Travel Tips
Due to the coronavirus pandemic, 2020 has been a year of travel restrictions. If you love to be on the move, you may already be making plans when places open up and resume business.
To recuperate from work or self-quarantine, we recommend a trip of delicious food to a region abundant with nature. Surrounded by the Japanese Alps, Nagano Prefecture has sprawling natural landscapes and delicious local cuisine that can be enjoyed year-round.
Today, we introduce three great products from local brands which can be delivered to your home. For those still unable to travel or choosing to stay at home, we also feature an online delivery service for sending gifts: Miyagetto (Japanese).
Table of Contents
1. Enjoy Seasonal Fruit Jelly Year-Round from Shinshu Kawanakajimadaira Factory
Picture courtesy of Shinshu Kawanakajimadaira Factory
From apples to grapes, Nagano is famous for its delectable fruit. Long hours of sunlight, harsh differences between day and night temperatures, and spring water from the Japanese Alps are all ideal conditions for growing fruit.
However, the prime fruit-tasting season for each produce is surprisingly brief. Additionally, those living in cities or other prefectures in Japan find it difficult to get their hands on fresh Nagano fruit.
Jellies With Real Chunks of Fruit
Picture courtesy of Shinshu Kawanakajimadaira Factory
The Shinshu Kawanakajimadaira Factory in Kawanakajima, Nagano creates local seasonal fruit jellies made with Kawanakajima peaches, apples, and European pears. We asked executive Mr. Miyazaki why he decided to produce these fruit jellies.
"Fruit is the tastiest when its been ripened on the tree. In addition to being sweet, the fruit will have a strong fragrance and superb texture. Unfortunately, not everyone is able to taste fruit at its prime, so we created the jellies to capture their fresh flavor."
Picture courtesy of Shinshu Kawanakajimadaira Factory
Grocery stores select fruit with similar shapes and colors to sell. Mr. Miyazaki was displeased that perfectly good fruit were discarded in the selection process. Fortunately, Mr. Miyazaki's jellies can work around this issue because the fruit are sliced.
Fruit Jellies Made to Perfection
Picture courtesy of Shinshu Kawanakajimadaira Factory
Fruit-based products are typically made by combining unripe produce with syrup. To achieve the taste of real fruit, Mr. Miyazaki's jellies are made with minimal additives.
"While we do use sugar, it is solely as a preservative and not as a sweetener. During the process, we are also careful not to damage the original texture of the freshly picked fruit."
We can attest to Mr. Miyazaki's words. The Kawanakajima peaches retain their firmness, and the skin on the Shine Muscat grapes add extra texture to the fruity dessert.
Picture courtesy of Shinshu Kawanakajimadaira Factory
"After freshly harvesting our fruit, we immediately process and bottle them in jars for about two months. This is how we infuse natural flavor, fragrance, and pigment in our jellies."
The popular Nagano Purple jelly can be enjoyed either on its own or added to salad dressings and condiments when cooking.
Mr. Miyazaki's fruit jellies are packed with the passion of local farmers who hope customers can taste fruit at their peak.
Shinshu Kawanakajimadaira Factory: http://npo-skdf.com/en/index.html
2. Top-Notch Soba Noddles from Kirishina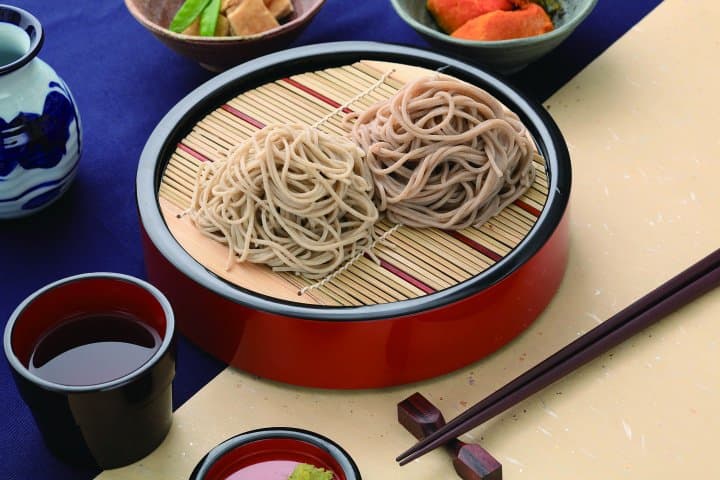 Picture courtesy of Kirishina, Inc.
Shinshu soba is a staple of Nagano cuisine. These traditional buckwheat noodles are made in many regions throughout the prefecture. Our next company in one such location known as the Kaida Highlands.
Picture courtesy of Kirishina, Inc.
The buckwheat field at Kaida Highlands is 1,200 meters above sea level. The area is breathtaking with a majestic view of Mt. Ontake.
The Kaida Highlands is also home to the Kiso horse, an indigenous horse breed of Japan. The mountains are a popular destination for hikers and mountaineers, too.
Authentic Soba Made in the Kaida Highlands
Picture courtesy of Kirishina, Inc.
In 1992, Kirishina opened its soba factory in the Kaida Highlands. The company president at the time hoped to make high-quality soba noodles where buckwheat is grown in the Shinshu region. After surveying various locations, the company decided to start its business on the Kaida Highlands.
We asked Mr. Horita, the current operations manager, about the conditions for making delicious soba.
"When the temperature difference between day and night is significant, the buckwheat grains become sweeter and more fragrant. The temperature at the Kaida Highlands can be as low as minus 20 degrees during the winter. Meanwhile, temperatures in the summer remain cool, which makes the area ideal for soba production."
Picture courtesy of Kirishina, Inc.
Mr. Horita then explained the importance of the water used for making soba.
"Water flowing from Mt. Ontake to the Kaida Highlands has a hardness of less than 10 mg/l, which is low even among soft water. In other words, the water is naturally soft with little mineral content. In fact, soft water effectively brings out the natural flavors of soba."
The buckwheat field was small when the Kirishina factory was founded. But, over the years, the farmland has grown in line with the company's prosperity.
"I want people to become interested in the Kaida Highlands when they taste our soba. We will continue working with local farmers and the tourism bureau to highlight the beauty of this region!"
The Art of Handmade Noodles
Picture courtesy of Kirishina, Inc.
The characteristic of Kirishina soba lies in their noodle-making technique. Their original "midare-zukuri" method creates dried soba noodles with twists and unevenness—replicating the texture of handmade noodles.
"For visitors, we recommend trying out our half-dried noodles," Mr. Horita suggested. Since the buckwheat grains are sterilized before being processed, you can enjoy preservative-free noodles at Kirishina.
"Adding preservatives can diminish the soba's flavor and fragrance. Our noodles retain their original buckwheat aroma and will surprise you when you open the bag! Please enjoy our flavorful, firm noodles."
Mr. Horita advises cooking the noodles in plenty of boiling water. Once boiled, rinse them under cold running water before dipping the noodles in ice water. Following these steps will ensure the best texture!
When visiting the Kaida Highlands factory, you can usually go on a tour, taste-test the soba, and take some of the spring water from Mt. Ontake (*). Once domestic and international travel resumes, we recommend heading here for a visit.
Kirishina: http://www.kirishina.co.jp (Japanese)
*Due to the coronavirus pandemic, the factory tour and taste test is currently suspended. Check the official website for information on when these services will resume.

3. Jams, Preserves, and More from Japan's Top Apricot Producers, Kobo Aprico
Apricot trees in full bloom (Picture courtesy of Shinshu Chikuma Tourism Bureau)
Chikuma City in Nagano Prefecture is one of Japan's leading apricot-producing regions. Mori District, in particular, has a large number of apricot farms and is regarded as the country's top apricot producer. The apricot trees, planted along gentle slopes, are abloom with pastel pink flowers in spring.
Recently, many locals have sold their farms due to an aging population and lack of successors. As a result, the city is beginning to look different from the past.
Women Working to Revive Their Hometown
Picture courtesy of Kobo Aprico
Wanting to revitalize their hometown, a group of women has taken up this initiative. Their company, Kobo Aprico, makes preserved, dried, and jarred products using locally harvested apricots.
Led by Ms. Kondo, the six hardworking women operating the business are over the age of 70!
When she founded Kobo Aprico in 2016, Ms. Kondo had no experience manufacturing or selling food products.
"We faced a lot of struggles in the beginning. But thanks to the assistance of local farms and businesses, we successfully created our products. We hope to help revive our hometown by delivering apricots to people across the country," she explained with a smile.
Recipes Full of Love and Wisdom
Picture courtesy of ©Shinshu Chikuma Tourism Bureau
Apricot season lasts only two weeks starting in late June. As such, the region has traditionally preserved apricots in syrups and jams.
The syrup preserves, dried fruits, and jams sold by Kobo Aprico are based on family recipes of the team.
A variety of different apricots are used, including the Heiwamaru, Shinzanmaru, and Shinshu Omi. Each apricot has its own characteristics that are ideal for certain recipes. For example, the Heiwamaru balances sweetness and tartness, making it perfect for jams.
Picture courtesy of Kobo Aprico
"We use minimal sugar and no added preservatives to bring out the natural flavor of our apricots," explains Ms. Kondo. In fact, the syrup-preserved apricots are made on the day of harvest. Not only do the apricots taste fresh, but the syrup is full of flavor from the fruit juices.
"You can use the syrup on shaved ice or mix it with alcohol," suggested Ms. Kondo.
The dried apricots are made on a unique machine that concentrates the fruit's natural flavor. The plump dried apricots have recently gained popularity and are a customer favorite.
The products sold by Kobo Aprico are filled with the love and wisdom of these talented women!
Kobo Aprico: https://sinshu-aprico.com (Japanese)
4. Miyagetto: Online Delivery Service for Gourmet Gifts
Picture courtesy of Gift Pad
If you're interested in learning more or trying the featured products above, check out the online gift delivery service Miyagetto (Japanese).
Miyagetto is an online catalog in which you can purchase various products from its site. The online catalogs are sold at different price points from 500 to 5,000 yen at 1,000 yen increments. Each booklet comes with a curated selection of products.
When you purchase a Miyagetto catalog, you are not required to register the recipient's address. You can send gifts to family and friends as long as you are connected via email or social networks!
Since products can be selected from the catalog, you don't need to stress about finding the perfect gift or stuffing souvenirs in your luggage. You can use Miyagetto for special occasions and celebrations, too.
Miyagetto Nagano: https://giftpad.jp/lp/miyaget_nagano (Japanese)
Send Travel Souvenirs on Your Smartphone
Photo by Pixta

Since the coronavirus struck, our everyday life has changed considerably, leaving many unable to see friends and loved ones in person. Despite these challenging times, you can still send gifts to those near and dear through an online catalog.

In addition to Nagano Prefecture, Wakayama, Aichi, and Hyogo are working with Miyagetto to deliver local cuisine and crafts to customers. Even if you cannot physically visit regional farms and businesses, you can still support them through this service!

Take advantage of this e-catalog to get a taste of travel while self-quarantined in the comfort of your home.

Main image courtesy of Shinshu Kawanakajimadaira Factory

The information presented in this article is based on the time it was written. Note that there may be changes in the merchandise, services, and prices that have occurred after this article was published. Please contact the facility or facilities in this article directly before visiting.