Save on Transportation! Let's Walk/Bike from Ueno to Asakusa
We'll introduce how to get from Ueno to Asakusa without the aid of trains or buses. A good way to reduct your piling travel expenses!
① First Head Towards the JR Ueno Station Central Ticket Gate
Let's get over to the JR Ueno Central Ticket Gate!
Those who came to Ueno over on the Keisei Line from Keisei Ueno Station, Tokyo Metro Ginza Line Ueno Station, or Tokyo Metro Hibiya Line Ueno Station, head towards the easy-to-locate JR Ueno Station Central Ticket Gate.
After that, use the signs inside the station to guide you wayward of Asakusa, and towards the Asakusa Exit.
You'll find this road, heading to Asakusa, once you leave the Central Ticket Gates and turn right.
This road is narrow and a little difficult to navigate, so just keep in mind to go by the side of the KIOSK and then keep going straight.
② Once Out of the Station, Advance Forward!
Once you exit the station you'll have the scenery pictured above laid out before you. Cross the pedestrian walkway pictured on the left. ※The pedestrian walkway leading to the building with the numerous billboards.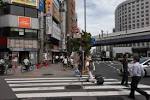 This is an enlarged picture of that pedestrian crosswalk. Once you've crossed the crosswalk, then keep going straight.
After a little while, you'll come across a large intersection. Just cross that intersection. The large above-head bridge here will serve as a landmark.
Once you've gotten across the crosswalk, you'll see a passage like the one pictured above. Careful, as this passage has two sides to it: one for pedestrians, and one for people on bicycles.
After a going down the road a bit, there will then be a lane dedicated for bicycles, so for those of you on bicycles, please get onto this lane.
Pictured above inside the red square, is the sign indicating the bicycle-only lane. When cycling inside the city, please use these signs as your guide.
Getting along a bit further down, you can see Shitaya Shrine to your right hand side. If you have some time on your hands, it might not be a bad idea to stop by.
In downtown Tokyo, there are Shrines with Buddhist Temples right next to them that have a long, distinguished history. Walking or traveling by bicycle you can find many new spots that you would have otherwise missed taking the subway underground.
If you keep going a little further, you'll end up coming across Tokyo Metro Ginza Line Inaricho Station. Asakusa is two stations away from this this station on the subway. It's just a little further until we get to our goal.
After a couple of minutes you can see Tokyo Metro Ginza Line Tawaramachi Station. You've come this far... Asakusa is so close.
Just keep going straight, and then you'll be able to see Edo dori. It's a really large intersection, so you should be able to identify it quickly. If you're walking, it should have taken around 25 minutes to get this far.
Please make a left turn at this intersection. It should take you approximately 3 more minutes walking to reach the Kaminarimon Gate after turning left.
If You Have the Time and Energy, We Recommend You Walk/Bike Here!
So how's that for ya? It takes approximately 5 minutes to get from Ueno to Asakusa using the Tokyo Metro Ginza Line.
Walking or on bicycle though, you can enjoy getting a view of the town and locals, as well as the act of moving about also. We definitely recommend this for those of you with time and stamina on hand.

The information presented in this article is based on the time it was written. Note that there may be changes in the merchandise, services, and prices that have occurred after this article was published. Please contact the facility or facilities in this article directly before visiting.