Nostalgic Japan: Asakusa's Underground Shopping Center
When you think of Asakusa, such places as Kaminarimon and Sensoji Temple come to mind. However, there is a whole new world of wonder underground, if you can find the right entranceway!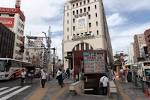 When you think of Asakusa, magnificent and crowded places such as Kaminarimon and Sensoji Temple immediately come to mind.
On a good day, Kaminarimon and Sensoji Temple shine scarlet amid the throngs of people. You can take beautiful pictures and experience some of Japan's temple and shrine culture.
In contrast to the acclaim of these famous tourist attractions, however, there is a place that the sunlight doesn't touch at all and has hardly any tourists. That doesn't stop it from being a little-known but interesting spot that many find fascinating though.
That place is Asakusa's Underground Shopping Center.
A Place that Even Few Japanese People Know of
Asakusa's Underground Shopping Center is inconspicuous and unnoticeable at first glance. There are many ways to enter, but they are all rather difficult to figure out, making it hard to locate.
One entrance that stands out, however, is conveniently found in front of the EKIMISE shopping building (Tobu Railway Asakusa Station) that leads to Asakusa's underground. First-time visitors should use this stairway.
When you reach the bottom of the stairs, you'll gradually start to see it. You won't exactly be overwhelmed by a crowd of people, but still take care not to lose your footing on the stairs.
The first thing that will jump out at you is the number of people standing in the same direction you're headed in.
Here, you'll find a cheap but delicious, famous stand-and-eat soba restaurant.
This shop is called Monju. It has high ratings on famous Japanese gourmet sites and is very popular with business people and students, men especially.
Since it's crowded around lunchtime, we recommend visiting outside of those hours.
At the Bottom of the Stairs
If you turn left at the stand-and-eat soba restaurant, you'll find Asakusa's Underground Shopping Center.
Stores, both open and closed, are mixed together in the dim lighting.
There are a few restaurants here that have been open for many years, which we will now introduce.
This is Fuku-chan, a restaurant well-known for its yakisoba and curry. One of their most popular menu items is actually a mixture of the two, yakisoba with curry sauce. Why not give it a try?
This is Tanbo, an izakaya where you can enjoy cheap but delicious food and drinks. Its retro atmosphere will make sure you feel like you've jumped back into 1960's Japan.
This is Kamezushi, a sushi restaurant beloved by those who live and work in Asakusa. It's famous for its affordable and tasty sushi.
This is Montee, a restaurant where you can eat super spicy Thai food. It's surprisingly well-known among Thai restaurants in Tokyo, despite its location in Asakusa's underground.
Little-Known Coin Lockers
Besides restaurants, there are also coin lockers that are sure to delight travelers.
Just like they're advertised ("Cheaper Than Asakusa Station's Coin Lockers"), they're priced at a super-low 200 yen.
Lastly
Other than what's listed here, Asakusa's Underground Shopping Center also offers haircuts for under 1000 yen, has many fortune tellers, and plenty of other interesting shops where you can find unique items.
After visiting the standard tourist attractions like Sensoji Temple and Kaminarimon, why not try browsing Asakusa's Underground Shopping Center?

The information presented in this article is based on the time it was written. Note that there may be changes in the merchandise, services, and prices that have occurred after this article was published. Please contact the facility or facilities in this article directly before visiting.