Family-Friendly Parks In Tokyo! Top 7 Parks With Attractions And Nature
There are public parks perfect for families with attractions like slides, mini trains, and canoeing in Tokyo. Other spots may give you a taste of the seasonal nature or even have a zoo on-site! Read on to learn about the top seven parks in this bustling metropolis.
Unique Attractions! Family-Friendly Parks in Tokyo
When you walk around Tokyo, you'll run across several parks with attractions that will bring a sparkle to your child's eyes.
For residents in Japan, these public parks bring enormous joy to their neighborhoods. For international visitors, these sites will make your sightseeing in Tokyo even more memorable. In this article, we'll introduce our top seven recommended parks in Tokyo.
1. Shimizuzaka Park (Kita Ward)
Shimizuzaka Park is a 15-minute walk from either JR Akabane Station or Higashi-Jujo Station. It is a popular spot known for its 52-meter-long roller slide. The park is surrounded by gorgeous trees, and it's exhilarating to go down the slide with the breeze in your face!
There's also a 150-meter artificial river made to mimic a mountain stream. It's the perfect playground for children during the sweltering summer. If you're looking for some quiet time, we also recommend the Nature Experience Information Center, which holds exhibits on nature in the area.
Akabane Ichiban-gai Shopping District is located near JR Akabane Station. It'd be a great idea to buy food here for a picnic in the park. However, don't forget to take your trash back with you!
2. Inokashira Park (Kichijoji Area)
Inokashira Park is five minutes on foot from Kichijoji Station along the JR or Keio Inokashira Line. The immensely popular Ghibli Museum, Mitaka is located nearby, too.
Inokashira Park opened in 1917 as the first suburban park in Japan. The cherry blossoms in spring and the autumn foliage in fall are incredibly beautiful sights. The sight of children running around this beautiful scenery almost seems like a painting.
The swan boats are also popular attractions with families and couples.
Inokashira Park Zoo—a blend between a zoo and an aquatic life park—can be found inside. At the zoo, you'll be able to see free-roaming squirrels, fish, and amphibians.
Along the way from Kichijoji Station to Inokashira Park, you'll find a fantastic row of restaurants and cafes lining the road. Be sure to give these spots a try as well!
3. Setagaya Park (Setagaya Ward)
Photo by Pixta
Setagaya Park is an 18 minute walk from Sangenjaya Station along the Setagaya Line or Tokyu Den'entoshi Line.
Along the park's sprawling 78,957 square meters of land, you'll find a tennis court and skate park. The cherry blossoms appear in spring, while the ginkgo trees color the park a golden yellow hue in autumn. This gorgeous park will show visitors the shifting beauty of the seasons.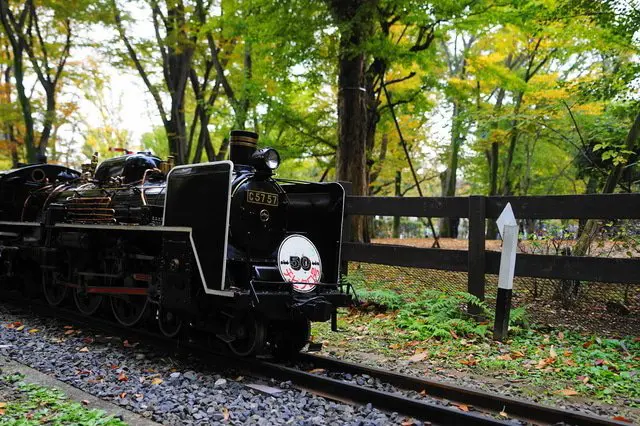 Photo by Pixta
Another feature of Setagaya Park is the mini steam locomotive (SL) train. It takes the train three minutes to circle around its scenic course.
The mini SL runs once every 15 minutes and operates from 10:00 to 16:00 from March through November, and 10:00 to 15:00 from December through February. The train is free for kids under elementary school age, 50 yen for elementary school students, and 100 yen for junior high school students and older. This kid-favorite attraction is a crowd-pleaser due to its reasonable price.
There's also a playground in the park with the motto "play freely at your own risk." This is the perfect philosophy for free-spirited kids!


4. Jonanjima Seaside Park (Ota Ward)
Photo by Pixta
From JR Omori Station, take the Keikyu Bus Mori 32 (Jonanjima Loop Line), then exit at Jonanjima-Yonchome bus stop and walk for three minutes. Jonanjima Seaside Park is a popular spot for aviation enthusiasts.
Since the park is located near Haneda Airport, passenger planes can be seen taking off and landing from Tsubasa Beach in the same area. You might even hear people breaking out into cheers when an aircraft is spotted.
From the beach, you can sometimes see cargo ships coming and going from Tokyo Bay.
Photo by Pixta
Seashell hunting on the beach is a popular activity among children. However, please note that swimming is prohibited.
While there are foot showers available, you won't find any shower stalls along the beach. If you plan to play near the ocean, it's handy to bring along a tent so that your family can change and rest inside.
Several restaurants are located near the park. If you're hungry, give them a try!
5. Tatekawa River Bed Park (Kameido, Koto Ward)
Did you know that there's a place where you can go canoeing under the bridges in Tokyo?
Tatekawa River Bed Park is just a ten-minute walk from the North Exit of JR Kameido Station. There, canoe paddling can be enjoyed on weekends and national holidays from May to October. From late July to mid-August, visitors can go canoeing every day. The fee is 300 yen for 30 minutes for both elementary and junior high school students. High school students and older pay 600 yen for 30 minutes (excluding the approx. 15-minute lecture time).
Appointments are made on-site without a reservation. It's a very popular activity, so be sure to visit early if you want to go canoeing.
There's even an water obstacle course in the park. Since it's located under an elevated bridge, recreational activities can be enjoyed in the cool shade.
6. Showa Kinen Park (Tachikawa City)
From Tokyo Station, take the JR Chuo Line's Ome Special Rapid for 45 minutes. Walk two minutes from Nishi-Tachikawa Station and you'll arrive at Showa Kinen Park (Showa Memorial Park). It is the largest park in the metropolitan area.
Showa Kinen Park is famous for its ginkgo trees, which form a golden yellow tunnel in autumn. However, it's also home to a Japanese-style garden and flower fields that bloom year-round. In other words, the park is filled with natural beauty in all four seasons!
One spot we'd like to recommend for families is the Children's Forest.
The Sea of Clouds (Fuwa Fuwa Dome) play area has a gigantic trampoline that will bring joy to your child! Other kid-friendly attractions include the largest hammock in Japan, Stone Valley to spark their adventurous spirit, and the Forest Fortress, their secret hideout in the woods.
Additionally, there are several restaurants in the park. The road-train service operating inside the park is designed as if it came from Toyland. Feel free to travel on these trains if you feel tired.
7. Ome Railway Park (Ome City)
Ome Railway Park is accessible via 15 minute walk from JR Ome Station. Here, several historic railroad cars are exhibited in the park, including steam locomotives from the Meiji and Taisho periods. There's also an electric locomotive constructed in the early Showa Era and the 0 Series Shinkansen—the world's first high-speed rail system. Visitors can enter all of these retro rail cars.
Antique exhibits aren't the only unique attractions in this park. There are several adorable trains that children can have fun riding on-site.
The most popular train among kids is the mini SL Benkei. Depart on this a small steam locomotive while ringing its iconic bell!
Moreover, train models, dioramas, and railway-related exhibit panels are displayed in the park's railway museum.
Ride Go-Karts at a Kid-Friendly Park
Pictured above is Imai Children Traffic Park. The park has since closed in March 2019 and their go-karts were relocated to Tobukotsu Park.
There are plenty more unique parks in Tokyo, such as Tobukotsu Park where kids can ride pedal-operated go-karts. Although it's difficult to go on outings due to COVID-19, let's utilize the parks to enjoy Tokyo's outdoor activities!
Main image courtesy of pixta