A Former Hakata Resident's Picks! Nighttime Yatai-Hopping In Fukuoka
This service includes sponsored advertisements.
If you love nightlife, then Fukuoka is the destination for you! Fukuoka's famous open-air food stalls (yatai) can be mainly found in three areas: Tenjin, Nakasu, and Nagahama. A three-year resident of Fukuoka, our writer will share how to enjoy roadside delights in Fukuoka.
A Tasty Night Out! Fukuoka Food Stalls
For three years, I worked near Hakata Station in Fukuoka. Whenever my friends came to visit from overseas, I planned a night out at the three largest yatai (food stall) districts. At these stalls, you will get a taste of roadside cuisine and lively atmosphere! It's a unique way to explore the nightlight in Japan.
Before introducing the yatai-hopping plan, I will briefly explain the history of food stalls in Fukuoka.
Food Stalls Supporting the Lives of Fukuoka Residents
The yatai districts in Fukuoka are said to date back to the end of WWII in 1945. The first food stalls opened on street corners to feed the impoverished residents. In the coming years, they relocated to larger districts, reaching their peak around 1965. Over 400 stalls operated during their heyday.
However, as Japan rapidly urbanized, many food stalls were forced to close due to new sanitation and traffic laws. In 2013, a law was passed by Fukuoka City to preserve the yatai districts. This helped resolve the issues surrounding food stalls.
According to the city of Fukuoka, 102 food stalls are operating as of July 1, 2020. Most of these stalls are concentrated in the areas of Nakasu, Tenjin, and Nagahama.
With that, let's go over my one-night plan to explore all three yatai districts!
18:00 - Depart From Hakata Station
The food stalls are usually open from 18:00 to 3:00 the following morning. For specific hours on each stall, check the Fukuoka City Guide YOKA NAVI.
A good place to meet is the plaza in front of Hakata Station. The yatai district in Nakasu is 20 minutes away on foot.
18:20 - Arrive at Nakasu District: A Popular Spot Among Tourists
The street stalls lining the Nakasu district stretch along the banks of the Naka River. Among the three food stall districts, Nakasu has the best view.
The View Near the Kirishima Billboard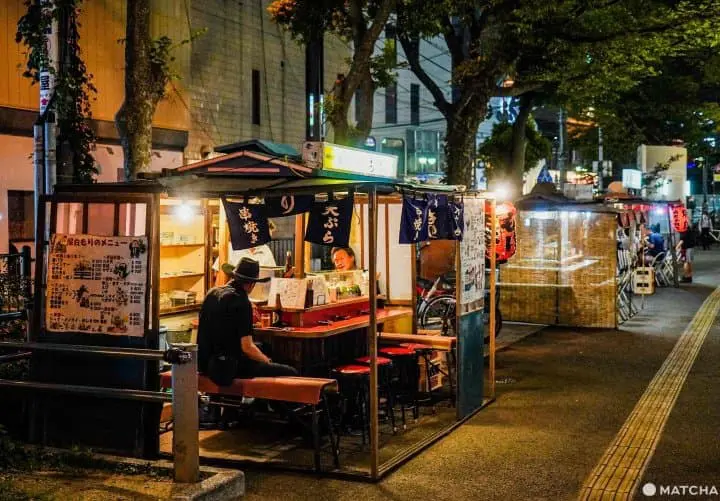 If you stop by one of the food stalls near the giant Kirishima brewery billboard, you can enjoy a panoramic view of the neon-lit Fukuoka cityscape.
Visit Popular Stalls by Canal City Hakata
Another popular area in Nakasu is the Canal City Hakata shopping mall. Attracting many visitors, it is one of the most famous yatai areas in Fukuoka.
Recommended Food Stall: Kojima Shoten
Within the Nakasu yatai district, my personal recommendation is Kojima Shoten. The owner of the stall, who is only in his 30s, makes delicious food and loves serving his customers. His signature menu includes oden (*1), charcoal-grilled food, and mentaiko (*2) dishes.
The mentai omelet (700 yen before tax) is an eye-catching dish and a customer favorite. The mentaiko has the right amount of saltiness, and the egg is extremely fluffy and soft.
I also recommend trying the stewed chicken liver (600 yen before tax). Grilled and then stewed, the meat has a charred fragrance, which is complemented by the sweet and savory sauce. It's a great side dish to enjoy with a drink!
After savoring the food at Nakasu, it is time to walk 10 to 15 minutes over to the Tenjin district.
*1 Oden: A traditional stewed dish with vegetables, egg, and various fishcakes.
*2 Mentaiko: Spicy cod roe.

20:00 - Arrive at Tenjin District: Bustling With Local Office Workers
Compared to Nakasu, the Tenjin district has fewer tourists, but is bustling with local office workers. Food stalls can be found dotted around the Bank of Japan, Fukuoka Station, Watanabe-dori Street, and Oyafuko-dori Street.
The following are some of Tenjin's unique yatai areas.
Yatai Bar Near the Bank of Japan
Located near the Bank of Japan, Yatai Bar Ebichan will immediately catch your eye. This food stall recreates the atmosphere of an outdoor bar. Sip some cocktails with an order of cheese appetizers.
Cute Food Stall Near Watanabe-dori Street
You can find an extremely popular food stall near Watanabe-dori Street. Run by a French chef, Remisanchi is a cute stall serving tasty French cuisine.
A Famous Stall Near Oyafuko-dori Street
Oyafuko-dori is popular for its bubbling nightlife. Here you will come across Kokinchan, one of the most famous food stalls in Fukuoka. The yaki ramen (fried ramen) is a delectable dish, originally served to the yatai staff!
Recommended Food Stall: Telas & Mico
Among the many food stalls in Tenjin, I personally recommend Telas & Mico.
This stylish food stall serves Western-style dishes. The menu features ingredients sourced from the neighboring city of Itoshima, such as ratatouille bruschetta (350 yen before tax) and Itoshima pork sausage (1,000 yen before tax).
What sets this stall apart is its pour-over coffee (500 yen before tax). The beans are from a famous local coffee chain: Manu Coffee. The slight bitterness and fragrance of the pour-over brew are a great match with the food.
You may feel full after eating at two yatai districts. If that's the case, this is the perfect time to explore the nightlife of Oyafuko-dori Street. The walk from Watanabe-dori to Oyafuko-dori takes about 15 minutes.
22:00 - Explore the Nightlife in Oyafuko-dori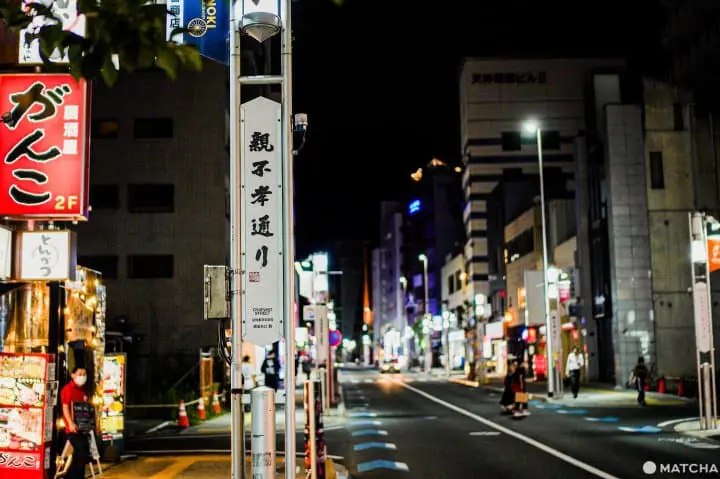 Oyafuko-dori Street is northwest of Tenjin. Once home to two large prep schools, the area was frequented by many gap-year students who were waiting to enter university. In part because og these students, it came to be called Oyafuko-dori (Rebelious Child Street).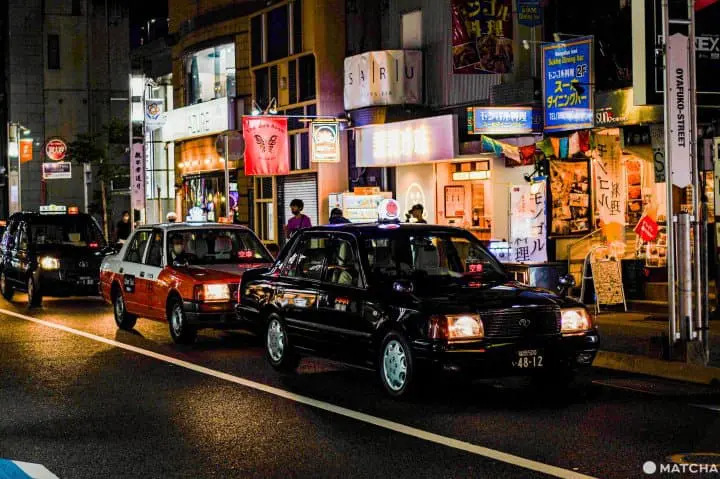 With a number of clubs and sports bars, Oyafuko-dori Street is popular among the younger generation for its nightlife. During Halloween, you will come across groups in costumes taking pictures.
After dancing at one of the clubs, you will head to tonight's final district: Nagahama. It is about a 15-minute walk away.
23:00 - Nagahama Yatai: Where Ramen Lovers Go to Eat
The Nagahama yatai district is near a fish market on Nagahama-dori Avenue. Sadly, the 15 food stalls that were here in 2013 have dwindled down to just four.
Nagahama is famous for its extra thin ramen noodles. They make this area special for noodle soup aficionados!
Recommended Food Stall: Wakadaisho
The owner of Wakadaisho is like a living history book on the Nagahama yatai district. Aside from being knowledgeable on Nagahama ramen, he knows a lot about yatai history in general. Thanks to the nearby fish market, the food stall serves seafood, too.
For the last dish of the night, I recommend the tonkotsu (pork bone broth) Nagahama ramen (500 yen before tax). The rich broth complements the extra thin noodles, satisfying your palate without being too heavy. You will be surprised by how quickly you finish your bowl—even with a full stomach!
Enjoy a Night Out in Fukuoka
I've heard many tourists lament having nothing fun to do in Japan after 21:00. If you feel this way, I highly recommend trying this yatai-hopping plan in Fukuoka. You'll be sure to have a fun, food-filled night!

Written by

Editor for MATCHA's Taiwanese website. I come from Changhua, Taiwan. Before coming to Japan, I worked as a tour guide and as a coordinator for press coverages at a television company and a magazine from Japan. I've just reached middle age. Besides, I like to go to izakayas and streets lined with bars that are popular with middle-aged men, so I call myself "uncle MATCHA."

The information presented in this article is based on the time it was written. Note that there may be changes in the merchandise, services, and prices that have occurred after this article was published. Please contact the facility or facilities in this article directly before visiting. Some of our articles contain affiliate links. We kindly ask our readers to exercise careful judgement when making a purchase or booking a service online.