Tasty Treats From Japan To You! All About Japan Crate Subscription Boxes
Japan Crate is a subscription box service that delivers candy, snacks, and goodies straight from Japan to your doorstep. With international shipping, Japan Crate is a great option for those with a sweet tooth and curiosity for Japanese treats. Read to sneak a peek at a box and learn more!
Japan Crate: Get Candy and Snacks to Your Doorstep!
Salt & Litchi Pepsi and Pakila cookies: a couple of the items that come in a Japan Crate
Craving sweets, snacks, and something fun from Japan? The subscription box service is a great way to satisfy your desires for treats. Japan Crate ships internationally to most countries, making it possible to connect with Japanese culture and trends wherever you are.
Continue reading below to learn more about the Japan Crate subscription service, and what types of snacks and surprises are in each carefully-prepared box.
How to Subscribe and Get a Japan Crate
A Premium Japan Crate (September 2020)
Japan Crate offers a selection of different subscription boxes filled with goodies from Japan, available on a pre-paid monthly delivery system, or for one-time purchases. Shipping fees are included in the price of the box. The box content changes every month, containing limited edition, seasonal, and trending items, making every delivery exciting.
The Japan Crate, a popular choice of many subscribers, (featured in this article) comes in mini, regular, and premium versions with varying candy selections and different price points. For those looking for non-candy options, you can try the Doki Doki Crate with Sanrio items and other cute surprises, and the Gacha Gacha Crate, with gachapon figurines and prizes. See the official website to view the subscription box options.
Each box ships globally to most countries, including, but not limited to, the United States, the Philippines, Singapore, and Japan. Please see their shipping page to confirm if Japan Crate can be delivered to your country of residence.
The boxes get shipped out in groups depending on when you place your order; it generally takes a week or more to receive your box after shipping. Express delivery is available, too.*
*It may take up to two to four weeks to receive your box. Please be aware that there may be delays due to COVID-19; if you have any questions about shipping and delivery times, send an email to customer support at info@japancrate.com.
Limited Edition Snacks and Pokemon Treats: A Peek inside a Premium Japan Crate
One of the most popular boxes on the Japan Crate website is the Premium Japan Crate, which has 18 to 20 items, and is priced at $35 USD. It has the most variety of the candy-containing boxes and is filled with well-known Japanese food brands.
The premium Japan Crate featured above is from September 2020 and came with 20 items. All of the goodies are from directly Japan and available at supermarkets, convenience stores, and retailers in Tokyo and other parts of the country. Each box comes with a pamphlet explaining each of the treats and extra info on current Japanese events, culture, and language.
Below are some of the treats tasted tested by MATCHA employees.
Taste Testing Japan Crate
Marina, one of MATCHA's employees, was eager to try some of the snacks inside! She is holding Kororo Hinokami Cola gummies (left) and Mint Cream Oreos (right) and gave some of the treats a taste test.
The Mint Cream Oreos, a flavor available only in Japan, have a powerful minty aroma at first, but a gentler flavor when you take a bite. Marina commented that the filling is not overly sweet, so the rich chocolate cookies stand out. She said she would consider buying them in-store after trying them from Japan Crate.
The package of the Kororo gummies featured Tanjiro from "Demon Slayer: Kimetsu no Yaiba." They are soft and chewy with a satisfying, prominent cola taste.
For candy, Marina also tried Nikukyu Ramune––Ramune soda-flavored candies in cat and dog paw shapes. The candies are adorable and provide the right amount of sweetness for a burst of energy in the afternoon.
For those craving something salty, two potato chip snacks came in this crate. Another MATCHA employee, Kanittha, tried the Pokemon Pepper Karamucho (above), filled with tiny, stick-shaped crispy potato chips. The special Pokemon edition is flavored strongly with pepper, giving it a satisfying kick that Kanittha liked.
This crate also came with limited-edition Evangelion potato chips flavored with three types of salts. They are light, crispy, and contain just the right amount of flavor. The cool packaging will delight any fan of the "Neon Genesis Evangelion" anime series.
The box also has dagashi-like sweets: candies that are often enjoyed by children (and the young at heart) in Japan. Many are bite-sized, providing the right amount of sweetness and a pick-me-up when needed. This box had Ramune-flavored candies, a sour candy strip, jellies, and gummies.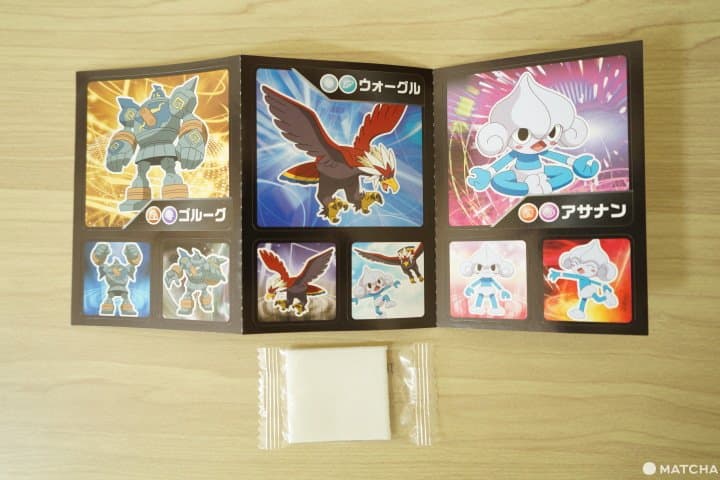 The flavorful Ramune gum came with a sheet of Pokemon stickers inside, great for anyone into the series.
Several other treats not listed above were inside the Japan Crate, including a bottle of Salt & Litchi flavored Pepsi, and other tasty treats and candy. Indulge in the candy and treats at your leisure––for anything that you don't think you'll eat quickly, refrigerate it, or keep it out of direct sunlight to preserve its flavor best.
Experience Japanese Culture and Satisfy your Sweet Tooth!
Japan Crate offers a delicious and fun way to enjoy Japan from afar by delivering the lastest candies, snacks, and drinks to subscribers. Boxes every month are prepared with an assortment of tasty treats that can only be found in Japan, making it easy to stay up-to-date even if you're overseas.

You can see more on Japan Crate on the official website. Japan Crate also has an online store, Sugoi Mart, stocking Japanese candies, snacks, and other items (international shipping available).

MATCHA readers who subscribe for their first Premium Crate through this article receive a $3 discount on their purchase!

Happy snacking!

The information presented in this article is based on the time it was written. Note that there may be changes in the merchandise, services, and prices that have occurred after this article was published. Please contact the facility or facilities in this article directly before visiting.