5 Tokyo Cafes With Traditional Japanese Sweets - Try Matcha And Wagashi!
Traditional Japanese sweets are something you will want to experience during a trip. From matcha to sweet red beans, you can satisfy your sweet tooth at cafes with wagashi in Tokyo. Find out five places where you can sit down and enjoy dessert!
Delightful Japanese Sweets at Five Cafes in Tokyo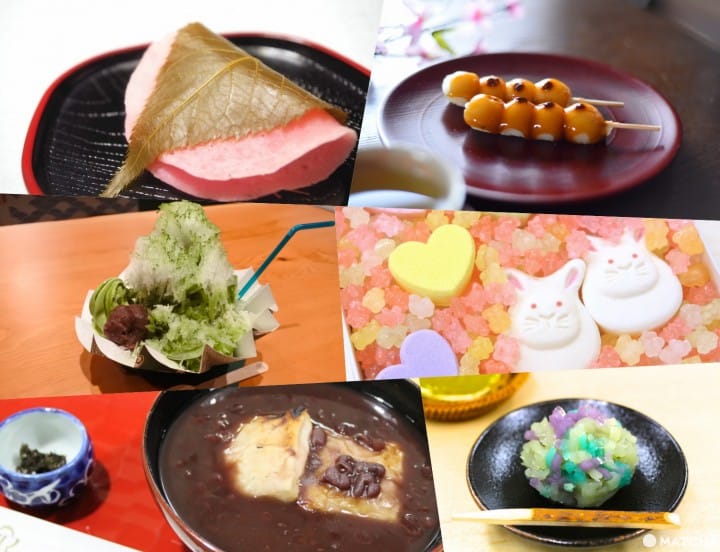 Japanese desserts and wagashi have been recorded in Japanese history as early as the 1200s. Enjoyed not only during special events like tea ceremonies but also every day, you will likely have opportunities to try these treats wherever you go in Japan.
This article showcases five Tokyo cafes where you can sit down and indulge in traditional sweets with matcha (green tea), mochi (pounded rice cake), and other special Japanese ingredients. With a large variety and emphasis on seasonal flavors, you are sure to find something to your liking.
1. Umezono, Asakusa: Savor 160 Years of Tradition
Picture from UMEZONO, Asakusa - A Delicious Treat Awaits You!
Umezono in the popular sightseeing area of Asakusa is a sweets shop that opened in 1854 during the Edo period. A sweets break here will reveal the store's long tradition of confectionery with the menu and the distinct Japanese interior.
Picture from UMEZONO, Asakusa - A Delicious Treat Awaits You!
Inside the cafe area, try the matcha anmitsu, which is a classic, beautifully-arranged dessert with mochi (glutinous rice cakes), anko (red bean paste), matcha ice cream, fruit, and jelly. You can savor different flavors and textures with this dish: the creaminess and subtle green tea flavor balance out the sweetness of the other ingredients well.
Another recommendation is the shop's specialty, awazenzai, which is a bowl of sweet red bean soup with fluffy mochi. Before leaving, be sure to look at some of the sweets you can take home as souvenirs!
Stop in and unwind with some delicious treats when you are in the Ueno, Asakusa, or Tokyo Skytree area. This unique, history-filled cafe is a must-visit.
Umezono
Address: Tokyo, Taito, Asakusa, 1-31-12
Google Map
Access: about 4-5 minutes on foot from Asakusa Station (Tokyo Metro Ginza Line, Toei Subway Asakusa Line, Tobu Skytree Line)
2. Chakura, Asakusa: Cool Off with Shave Ice and Matcha Ice Cream
Picture from 5 Cool Treats To Enjoy In Asakusa!
Look no further than Chakura when you are craving something refreshing and sweet. Also conveniently located near major sightseeing spots in Asakusa, this is an ideal cafe to visit on a warm spring or summer day. There is a cozy space inside the store where you can enjoy your order.
Picture from 5 Cool Treats To Enjoy In Asakusa!
You can find high-quality soft serve ice cream and kakigori, or shave ice. In addition to matcha shave ice, you can find other fruity flavors and unusual ones, too, like tomato. This shop has an excellent reputation for its store-made condensed milk (a typical topping for kakigori). There are also other adorable treats and drinks that are aesthetically pleasing and great for sharing on social media! Make sure to stop in for a unique, delicious experience when you explore Asakusa.
Chakura
Address: Tokyo, Taito, Asakusa, 2-2-4
Google Map
Access: about 4-8 minutes on foot from Asakusa Station (Tokyo Metro Ginza Line, Toei Subway Asakusa Line, Tobu Skytree Line)
3. Kosoan, Jiyugaoka: Sweets in a Japanese House
Picture from Enjoy Delicious Japanese Sweets In An Authentic Old Japanese House
Kosoan in Jiyugaoka is a cafe located in a picturesque Japanese house overlooking a garden. The environment combined with the mouthwatering desserts will make you feel like you've gone back in time. Visitors sit on cushions on the tatami mats and enjoy the wall to floor windows. The interior is also full of delicate ornaments.
Picture from Enjoy Delicious Japanese Sweets In An Authentic Old Japanese House
Kosoan has a varied selection of Japanese sweets, like matcha and wagashi sets, as well as kakigori and matcha zenzai (pictured above). The slightly bitter flavor of the matcha combined with the sweet red bean paste and chewy mochi is simply delicious.
Jiyugaoka is an area full of stylish cafes and shopping in between the city of Yokohama and Shibuya, Tokyo. You can spend the morning strolling around and stop in at Kosoan for tea and desserts in the afternoon. Please note this is a popular cafe, so you may have to wait to enter, especially if you go on a weekend or holiday.
Kosoan
Address: Tokyo, Meguro, Jiyugaoka, 1-24-23
Google Map
Access: 7 to 8-minute walk from Tokyu Toyoko Line, Oimachi Line Jiyugaoka Station
4. Mahorodo Sogetsu, Setagaya: Have Picture-Perfect Japanese Teatime
Picture from Photogenic Sweets! Enjoy Wagashi And Green Tea At Mahorodo Sogetsu
Mahorodo Sogetsu is a traditional Japanese cafe in the relaxed Setagaya ward, west of Shibuya. The shop offers expertly-crafted, stunning wagashi that pair well with green tea. This small shop has seating where you can take your time to fully appreciate the experience.
The sweets available here are reflective of the seasons. Enjoy sakura mochi during the cherry blossom season and adorable sweets in various shapes throughout the year. Sogetsu is close to Gotokuji Temple, well-known for its beckoning cats (maneki neko), so you can also try cat-shaped dorayaki (a grilled pancake with anko filling). If you will be in Harajuku, Shibuya, or the Setagaya area, make sure to stop by to encounter beautiful, one-of-a-kind Japanese sweets made with care.
Mahorodo Sogetsu
Address: Tokyo, Setagaya, Miyasaka 1-38-19 Windsor Palace 103
Google Map
Access: 7-minute walk from Odakyu Line Gotokuji Station, 3-minute walk from Tokyu Setagaya Line Miyasaka Station
5. Kinozen, Kagurazaka: Take a Dessert Break in a Hip Neighborhood
Picture from Kagurazaka Stroll - 12 Places You Should Drop Into
Kagurazaka is an area in Tokyo with lesser-known spots like narrow alleys and shrines ideal for exploring. A number of small, traditional shops, like Kinozen, a popular Japanese confectionery, are here. Kinozen offers anmitsu, zenzai, and other classic Japanese desserts you can enjoy inside.
You will also find different varieties of sweet mochi and green tea, as well as snacks to take home. After seeing one of Tokyo's most famous shrines, Tokyo Daijngu and browsing Makanai Cosmetics for quality, Japan-made beauty and health items, come to Kinozen and reenergize with delectable traditional sweets. Kagurazaka is also convenient to access from Shinjuku.
Kinozen
Address: Tokyo, Shinjuku, Kagurazaka 1-12
Google Map
Access: Right outside Tokyo Metro Oedo Line Iidabashi Station. Use B3 exit.
Encounter Delicious Japanese Sweets in Tokyo
Containing matcha, mochi, and red bean paste--ingredients not found in desserts from western countries and other parts of the world, Japan is a great place to try new sweet treats. At these five cafes, you can encounter the high-quality taste and stunning appearance of traditional sweets and wagashi for yourself. Take a break from the bustle of Tokyo and have a unique, palate-pleasing experience.

The information presented in this article is based on the time it was written. Note that there may be changes in the merchandise, services, and prices that have occurred after this article was published. Please contact the facility or facilities in this article directly before visiting.