Great Treats! The 7 Best Places To Enjoy Delicious Sweets In Tokyo
Looking for something sweet in Tokyo, but not sure where to find the right treat for you? In this article, we cover seven of the most popular cafes and shops where you can enjoy amazing sweets in the Tokyo area!
From traditional Japanese sweets to international snacks - there are delicious sweet items everywhere you look in Japan, with regional and seasonal specialties available as souvenirs from every station and city across the nation.
But where can you enjoy some of the best treats in Tokyo? Glad you asked! Here are our top seven choices for sweets in the Tokyo area. Each shop has its own specialties and charms that are sure to not only satisfy your sugar cravings, but make your trip to Japan even sweeter.
1. Ginza: Salon Ginza Sabou
Matcha tea flavored sweets are popular all around the world now, and are constantly being reinvented in Japan itself. Salon Ginza Sabou, found on the second floor of Tokyu Plaza Ginza in Ginza, is no exception. This three part shop/take-out/cafe spot, has garnered a lot of attention for its own take on this Japanese classic.
The Sabou Parfait (1100 yen plus tax), is a very trendy green tea flavored parfait that comes served in a traditional square wooden cup. Underneath the layer of white chocolate, decorated to look like a Japanese garden, is rich matcha ice cream, creamy green tea flavored mascarpone cheese, and crisp puffed rice too.
If you'd like to enjoy the elegance of Ginza for yourself, or want to learn more about Salon Ginza Sabou, take a look at Enjoy Tasteful Matcha Parfaits At Salon Ginza Sabou.
2. Oshiage: Tokyo Skytree's Salon De Sweets
Currently the tallest broadcasting tower in the world, standing a magnificent 634 meters tall, Tokyo Skytree in Oshiage is one of Kanto's most popular sightseeing spots. Not only that, but at the base of the tower is Skytree Town, which has a remarkable observatory and planetarium, aquarium, shopping area, and many other facilities sure to make any trip to Tokyo fun. One spot that is a must here is Salon De Sweets, a restaurant that lives up to the impressiveness of the tower itself.
Salon de Sweets is a buffet-style restaurant that serves all-you-can-eat sweets, as well as other dishes. Lunch service lasts until 17:00, while dinner is available until 23:00 (last entry to the restaurant at 22:00). The lunch course costs 1800 yen for adults on weekdays (1990 yen on weekends and holidays), while the dinner course runs 2400 yen for adults. It's hard to choose just a single treat from this amazing line-up to share, but as you can see from these photos, their cakes are stunning.
They also have plenty of season-limited desserts and dishes to choose from too, so whenever you visit, you're sure to find at least one treat that you'll keep going back for more of! To see more of their sweets and other menu items, take a look at All-You-Can-Eat Dessert Spree At Tokyo Skytree's Salon De Sweets!
3. Harajuku: Colombin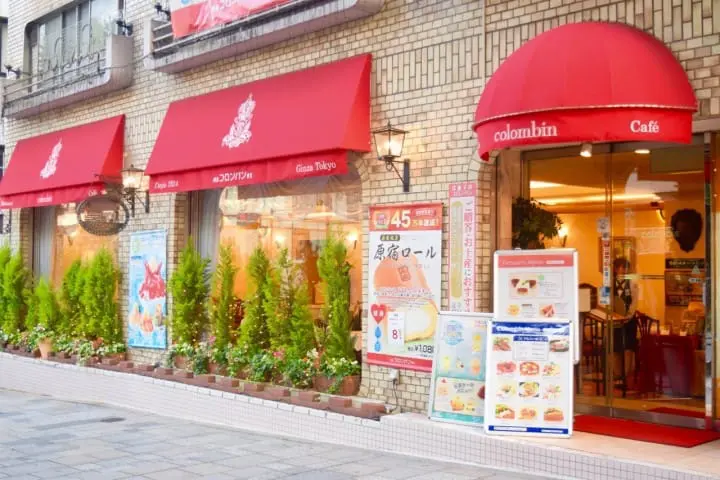 Harajuku may be a fashion lover's playground, but to the Japanese, it is also the place to go if you want a tasty and filling crepe, and to those in the know, Harajuku is also the place for French confections. Colombin is a French sweet shop and cafe that has been in business for over 90 years in Tokyo, with 40 of those years at their shop in Harajuku.
While they have a variety of delicious pastries and cakes available everyday, one highlight of any visit to their shop is the chance to enjoy their special Harajuku Honey Pudding (1029 yen with tax). This creamy smooth pudding comes in a glass jar and, rather than with the traditional caramel sauce you'd expect from a pudding, this dish comes with a small bottle of honey. Not just any honey though - the honey used at Colombin is produced by their own beehives, located on the roof of the building.
To learn more about Colombin and its sweet history, take a look at Honey In Pudding!? French Sweets At Colombin In Harajuku.
4. Ebisu: Japanese Ice Ouca
Ice cream is a tasty treat any time of year, but in Japan, it's quite common for there to be season limited flavors at both ice cream parlors and in convenience stores. In Ebisu, Japanese Ice Ouca, which is only a two minute walk from JR Ebisu Station, is an ideal place to try out different combinations of these time limited flavors.
One combination that they particularly recommend is this: matcha ice cream, made from Uji green tea (a famous matcha production area near Kyoto), subtly sweet milk ice cream, and one of their limited edition flavors, such as peach or watermelon in summer. This ice cream also comes with a monaka wafer cookie, and shiokonbu (salty seaweed), for when you find your mouth has gotten too cold and as a palate cleanser between each flavor.

New flavors and combinations of all kinds are available here each month, so please check out Taste Seasonal Japanese Ice Creams At Japanese Ice Ouca In Ebisu! to learn more.

The information presented in this article is based on the time it was written. Note that there may be changes in the merchandise, services, and prices that have occurred after this article was published. Please contact the facility or facilities in this article directly before visiting.