Yebisu Garden Place - Enjoy Art, Culture, And Shopping!
When you first set foot on the grounds of Yebisu Garden Place, it feels like you've been transported to a European destination. Today's article will introduce you to all the places here where you can enjoy art, culture, shopping and much more.
Yebisu Garden Place is a commercial complex that opened in 1994. Not restricted to just a single structure, the grounds are comprised of numerous buildings and facilities. In Japan it's gained popularity as a romantic dating spot and it was also included in a famous Korean guide book. As a result, in recent years more and more visitors to Japan have been spotted here.
Today we're going to introduce you to all the points of interest at Yebisu Garden Place and make suggestions on how to have a more enjoyable time. We hope that today's information will encourage you to make a visit here on your next excursion to Japan.
Built on the Grounds of the Former Yebisu Beer Factory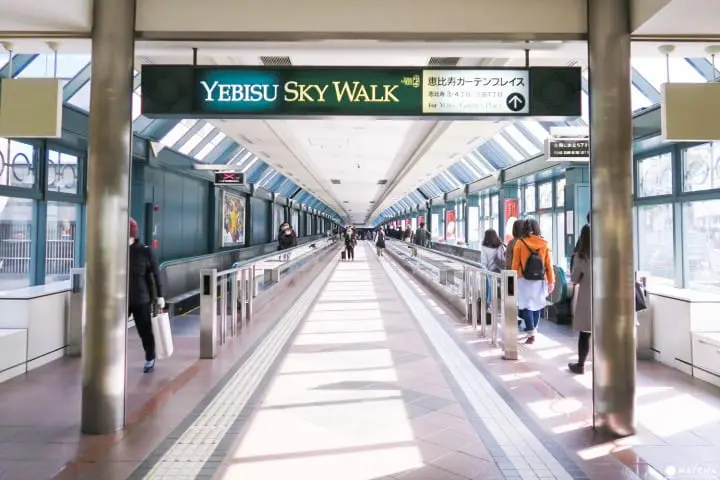 After passing through the ticket gate at JR Ebisu Station's east exit, you'll see a moving walkway. Just follow this walkway and you'll soon arrive at Yebisu Garden Place.
Yebisu Garden Place is located on the former site of the Yebisu Beer factory, home of the famous premium beer. The area was apparently given the name (Y)ebisu (*1), because it was previously a terminal for freight trains delivering Yebisu beer.
*1(Y)ebisu:Historically, the Japanese writing system used the kana (character) for ye but it has since been replaced with e. Though Yebisu Garden Place and Yebisu beer both retain the kana's old form, the nearby train station and general area both take the name Ebisu.
As a result, even today on the grounds of Yebisu Garden Place at the Museum of Yebisu Beer, the brew's 100 plus year history is celebrated and visitors here are offered a complimentary tasting.
A Complex with Many Shops Named after Yebisu Beer
There's also one more building that's been named after Yebisu beer.
It's called Beer Station Yebisu, and the building reminds visitors of a medieval European castle. Seven distinctly flavored kinds of beer are on tap here, including Yebisu Beer.
Now serving as a decorative element, a huge iron cauldron used in the beer production process sits in the middle of the building's interior, reminding guests that this was formerly a beer factory. In this spacious restaurant visitors can enjoy tasty snacks along with their choice of beer or other alcoholic beverage.
The Entrance Pavilion Building is your point of entry to Yebisu Garden Place.
On the wall at the top of the building, there's a large mechanical clock. Three times a day at 12 noon, 3 PM and 6 PM, a host of marionettes make their grand entrance, accompanied by a festive marching melody. The marionettes represent the well-known event Oktoberfest, which is held annually in the famous beer city of Munich, Germany.
Taking its name from the local area, Yebisu Shrine sits on the west side of Yebisu Garden Place. It's one of many subordinate shrines under Nishinomiya Ebisu Shrine in Hyogo prefecture, the head shrine of the Shinto religion's Ebisu sect. Yebisu Shrine houses Ebisu, the god of prosperity, so if you make a visit here you just might be blessed with some good fortune.
An Observation Deck with a Stunning View!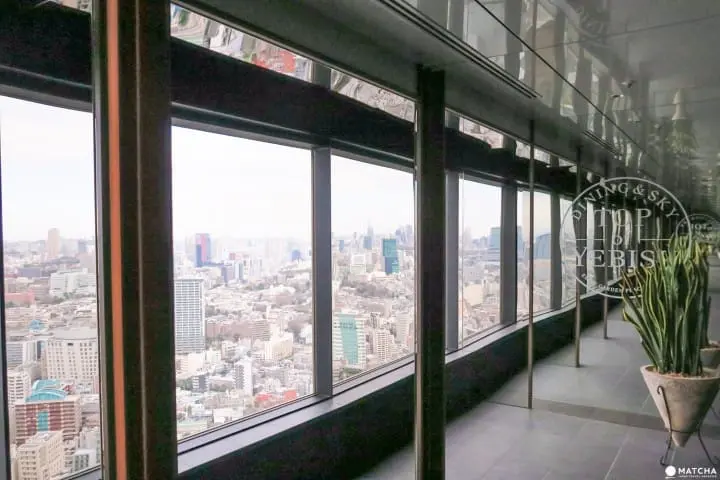 On the 38th floor of Yebisu Garden Place Tower, there's a free of charge observation deck.
In addition to Tokyo Tower and Shinjuku's cluster of high rise buildings, your panoramic view of Tokyo extends all the way to Odaiba's bay area, far off in the distance. The view from this observation deck is considered to be the best in the Ebisu area.
Enjoy a Museum and Some Public Art
On the grounds of Yebisu Garden Place you can also interact with art! The Tokyo Photographic Art Museum is the first museum in Japan to specialize in a joint collaboration of photography and other visual culture, such as moving images. Here you can see famous works of art from both within and outside of Japan.
The public spaces in Yebisu Garden Place are dotted with works of art by various artists, so you can enjoy them while going for a short stroll. A total of fourteen pieces of artwork are on display, including The Thinker by sculptor Auguste Rodin, who created many other famous pieces as well.
Shopping and Dining with an Air of Sophistication
Yebisu Mitsukoshi is a department store lined with many stylish items related to food, clothing, shelter, and the other necessities of life. There are stores carrying world famous Japanese brands such as me ISSEY MIYAKE and Shiseido, and on the second floor of the department store basement there are countless places to eat including a sukiyaki restaurant called Asakusa Imahan. Other shops in the basement carry a wide selection of Japanese-style side dishes and various kinds of sweets, and many have an eat-in area, so it might be fun to do a little food sampling as you visit each place.
This building with the sophisticated facade is a French restaurant managed by and also named after famous French chef, Joel Robuchon. It's been decorated with three Michelin stars on numerous occasions and considered to be Japan's premier French restaurant.
In an area called Brick End there's a group of eating establishments, all overlooking the tracks of the Yamanote train line. A total of five standing-only shops allow you and your friends to enjoy food and drink until the wee hours of the morning. Anchored by Sanpiryoron KAKUUCHI, an izakaya run by well known washoku (Japanese cuisine) chef Masahiro Kasahara, Brick End has some unique and interesting restaurants and bars.
In Closing
Directly connected to Ebisu Station by a moving sidewalk, Yebisu Garden Place is filled with unique and attractive shops and facilities. Surprisingly, right in the middle of the Tokyo metropolis, this place was formerly a beer factory. The current site has been named after the beer, so looking for remaining traces of the factory might be an interesting side activity.

On your next trip to Japan, how about heading over to Yebisu Garden Place for a visit? Here you can sample beer, see interesting art, go shopping, get a great view of Tokyo, plus have many other enjoyable experiences, all in one spot!

The information presented in this article is based on the time it was written. Note that there may be changes in the merchandise, services, and prices that have occurred after this article was published. Please contact the facility or facilities in this article directly before visiting. Some of our articles contain affiliate links. We kindly ask our readers to exercise careful judgement when making a purchase or booking a service online.