UMEZONO, Asakusa - A Delicious Treat Awaits You!
Just one street over from Asakusa's famous Nakamise-dōri, is Umezono, a sweets shop with a 160 year history. Let's head over there to see what kind of treats are awaiting us.
There are many kinds of elegant and refined sweets in Japan. For example, the awa zenzai (red bean soup with mochi rice), followed by anmitsu (syrup used for topping of sweets), then oshiruko (also based on red beans jam and mochi rice cakes), to name just a few.
If you're interested in giving Japanese sweets a try, then you absolutely must go to Umezono in Asakusa. A long-standing sweets shop with a 160 year history, Umezono is adjacent to Asakusa's famous souvenir area, Nakamise-dōri.
Today we'll introduce you to everything that Umezono has to offer.
A Famous Shop In Asakusa
In addition to the shop's large sign, out in front there's a bench for eating outdoors. A shop that is always busy with visitors looking for souvenirs - this is Umezono's trademark.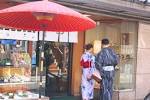 But before going inside, first let's decide what to order.
There are all kinds of plastic food samples lined up on display at the entrance. They all look so delicious so it's going to be a challenge deciding what to order!
Once you've decided, then you pass under the noren, or shop curtain, and head inside. Word has it that the shop's mark, which is displayed on the curtain, hasn't changed since the shop first opened for business.
Read Also:
Due to its long history, the inside of the shop has a decidedly calm and relaxed atmosphere. First, let's buy our food token at the counter on the left.
Inaka Shiruko - Authentic Japanese Sweets
Now we will introduce Umezono's recommended sweets.
First, inaka shiruko (691 Yen, tax included). In the essay "Shiruko", by famous writer Akutagawa Ryunosuke, Umezono's name is also mentioned. This famous shiruko features a silky, smooth tasting anko and a soft mochi that are in perfect harmony with each other.
The fragrance of the baked mochi tickling your nose is coupled with anko that has just the right amount of sweetness. Soon you won't be able to stop eating it, and the soup is guaranteed to warm your inside with its delicious, comforting taste.
Read Also:
Colorful Matcha Anmitsu
With its bright, colorful appearance, matcha anmitsu (756 Yen, tax included) is a dish that is very popular with visitors to Japan. Piled up high with anko, vegetable jelly, fruit and other ingredients, it has a cool, refreshing, sweet taste.
It has a gorgeous appearance, but it's the cool, refreshing taste that makes it such a sought-after summer treat. The smooth texture of the rice-flour dumplings, the cold matcha ice cream, and the sweetness of the anko is so delicious you won't be able to get enough of it. Umezono's vegetable jelly is so soft and chewy!!
Chewy Awa Zenzai
But we can't leave out Umezono's speciality, awa zenzai (777 Yen, tax included). When it's brought to your table and the lid is slowly lifted away from the bowl, you'll be spellbound by the warm, rising steam and the exquisiteness of the koshi an(ko), or strained bean paste. Piling up the anko in an attractive manner, is said to be an art form in itself.
It's an elegant dish that combines the steamed mochi (glutinous rice cake) and the strained bean paste. It's because the dish is so simple, that the flavors can be directly experienced. The sweetness of the bean paste is a perfect compliment to the ever so slight bitterness and astringency of the mochi.
The bowl is garnished with a shiso leaf, a fragrant Japanese herb. Nibbling on the shiso leaf helps to bring out the sweetness of the bean paste.
The shop has such an enormous selection of tasty treats from bygone days up to modern day Japanese concoctions using fruit, all offering their distinct variety of sweetness. While carefully pouring over the food samples one by one, take your time and make the best choice.
Just remember that some dishes such as shaved ice and chestnut zenzai are seasonal offerings, limited to that time of the year. Umezono, in addition to sweets, also has light meals such as cha soba and ozoni (Japanese-style soup with vegetables and mochi), so it's reassuring to know that you can fill yourself up at lunchtime as well.
During New Year's, we recommend stopping by for a piping hot bowl of ozoni after paying a visit to Sensōji Temple.
Let's Buy A Souvenir Before Heading Back!
Outside the shop they sell souvenir sweets. Buy some sweets to take home with you and then rest under the red parasol and now you've created the ideal Umezono-esque image! Apparently, this is also a popular picture-taking spot.
The most popular sweets souvenir is dorayaki, anko sandwiched between a pancake-like dough. It also makes for convenient eating while strolling in Asakusa. It's made from simple, fresh ingredients so it won't keep for very long. We recommend enjoying it where you're staying for the night.
A Water Jar Stands Guard Outside Umezono
Sitting outside the shop is a large water jar with Umezono's mark imprinted on it. During World War II, the shop and the surrounding Asakusa area was badly burned and damaged, but this water jar managed to survive unscathed. Not only did it continue to keep watch over Umezono, but it has also served as a valuable marker by showing where the shop was previously located.
When you visit the shop be sure to have a look at it.
Sample Umezono's Sweets Even If You Can't Come To Asakusa
In addition to Umezono's Asakusa shop, there are four other locations including Haneda Airport's International Passenger Terminal. It's the ideal location, whether you want to enjoy Japanese sweets before heading home or buy a souvenir to take with you.
Though munching on something while going for a stroll is enjoyable, Umezono's Asakusa shop is the perfect place when you want to sit down and savor the taste of Japanese sweets. With an impressive 160 year history, Umezono is waiting for you to make your first visit!

The information presented in this article is based on the time it was written. Note that there may be changes in the merchandise, services, and prices that have occurred after this article was published. Please contact the facility or facilities in this article directly before visiting.