Kumamoto Food Tours! Visit Farms in Yamato, Minamiaso, and Minamata
Kumamoto is well-known for its delicious local cuisine and specialties! We'll feature three food tours around Yamato, Minamiaso, and Minamata centered around organic vegetables, Akaushi beef, and Japanese black tea. Read to the end for information on how to win a prize!
Kumamoto Prefecture is located in the center of Kyushu. There, you'll find Mount Aso—one of the world's largest volcanic calderas—that gives Kumamoto its second name: the "Land of Fire."
Kumamoto is also nicknamed the "Land of Water" thanks to its mineral-rich springs. In recent years, the prefecture has gained fame as a culinary paradise. Thanks to its abundant nature and hard-working farmers, you'll find delicious organic vegetables, Akaushi (Japanese red cattle) beef, and freshwater fish.
Our writer joined a monitoring tour of gourmet food from three areas in Kumamoto: Yamato, Minamiaso, and Minamata. We dined at a farm-to-table restaurant where dishes were made with fresh ingredients directly sourced from nearby farms. This article will showcase our experience tasting local fare!
Fill in a Survey on Kumamoto Tours to Win a Gift!
We kindly ask for your cooperation to fill in the survey at the end of this article. Your opinions and suggestions will help the organizers improve the content of the Kumamoto tours and make them even more appealing to visitors.
Survey participants will enter a raffle to win a Visa Gift card worth 5,000 yen.
Kumamoto Tour Report
We embarked on our travels by bus. Our starting point was the bus terminal attached to SAKURA MACHI Kumamoto, which opened in 2019.
In fact, this is a shopping mall that houses 149 retailers. You can even enjoy an evening of shopping and food after a night tour. What's more, a stunning view of Kumamoto Castle can be seen from the rooftop of SAKURA MACHI.
The bus was fully equipped with an alcohol-based sanitizer, humidifier, and ventilator, so we could travel with ease.
Kumamoto Food and Full-Course Farm Tour: 1-Day Bus Tour (Japanese)
The details of future monitoring tours are subject to change.
Table of Contents:
1. Organic Farming and Gourmet Tour: The Present and Future of Yamato
2. Gourmet Food and Dazzling Views Tour: Minamiaso's Blessings of Water
3. Seafood and Tea Tasting Tour: Minamata, the Mediterranean of Asia
1. Organic Farming and Gourmet Tour: The Present and Future of Yamato
The town of Yamato is located in Mount Aso's southern region. Long ago, a caldera eruption caused the land to be covered with pyroclastic flow and volcanic ash. The area has a cool climate with temperatures varying day and night. The surrounding mineral-rich water provides optimal organic farming conditions that don't rely on pesticides or chemical fertilizers.
The town began emphasizing organic farming more than 40 years ago. Today, it has become one of the most advanced organic farming areas in Japan. We tasted pesticide-free vegetables grown in Yamato during the tour and learned about the town's agricultural industry and culture.
Tour Plan: Yamato Tourism and Culture Exchange Center (Yamato Cultural Forest) → Organic Farm YASKI FARM → Tsujun Bridge → Restaurant in Nakahata Farm → Strawberry Picking
See Hassaku Festival Showpieces at the Yamato Cultural Forest
The Hassaku Festival is held in Yamato every September to pray for a bountiful harvest. The focal point of this 250-year-old festival is the "otsukurimon" parade.
Otsukurimon are sculpted creations made from natural materials, such as tree bark, bamboo, acorns, and straw. Over the course of a year, the town collects these materials to create large sculptures about a month before the festivities.
The otsukurimon are detailed recreations of people and animals made without any colorants added to the stiff bark and bamboo. These sculptures seem to come alive before your eyes!
After the festival, the otsukurimon are kept at the Yamato Tourism and Culture Exchange Center (Yamato Cultural Forest). Visitors can witness first-hand these large, three-dimensional creations crafted from natural materials.
Learn the Charms of Organic Farming at YASKI FARM
Many young residents are involved in organic farming in Yamato. Mr. Torigoe, the owner of YASKI FARM, is one such person. With the help of his colleagues, Mr. Torigoe revitalized abandoned land through organic farming.
He's also an active musician introducing the charms of organic farming through songs.
YASKI FARM is a place where people and animals can coexist. Wild boars and deer sometimes nibble on the crops, but the farmers use their leavings as natural fertilizer.
Although the soil is naturally rich with minerals, such as iron, calcium, and zinc, Mr. Torigoe was able to improve the land with soil analysis software. He continues to produce nutrient-dense and tasty organic vegetables.
After learning about organic farming from Mr. Torigoe, we went straight into a carrot-harvesting workshop. Since carrots store extra sugar to endure the cold temperatures, the ones we tasted were sweet and delicious.
Tsujun Bridge: Japan's Largest Arched Aqueduct
Tsujun Bridge is a must-visit destination in Yamato. Measuring 75.6 meters wide and 20.2 meters tall, it's the largest arched aqueduct in Japan and designated as an Important Cultural Property.
Tsujun Bridge was constructed during the Edo Period to eliminate water shortages.
Taste Yamato's Culinary Creations Inside a Plastic Greenhouse
A highlight on this tour is a full-course meal showcasing Yamato's culinary creations by Yamato Desica.
Yamato Desica is a company started by local young farmers and chefs working to share the charms of Yamato. The "desica" in their name means "only here" in Japanese.
On our visit, they opened a pop-up restaurant inside Nakahata Farm's plastic greenhouse, where strawberries are grown. Tour participants were able to savor the tasty bounty of Yamato's mountains and crops.
A Farm-to-Table Meal: Cherishing Close Relationships With Farmers
When we entered the greenhouse, the rustic tables and chairs made from straw and wood grabbed our attention. The sounds of cooking and jazz music filled the space, creating a rowdy yet romantic atmosphere.
As farmers and chefs served the food, they explained each ingredient's traits and how the dishes were made.
We were offered a choice of wild game or fish for our entree. That day, the wild game was a wild boar sausage. The fish was a salt-grilled masu salmon produced in Yamato. In fact, masu salmon is designated as a national treasure in Taiwan and is a highly prized food item.
The wild boar sausage was chewy and had a rich, fatty flavor with a mild sweetness. Lightly seasoned with spices, the locally-sourced boar was absolutely delicious.
The chef had studied abroad in Italy and talked about the wild game cuisine he tried while overseas. Unlike in Europe, Yamato's wild boars do not require any processing to eliminate their odor.
Masu salmon, on the other hand, is characterized by its soft meat. The innards are completely disposed of before cooking. It has a light yet sweet flavor that is unforgettable.
Chirashi-zushi is another fun dish served with cherry salmon raised in Yamato. Cherry salmon is a coveted fish that lives in the cold regions of Japan. However, a company in Yamato was successful in breeding the species in the southern prefecture of Kumamoto.
Slices of lightly smoked cherry salmon are sprinkled with red pepper powder, which gives the meat its pale pink color. A generous serving of salmon roe is also added as a topping.
Cherry salmon roe has a distinct chewy texture and sweetness that makes it a prized ingredient. It was laid on a bed of rice and sparkled like gemstones.
Vegetarian options were also available, such as bean croquettes and carrot soup. The cooking method brought out the great flavors in these organic fruits and vegetables.
Nakahata Farm's All-You-Can-Eat Strawberries
The finale of our full-course meal was dessert. Participants were taken to a strawberry garden in Nakahata Farm to go strawberry picking!
Felling full? Don't fret! We start with a short lesson on strawberries, a sugar-content experiment, and how to cultivate this ruby-red fruit before the strawberry picking.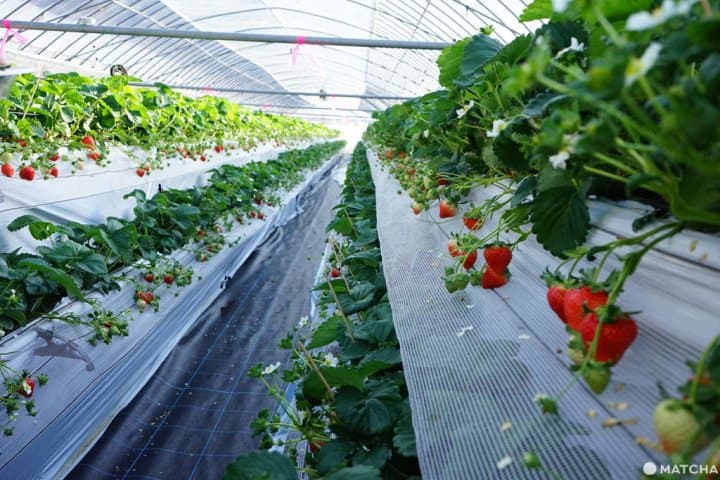 There are four strawberry varieties cultivated at Nakahata Farm. Koiminori has just the right balance between acidity and sweetness. Yubeni is refreshingly sweet. Benihoppe is a very aromatic variety, while Yotsuboshi is a rare specialty. This is a 20-minute all-you-can-eat experience.
Eating handfuls of fresh strawberries picked straight from the vine will fill you with joy.
*The menu details and ingredients are subject to change according to the season and schedule.
Yamato Tour
If you're interested in visiting Yamato, sign up for this bus tour! You'll get to try your hand at organic vegetable farming and join a strawberry picking and all-you-can-eat tour!
Tour dates are updated frequently.
Yamato Tour: Organic Vegetable Farming and Strawberry Picking (Japanese)
2. Gourmet Food and Dazzling Views Tour: Minamiaso's Blessings of Water
The secret to Kumamoto's tasty, mineral-rich water is its location in the stratum of Aso. Rainwater sinks into the stratum—a layer of sedimentary rocks formed after an eruption runs deep into the earth. The water then filters through the stratum to create beautifully clear spring water.
Our second tour takes us to Minamiaso, where they take pride in that very spring water. We'll venture to a spiritual spot and taste Akaushi (Japanese red cattle) cuisine, a specialty of Kumamoto.
Tour Plan: Tori no Kozuka Park (Spiritual Spot) → Shirakawa Fountainhead → Restaurant Minaaso Maruden → Michi-no-Eki Asobo no Sato Kugino
Tori no Kozuka Park: A Spiritual Spot for Test-Takers
The first place we'll visit is Tori no Kozuka Park, a well-known spiritual spot. The park is known for the Men-no-Ishi, a boulder sandwiched between a hole in a crag. Surprisingly, this stone remained in place for 10,000 years.
Nicknamed the "Boulder that Won't Fall," it is visited by numerous students and test-takers to pray for good luck. Since the boulder was stuck for thousands of years, people believed it was a lucky charm to not "fall short" and fail your exam.
Unfortunately, the Men-no-Ishi fell during the 2016 Kumamoto Earthquake. Except this time, the hole in the crag became cat-shaped and garnered more popularity.
Although the boulder may have fallen, the site continues to be visited by test-takers who believe that the boulder fell (or "failed") in place of themselves.
A scaled-down recreation of Men-no-Ishi before its fall is installed in the park. In the mountain behind this sculpture, you can see the cat-shaped hole where Men-no-Ishi once was. It's almost as if a cat sat down and is gazing at Mount Neko in the Aso Gogaku (*1).
Today, there are more visitors to the park to capture this rare sight with their cameras.
*1 Aso Gogaku: the five mountains that make up Mount Aso. A general term for Mount Neko, Mount Takadake, Mount Nakadake, Mount Eboshi, and Mount Kishima.
Shirakawa Suigen and Shirakawa Yoshimi Shrine: Ranked Among the Top 100 Exquisite Water Sources
The next spot is Shirakawa Yoshimi Shrine. It is home to the Shirakawa Fountainhead, a river source famous in Minamiaso.
Since ancient times, the source has been regarded as sacred water that grants youth, longevity, and wards off diseases. Kunitatsu Daimyojin and Mitsuhanome-no-Kami—the guardian deities of Shirakawa Fountainhead—are enshrined on the grounds.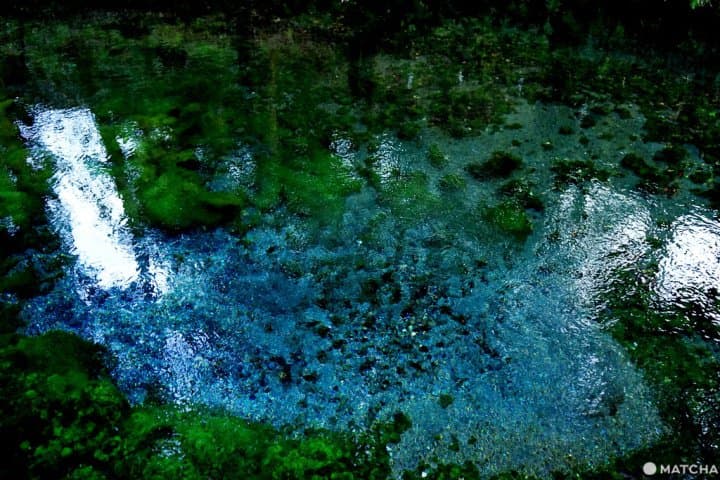 The water temperature of Shirakawa Fountainhead—selected among the top 100 Exquisite and Well-Conserved Water by the Environment Ministry—stays around 14℃ (57.2°F) and is so transparent that you can see all the way to the bottom. The waters' blue shade changes with depth and produces a marvelous sight.
Purchase a plastic bottle at a nearby souvenir shop before visiting the river head. You'll be able to bring home a bit of that exquisite water to drink.
Supporting Aso After the Earthquake at Minaaso Maruden
We headed to lunch at Minaaso Maruden. This Italian restaurant is popular for their Akaushi beef cuisine.
The restaurant's previous location at Aso Bridge was destroyed during the Kumamoto Earthquake. As a result, they began selling curry in a food truck since 2017. This delicious curry became a hit among locals.
Three years after the earthquake in 2020, Mr. Masuda—owner and chef—renovated and reopened Minaaso Maruden. It was the start of a new story.
Now, the restaurant has to prioritize reservations since the weekdays are packed with customers.
Akaushi cattle are resistant to heat and cold, which makes them suitable for grazing in the Aso area. Compared to the Japanese black cattle, Akaushi is characterized by its lean meat. The beef contains an abundant amount of taurine, which improves the function of the liver and controls blood pressure.
Our appetizer was a slice of cured Akaushi beef that had been aged for two weeks in a vacuum-sealed bag at a low temperature. Each mouthful was full of moderately salty and fatty sweetness. It also had excellent texture.
The main dish was charcoal-grilled Akaushi beef. Grilling the meat over charcoal briquettes will brown the exterior but leave the inside a rosy pink color. The juices overflowed with every bite! It was served alongside Minamiaso-grown Akigeshiki rice cooked in an earthenware pot.
The dish's simple seasonings highlighted the natural flavors of Aso ingredients.
Other dishes include smoked rainbow trout with a clear soy sauce developed by a manufacturer in Kumamoto. The meal was garnished with clear jelly made with Aso water, which imparted a wonderful texture and flavor.
The Italian soup included local vegetables boiled in a white Italian sauce made with milk from Aso-raised cattle. A seafood menu was also available for those who prefer not to eat beef.
The string of dishes created a magical meal that had us breaking into a smile.
*The menu details and ingredients are subject to change according to the season and schedule.
Minamiaso Tour
If you're interested in Akaushi or traveling to Minamiaso, we recommend joining a bus tour. You'll enjoy a delicious Akaushi steak and a tour of the water-rich grassland where the Akaushi cows grow.
The tour dates are updated frequently.
Minamiaso Tour: Akaushi Steak and Tour of the Mt. Aso Grassland (Japanese)
Taste Specialty Milk at Michi-no-Eki Asobo no Sato Kugino
Fresh milk is something you must try in Aso. At Michi-no-Eki Asobo no Sato Kugino, you can purchase milk and locally harvested produce.
Aso milk was the first in Japan to earn three stars in the Superior Taste Awards. This award is given to food products and beverages with excellent flavor.
Lining the shelves at this roadside station is a variety of milk from light to rich taste. Find your favorite dairy product here!
3. Seafood and Tea Tasting Tour: Minamata the Mediterranean of Asia
Minamata, found at the southern tip of Kumamoto, is a scenic area surrounded by the sea. The area is famous for fresh seafood, thanks to the city's efforts in environmental protection.
On our third tour, we traveled around the Minamata area.
Tour Plan: Koiji Oysters → Lunch at Tsurunoya → Tea Harvesting and Tasting Experience at Amano Tea Farm
Koiji Oysters: A Winter Speciality
Picture courtesy of H.I.S.
Koiji oysters are raised on Koiji Island in the Yatsushiro Sea, off the coast of Minamata. Since Minamata fishers raise these oysters in clear seawater, they are full of rich flavor despite their small size. They can only be eaten during the winter at the oyster hut in Michi-no-Eki.
Minamata and Ashikita Online Tour
If you're interested in a trip to Minamata and Ashikita, we recommend joining an online tour. A Chef's Special Soup and Koiji Oyster Paella Set from the Mediterranean of Kyushu will be delivered straight to your home. Participants will also take an online class to learn how to make paella.
The tour dates are updated frequently.
Minamata and Ashikita Online Tour: A Chef's Special Soup and Koiji Oyster Paella Set From the Mediterranean of Kyushu Delivered to Your Home! (Japanese)
Experience the Cuisine of a Famous Chef at Tsurunoya
Picture courtesy of H.I.S.
We ate lunch at Tsurunoya, located inside a hot spring inn in the mountains. The building was designed by the world-famous industrial designer Eiji Mitooka and blends into its surroundings. Birds and cicadas can be heard singing nearby.
The restaurant's menu uses top-quality ingredients produced in Minamata under Chef Ide's supervision, the head chef on the Hisatsu Orange Railway, a sightseeing train along the JR Kyushu line.
*The menu details and ingredients are subject to change according to the season and schedule.
Taste Japanese Black Tea at Amano Tea Farm
Picture courtesy of H.I.S.
Tea farming has been practiced for years in the mountainous regions of Minamata, which is known for its mild Mediterranean-like climate. Around 1956, Minamata's tea declined in popularity due to an illness caused by pollution. However, the city made strides in environmental protection. They have since restored their beautiful mountains, tea fields, and clean water.
Picture courtesy of H.I.S.
Today, Minamata has a flourishing black tea (Japanese black tea or "wakocha") production that begins with green tea leaves. Mr. Amano, the owner of Amano Tea Farm, has been growing tea and producing Japanese black tea without pesticides and chemical fertilizers since 1979.
In fact, Mr. Amano is one of four experts called the "Four Leaders in Japanese Black Tea" that produce Japanese black tea without chemical substances in Kumamoto. You can personally ask Mr. Amano about their production of high-quality black tea and how it coexists with nature at the shop.
During the tour, we were able to try our hand at harvesting and tasting the tea. Unlike English black tea, the Japanese variety has a delicate flavor that isn't too bitter.
Take a Trip to Experience Kumamoto's Climate, People, and Culture
Through each of these tours, you can experience first-hand the three charms of Kumamoto: the land of fire, pristine water, and a culinary kingdom. Interested? Then participate in the next tour and enjoy the climate, people, and culture only found here.

Kumamoto Food and Full-Course Farm Tour: 1-Day Bus Tour (Japanese)

Written by Lin


Sponsored by the Kumamoto Prefectural Tourism Federation

The information presented in this article is based on the time it was written. Note that there may be changes in the merchandise, services, and prices that have occurred after this article was published. Please contact the facility or facilities in this article directly before visiting.