Near Hitachi Seaside Park! Exquisite Fish Specialties in Nakaminato
Nakaminato, located near Hitachi Seaside Park, is a port town well-known for its seafood products and dried foods. In this article, we introduce Godaime Tsunezo, a well-established local brand, and take you on a tour of Nakaminato Fish Market. 
Nakaminato, a Port Town with Exquisite Fish Products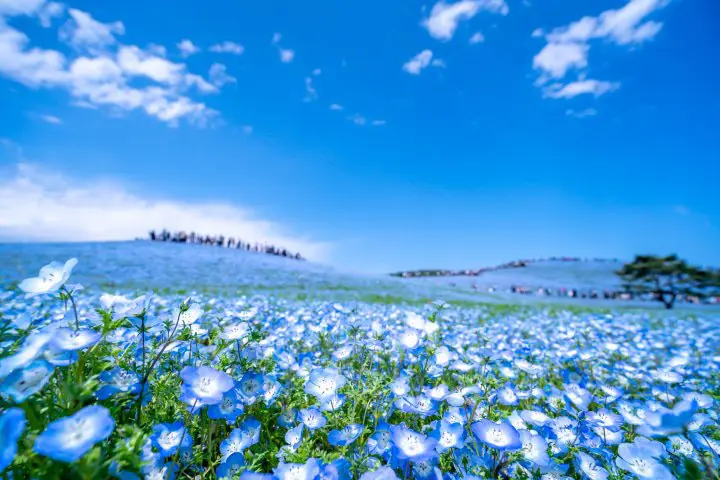 Photo by Pixta
Blue nemophila flowers blooming across a hill... Those interested in traveling to Japan have likely seen this iconic picture before!
Hitachi Seaside Park was selected by CNN as one of "Japan's 36 most beautiful places." It is easily accessible in about two hours and 30 minutes from Tokyo.

Nakaminato, located near Hitachi Seaside Park, is a port town that has flourished in the fishing industry since the Meiji period (1868-1912). Even now, various species including Japanese flatfish, whitebait, righteye flounder, and abalone are caught here.
Nakaminato Fish Market next to Nakaminato Port
Additionally, Nakaminato is home to several companies with unique seafood processing technology. The area processes high-quality products not only sourced locally, but also fish imported from Europe and octopus from Africa.
This time, we paid a visit to Godaime Tsunezo (Kashimura Fisheries Limited). This processed seafood brand makes dried fish products in Nakaminato.
Godaime Tsunezo: A Maker of Exquisite Dried Fish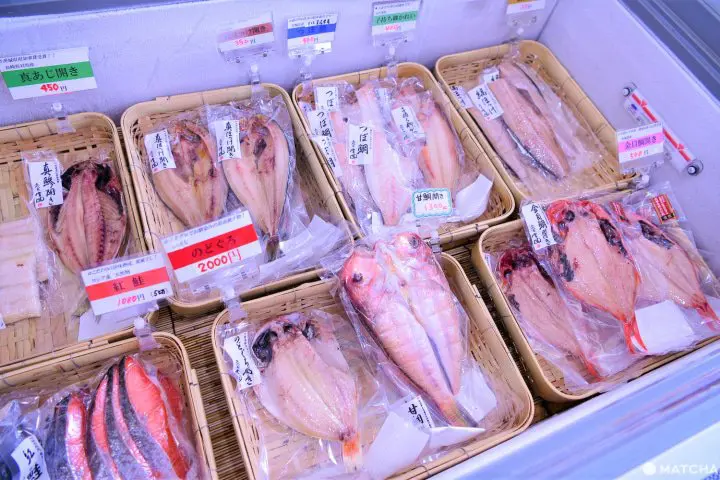 Godaime Tsunezo's direct sales store
Godaime Tsunezo first got its start around the beginning of the Meiji period. At the time, the company was the head of the fisheries cooperative that managed salmon fishers.
The company began working in seafood processing in 1964. The only product they carried was smelt. Afterward, Mr. Yoshikazu Kashimura, who worked at Tsukiji Market in Tokyo, became the fifth-generation president. In the 2000s, he steadily increased the variety of fish processed at the company.
Currently, the company processes around 30 different types of fish and has numerous fans because of their great flavor.
We talked with Mr. Shunsuke, the son of President Yoshikazu Kashimura. He told us, "The procedure, preparation, and packaging are different for each type of dried fish. The fact that we're able to process 30 different species is because of our skilled artisans."
Most employees are directly involved in processing fish with their own knives. There are even some employees using their signature knife for over 20 years.
When we toured the fish processing plant, we saw employees attentively processing greeneyes fish and golden eye snapper. It was obvious how skilled they were from their efficient preparation.
Godaime Tsunezo's specialty isn't only found in their artisans' skillful knife handling. There are several ideas and procedures that go into procuring fish, pickling methods, and more.
This time, we'll be featuring their Best-Selling Dried Fish Gift Set and Saikyozuke Set (*1) from their list of top products. We hope to get closer to the secrets behind their delicious flavors!
*1 Saikyozuke: fish fillets pickled in white miso made from malted rice, mirin, and Japanese sake.
Best-Selling Dried Fish Gift Set
Picture courtesy of Godaime Tsunezo
Seven types of seafood are included in the Best-Selling Dried Fish Gift Set: horse mackerel, Pacific saury, mackerel, golden eye snapper, Pacific rudderfish, arabesque greenling, and Japanese flying squid. For this product, the company orders and processes high-quality fish from around the world. For example, the arabesque greenling is imported from the United States, while mackerel comes from Norway.
They also work with fish caught in Japan. However, Mr. Kashimura told us, "We pay attention not only to flavor but also to size, so customers can find this dried product easy to eat. As a result, we aren't tied down to only using fish cultivated in Japan."
Our writer tried the horse mackerel in the Dried Fish Set. The product is preserved in vacuumed packaging and can be eaten grilled without additional flavors after defrosting.
Once grilled, fat came pouring out of the plump horse mackerel's meat. Upon taking a bite, we tasted the fish's mellow flavor. Seasoned with the perfect amount of salt, its delicious flavor stands out.
The key behind this balanced salty flavor is brine. The fish is steeped in the blend before being made into dried fish.
Godaime Tsunezo uses salt collected from the Goto-nada Sea in Nagasaki Prefecture. This salt is mineral-rich and has a robust flavor, despite having 30% less salt content than regular table salt.
This saltwater brine has been used for 30 years while being replenished and maintaining proper hygiene control. Over the years, the fish flavors submerged in the brine have dissolved into the liquid. This helps create dried products that are rich and flavorful.
Best-Selling Dried Fish Gift Set: 7 Types of Fish, 9 Packs 3,320 yen; 7 Types of Fish, 13 Packs 4,400 yen (both after tax)
Saikyozuke Set
Picture courtesy of Godaime Tsunezo
The Saikyozuke Set originated from President Yoshikazu Kashimura's relationship with a miso (fermented bean paste) warehouse. The set was first made nearly ten years ago. Today, it is one of the company's popular products.
The Saikyozuke Set is packed with butterfish, mackerel, sablefish, and Greenland halibut marinated in Kyoto-style white miso. The fish must be pickled thoroughly for over two days, regardless of the species, to permeate a strong flavor into the meat.
The product we tried from the Saikyozuke Set is the popular sablefish.
We prepared the fish by grilling it. Upon taking a bite, the sweetness from the miso slowly but surely melts in your mouth. Every time you chew, the miso flavor becomes stronger, mixing with the fish's natural sweetness. The sablefish makes it possible to go through multiple bowls of rice if eaten as a side dish.
Saikyozuke Set: 4 Types of Fish, 5 Packs 4,400 yen (after tax) *Availability of some types of fish are subject to change due to the season and status of fisheries.
Look Towards the Future!
With Mr. Shunsuke Kashimura as the lead, Godaime Tsunezo continues to reassess the miso in their Saikyozuke products and are constantly improving their flavors. The brand is moving towards the future while preserving traditions. We're excited for what new and tasty seafood products will appear next on the market!
Enjoy Amazing Processed Foods at Home!
Godaime Tsunezo's products can be purchased at their direct sales store next to the processing plant or online. In addition to those featured in this article, other products include the Japanese flying squid shiokara (fermented innards) and teriyaki Spanish mackerel. Be sure to check them out!
Godaime Tsunezo's Online Shop (Japanese)

Savor Fresh Local Fish at Nakaminato Fish Market
There are many types of fish you should try when visiting Nakaminato.
We recommend the Nakaminato Fish Market, a ten-minute walk from Nakaminato Station along the Hitachinaka Seaside Railway. The market is right next to Nakaminato Port and is home to five seafood shops and seven restaurants.
The market sells fresh fish and processed foods like dried fish and mirinboshi (dried fish marinated in mirin). Their products are sold at such exceptionally low prices, you won't believe your eyes.
For example, a dried fish set that comes with five to six varieties, like golden eye snapper, mackerel, or arabesque greenling, is 1,500 yen after tax. Mackerel mirinboshi is 500 yen after tax for three fish. Many customers from Tokyo even come to shop here.
Our writer purchased a dried fish set as a souvenir and ate it upon returning home.
The mirinboshi was fully permeated with sweetness from the soy sauce and mirin marinade, giving it an impressive flavor. The other dried fish in the set were delicious as well. Our writer regreted not buying more than one pack.
Second from the top right is red gurnard sushi
We also ate the Nakaminato Hama no Jizakana Nigiri at Kaikatei. This 12-piece nigiri set was made to order before our eyes by the sushi chef.
Japanese sea bream, red gurnard, Japanese flatfish, and horse mackerel are used as ingredients. The raw whitebait nigiri was caught in Ooarai Port near Nakaminato.
Raw whitebait nigiri is something you wouldn't normally see at a sushi restaurant. The bitterness from the whitebait and savory soy sauce melds together and transforms into a sweet flavor. Red gurnard, a species of white fish, is Nakaminato Port's hidden specialty. It is characterized by firm chewiness and moderate elasticity.
Visit Hitachi Seaside Park and an Aquarium!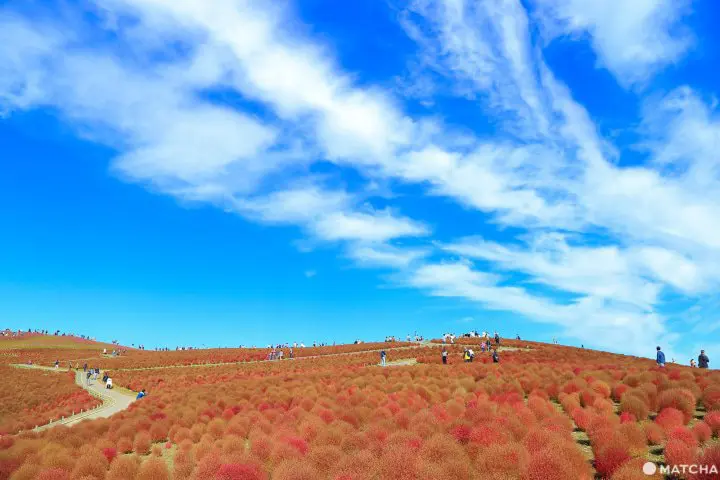 Photo by Pixta
Hitachi Seaside Park is one of the most picturesque places in Japan and is located in the Nakaminato area. The park can be enjoyed year-round with nemophila flowers from mid-April to early May, flaming red kochia from late September to early October, and illuminations in the winter.
There are additional sightseeing spots near Nakaminato. Some include Aqua World, one of Japan's largest and leading aquariums with several shark species, and Mentai Park (Japanese), a theme park with a mentaiko (*2) factory tour to learn about this popular food. Oarai Isosaki Shrine (Japanese) is also famous for having torii gates on the reef.
Be sure to get your fill of sightseeing with some gourmet seafood!
*2 Mentaiko: a type of food made from pollack roe. It is known as a Fukuoka specialty.

Written by nagino.an
Main image courtesy of Godaime Tsunezo
In cooperation with Godaime Tsunezo
Sponsored by Reconstruction Fishery Processing Industry Market Recovery Promotion Center


The information presented in this article is based on the time it was written. Note that there may be changes in the merchandise, services, and prices that have occurred after this article was published. Please contact the facility or facilities in this article directly before visiting.