Stunning Scenery and Excellent Salmon! Aomori's Shimokita Peninsula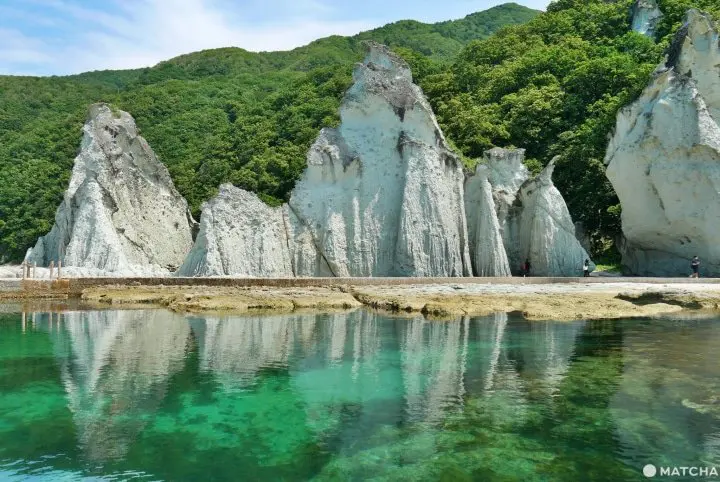 The Shimokita Peninsula in Aomori has heavenly natural surroundings and incredible seafood. This article features Hotokegaura, famous for its colossal stone formations and emerald-green sea. We'll also introduce Kaikyo Salmon, a delicious local product you won't want to miss!
Where is the Shimokita Peninsula?
Picture courtesy of Pixta
The Shimokita Peninsula is located in northeastern Aomori Prefecture.
Mutsu Bay is located to its west, the Pacific Ocean to the east, and it's surrounded by the Tsugaru Strait in the north. This area also close to Hokkaido. The whole peninsula is designated as the Shimokita Hanto Quasi-National Park.
The Shimokita Peninsula offers visitors scenic natural surroundings, including Hotokegaura, Mt. Osore, and Cape Oma (Omasaki)—Japan's main island of Honshu's northernmost point.
There are also plenty of facilities that offer fresh seafood and processed marine products.
Enjoy Hotokegaura's Scenery on a Sightseeing Boat!
Located in Sai Village, one of the most beautiful places on the Shimokita Peninsula is Hotokegaura.
A series of unique rock formations extend across the coastline for over two kilometers. It's a stunning sight designated as a "Special Place of Scenic Beauty" by the Japanese government.
To access Hotokegaura, you can take a nature trail from a nearby parking area. But to fully enjoy the incredible beauty, we recommend taking a sightseeing boat.
Boat passengers are treated to a breathtaking, panoramic view of Hotokegaura. After docking there, visitors have 30 minutes of free time to go for a stroll.
The boat excursion is 90 minutes long. If you're lucky, you might even see dolphins in their natural habitat!
The massive rock formations at Hotokegaura often remind Japanese people of the sceneries envisioned in the Pure Land of Buddhism. As a result, these megaliths are given Buddhist-related names, such as "The 500 Rakan Statues" and "Paradise Beach."
Additionally, the water offshore is crystal clear. You can see the ocean floor and wild sea urchins perched on rocks. A visit here will help you understand how beautiful Aomori's ocean is!
Next, let's take a closer look at the gourmet cuisine in the Shimokita Peninsula!

Kaikyo Salmon: Success After 30 Years of Hard Work!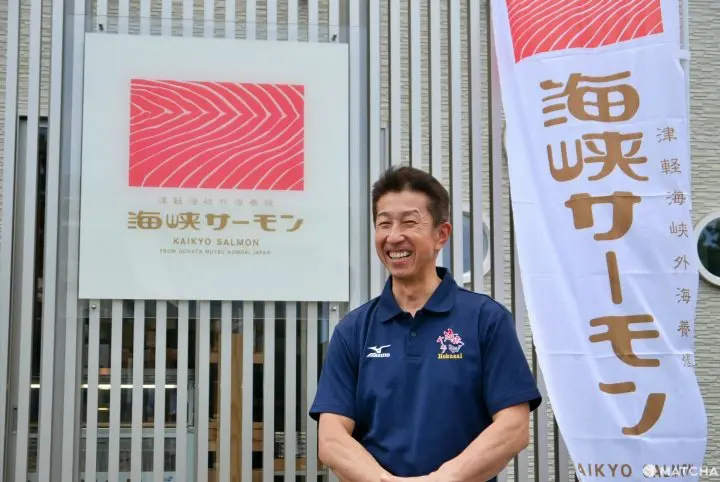 "Relying solely on fish to make a living is unstable and risky. So, for the company's future, we had to come up with new forms of fishing." These are the words of Yuichiro Hamada, head of the Hokusai Fishery Cooperative, who created one of their popular products called Kaikyo Salmon.
The Hokusai Fishery Cooperative was founded by fishing industry people from Mutsu City's Ohatamachi Ward. Hokusaiya is a company that mainly processes and sells Kaikyo Salmon, brought to the market by the Hokusai Fishery Cooperative.
Since former times, large quantities of squid and other seafood have been caught off the shores of Mutsu City. However, the cooperative decided to switch operations from catching fish to harvesting after a poor catch in 1989. After a tenuous process of trying to figure things out, they began salmon farming.
At the time, salmon wasn't nearly as popular as it is today. It required extra effort to get consumers to understand the appeal of local salmon.
With salmon farming, there have also been instances when farmed salmon was completely wiped out by natural disasters. It has taken 30 long years to make salmon available to the public sustainably.
The Hokusai Fishery Cooperative is currently engaged in salmon farming. About three kilometers from Ohata Fishing port is where salmon is raised in artificial enclosures. The fish are first raised in fresh water for two years and then transferred to seawater for eight months.
Kaikyo Salmon, raised in the nutrient-dense ocean waters of the Tsugaru Strait, has thick flesh and a great taste, making it a special product.
Product Development Backed by Genuine Effort
Kaikyo Salmon is processed at Hokusaiya. They currently sell about 20 different seafood products. The management and staff have worked extremely hard in developing every single product.
Once Mr. Hamada and the Hokusai Fishery Cooperative members finalize a concept, they develop the product in tandem with the nearby Shimokita Brand Research Institute.
To develop new product ideas, Mr. Hamada and his cooperative members continually engage in ongoing research. For example, they visit locally processed marine products on business trips outside Aomori.
The head of Hokusai Fishery Cooperative assisting in the production process.
It takes a minimum of one year from the initial conception to the finished product. However, sometimes the product development can take as long as two years. This is because the development stage doesn't go according to plan or the product is not profitable. There is no shortage of products that end up being abandoned altogether.
All of these products are superb due to painstaking work and effort. For many years Hokusaiya has also focused on its promotional activities. This has led to many repeat customers in Tokyo and Osaka.
Mr. Hamada added, "Salmon is the most delicious from May until July. During this period, I'd be grateful if many people visited the Ohata area to sample our salmon. I'd also like the Kaikyo Salmon Festival, held every June, to kickstart the Ohata area and make it livelier."
4 Recommended Kaikyo Salmon Products
Next, we'll introduce four of Hokusaiya's special products and a tasty wine that pairs perfectly with Kaikyo Salmon. These can be purchased directly at Hokusaiya's Mutsu location or the online shop.
Sashimi Fillets
The farmed salmon are raised in strong ocean currents of the Tsugaru Strait. While adapting to these harsh conditions, the salmon has a higher fat content and improved meat quality.
The fish, weighing over three kilograms, is used as an ingredient for various dishes. When prepared sashimi-style, the tasty flavor will melt in your mouth.
Ikijime (*1) Sashimi Fillets (frozen): 4,428 yen after tax (600 grams)
*1 Ikijime: a special technique for killing fish to preserve the best taste.
Kaikyo Salmon Mizuni (Canned)
Kaikyo Salmon Mizuni (Canned) is a product we'd like overseas visitors to try.
When you open the can, it's filled to the brim with delicious salmon. Our writer actually had some difficulty when removing this large-sized salmon from the can.
Kaikyo Salmon Mizuni (Canned) is slightly different from your typical store-bought product. That's because there are no additives or preservatives besides a pinch of salt.
Of course, it pairs well with a bowl of white rice. But it won't be too salty even when eaten alone. Give this tasty salmon a try, whether over rice or on its own.
Kaikyo Salmon Mizuni (Canned): 864 yen after tax (cost for a single can)
Aged Fish Flakes
These fish flakes are aged at a low temperature with salt from the Tsugaru Strait. Upon opening the can, you will immediately smell the rich aroma of fish.
When serving Aged Fish Flakes over rice, you can savor the rich flavor of Kaikyo Salmon with each bite. We recommend these fish flakes as an ingredient for rice balls, fried rice, and pasta toppings. This product is also an ideal Shimokita Peninsula souvenir.
Aged Fish Flakes: 864 yen after tax (cost for a single bottle)
Ochazuke with Dashi Broth: A Product Recommended by Mr. Hamada
Simply looking at the jelly-like contents of the package, you wouldn't think it was ochazuke (*2). However, this Ochazuke with Dashi Broth is a product that Mr. Hamada would personally recommend for overseas visitors.
After pouring the contents of the Ochazuke with Dashi Broth over steamed rice, add hot water to eat this dish right away.
Inside are chunks of salmon meat. This handy product allows you to experience Japan's ochazuke culture with the delicious taste of Kaikyo Salmon.
Ochazuke with Dashi Broth: 486 yen after tax (single package)
*2 Ochazuke: a traditional Japanese dish consisting of steamed rice with an assortment of tasty ingredients, partially steeped in green tea or dashi broth.
Shimokita Wine Seaside: A Beverage to Pair with Kaikyo Salmon!
Shimokita Wine Seaside was created out of a collaborative effort between Hokusaiya and San Mamoru Winery, located at the northernmost point of Honshu. This wine was named "Seaside" because both companies are located along the coast of Mutsu City.
This dry white wine has a fruity flavor, which brings out the superb taste of Kaikyo Salmon.
Shimokita Wine Seaside can be purchased directly at the store and online. Why not try this delicious pairing of wine and salmon?
Shimokita Wine Seaside: 2,530 yen after tax
Hokusaiya Online Shop (Deliveries only available in Japan) (Japanese)
Local Specialties and Souvenir Shopping in Mutsu!
Next, we'll recommend shops for souvenir shopping and delicious local specialties in Mutsu City.
Shimokita Specialty Center: Purchase Local Gourmet Products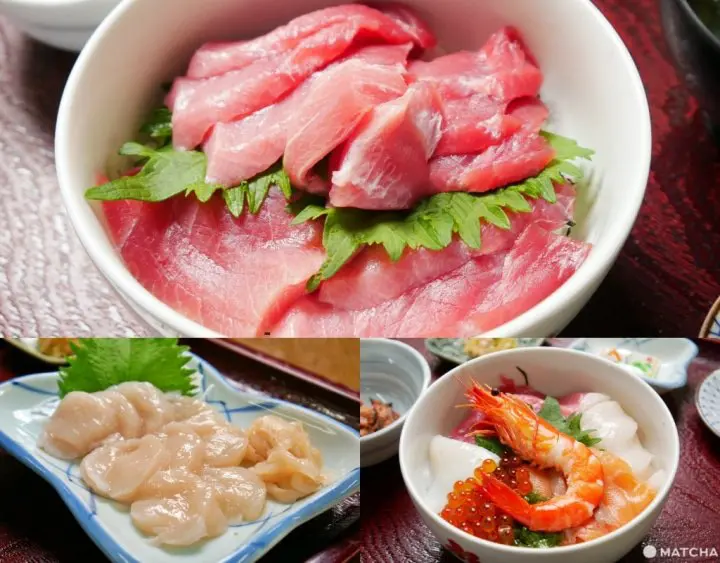 Top photo: Oma Tuna Donburi 2,500 yen after tax, bottom left photo: Scallop Sashimi Teishoku Set 1,100 yen after tax, bottom right photo: Chef's Special Kaisen Donburi 1,650 yen after tax
In addition to a souvenir corner, the Shimokita Specialty Center has restaurants where visitors can savor the local specialties of the Shimokita Peninsula.
Since it's located next to the fish market, the seafood is incredibly fresh. It goes without saying that everything is delicious!

Mutsu Shimokita Tourist Product Center Masakari Plaza: Pick Up Souvenirs Here
Mutsu Shimokita Tourist Product Center Masakari Plaza sells many regional folk crafts and souvenirs. You'll also find various Hokusaiya items available here.

Shimokita Peninsula: Enjoy Sightseeing, Fresh Seafood, and Processed Marine Products!
We highly recommend heading to the Shimokita Peninsula by car. There's also a direct train route from Hachinohe City, making the area surprisingly convenient to access.

Be sure to visit famous sightseeing spots in the Shimokita Peninsula.

Don't miss out on tasting fresh gourmet dishes and purchasing some processed marine products as souvenirs!

Written by Jacky Chen
In cooperation with Hokusaiya
Sponsored by Reconstruction Fishery Processing Industry Market Recovery Promotion Center

The information presented in this article is based on the time it was written. Note that there may be changes in the merchandise, services, and prices that have occurred after this article was published. Please contact the facility or facilities in this article directly before visiting.